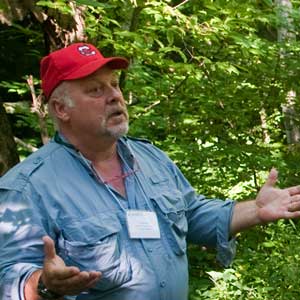 10/10/2012

The 2012-13 Rozanne M. Brooks Lecture Series at SUNY Cortland will continue on Wednesday, Oct. 17, with a discussion of fungi by Timothy Baroni, a SUNY distinguished biology professor.
Baroni, a member of the Biological Sciences Department, will present "Biodiversity of Macrofungi in Endangered Tropical Ecosystems: What We Do and Don't Know" at 4:30 p.m. in Moffett Center, Room 2125. A reception starts at 4 p.m. at the Rozanne M. Brooks Museum in Moffett Center, Room 2126. The talk is free and open to the public.
This year's series takes on the theme of "Culture and Health." This is the second of five lectures planned for the 2012-13 academic year.
Baroni has more than two decades of field research. He will demonstrate the biodiversity of mushrooms and their relatives during this talk, which will look at many samples collected throughout North and South America. The importance of fungi in the ecosystem will be discussed as well as data that provides a deeper understanding of their short life spans and the difficulties encountered when trying to study them.
The 2012-13 Brooks Lecture Series is sponsored by a grant from Auxiliary Services Corporation (ASC) and the Cortland College Foundation. For more information, contact the lecture series organizer and Brooks Museum director, Sharon R. Steadman, at (607) 753-2308.
---