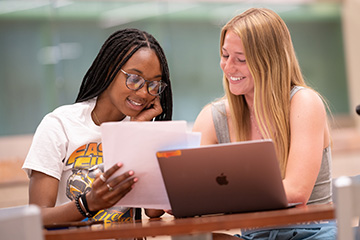 12/14/2022

SUNY Cortland has been named one of the top online universities in New York state for 2023, according to a recent ranking based on cost, student success and reputation.
The university ranked No. 14 in New York on the list, published by Intelligent.com, a higher education resource guide. With 190 four-year institutions, New York has more colleges and universities than any state in the nation, according to the National Center for Education Statistics data.
Cortland also scored highest among medium-size comprehensive universities in the SUNY system and better than three of its four large university centers.
Institutions were rated using a scoring system across several categories. Scores compared each school based on tuition cost, admissions and graduation rates as well as resources for online students.
"This is a credit to our faculty and staff for working hard to develop online options that match the quality of the in-person Cortland experience," said Jose Feliciano '98, M.S.Ed. '01, the university's director of admissions and enrollment planning. "For many years, SUNY Cortland has been recognized for providing a world-class education and a high level of campus life. We want students to know that Cortland is a university that can help them grow, whether it's in a classroom, on campus or online."
SUNY Cortland offers seven online programs at the master's level, with nearly half of the university's graduate students — 336 out of approximately 700 total — pursuing a degree offered online. SUNY Cortland also provides a discounted tuition rate for fully online out-of-state graduate students.
Cortland's current online graduate programs include:
Additional online graduate programs are expected to be added in the future.
The university also offers many single online courses on various schedules during traditional winter and summer breaks, welcoming Cortland students and those attending other institutions. Nearly 250 courses are taught fully online during winter and summer sessions at the graduate and undergraduate levels.
Across the U.S., 50% of master's degrees earned in 2020 were among students enrolled in an online program, according to a 2022 report from Ruffalo Noel-Levitz. Additionally, the number of undergraduates enrolled in partially online study increased by more than 970,000 between 2012 and 2019, even prior to the COVID-19 pandemic.
Students interested in taking an online course during SUNY Cortland's winter or summer sessions can learn more through the university's Extended Learning Office. Registration for the university's upcoming Winter Session closes Tuesday, Dec. 20, for Session I and Tuesday, Jan. 3, for Session II.
Prospective graduate students can learn more about online programs through the Graduate Admissions Office.
---