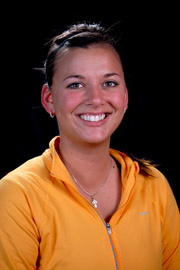 09/23/2014

Kelly Lickert-Orr has been named the women's lacrosse head coach at SUNY Cortland, according to director of athletics Mike Urtz. Lickert-Orr takes over for Kathy Taylor, who coached the Red Dragons from 2009-14 before becoming the head coach at Le Moyne College.
Lickert-Orr served as women's lacrosse head coach at Keuka College for four seasons from 2011-14. She posted a 52-11 overall record, including a 32-1 mark in the North Eastern Athletic Conference (NEAC).
Lickert-Orr earned NEAC Coach of the Year honors in both 2013 and 2014 after guiding Keuka to back-to-back league titles and NCAA Div. III tournament appearances. Keuka won a school-record 16 games in 2014 and was the NCAA Div. III leader in scoring defense at 5.47 goals per game allowed. She also was NEAC Coach of the Year in 2011 as the Storm won the NEAC title, although the league did not have an NCAA automatic berth that season.
In the summer of 2012, Lickert-Orr led a U.S. travel squad that finished in third place at the annual European Championships. Lickert-Orr served as an assistant coach at Nazareth College in 2011, and she has coached the Finger Lakes Flamingos club lacrosse team since 2012.
Lickert-Orr earned a bachelor's degree in health and wellness from Limestone College (S.C.) in 2009 and is the school's all-time scoring leader with 259 points (121 goals, 138 assists). A three-time All-America attacker, she helped the Saints win three Conference Carolinas titles and earn three trips to the NCAA Div. II Final Four.
A native of Penn Yan, N.Y., Lickert-Orr graduated from Penn Yan Academy in 2005 and helped the Mustangs win the 2004 New York State Class B girls' lacrosse championship. She currently resides in Penn Yan with her husband, Jarrod.
Cortland finished last season with a 22-1 record. The Red Dragons won their 16th straight State University of New York Athletic Conference (SUNYAC) crown and advanced to their fourth consecutive NCAA Div. III Final Four.
---