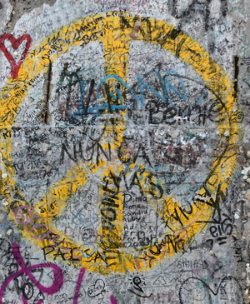 11/04/2010

The Central New York Peace Studies Consortium will hold its 22nd annual Peace Studies Conference on Saturday, Nov. 13, at SUNY Cortland.
The event is themed on "Corporatization and Militarization of Education: A Threat to Democracy, Security and Peace" and will take place from 8:30 a.m.- 5 p.m. in the Education Building, Rooms 1101 and 1103. Paid parking is available across the street on Neubig Road.
"The 22nd annual Peace Conference looks at a continuum of peace initiatives and peaceful reflections, from the most current and unique connections such as critical animal studies to a retrospective by local Peace Corps volunteers, whose efforts and thoughts toward peace have evolved since their initial experiences in the 1960s," said the consortium's president-elect, Judy K.C. Bentley.
"The conference is free, because that is what peace and education should be: free," said Bentley, a SUNY Cortland assistant professor of foundations and social advocacy.
The day will feature 33 presentations and a closing talk by Kathryn Russell, SUNY Cortland Department of Philosophy chair, in memory of peace activist William "Bill" Griffen '50, a SUNY Cortland professor in the Foundations and Social Advocacy Department. Her speech will focus on the ties that bind peaceful activism over the millennia.
Multiple presentations will be given under the broad titles of "Global Peace," "School to Prison Pipeline," "Dis-Abling Education from Exclusive Teaching," "Military and Education," "Critical Animal Studies in Higher Education," "Peace Education," and "Class Matters in the Classroom."
The presenters, hailing from three different continents, will include speakers from more than 15 universities, 10 non-profit organizations, two prisons and one detention center.
A sample of the presentations include:
• Lesley Pruitt, a faculty member at the University of Queensland, addressing "Building Peace Through a Music Dialogue;"
• Wondimu Mengistu, a faculty member at University of Cape Town, sharing his ideas on "The Peace-building Potential of Development-Non-Government Organizations (NGOs) in Areas of Protracted-Conflict in Ethiopia;"
• Maria Miller, a representative of Save the Kids, discussing "Teaching Creatively in Secure Facilities"; and,
• Yael Warshel of the University of California, San Diego, presenting his graduate student paper, "How Do You Convince Children that the 'Army,' 'Terrorists' and the 'Police' Can Live Together Peacefully? A Peace Communication Assessment Model."
For more information or to register, visit the consortium website at http://peaceconsortium.org/ and select the 'conference' link to obtain a flier.
In addition to SUNY Cortland, the consortium includes Syracuse University, LeMoyne College, St. Bonaventure University, Hobart and William Smith Colleges, and Hamilton College.
SUNY Cortland sponsors include the Institute for Disability Studies, Foundations and Social Advocacy, Center for Gender and Intercultural Studies, the Sociology/Anthropology Department, the Center for Ethics, Peace and Social Justice, the Anarchist Studies Initiative, Social Advocacy and Systems Change, Criminology Club, Women's Studies, and the Philosophy Department.
---