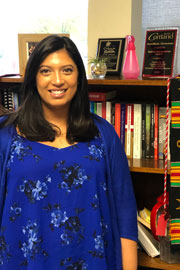 Campus Champion
AnnaMaria Cirrincione, director of the Multicultural Life and Diversity Office, saw an opportunity to create a more powerful campus presence for National Hispanic Heritage Month by highlighting all the Latinx events hosted by student groups and faculty on a joint calendar. From Sept. 15 to Oct. 15, we recognize the contributions of Latinx Americans to the country's history and culture. "We can provide a home away from home for our students looking to connect with and celebrate their culture," said AnnaMaria. She's a champion for Voice Office organizations, coordinates mentoring and programming for underrepresented students, and co-chairs the Kente Committee.

Nominate a Campus Champion
---
Tuesday, Oct. 8
A Conversation about the LGBTQ+ Community in Latinx Culture, Part 1: Hosted by La Familia Latina and PRIDE Club, Corey Union Voice Office, 6 p.m
---
Tuesday, Oct. 8
Latinx Dance Workshop on Bachata and Salsa: Open to the campus community, hosted by Ritmo Latino, Corey Union Fireplace Lounge, 8-9:30 p.m.
---
Wednesday, Oct. 9
Sandwich Seminar: China in Latin America: Partner or not? Presented by Germán Zarate, Economics Department, Brockway Hall Jacobus Lounge, 12:30 p.m.
---
Wednesday, Oct. 9
CICC Lecture: Food and Ecological Debt, Brockway Hall Jacobus Lounge, 5 to 6:30 p.m.
---
Wednesday, Oct. 9
Wellness Wednesday Series Panel Discussion: "Mom and Dad, I Have Something to Tell You," with PFLAG, Corey Union Exhibition Lounge, 7 p.m.
---
Thursday, Oct. 10
Sandwich Seminar: Green Your Ride, sustainable transportation options at SUNY Cortland, Brockway Hall Jacobus Lounge, noon to 1 p.m.
---
Thursday, Oct. 10
Recital: To Honor the Life of Donna K. Anderson, hosted by the President's Office, members of the Performing Arts Department will be playing Dr. Anderson's favorite piano music that she performed in concert over her years as an honored SUNY Cortland faculty member. Dowd Fine Arts Center, Room 110, 7 p.m., reception immediately following.
---
Thursday, Oct. 10
A Conversation about the LGBTQ+ Community in Latinx Culture: Part 2: Hosted by La Familia Latina and PRIDE Club, Corey Union Voice Office, 7 p.m.
---
Thursday, Oct. 10
Panel Discussion: Latino, Latina or Latinix? Sperry Center, Room 0104, 8 p.m.
---
Friday, Oct. 11
Cortland Nites Event: Stress Reliever, Brockway Hall Jacobus Lounge, 8 p.m.
---
Saturday, Oct. 12
A Celebration of Latinx History Month: "Nuestras Americas," featuring music, performances, food and a keynote by Dr. Michael Benitez, Corey Union Function Room, noon to 4 p.m.
---
Sunday, Oct. 13
Women of Color Breast Cancer Walk: Meet at Corey Union steps, noon
---
Monday, Oct. 14
Black Out For Justice March: Sponsored by the Black Student Union, all are welcome, Corey Union steps, 6 p.m.
---
Tuesday, Oct. 15
International Lecture: Separatism in Catalonia/Catalunya: Factors to Consider, presented by Ithaca College Political Science Professor Juan Arroyo, Brockway Hall Jacobus Lounge, 5 p.m.
---
Tuesday, Oct. 15
Alumni Speaker Series: Careers in Sport Management, Corey Union Exhibition Lounge, 7 p.m.
---
Tuesday, Oct. 15
Democratic Party Primary Debate: Corey Union, Room 204, 8 to 11 p.m.
---
Wednesday, Oct. 16
Wellness Wednesday Series: Habits for Success, Corey Union Exhibition Lounge, 6 p.m.
---
Wednesday, Oct. 16
CALS Performance: Russian String Orchestra, comprised of some of Russia's finest young string players with music director Misha Rachlevsky, Old Main Brown Auditorium, 7 p.m.
---
Wednesday, Oct. 16
Take Back the Night March: Presented by Students Active For Ending Rape (S.A.F.E.R.), Corey Union steps, 8 p.m.
---
Thursday, Oct. 17
Career Services Presentation: A Conversation with an Expert - Karen Kerrigan '82, Old Main Colloquium Room, 11:45 a.m. to 12:45 p.m.
---
Thursday, Oct. 17
Sandwich Seminar: FACES - Portraits of Immigrants, a discussion with photographer Daniel Farber Huang, Brockway Hall Jacobus Lounge, noon
---
Tuesday, Oct. 22
Discussion: Climbing the Equity Mountain: Visioning and Working Toward Greater Gender Equity on Campus, a discussion on women's goals, what a fully supportive campus looks like, and strategies that can improve equity for all women at SUNY Cortland, Corey Union Function Room, 2 to 4 p.m.
---
---
2019 Cortaca Jug game to break record
10/02/2019
Ticket sales for the 2019 Cortaca Jug game between SUNY Cortland and Ithaca College have set a new all-time record for a Division III football game, according to the New York City Chapter of the National Football Foundation, which is coordinating the historic game.
As of today, approximately 39,000 tickets have been sold for the game, which will be played on Saturday, Nov. 16, at 1 p.m. in MetLife Stadium, East Rutherford, New Jersey. The previous record of 37,355 was set in 2017 for a game held at Target Field in Minneapolis.
"We are thrilled to be making this announcement today," said Marc Hudak, chairman of the football foundation's New York City chapter. "It is a testament to the interest level and tradition of this game as one of the great small-college football rivalries in the country. I am appreciative of the partnership and collaboration that we have enjoyed on both campuses as this historic matchup approaches."
With six weeks to go, both Ithaca College and Cortland have sold out of their on-campus ticket allotments, and sales continue to be brisk on Ticketmaster.
"As evidenced by tickets sales, the enthusiasm displayed for this game by both the students and the alumni bases of Ithaca and Cortland has been phenomenal," Hudak said, "and I am optimistic that sales could exceed 50,000, especially if both teams continue to have strong seasons."
The SUNY Cortland Red Dragons and the Ithaca Bombers have had impressive early-season wins, and both are currently undefeated at 3-0.
"We are incredibly excited about this announcement, but we are not surprised," SUNY Cortland President Erik J. Bitterbaum said. "As more than 39,000 fans across both colleges will tell you, the Cortaca Jug is much more than a college football game. It is part of our history. And now, it's not just SUNY Cortland's history, but the history of college football itself.
"We are grateful for the opportunity to have MetLife Stadium to showcase both our players and the amazing school spirit that connects all SUNY Cortland students, alumni and supporters. At Cortland, we don't believe in half measures. We go all in. And that spirit is reflected by the amazing support given to this record-breaking event."
This year will mark the 61st time that Ithaca and Cortland have played for the Cortaca Jug, in what Sports Illustrated once referred to as "the biggest little game in the nation."
"This proves once and for all that the Cortaca Jug truly is the biggest little game in the nation," said SUNY Cortland Athletic Director Mike Urtz. "The numbers speak for themselves. The incredible fan support for this game is unlike anything else in Division III athletics."
The game not only sets a Division III college football record, but it gives each college the best-attended alumni event in its history.
"This is guaranteed to be the largest-ever gathering of IC alumni in one place at one time," noted Ithaca College President Shirley M. Collado. "But the number of tickets sold tells only part of the story. From the day the game was announced nearly 11 months ago, we promised to engage the entire campus community in this singular event. It has been exciting to witness the involvement of our students, faculty, staff and alumni in fulfilling that promise."
"We have been honored to work with the National Football Foundation and MetLife Stadium in support of holding the game in such a remarkable venue," said Susan Bassett, associate vice president and director of intercollegiate athletics at Ithaca College. "To have the opportunity to compete on that field is something that I know our coaches and players will cherish for the rest of their lives".
For more information on the history of the Cortaca Jug and this year's game, visit ithaca.edu/countdowntocortaca.
To purchase tickets to the game, visit CortacaJug.com.
SUNY Cortland to provide Parkinson's speech therapy
10/07/2019
Many people with Parkinson's disease experience speech and swallowing difficulties that can weaken their voice or make them difficult to understand.
Thanks to a grant from the Parkinson Voice Project, students and faculty in SUNY Cortland's Communication Disorders and Sciences Department will work with Parkinson's patients from the local community to develop a therapy program that allows them to speak confidently and with intent.
Parkinson's disease affects the nerve cells in the brain that produce dopamine. Symptoms include muscle rigidity, tremors and changes in speech and gait.
The grant has allowed faculty and students to receive training and materials to support a two-pronged approach to strengthening speech in those with Parkinson's.
The first step is called SPEAK OUT!® It consists of 12 individual sessions of a patient working with a speech-language pathologist to complete speech, voice and cognitive exercises.
"The main idea behind SPEAK OUT! is learning to speak with intent," said Jill Toftegaard, a clinical educator and lecturer in the Communication Disorders and Sciences Department who traveled to Texas to be trained by the Parkinson Voice Project team as part of the grant. "You're taking an act that's normally automatic and making it intentional. It's those automatic actions that are impacted greatly by Parkinson's, whether it's walking or speaking or swallowing. That's why the catchphrase for this program is 'Speak with intent.' We want to make it purposeful."
Upon completion of the SPEAK OUT! phase, patients move on to The LOUD Crowd! ®, which consists of weekly sessions where patients practice speaking with intent with other SPEAK OUT! graduates. The LOUD Crowd provides accountability, camaraderie and support, as well as regular application of speech skills.
"One of the main components of this program is a commitment to daily exercise," Toftegaard said. This, along with weekly attendance at the Loud Crowd, helps clients maintain the functional level of communication achieved during individual therapy.
SUNY Cortland's Center for Speech, Language and Hearing Disorders is currently accepting clients for these programs. Learn more at Cortland.edu or by phone at 607-753-5423.
A select number of graduate students have also received seven to 10 hours of training via the Parkinson Voice Project's grant and will be supervised by faculty in working directly with clients.
Clinic director Mary Emm, a lecturer in the Communication Disorders and Sciences Department, is excited for the opportunity Cortland students will receive via the grant.
"It's also opened the door to let our graduate students be trained in this program," she said. "They already have a certification of training that they wouldn't have had otherwise."
SUNY Cortland faculty members are working in a variety of ways to create a better quality of life for those with Parkinson's. In addition to speech therapy, the Center for Speech, Language and Hearing Disorders also assists those who have difficulty swallowing.
A joint research project between the Communication Disorders and Sciences Department and the Kinesiology Department has studied the benefits of high-intensity exercise for Parkinson's clients.
SUNY Cortland was the only Parkinson Voice Project grant recipient in Central New York although there are other facilities providing similar services in the Rochester area.
Toftegaard and Emm hope that the grant funding will allow this program to grow into the future and advance the study of speech therapy for Parkinson's clients.
---
Capture the Moment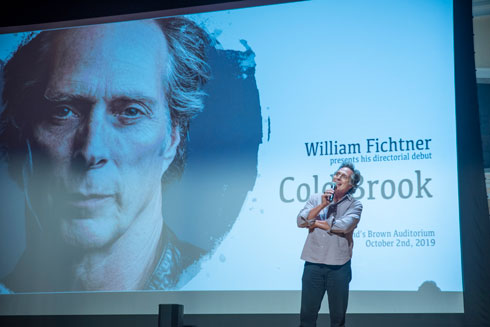 Television and movie actor William Fichtner returned to SUNY Cortland Oct. 2 to host an early screening of "Cold Brook," a movie that was partially filmed on Cortland's campus. Fichtner directed, co-wrote and starred in the film, which also featured several Cortland students as extras. The screening, which packed Old Main Brown Auditorium, was followed by a question-and-answer session and autograph signing. "Cold Brook" is set for theatrical release on Nov. 8.
---
In Other News
Scholar on inclusion keynotes Latinx celebration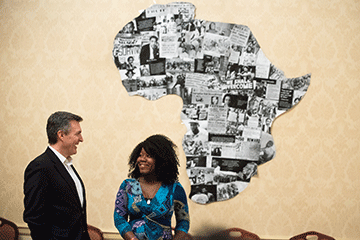 10/08/2019
Michael Benitez, a nationally-acclaimed scholar, practitioner and educator on diversity, equity and inclusion in higher education, will deliver the keynote speech on Saturday, Oct. 12, during SUNY Cortland's inaugural, monthlong celebration of Latinx history.
Benitez, the author of book chapters and articles on student identity, hip-hop culture, ethnic studies and campus climate assessment, will begin at 1:45 p.m. in the Corey Union Function Room.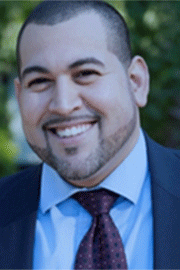 Benitez's talk takes place during an Oct. 12 event called the "'Nuestras Americas:' A Celebration of Latinx History Month," which will run from noon to 4 p.m. in the Function Room. The celebration also will feature food and performances by the student dance team formed in 2018, Ritmo Latino, and the Omega Phi Beta sorority.
The Latinx History Month series began Sept. 11 and will run through Oct. 17. Events are free and open to the public, except for the Nuestras Americas celebration event on Oct. 12, which is limited to the first 150 campus community members who attend.
Over the last two decades, Benitez has served higher education in different capacities, including academic and student affairs, equity and inclusion and teaching. Currently, he is the dean of diversity and inclusion/chief diversity officer and Title IX officer at the University of Puget Sound, Tacoma, Washington.
Benitez is known for his down-to-earth, insightful commentary and critical perspectives on social and cultural issues. His frequent speaking topics include social justice education, leadership and identity development, intersectionality, race and ethnic relations, anti-racism, knowledge production, and critical pedagogy and practice in higher education.
At the University of Puget Sound, Benitez established the "Diversity Monologues," an annual program aimed at highlighting the creative talents of students while addressing diversity and social justice. He since has helped implement and shape the program at other colleges and universities.
Benitez is co-editor of the anthology, Crash Course: Reflections on the Film "Crash" for Critical Dialogues About Race, Power and Privilege (2007), and occasionally contributes to online magazines, scholarly databases, books and journals. He has been featured in educational documentaries, such as the 2012 film "Cracking the Codes: The System of Racial Inequity," and has appeared on talk shows such as "Worlds Apart," "Hard Knock Radio" and "Speak out with Tim Wise."
Benitez holds a Ph.D. in educational leadership and policy from Iowa State University's School of Education and has been recognized with leadership and scholarly awards. He has both a B.S. and M.Ed. from the Pennsylvania State University, in counselor education and human development and family studies, respectively. At Penn State, he pursued doctoral studies as a McNair Scholar.
2019 Nuestras Americas: Latinx History Month continues with the following events:
"A Conversation about the LGBTQ+ Community in Latinx Culture: Part 1," hosted by La Familia Latina and PRIDE club, takes place today, Oct. 8. The discussion begins at 6 p.m. in Corey Union Voice Office.
A "Latinx Dance Workshop on Bachata and Salsa" runs from 8 to 9:30 p.m. today, Oct. 8, in Corey Union Fireplace Lounge. The event is hosted by Ritmo Latino.
Germán Zarate, a SUNY Cortland associate professor of economics, will discuss "China in Latin America: Partner or not?" Wednesday, Oct. 9. The sandwich seminar begins at 12:30 p.m. in Brockway Hall Jacobus Lounge.
La Familia Latina and PRIDE club will host Part 2 of "A Conversation about the LGBTQ+ Community in Latinx Culture" on Thursday, Oct. 10. The presentation will start at 7 p.m. in Corey Union Voice Office.
Photographer Daniel Farber Huang will lecture on his current exhibition "FACES: Portraits of Immigrants" Thursday, Oct. 17. The sandwich seminar will begin at noon in Brockway Hall Jacobus Lounge. The exhibition of his work, "The Power of Faces: Looking at the Global Refugee Crisis," currently hangs in Old Main Colloquium Room, where it will be displayed until Oct. 15.

SUNY Cortland students practice their Latinx dance moves recently.

The Latinx History Month series is sponsored by the university's Multicultural Life and Diversity Office, Institutional Equity and Inclusion Office, Latinx and Latin American Studies Department, La Familia Latina, Spanish Club, Caribbean Student Association, Women of Color, Ritmo Latino, Phi Iota Alpha Fraternity, Inc., Lambda Theta Alpha Latin Sorority, Inc., Lambda Sigma Upsilon Latino Fraternity, Inc., Mu Sigma Upsilon Sorority, Inc., La Unidad Latina, Lambda Upsilon Lambda Fraternity, Inc., Omega Phi Beta Sorority, Inc., and Hermandad de Sigma Iota Alpha Incorporada.
For information about the sandwich seminars, contact Colleen Kattau, SUNY Cortland associate professor of Spanish, at 607-753-2025. For information about the FACES exhibit, contact Ute Ritz-Deutch, lecturer in history, at 607-753-2918. For information about the rest of the programming, contact AnnaMaria Cirrincione, director of multicultural life and diversity, at 607-753-2336.
Unfairness in student debt is topic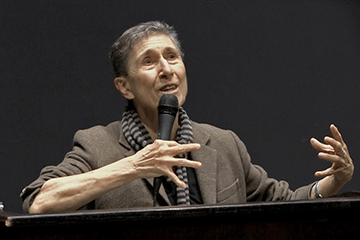 10/08/2019
College debt is such a heavy burden for many former students to haul around that it's hard to imagine that one sex might usually drag along behind them a greater weight than the other.
How can that possibly happen?
Silvia Fedirici, a professor emerita and Teaching Fellow at Hofstra University, will make exactly that case on Tuesday, Oct. 29, at SUNY Cortland.
Her talk, on the devaluation of care through student loan debt and its relation to gender inequality, will run from 5 to 6:30 p.m. in Sperry Center, Room 104.
The talk continues the SUNY Cortland Cultural and Intellectual Climate Committee's (CICC) year-long series on "Debt," a concept that will explore a wide range of issues spanning criminal justice, inequality, immigration and climate change.
The series events are free and open to the public.
Federici is an Italian-American scholar, teacher, and activist from the feminist autonomist Marxist tradition.
In the 1970s, she was a founding member of the International Network for Wages for Housework and was also involved with the Midnight Notes Collective. She lived and taught in Nigeria in the 1980s, where she also worked with women's organizations and against the politics of structural adjustment that were then being tested throughout Africa.
Federici is the author of a number of highly influential books, including the feminist classic Caliban and the Witch: Women, the Body and Primitive Accumulation, and Revolution at Point Zero: Housework, Reproduction and Feminist Struggles. Her most recent publication is Wages Against Housework, a documentary history of the Wages for Housework Movement.
Additional talks in the "Debt" series through late October are as follows:
WEDNESDAY, OCT. 9. Professor Todd McLane, farm director at Tompkins Cortland Community College, and Kelly Wessel, chair of TC3's Environmental Studies Program, will give a talk on ecological services and the food system. The lecture relates to TC3's five-year-old Farm-to-Bistro Program, which offers a sustainable farming and food systems degree track. The presentation is from 5 in 6:30 p.m. in Brockway Hall Jacobus Lounge.
THURSDAY, OCT. 24. A student-created, graphic design exhibition, "Care, Crisis, Climate, and Debt," opens at 4:30 p.m. in Old Main Colloquium. The display is hosted by Szilvia Kadas, SUNY Cortland assistant professor of art and art history; Benjamin Wilson, an assistant professor of economics; and Dowd Gallery.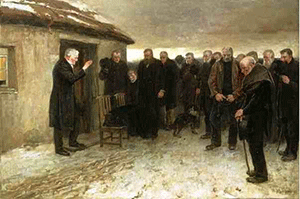 Featured Conversations in the Disciplines guests as well as Cortland faculty, staff and students are invited to contribute original works, which the committee plans to publish the collected works under the Global Institute for Sustainable Prosperity's ongoing book series under an agreement with publisher Palgrave-MacMillan. The institute is an independent public policy think-tank dedicated to the promotion of interdisciplinary research.
The "Debt" series programming is supported by a $5,000 grant from SUNY Conversations in the Disciplines, a program created to build connections between SUNY faculty and visiting faulty from non-SUNY institutions. The series is co-sponsored by the Provost and Vice President for Academic Affairs Office, the Campus Artist and Lecture Series, the Research and Sponsored Programs Office, the President's Office and the Cortland College Foundation.
To submit an event, a Field Guide contribution, volunteer to support this year's activities and programming, or for more information, contact organizer and Assistant Professor of Economics Benjamin Wilson at 607-753-2436. Stay current with the series news on Twitter at @SUNYCortCICC.
Beth Shiner Klein addresses President's List honorees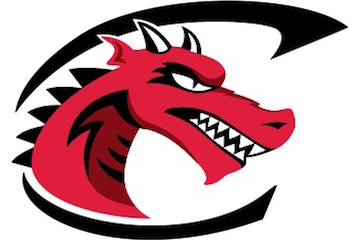 10/07/2019
Beth Shiner Klein has walked the path of a park ranger, a science-oriented elementary and middle school teacher, and an academic lecturer, having given talks aboard U.S. Navy Oceanographic Survey ships.
So it's only fitting that the multi-talented Klein, a 2016 recipient of the State University of New York's SUNY Chancellor's Award for Faculty Service, was chosen to offer standout SUNY Cortland students guidance for their journey during the university's Fall 2019 President's List Reception.
Klein, a professor of childhood/early childhood education in the university's School of Education, addressed 203 honorees who attended the Oct. 7 event with their families in the Corey Union Function Room.
The President's List is the College's highest honor for students who excel academically. It acknowledges students enrolled in a minimum of 12 credit hours who achieve grades of A- or better in each of their courses. In Fall 2018, 9.7 % of the full-time student body reached this level of achievement.
SUNY Cortland President Erik J. Bitterbaum opened the reception, which recognized 593 students this year.
Klein, who joined the university in 1999, teaches courses in elementary science education and environmental studies. She also serves as the campus sustainability coordinator and the faculty coordinator for the Center for Environmental and Outdoor Education.
She has a Doctor of Education in Science Education from the University of Virginia, a Master of Science in Education in Reading from East Stroudsburg University and a Bachelor of Science in Environmental and Elementary Education from Slippery Rock University.
Klein has provided more than 100 professional development presentations and workshops in science, technology and environmental education in a variety of settings.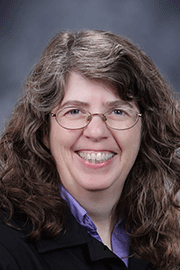 The university has honored her numerous times for research and teaching. She wrote or co-authored many scholarly publications, including a 2015 book chapter on "George William Jeffers: Dedicated Teacher, Scholar and Change Agent," in Going Back for Our Future II: Carrying Forward the Spirit of Pioneers of Science Education. She was inducted as an honorary member into the campus chapter of Phi Kappa Phi in 2006.
Within the community, Klein is co-founder and board president of the community group Sustainable Cortland.
Klein and her husband, Karl, live in a home powered by solar panels on 11 acres where they maintain an organic garden and experiment with permaculture.
Next spring, a second President's List Reception ceremony will be held to recognize Fall 2019 honorees in conjunction with the College's Academic Hall of Fame Award to a gifted former student who has excelled in their field.
Image above left: Area schoolchildren tried their hand at digging potatoes and planting garlic during a 2018 fall harvest activity at raised bed gardens on the quad outside of Memorial Library, an event organized by Beth Klein when she headed the Childhood/Early Childhood Education Department.
South Korean artist to display sculpture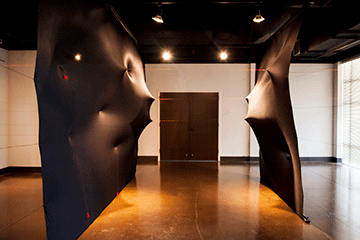 10/08/2019
There's a common thread in the work of South Korean artist TeaYoun Kim-Kassor. Literally.
The sculptural objects and two-dimensional artwork by Kim-Kassor pay homage to Korean textile traditions. But the artwork of Kim-Kassor — who was born and raised in Korea through her teenage years before immigrating to America and later studying in Japan — also resonates with modern and contemporary ideas put forth by a variety of international fiber artists and sculptors.
She has merged these different influences to make statements about identity, migration and personal as well as socio-political tension and gender.
"As an adult, I had the good fortune to be exposed to two other and different cultures, Japanese and American," said Kim-Kassor, an associate professor of art at Georgia College in Milledgeville, Georgia. "The amalgamation of all these cultural shifts has fueled my passion for artistic exploration."
The artist's solo exhibition "Beyond Places in Time," comprised of large-scale drawings, artwork constructed primarily out of textiles and other mixed media materials, opens at SUNY Cortland's Dowd Gallery on Monday, Oct. 14.
"Beyond Places in Time" will continue until Friday, Dec. 6. Gallery hours are weekdays 10 a.m. to 5:30 p.m.; with extended hours to 7 p.m. on Thursdays; and by appointment. The gallery is located in the Dowd Fine Arts Center on the corner of Prospect Terrace and Graham Avenue.
An opening reception will be held at the gallery on Thursday, Oct. 17, from 4:30 to 7 p.m. The exhibition programming also will feature an artist's talk, documentary screenings, and artist's workshop and lectures geared to place the artwork in a broader perspective. The opening reception, as well as Dowd Gallery exhibitions and programs, are free and open to the public.
Additional exhibition programs include:
Artist's talk: Kim-Kassor will discuss her artwork at 5 p.m. Thursday, Oct. 23 in Dowd Gallery. The talk will focus on the relationship between the materials and specific approaches in her works on display.
Artist's workshop: Kim-Kassor will lead a workshop on hand-built ceramic objects at 6 p.m. on Thursday, Oct. 23, in Old Main, room G-40. The demonstration in the university's ceramics studio will immediately follow her artist's talk. Unlike her artist's talk, this presentation delves into clay, another material she often uses.
Documentary screening: "Identity in Fibers," a compilation of short films, will be shown at 5 p.m. on Wednesday, Oct. 30, in the gallery.
First Friday: A guided tour of the exhibition has been organized by the Cultural Council of Cortland County for 5:30 p.m. to 8 p.m. on Friday, Nov. 1.
Documentary screening: "Bernice, 2014," a film directed by Kristina Sorge, will be screened at 5 p.m. on Thursday, Nov. 7, in the gallery.
Lecture: Ellen Avril, chief curator and curator of Asian art at Cornell University's Herbert F. Johnson Museum of Art, will provide an historical background to the works on display on Wednesday, Nov. 13, in Dowd Gallery Avril's discussion, titled "Tying and Untying the Traditions of Korean Fiber Art," will begin at 5 p.m.
Lecture: Yomee Lee, a SUNY Cortland professor of kinesiology and faculty member in the university's Africana Studies Department, will set the exhibition in the broader context of sport and art with a talk on Thursday, Nov. 21, in Dowd Gallery. Her gallery talk, titled "Who am I? Searching for Identity through Sport Studies and Art," will start at 5 p.m. Lee's presentation will explore how sport and art can provide a lens through which an individual can explain and understand one's identity shaped by the intersection of various social relations, particularly race and gender. This presentation also addresses how sport serves allows people who live on the margins construct important meanings through constant negotiation, compromise and cultural bargaining.
First Friday: The gallery will be open from 5:30 p.m. to 8 p.m. on Friday, Dec. 6. The First Friday events are organized by the Cultural Council of Cortland County.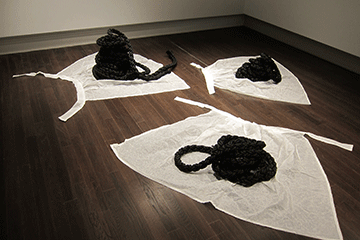 As a result, her work reflects a distinctly Korean influence including Bojagi, Maedub cloths and Nubi sewing technique. But she has also been affected by international fiber artists and sculptors including Françoise Grossen, Magdalena Abakanowicz, Do Ho Suh and Janet Echelman. Her exposure to Japanese artwork represents a third skein woven into the tapestry.
Although individual pieces in "Beyond Places in Time" carry their distinct narrative, together they make larger statements about the artist and society.
"I have lived in three different cultures, and the cross-cultural experience makes me question myself about who I am and where I am," Kim-Kassor said. "Through creating artworks, I wish to share observations on the relationship between migration, as a quasi-physical and documentable set of human behaviors, and a particular post-migration quandary, the identity question of 'Who am I?' or 'Where am I?'"
Kim-Kassor's work embodies the notion that art serves as a means toward mutual understanding between the artist and the viewer.
"I believe that an effective piece of artwork contains a concept of the artist's true experience," she said. "Art is a visual communication tool, and it can serve as a healing process through creative acts."
Cultural heritage and exposure play a significant part in the public's engagement with materials and ideas in Kim-Kassor's work.
"The process evoked tension involved in confirming one's cultural and personal identities," she explained.
"…. I see tension as an outcome of migration," she said. "It has been omnipresent in my nomadic life and in my ever-drifting art."
Kim-Kassor has exhibited nationally and internationally. Her recent show was at Bloch Hall Gallery, the University of Montevallo, in Alabama, and the Korean Cultural Center – Embassy of the Republic of Korea, Washington, D.C. Other appearances include Venice Printmaking Studio in Murano Italy; La Macina di San Cresci in Florence, Italy; and Folklore Museum in Sendai, Japan.
Her artwork has been supported by the Folklore Museum in Sendai, Japan, the National Performance Network (supported by the Andy Warhol Foundation for Visual Arts, the Joan Mitchell Foundation, and the Nathan Cummings Foundation), CESTA in Tabor, Czech Republic, and Can Serrat in Barcelona, Spain.
Visit the Dowd Gallery website for details about other programs scheduled in conjunction with this exhibition.
The exhibition is supported by the Art and Art History Department, Campus Artist and Lecture Series, President's Fund, and the Provost and Vice President for Academic Affairs' Office. For more information about the gallery or to request group tours, contact gallery Director Jaroslava Prihodova at 607-753-4216 or jaroslava.prihodova@cortland.edu.
First Fall Open House takes place Monday, Oct. 14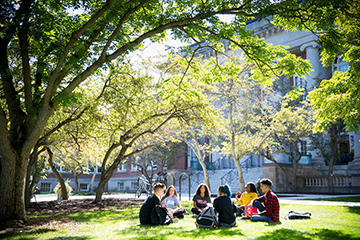 10/08/2019
Expect a full house when SUNY Cortland's first Fall Open House takes place on Monday, Oct. 14.
Approximately 700 prospective students and their families are expected to spend the day learning more about academic programs, touring campus and speaking with professors and current students during the event, which coincides with the observance of Columbus Day for many high schools.
Visitors are asked to register for the event, but those who have not pre-registered also can attend. A second Fall Open House takes place Monday, Nov. 11, on Veterans Day.
Many of the day's morning activities take place in and around the Student Life Center. A full schedule of the day's events is available online.
The day starts with an Academic Programs and Student Affairs Fair from 9:30 to 11:30 a.m. in the Student Life Center gymnasium, where professors and student services staff members will be on hand to chat with visitors and answer questions. From 12:30 to 1:30 p.m., prospective students are encouraged to stop by their chosen academic department's "office hour" for more information and a tour.
Individual academic departments presentations and tours also take place throughout the morning and early afternoon. Visitors can learn more about specific majors, SUNY Cortland's Honors Program and special advisement opportunities for students interested in law, healthcare (medical, dental or physician assistant programs) and athletic training, physical therapy and occupational therapy. Sessions on admissions, financial aid, athletics and residence life and housing also will be offered.
Guided tours of the campus and residence halls will run 10 a.m. to 12:30 p.m. from the Student Life Center and 12:30 to 2:30 p.m. from Corey Union.
Parking for Open House visitors will be provided in the Route 281 parking lot, which features shuttle bus service to the Student Life Center. Visitors using a GPS device should plug in 1 Folmer Drive, Cortland, NY 13045. Parking will be limited near Park Center and the Professional Studies Building, so campus community members are encouraged to plan accordingly.
Contact the Admissions Office at 607-753-4711 or admissions@cortland.edu with any questions about Monday's event.
Cortland Cortaca Jug Flashbacks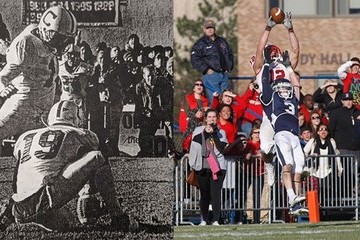 10/08/2019
The annual football series between SUNY Cortland and Ithaca College is one of the best rivalries among small colleges in the nation. With this year's game being contested at MetLife Stadium in East Rutherford, N.J. and set to break a record for the best-attended Division III athletic contest in history, Cortland Sports Information Director Fran Elia is taking a look back at some of the top moments in Cortaca Jug history.
A new moment will be shared in the game notes on CortlandRedDragons.com prior to each SUNY Cortland football game this season. Here's what you've missed so far:
More than 39,000 tickets have been sold for this year's game, which is set for 1 p.m. on Nov. 16 at MetLife Stadium. Tickets are still available through Ticketmaster via CortacaJug.com.
For more information on the game, visit Cortland.edu/cortaca.
Russian String Orchestra comes to campus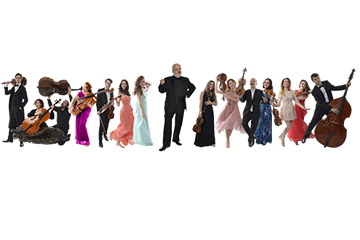 10/08/2019
The Russian String Orchestra, comprised of some of Russia's finest young string players, will take musicians and audience members alike on a guided tour of Elgar, Shostakovich and Dvorak when they perform on Wednesday, Oct. 16, at SUNY Cortland.
The concert, which starts off the 35th anniversary season of the SUNY Cortland Campus Artist and Lecture Series (CALS), will begin at 7 p.m. in Old Main Brown Auditorium.
Tickets prices are $3 for all students, free for children 10 and younger, $8 for senior citizens ages 60 and older, and $10 for general admission.
Tickets are available electronically through the College Store of SUNY Cortland (select 'shop' on the top menu and then 'event tickets'); or in person between 8:30 a.m. and 4 p.m. Monday through Friday in the Campus Activities Office of Corey Union, Room 406; or at the door one hour before show time.
Founded in 1991 by music director Misha Rachlevsky, and formerly known as Chamber Orchestra Kremlin, the group was renamed in 2006 to celebrate its 25th anniversary. The Russian String Orchestra's visit represents the ensemble's first stop on its Fall 2019 American tour.
The orchestra has been described as "addictive," "creating an atmosphere of warmth and high energy," and "rousing as well as captivating and moving." Fans and critics have noted that the music stays with listeners long after the last note has played.
About half of nearly 2,000 concerts the orchestra has performed to date have taken place in Moscow. The rest were played on tours in 25 countries in North and South America, Europe and the Far East.
The orchestra's discography of over 30 CDs has received widespread international acclaim, such as the Diapason d'Or award in France, Critics Choice in London's Gramophone, Critics Choice in The New York Times, and Record of the Year award in Hong Kong.
The emotional high point of the planned SUNY Cortland program will fall on the Dmitri Shostakovich masterpiece, "Chamber Symphony Op. 110 Bis." Dark and tragic, it never fails to reach every listener in the hall.
Johann Sebastian Bach's "Contrapunctus No. 1 from 'The Art of Fugue'" immediately follows the Shostakovich, to help both performers and listeners make the transition to the rest of the program.
Antonin Dvorak's sunny, careless "Serenade for Strings in E Minor, Op. 22" restores inner comfort for everyone.
Their performance also will include Edward Elgar's "Serenade For Strings in E Minor, Op. 20."
For more information about tickets, call the CALS office at 607-753-5574 during the above hours. For information about the orchestra, follow SUNY Cortland CALS on Facebook and/or Instagram or check out the SUNY Cortland Campus Artist and Lecture Series website or the group's website of kremlinontour.com.
More information is pending about the next CALS event, "An Evening with Bill Miller," which is scheduled for Saturday, Nov. 9.
Cortland in the news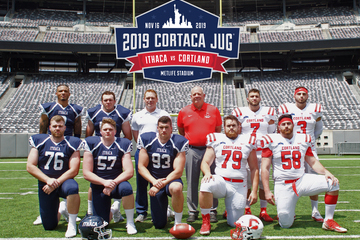 10/08/2019
The 2019 Cortaca Jug game has been the talk of the college football media since it was announced last week that more than 39,000 tickets have been sold. The game will set a new record for attendance for a Division III football game, breaking the mark of 37,355 set by St. John's University and the University St. Thomas when they played at Minneapolis' Target Field in 2017.
College Football Talk, an NBC Sports blog, and the Central New York Business Journal were among the outlets writing about the game this past week.
In other news:
CROP Hunger Walk set for Oct. 27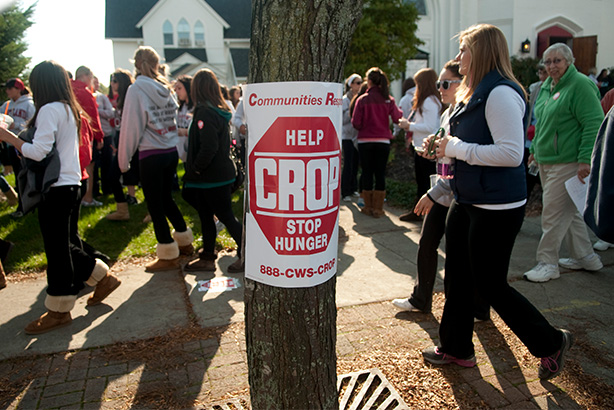 10/08/2019
The CROP Hunger Walk, which has been a tradition in Cortland for 25 years, celebrates its 50th anniversary nationally.
The annual event will take place on Sunday, Oct. 27, starting at Grace and Holy Spirit Church on 13 Court St. Registration begins at 1 p.m. and the walk starts at 1:30 p.m. The walk will take place rain or shine.
To register and donate, visit CROPHungerWalk.org/cortlandny.
SUNY Cortland's athletic teams, fraternities and sororities, clubs and COR 101 students have made it a fundraising success. In 2018, 374 of the 421 walkers — 89% — were SUNY Cortland students. The students, coaches, faculty and staff who participated in last year's walk raised more than $6,000 that went toward fighting hunger locally and around the world.
"The walkathon raises significant funds for global and local hunger," said history lecturer and local CROP walk coordinator Jim Miller. "Twenty-five percent of the funds raised in the county are returned to the county to support local food pantries and feeding programs."
This year's goal is for each walker to raise $10 from each of 10 friends or relatives.
"The "10 x $10 = $100" is an example of how easy it would be for a participant to raise $100," said Miller.
CROP Hunger Walks are sponsored by Church World Service and have been held all over the world since 1969. The walks raise approximately $20 million each year, with 25 percent of donations returned to local food pantries and feeding programs in host communities.
For more information, email Jim Miller.
SUNY Cortland launches the 2019-20 SEFA Appeal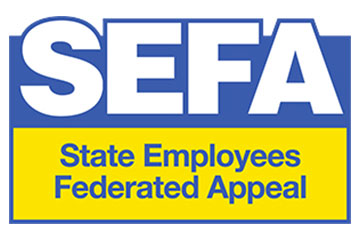 10/08/2019
SUNY Cortland will kick off its 2019-20 State Employees Federated Appeal (SEFA) campaign with a luncheon on Thursday, Oct. 17, for more than 40 SUNY Cortland volunteers, and special guests.
The guest speaker will be Dan Brown, executive director of Racker Centers.
This year's campaign will run from Friday, Oct. 18 through Friday, Nov. 1. During this time, SUNY Cortland employee volunteers who drive the success of the fundraising effort, will be asking their co-workers to join them in supporting the SEFA campaign.
SEFA, which is the only authorized fundraising campaign among state workers, is directed by United Way for Cortland County, and unites fundraising efforts for a group of agencies under a common umbrella.
"Campaign donations last year totaled $43,059.28 from 261 SUNY Cortland employees," said Heather Drew, who with Pam Schroeder, have co-chaired the campaign for the past three years. They are joined by Maere Vunk for the 2020 drive.
The university will offer incentives for employees who donate, as follows:
Pledges over $104 are entered to win a reserved parking space in a lot closest to the winner's building.
Pledges $25 or more are entered to win one of three $25 Auxiliary Services Corporation (ASC) gift cards.
Civil Service Employees Association (CSEA) members who pledge $25 or more will be eligible for a drawing for a $50 gift certificate to a local restaurant.
Employees who pledge $65 or more and designate their gift to the United Way for Cortland County will be entered in 10 weekly drawings for a $50 gas and a $50 grocery card. A grand prize drawing of a $500 gas and $500 grocery card will take place in March.
United Way for Cortland County awarded support to 14 health and human service programs last year. Donations helped provide aid to victims of violence, counseling for children and families, literacy education for adult learners, job skills and GED instruction, quality childcare programs and many other essential services throughout Cortland County.
Participants can choose to have their gifts shared among different organizations within Cortland County, used in another county of their choice or designated for individual local, state, independent or international organizations. Examples of local agencies include the United Way for Cortland County, American Red Cross Cortland County Chapter, Catholic Charities of Cortland County, Child Development Council, Cortland County Child Development Center, Family Counseling Services, the Salvation Army, and the YWCA of Cortland. Other participating local agencies include Lime Hollow Center for Environment and Culture, Madison-Cortland New York State ARC, Racker Centers, SUNY Cortland Child Care Center and the YMCA.
Local members of the Cortland County SEFA Committee include: Gary Evans, SEFA Chair, SUNY Cortland management/confidential employees; Lee Bechtel, NYSDOT, CSEA employees; Kathleen Burke, SUNY Cortland United University Professions (UUP) employees; Ryan Fiddler, SUNY Cortland, UUP; Laurie Klotz, SUNY Cortland, retired; Lois Marshall, NYSDOT, CSEA employees; Julia Maslin, NYS OPWDD, PEF; Lori Porter, SUNY Cortland, MC employees; Donna Raymond, NYSEC, CSEA employees; and Christella Yonta, local SEFA administrator.
For more information about SEFA in New York State, visit the SEFA website.
ASC announces new board officers
Auxiliary Services Corporation (ASC) elected its board officers, including president, vice president, treasurer and secretary, at its Sept. 20 meeting.
The elected officers are:
Christopher Kuretich, associate vice president for student affairs, board president
Anna Addonisio, vice president of finance and management, board vice president
Zachariah Newswanger, associate vice president for facilities management, board treasurer
Pam Schroeder, secretary 2 for academic affairs, board secretary
They are elected for a one-year term.
For more information, visit the ASC website.

Suggest a feature story
---
Faculty/Staff Activities
Christopher Badurek
Christopher Badurek, Geography Department, was elected president of the New York State GIS Association at the 2019 NYS GIS Conference held Sept. 21 to 23 in Syracuse, N.Y. Also, he was co-chair of the conference and gave two presentations on integrating geographic information systems (GIS) and Unoccupied Aerial Systems (UAS), frequently referred to as drones.
Geography Department faculty and staff members Wendy Miller, Melinda Shimizu and Adam Levine also each presented their recent projects at this primary conference for academics and professionals working in the GIS industry. The presentations covered use of GIS tools for community-based applied learning projects as well as the Campus Tree Walk App for the Cortland campus.
In addition, four students Badurek mentored presented posters, including: "Assessment of Land Use Land Cover Change 2009-2015 around Onondaga Lake, NY" and "Application of GIS in an Interdisciplinary Field Course on Sustainable Development of Adirondack Park, NY." They also presented a report on a collaborative course at Camp Huntington on Raquette Lake. Collaborators are Badurek, assistant professor of economics Ben Wilson and history professor Scott Moranda, with support from the SUNY Cortland Common Problems Pedagogy Project. Student participation in the conference was supported by a grant facilitated by the Cortland College Foundation.
David Kilpatrick
David Kilpatrick, Psychology Department, was a panelist for the Central New York Reading Council's presentation "Dyslexia: Definitions, Issues, and Instructional Responses" on Sept. 21. Dr. Elliott from Durham University, UK, presented a keynote followed by a panel discussion which included Elliott, Kilpatrick, Donna Scanlon from SUNY Albany and Bong Gee Jang from Syracuse University.
Kathleen A. Lawrence
Kathleen A. Lawrence, Communication and Media Studies Department, has received word that two of her poems will be published in Star*Line Magazine's October 2019 issue. Her poems are titled "Sailor Come Home" and "The Nonpareils: As Told by the Woman in the Gingerbread House," which is a retelling of the German fairytale, Hansel & Gretel by the Brothers Grimm. Star*Line Magazine is the print journal of the Science Fiction and Fantasy Poetry Association.
Jerome O'Callaghan
Jerome O'Callaghan, Political Science Department, had an article accepted by the Loyola of Los Angeles Entertainment Law Review. The article, "Courts, Trademarks and the ICANN Gold Rush," was co-authored with Paula O'Callaghan and will appear in the spring 2020 issue of the law review.
Robert Spitzer
Robert Spitzer, Political Science Department, presented a paper titled, "Gun Accessories and the Second Amendment: Assault Weapons, Magazines, and Silencers," for the Symposium on Gun Rights and Regulation Outside the Home, held Sept. 27 at Duke University.
Susan Wilson
Susan Wilson, Recreation, Parks and Leisure Studies Department, presented with Jennifer Hinton of Western Carolina University at the 2019 American Therapeutic Recreation Association's annual conference held in September in Reno, Nev. They presented "Social4: Deeper understanding of social skills, social affiliation, social cognition, social empowerment and beyond."

Submit your faculty/staff activity