College Noted Nationally for Fostering Diversity
10/05/2018
SUNY Cortland was one of only 37 institutions of higher education nationwide recognized for exemplary efforts in encouraging students from diverse backgrounds to pursue degrees in the sciences, technology, engineering and mathematics (STEM).
Minority Access Inc., a non-profit organization dedicated to increasing diversity and reducing disparities, honored the College during its 19th National Role Models Conference Sept. 28 to 30 in National Harbor, Md.
SUNY Cortland President Erik J. Bitterbaum was invited to speak at the awards luncheon, and two professionals with deep ties to the College — Distinguished Teaching Professor and Africana Studies Department Chair Seth Asumah and SUNY system Chief Diversity Officer Carlos Medina '78 — were named as role models for diversity, equity and inclusion.
"This was an opportunity to recognize the efforts of people who are doing good work to advance diversity whether on this campus or in the local community or the global community," Bitterbaum said.
Rather than going the typical route of honoring glamorous sports and entertainment stars as role models, Minority Access instead recognizes inspiring students, faculty, alumni, innovators and diverse institutions as role models to expand the pool of minority scientists, researchers and professionals in fields underrepresented by minorities.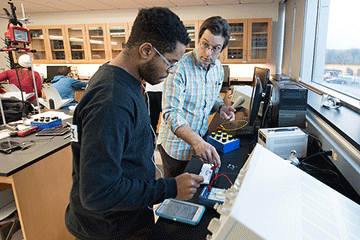 Asumah, a political science professor who has taught at SUNY Cortland for almost 30 years, helped create the Africana Studies Department in 2005. He advises a number of student groups and was instrumental in establishing the annual Kente Celebration for graduating student leaders who have demonstrated leadership, passion and commitment to diversity and social justice. Asumah collaborated to establish the SUNY Cortland Summer Institute for Diversity, Inclusion and Social Justice, an annual three-day conference that has trained more than 200 faculty, staff and secondary school educators across the state on how to adopt inclusive practices in the classroom, workplace and society at large.
Medina, a SUNY Cortland graduate, has been a national leader on issues of diversity, equity and inclusion in higher education for more than 30 years. Since August 2011, he has led the State University of New York's efforts in promoting and advancing the 64-campus system's diversity goals and ensuring that they are reflected in all policies and procedures. He provides leadership and strategic direction to SUNY campuses in connection with the recruitment and retention of faculty, staff and administrators who come from underrepresented groups within American society. Educational Opportunity Program alumnus, Medina has committed his professional career to issues of underrepresented student access, recruitment, retention and success. He has also developed national research and mentor programs for underrepresented students in STEM.
"It's been my practice as chief diversity officer (CDO) to promote the good work of some of the diversity champions on campus," said James A. Felton III, SUNY Cortland's chief diversity officer, who nominated the two honorees. "That ties into the national Role Model awards program that Minority Access offers. I thought these two were both deserving in different ways for the award."
Minority Access, a nonprofit organization incorporated in 1995, assists individuals, academic institutions, federal and local governments, private agencies and corporations in diversifying their campuses and work sites.
"Obviously, Minority Access is an organization that's committed to increasing diversity in education, employment and research, particularly in the STEM fields," Felton said. "Also, it's a great opportunity for institutions that are committed to diversity, equity and inclusion to promote the good work that they are doing, whether they are participating in the conference as well as by being acknowledged as a diverse institution."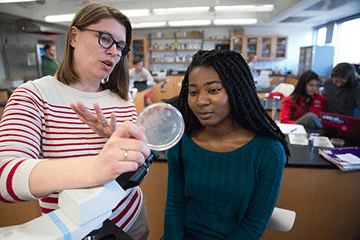 The conference, which assembles high-achieving innovators, recruiters, researchers, faculty, administrators, students, mentors and alumni, as well as institutions that have been exemplary in producing minority researchers, attracted 200 to 250 people this year. In the future, qualified, interested SUNY Cortland students will be encouraged to represent the College at the conference, Felton said. Scholarships are available to enable students to attend all or part of the conference.
To be considered for Exemplary College or University recognition, the College submitted a document outlining the methods used to advance diversity, equity and inclusion on their campus, Felton said. Of particular relevance to this conference, Cortland spelled out how Cortland encourages underserved and underprivileged groups to pursue an education in the STEM fields.
Highlights of SUNY Cortland's diversity initiatives included:
Appointing a chief diversity officer to lead the campus in dialogues on diversity and start a plan for greater diversification of student, faculty and staff populations.

Continuing successful admissions practices that include targeting more diverse high
schools and partnering with community colleges and programs that likewise seek to become more inclusive.
Increasing diversity of the student population through international recruitment and exchange partnerships.

Planning to use a forthcoming campus climate survey to identify areas where intervention and outreach would have the greatest impact and coordinate initiatives to address those issues.

Creating an Institutional Equity and Inclusion Office to provide campus-wide leadership and support on matters relating to diversity, equity and inclusion. The office supports the College's efforts to ensure that students, faculty and staff learn and work in environments that actively promote a culture of inclusive excellence.

Continuing the Multicultural Life and Diversity office, which is committed to fostering a community of learners who contribute to an environment of inclusive and academic excellence based on the values of human difference and individual contribution.

Creating a President's Council on Inclusive Excellence comprised of faculty, staff and students who lead the process of ensuring the Cortland community promotes inclusiveness in every aspect of college life.

Continuing the faculty-driven Center for Gender and Intercultural Studies to develop diversity across the curriculum; promote research; facilitate student, staff and faculty development; and recommend policy.

Continuing the renamed Sexual Orientation, Gender Identity and Expression Committee (SOGIE) to foster a safe and positive environment for the LGBTQIAP communities at SUNY Cortland.
Sport Management Online Master's Ranked 4th in the Nation
10/09/2018
The faculty are top-notch. Graduates find job opportunities in their dream field. Tuition is affordable.
So it's no surprise SUNY Cortland's online master's degree in sport management has been named one of the best in the nation by OnlineMasters.com.
The program ranked No. 4 and was noted particularly for offering the "best unique electives." OnlineMasters.com analyzed every sport management program in the country, using data from 33 industry experts, hiring managers and surveys from current students and alumni to identify the top 50 departments.
"In a short period of time, in three years, we have built a strong online program that is successful in that it's giving students the education they need to get positions," said Genevieve Birren, associate professor and graduate coordinator. "It also allows students to get their education while they're in positions, which is allowing them to move up."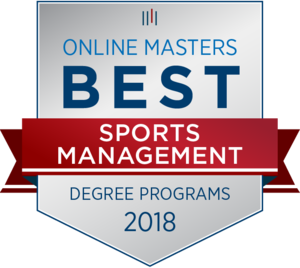 SUNY Cortland students pursuing a master's degree in sport management are a diverse group, ranging from those who recently completed undergraduate coursework to those already in the field. The flexibility of the College's program, offering both full- and part-time options as well as a completely online experience, allows students to obtain a degree in a way that works best for them.
"The field of sport management often attracts working professionals with very busy lives, and the online option for our master's degree is perfect for them," President Erik J. Bitterbaum said. "The program is designed to ensure online students access to the same top-caliber faculty who teach on campus."
Small class sizes — online courses are capped at 20 students each — give SUNY Cortland sport management students tremendous access to faculty. Since classes are run entirely by faculty without teaching assistants, students have plenty of opportunity for one-on-one advisement.
"When an online student wants to come in and meet with a professor, they can do that," Birren said. "Our faculty aren't adjuncts on the other side of the country."
The SUNY Cortland sport management faculty are respected in the field. With few exceptions, all courses are taught by professors with terminal, either Ph.D. or J.D., degrees.
Students are required to complete 18 credits of core courses and a six-credit culminating experience that can be an internship, master's project or thesis in sport management. Six credits of electives round out the program, including options such as intercollegiate athletics management, sport event and facility management and information technology in sport, among others. Electives allow students to specialize in their area of interest, working with Birren as an advisor, to prepare themselves for careers in the field.
OnlineMasters.com weighted its methodology on academic quality (40 percent), student success (40 percent) and affordability (20 percent).
SUNY Cortland was previously recognized as having one of the top online master's degree in sport management by BestColleges.com in May 2018.
For more information, contact Department Chair Peter Han or Birren.
---
Capture the Moment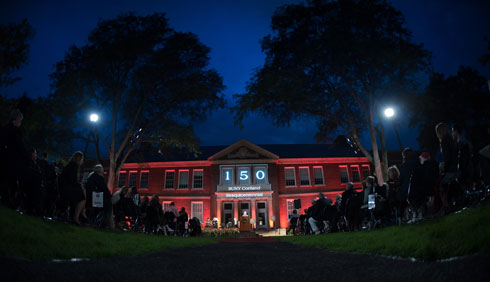 SUNY Cortland celebrated its 150th birthday in style on Oct. 5. Student dance groups performed, the Rock 'N Blues Ensemble played some classic tunes and the cast of "Annie Get Your Gun" led the crowd in singing "Happy Birthday." A video presentation followed remarks from H. Carl McCall, chairman of SUNY's board of trustees, and Barbara Lifton, state assemblywoman. The night capped off with 1,000 slices of cake and a fireworks display. A photo gallery of images from the Sesquicentennial celebration is available online.
---
In Other News
Student Life Center Celebrates 1,000,000 Users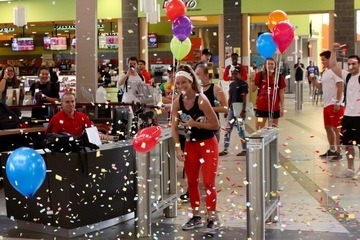 10/09/2018
Arianna Judge got in line to swipe her I.D. card at the Student Life Center around 1 p.m. on Tuesday, Oct. 9.
It was just part of her normal routine. Go to class. Get a bite to eat. Blow off some steam running around the track.
And then the confetti and balloons came floating down around her.
Judge, a junior sport management major from Troy, N.Y., became the 1,000,000th person through the turnstile of SUNY Cortland's three-and-a-half-year-old Student Life Center.
Members of SUNY Cortland's Recreational Sports staff presented Judge with a certificate for being the lucky user.
"It's just an awesome facility," Judge said. "I love running. I'm a big cardio girl. I have a membership for the classes."
Judge tries to encourage her roommates and friends to tag along for workouts and she also sends clips to family members, showing off all that the Student Life Center offers.
"When I came in here for the first time, it caught my eye. I was like, 'Wow,'" she said. "I remember taking videos to send to my brothers and my parents, 'Look at this, it's so cool.'"
The Student Life Center, a 148,000-square-foot facility, opened in February 2015. It offers a wide variety of health, recreation and fitness programs for students, faculty and staff and has quickly become the social and recreational center of the SUNY Cortland campus.
An average of 2,000 people, approximately one-third of the student body, use the Student Life Center every day to lift weights, run, swim and engage in activities such as yoga, meditation and group exercise classes. Roughly half a million people have also toured the facility since it opened.
The facility has been recognized by a number of national publications. Athletic Business named it its facility of the week earlier this year and Campus Rec named it its "Rec of the Month" in 2017.
"I think we're doing a lot of good for the campus," said Julian Wright, director of recreational sports. "To have a facility like this and have our students doing clean, healthy and wholesome things, it's having a significant and positive impact on the campus."
Judge will help the Student Life Center push toward 2,000,000 users during her remaining time on campus. She said she uses it about three times a week.
"I try to get my friends and roommates to come as much as I do," she said. "Sometimes they don't want to come so I come by myself as well. It's a good place to ease your mind and get away from schoolwork."
Graduate Degree Earns Full Accreditation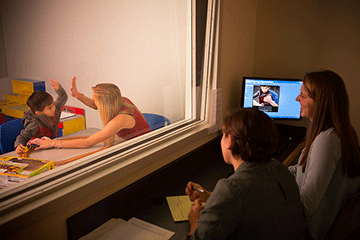 10/09/2018
SUNY Cortland's five-year-old master's program in speech-language pathology has been re-accredited, ensuring both students and potential employers that the program meets the highest national standards of professional excellence in this high-demand field.
The Council on Academic Accreditation in Audiology and Speech-Language Pathology (CAA) voted in April to award SUNY Cortland full accreditation for its residential graduate program through Jan. 31, 2023. Today, the program is nearly at full enrollment with 29 future communication disorders professionals preparing for careers at schools and medical clinics.
The tally brings total graduate and undergraduate enrollment in the College's Communication Disorders and Sciences Departmentto almost 300 students, equaling its all-time high.
"The master's degree has become the entry level for the profession," said Ann Blanton, associate professor and the current department chair, underscoring the importance of the program and the national distinction that comes with accreditation. "So it was very timely that this department developed a master's degree."
Traditionally, graduates in the field who had bachelor's degrees could always work in elementary, middle and high schools without a master's degree, she said.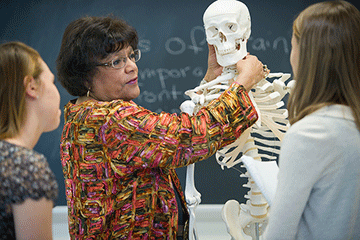 But that window is closing fast. New York is among many states that are phasing out school clinical practice by college graduates who have only an undergraduate degree in the discipline. Hospitals and medical centers stopped employing clinicians who lack master's degrees in certified programs some years ago.
Seeing this change coming, faculty in SUNY Cortland's Communication Disorders and Sciences Department more than a decade ago began working on creating a graduate program and making sure it met the strict professional standards that come with accreditation. They also shifted the teaching emphasis of the speech and hearing clinic the department runs for community members on campus.
"For years the Center for Speech, Language and Hearing Disorders was run for undergraduate students, who upon graduation were eligible to work in the public school system," Blanton said. "But the department, as long as 15 years ago, worked on getting a graduate program."
The graduate students now help deliver the majority of free public services offered to clients of all ages at the Center for Speech, Language and Hearing Disorders. During their two years at SUN Cortland, that gives them the extra hands-on experience expected from an accredited graduate program.
It's a change administrators had hoped to make years ago, noted the former chair, Associate Professor Regina Grantham, who spearheaded the graduate program's creation. However, the former clinical site in the College's McDonald Building on Tompkins Street would not support the expansion.
The department added the program only after it had moved into the then-newly renovated Professional Studies Building off Tompkins Street, complete with the state-of-the-art clinic and adjacent classrooms and faculty offices that the department uses today.
The new graduate program is almost at full capacity, as a testament to its success, according to Blanton, who left a similar program at the University of California at Sacramento to take over as chair in 2017.
Creation of the graduate program and this year's re-accreditation mark critical milestones in the Communication Disorders and Sciences Department's 50-year history. And the accrediting agency's stamp of approval is just the most recent accolade earned by the department.
In 2017, Zippia.com, a company created to help young people find good careers, described SUNY Cortland's communication disorders and sciences program as the No. 2 program of its kind in New York state. Zippia noted that the master's level graduating classes of 2013-15 and 2014-16 both had 100 percent employment rates and both had 100 percent Praxis speech-language pathology exam pass rates.
"Speech language pathology is a high-demand profession," Blanton said. "It's a real benefit to any community, in educational and medical settings. It's an excellent profession with a real ability to make a difference in the lives of people."
The CAA is run by the Rockville, Md.-based American Speech-Language Hearing Association (ASHA), which is the national professional, scientific and credentialing association for more than 182,000 members and affiliates who are audiologists; speech-language pathologists; speech, language, and hearing scientists; audiology and speech-language pathology support personnel; and students.
Nationally Known Artist Billy Hassell to Exhibit
11/13/2018
Nature and art collided early in the life of Billy Hassell, who was recently referred to as "Mother Nature's Stylist" in a The New York Times article.
His world teemed with plants, animals and birds as he explored the creek, lake and woods near his boyhood home in Dallas, Texas.
"I was drawing from my earliest memories and then I was outdoors collecting things," Hassell said recently. "They merged at some point and I began to draw the things I collected."
A caring biology teacher was the final ingredient to produce the nationally-known painter and printmaker Hassell is today: one with a distinct conservationist's bent.
Hassell's vivid paintings, characterized by their exuberant colors with an overarching theme inspired by the natural world, will be on full display during a solo print and painting exhibition, "Vestiges," at SUNY Cortland's Dowd Gallery starting Wednesday, Oct. 17.
An opening reception will be held from 4 to 6 p.m. on Thursday, Oct. 18, at the gallery on the corner of Prospect Terrace and Graham Ave.
The exhibition in the Dowd Fine Arts Center runs through Friday, Dec. 7. While on campus as an artist in residence, Hassell will be giving exhibition tours to students, visiting studio classes and working on a new multi-color lithograph with Charles Heasley, a professor in SUNY Cortland's Art and Art History Department. The exhibition will be accompanied by an interdisciplinary supporting program that features an artist's chat, nature documentary screening, and lectures on biology and birds, art and ecology, and on the naturalist as artist.
"It's been said that in this time of existential crisis, genuine artists reveal mystic truths in ways that impact our daily passage with one another," Hassell said. "I see my role as an artist to somehow participate in this exchange."
All Dowd Gallery events are free and open to the public. Gallery hours are 10 a.m. to 4 p.m. Monday through Friday and by appointment. For more information, or to arrange group tours, contact gallery Interim Director Jaroslava Prihodova at 607-753-4216.
In other "Vestiges" events:
Hassell will give an artist's talk at 5 p.m. on Tuesday, Oct. 23, in the gallery.
Hassell and Viviana Ruiz Gutierrez, a research associate and quantitative ecologist in the Conservation Science Program at the Cornell Lab of Ornithology, will discuss "The Art of Conservation" at 5 p.m. on Thursday, Oct. 25, in the gallery.
The 2001 documentary "Winged Migration," directed by Jacques Perrin, will be screened at 5 p.m. on Tuesday, Nov. 6, in the Critique Space of the Dowd Fine Arts Center.
SUNY Cortland President Erik J. Bitterbaum, an ornithologist, and Matthew Young, collections management leader, Macaulay Library at the Cornell Lab of Ornithology, will give a lecture on "Contextualizing Ornithology" Tuesday, Nov. 13. The presentation begins at 5 p.m. in the Critique Space.
Andrew Saluti, an assistant professor and program coordinator for the Syracuse University School of Design's graduate program in museum studies, on Tuesday, Dec. 4, will discuss John J. Audubon, the American naturalist, ornithologist and painter who was known for illustrations of American birds. The event will take place at 5 p.m. in the Critique Space.
Hassell has been showing his artwork since the 1980s in galleries across the country, most recently in solo shows at the McKinney Avenue Contemporary in Dallas, the Museum of South Texas in Corpus Christi, William Campbell Contemporary Art in Fort Worth, and the Longview Museum of Art in Longview, Texas.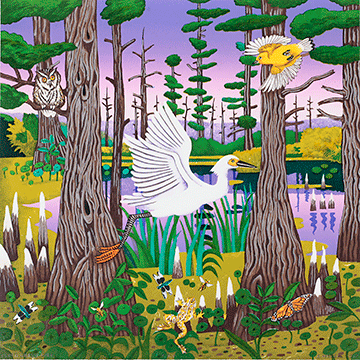 His paintings and graphic works — etchings and color lithographs — are featured in the permanent collections of museums throughout Texas and several out-of-state museums. Hassell's pieces hang in a U.S. embassy, the University of Texas, the offices of HBO, and the George W. Bush Presidential Center. National art magazines have featured articles on his work and his pieces are coveted by conservation organizations to raise public awareness and funds for environmental causes.
Hassell's artistic approach is influenced by several art movements and styles throughout the history of art: Mexican and American folk art, 19th century Japanese woodblock prints, Medieval tapestries, antique maps, botanical studies, outsider artists, album covers from the 60's, vintage fruit crate labels and a few mainstream 20th century artists, particularly the regionalist painters of the 1930s and 40s.
"As a student, I was influenced by the first-generation abstract expressionist, Willem deKooning, his contemporary, Arshille Gorky and some slightly later day painters like Philip Guston and more contemporary painters, like the northwest painter, Gaylen Hansen and the Wisconsin painter, Tom Uttech," said Hassell, who holds a B.F.A. from University of Notre Dame and an M.F.A. from the University of Massachusetts at Amherst.
"Time spent in Canada after graduate school introduced me to the Canadian Group of Seven, a northern counterpart to the early Texas painters who were working contemporaneously with the regionalists of the Midwest. Thomas Hart Benton and Grant Wood are notable examples of that movement," he said.
Working primarily in oil paint, Hassell also produces original, hand-pulled color lithographs as well as watercolors and pencil drawings when he travels.
"I develop ideas from the watercolors and drawings, rather than from photographs, into the paintings I produce in my studio and the color lithographs I produce in collaboration with a master printmaker," Hassell said.
Details of the subject matter for his paintings are reduced into a condensed visual language that employs larger color fields with sharply defined borders.
"This methodology allows a compression of reality into a stylized symbolism that represents symbiotic relationships in animal and plant life," Hassell said.
Hassell's artistic practice reflects his efforts and the reverence towards nature and its role in a contemporary culture.
"My work is a metaphorical response to nature and seeks a balance between realism and abstraction," said Hassell, who sells his distinctive pieces at galleries in Dallas, Fort Worth and Houston, Texas; Kansas City, Mo.; and Denver, Colo.
Hassell's striking paintings serve as visual narratives that heighten the beauty of nature but also contain an underlining message of urgency by depicting extinct birds and by that extension, pointing towards human-made disruption in the course of natural order. In this intersection of art and sociopolitical commentary, Hassell finds an outlet for his message.
"My commitment to conservation and concern for the Earth and the ravages resulting from our pursuit of natural resources continues with increasing conviction," Hassell said.
Since 1992, Hassell's work has been increasingly involved with ecological issues and bird conservancy. He worked on projects with The Nature Conservancy of Texas, Audubon Texas and the Texas Parks and Wildlife Foundation.
President's List Honorees Regaled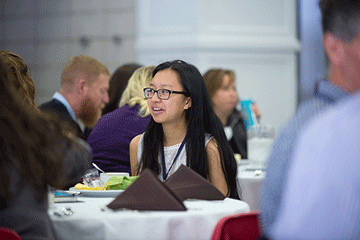 10/09/2018
Susan Wilson has walked the path of excellence.
So it's only fitting that Wilson, a 2015 recipient of the State University of New York's SUNY Chancellor's Award for Faculty Service, was chosen to offer students guidance for their journey during SUNY Cortland's President's List Reception for students who have stood out in the classroom.
Wilson addressed 184 honorees who attended the Oct. 1 event with their families in the Corey Union Function Room.
The President's List is the College's highest honor for students who excel academically. It acknowledges students enrolled in a minimum of 12 credit hours who achieve grades of A- or better in each of their courses. In Spring 2018, 9.2 percent of the full-time student body reached this level of achievement.
SUNY Cortland President Erik J. Bitterbaum opened the reception, which recognized 532 students this year.
"Sometimes you think you have to take one particular path and then when that path doesn't work out you need to make the most of the opportunity you have been given," said Wilson, an associate professor of recreation, parks and leisure studies, to the gathering. "When you feel you have 'failed' tap into your values, interests and passions, find another path."
Wilson engages students while guiding them on the steps to take to achieve an outstanding education, and for that she has been honored again and again.
In 2011, students singled her out from among all the full-time teaching faculty members for a Student Affairs Connection Award. The selection committee noted her many campus roles, including softball team academic advisor, instructor for the first-year student seminar (COR 101) and a student conduct justice.
Wilson joined the College in 1998 after receiving her Ph.D. in therapeutic recreation from Clemson University.
In 2000, the National Council for Therapeutic Recreation Certification recognized Wilson for preparing therapeutic recreation students to score higher than the regional and national averages during a three-year period.
From 2011 to 2013, Wilson worked closely with students in academic jeopardy as interim associate dean of the School of Education.
A certified therapeutic recreation specialist, Wilson is a published scholar who has shared her research extensively at state and national conferences in her field.
A past president of the New York State Therapeutic Recreation Association, Wilson was honored by the association in 2008 as an outstanding professional.
In the community, Wilson has served on various committees of the YWCA Board of Directors and as a Girls Day Out program volunteer.
Next spring, a second President's List Reception ceremony will be held to recognize Fall 2018 honorees in conjunction with the College's Academic Hall of Fame Award to a gifted former student who has excelled in their field.
Legal Scholar to Discuss Mass Shooting Statistics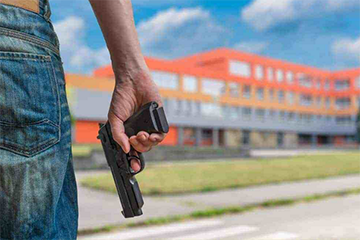 10/04/2018
Joel Capellán, a legal scholar who focuses on statistics and spatial analysis, will share data as he attempts to shed light on crucial, unanswered aspects of the phenomenon of mass murder by firearms, on Wednesday, Oct. 17, at SUNY Cortland.
His lecture, "Making Sense of the Senseless: Patterns, Motivations and the Etiology of Mass Public Shootings in America," will begin at 4:30 p.m. in Moffett Center, Room 2125. A reception to welcome him will precede the lecture across the hall at 4 p.m. in the Rozanne M. Brooks Museum, Moffett Center, Room 2126.
The talk continues the College's 2018-19 Rozanne M. Brooks Lecture Series on the theme of "The Culture of Death," which explores the anxieties felt in some cultures, contextualizing them in the 21st century Western experience. The series events are free and open to the public.
Capellán's talk topic aims to bridge the gap of information that has led to the inability for institutions to arrive at consensus on the cause.
"When it comes to mass public shootings, the United States is, tragically, in a class on its own," said Capellán, an assistant professor of law and justice studies at Rowan University. From 2010 to 2014, he served as a research assistant with the U.S. Extremist Crime Database (ECDB) Project.
"There are more of these attacks in the U.S. than in any other developed country in the world, and the rate of incidence has been accelerating over time," Capellán said. "Given the devastating and recurring nature of these events, it is surprising that criminologists have devoted very little attention to these massacres."
According to Capellán, the gap in knowledge has been filled primarily by the media organizations, allowing the media to shape the social construction of mass murder by selecting which events become landmark narratives and therefore "typical" examples.
"The media focus on the most extreme and atypical cases has created a plethora of myths and misconceptions about who, where, how and why mass public shootings occur," he said.
Capellán has constructed a database of mass public shootings in the United States from 1960 to 2014. This database, created from open-source materials, contains demographic information on offenders and victims, as well as incident-level data on preparation, execution and legal aftermath of the attacks.
During the talk, he will delve into the emerging empirical literature on mass public shootings. He'll give particular attention to definitional issues, patterns, motivations and the social and psychological processes behind these attacks. Current debates on policy and strategies aimed at preventing and mitigating the lethality of mass public shootings also will be discussed.
Capellán, who earned his Ph.D. in criminal justice from the CUNY Graduate Center in 2016, has an M.A. in social science research from the University of Chicago and a B.A. from Buffalo State College, where he was honored with the SUNY Chancellor's Award for Student Excellence. His scholarship has been supported by numerous grants and awards.
When the series continues in November, America's abiding thirst to mete out death to those considered to be the worst criminals comes into play.
On Nov. 7, sociologist Herbert Haines will give a talk on the potential for the 70-year long, world-wide trend away from executing criminals to take a sudden U-turn. A professor in SUNY Cortland's Sociology/Anthropology Department, Haines will present "Capital Punishment and the Rise of Right-Wing Nationalism."
Sharon Todd, a SUNY Cortland professor of recreation, parks, and leisure studies, plans to explore how current generations, who seem to be spending less and less of their childhood outside, perceive wilderness environments, during a lecture on Feb. 27. Titled "Scared to Death? Changes in College Students' Fear and Anxiety in Wilderness Environments Over Time," Todd's talk will explore changes over roughly the last 20 years in college students' fears of the outdoors.
Janis Whitlock, associate director of Cornell University's Bronfenbreanner Center for Translational Research, will address how current youth use self-injury to speak and how it serves as a cultural emblem of the age, on March 13. Her discussion is titled "My Blood in Between Heaven and Earth: Self-injury and the Embodied Language of Pain, Power and Vulnerability."
On April 3, a Spanish language and culture specialist from University at Albany will give a talk on "Newfangled Vampires and Zombies in Latin American Literature and Film." Carmen Serrano, an assistant professor of Spanish, has studied how vampire and zombie figures have inspired Latin American films since the 1950s.
The "Culture of Death" series talks all take place on Wednesdays and begin at 4:30 p.m. in Moffett Center, Room 2125. Before each lecture, a reception to welcome the speaker will start at 4 p.m. in the Rozanne M. Brooks Museum, Moffett Center, Room 2126. The Brooks lectures and receptions are free and open to the public.
Although inevitable and therefore of interest to all humans, cultures view the end of life differently, many as the doorway to another, sometimes better, existence. In the West however, death is viewed more often as something to be feared and avoided as long as possible.
The 2018-19 Brooks Lecture Series is sponsored by a grant from Auxiliary Services Corporation (ASC) and the Cortland College Foundation. For more information, contact Brooks Museum director Sharon Steadman, a SUNY Cortland professor of sociology/anthropology, at 607-753-2308.
"Annie Get Your Gun" Continues for Second Weekend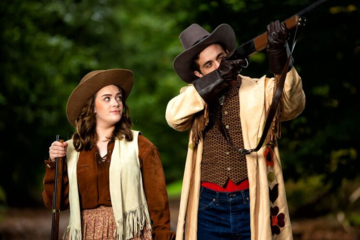 09/25/2018
Opening night of SUNY Cortland's production of "Annie Get Your Gun" was a new experience for student actors.
They hoped the circus atmosphere of the College's 150th birthday party celebration on Moffett Center Lawn followed them inside for the show.
Starting at 6 p.m. on Friday, Oct. 5, the College celebrated its Sesquicentennial with remarks from President Erik J. Bitterbaum, a video presentation and fireworks. Complimentary birthday cake was available for all. The cast of "Annie Get Your Gun" joined the festivities to sing Happy Birthday at approximately 7 p.m.
The show continues for a second weekend October 11 through 13.
Senior musical theatre major Liz Earle of Merrick, N.Y., who plays Annie Oakley, was glad to get out of the dressing room in the hours leading up to opening night. As an actor, she's always trying to connect with the audience and this will be a novel way to build that relationship before a show.
"It's going to take some of the nerves out of it," she said. "You're seeing your audience before they're seeing you. I think that if we're having fun beforehand, that'll just make them more excited to be there when the show is going on. The audience plays such a big part of how a show runs on any given night. An excited and happy and intrigued audience is so amazing to perform for."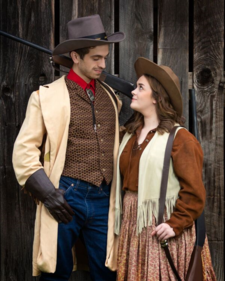 "Annie Get Your Gun" is based on the 1946 classic by Irving Berlin and the book by Dorothy Fields and Herbert Fields. It tells a fictionalized version of the life of Oakley (1860-1926) and her love interest, Frank Butler, who toured the world as sharpshooters in Buffalo Bill's Wild West. Iconic songs including "There's No Business Like Show Business" and "Anything You Can Do" make this production a familiar and family-friendly event for audiences of all ages.
Wild West variety shows of the sort depicted in "Annie Get Your Gun" were extremely popular forms of entertainment in the time when SUNY Cortland was founded as the Cortland Normal School in 1868.
Senior musical theatre major Matt Henningsen of East Northport, N.Y., plays Butler. Part of his challenge as an actor has been incorporating Butler's Western dialect and cowboy persona into his performance. Most of all, Butler (1847-1926) was one of the era's preeminent showmen, so trying to reel in prospective theatre-goers among SUNY Cortland students, faculty and staff before the show fits in with what Butler did during his life.
"It all comes together nicely because of the 150th anniversary and the time period of the show and the fact that right outside of the theatre we're having this giant extravaganza with fireworks and all this crazy stuff going on," Henningsen said. "We get to sing there and then lead back into here, when hopefully the crowd follows us in here and they'll come back into our world and our show."
For Earle, playing Oakley is about capturing the spirit of a woman who is excelling in a field dominated by men.
"She's so cool and she's so empowering," Earle said.
As legend has it, the diminutive teenager challenged Butler to a shooting contest when Butler's traveling show arrived in Cincinnati, near Oakley's Ohio home. Oakley won, the two fell in love and married and spent the next four decades showcasing their marksmanship skills across the globe.
The musical fictionalizes their relationship, primarily the battle of egos as Oakley continues to best Butler professionally. Issues raised in the musical remain relevant to women in the workplace today.
"She's not normal and I think she knows that," Earle said. "I think she's not afraid of it. Especially the dynamic between her and Frank. He has more problems with her being better than him than she does. She just accepts it and knows that it's fact, that she's the best."
"Annie Get Your Gun" will be performed at 7:30 p.m. on Saturday, Oct. 6, Thursday, Oct. 11 and Friday, Oct. 12. Matinee shows at 2 p.m. will take place on Sunday, Oct. 7 and Saturday, Oct. 13. Tickets are $19 for adults, $16 for senior citizens and SUNY Cortland faculty and staff, $14 for SUNY Cortland alumni and $10 for current students. A subscription option of $56 is available for those looking to buy tickets to all four SUNY Cortland productions for the 2018-19 academic year. Tickets and more information are available at Cortland.edu/boxoffice.
For more information on SUNY Cortland's Sesquicentennial, visit Cortland.edu/150.
Sorority Pitches Softball Initiative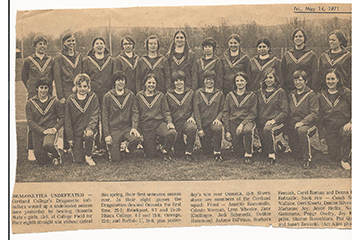 09/28/2018
In 1971, when SUNY Cortland's softball squad was undefeated for the first time in its fledgling, three-year history, 13 of 20 winning team members were sisters in the Theta Phi sorority.
In fact, much of the team's early history was written with the stellar playing successes of Theta Phi sisters, according to two from that early era, Barbara "Barb" Moenich LoPiccolo '69 and Barbara Hemink '72.
"Playing for Sally Wallace from 1970 to 1972 was wonderful," Hemink said, referring to coach Sally Yeager Wallace '53, M '63. "Sports provided an opportunity to develop close friendships while striving for a common goal."
Those friendships formed through softball and sisterhood remain strong today. Although the sorority disbanded for lack of membership around 1984, the sisterhood reunites annually in Raquette Lake and applauds the team's achievements through the present.
And at this year's reunion, Hemink and LoPiccolo will share an opportunity for their sisters to help improve SUNY Cortland's softball facilities while permanently honoring notable Theta Phi softball players.
They think their pitch has a pretty good hook. Actually, it has five of them.
By the time the College celebrates the softball program's 50th anniversary at Alumni Reunion next year, Theta Phi hopes to raise $5,000 to name five metal softball hooks for women's softball equipment in the dugout, recognizing sisters who played a significant role in the team's history.
Already, 25 Theta Phi sisters raised $3,270 "on the fly", in a fundraising campaign spearheaded by Hemink and LoPiccolo. That's more than enough for naming rights for three hooks, which are available for $1,000 each.
Two of those hooks will be named with plaques memorializing former classmates, the late Bette Schneider '77, M '84 and Barb Lee Alm '78, LoPiccolo said. Schneider was a crack catcher and Alm served as team manager. Their names will appear on two of the commemorative plaques mounted near the hooks. The sisters will choose another, still-living sister to honor this way as well.
Other members of Theta Phi will soon have an opportunity to learn more about the softball field campaign's progress and consider a gift toward naming the two remaining hooks. Nearly 40 sorority members will gather Oct. 5-8 at the William H. Parks Family Center for Environmental and Outdoor Education at Huntington Camp for their annual mini-reunion.
Helping the women's sport at SUNY Cortland is so important to LoPiccolo that she will forgo this year's C-Club Hall of Fame celebration, which is scheduled for the same weekend. LoPiccolo, a former SUNY Cortland softball outfielder, was herself named to the SUNY Cortland C-Club Hall of Fame in 2011 and earned numerous medals at the Empire State Games.
"If the group is capable of raising a total of $5,000, with just another $1,730, we can put the Theta Phi name on the recognition plaque/wall that will go up at the end of the campaign," LoPiccolo said.
The College's Alumni Reunion 2019, is set for July 11 to 14 and among other milestones will celebrate softball as the featured sport group and its 50th anniversary as a major milestone of the College's Sesquicentennial Celebration.
With that in mind, the Cortland College Foundation is seeking gifts to bring the softball playing field into the 21st century. By Alumni Reunion 2019, these hooks will be mounted in the home dugouts beside a greatly improved varsity softball field at south campus, reflecting the results of all the team's fans who have supported the enhancements.
Naming a sturdy softball dugout hook is a concept comparable to the seat naming opportunity offered several years ago to help support the renovated Dowd Fine Arts Center Theatre. The gifts will go into a fund for much-needed upgrades to the softball facilities.
"When I look at the Cortland field now, I think they need to expand," LoPiccolo said. "The Cortland women lack the big dugout like Ithaca has, the stands behind it, the press room, the speakers and all the practice things they need like batting cages and ball machines," LoPiccolo said.
"Dugout hooks" did not figure into the lexicon of the sport 50 years ago, said LoPiccolo, who was on the original team roster, and like many Theta Phi members, a physical education major.
"In my day, we wouldn't have needed a hook because all we brought to the game for practice would have been a glove and cleats, maybe a hat or visor. That's all we needed," said LoPiccolo, a retired Norwich (N.Y.) School District physical education teacher and coach. "Today the women bring a big bag to practice. It probably has a couple of bats — who would have had their own bat when I was playing? They just need room for things like extra cleats, a change of shirts, batting gloves, water bottles and nutrition bars."
Hemink cited the excellent quality of her Cortland education as a motive for her involvement in the initiative. After graduation, she taught physical education and coached for many years at Clarkstown Senior High School in Rockland County.
"The professors in the Physical Education Department were not only dynamic in their knowledge and professionalism, they were supportive of the endeavors of their colleagues and us," Hemink said. "They came to our games and some served on our sorority board. Additionally, they made Camp Huntington a phenomenal experience and, in general, made Cortland our 'home away from home.'"
To learn more about how to support the women's softball field upgrade, visit the softball field renovation page or contact SUNY Cortland Senior Gift Officer Richard Coyne '07 at 607-753-5516.
SUNY Cortland Honors Indigenous People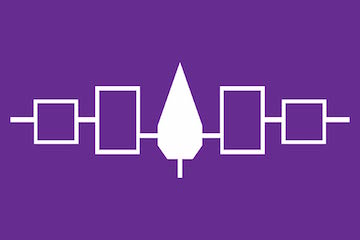 10/03/2018
On Monday, Oct. 8, SUNY Cortland observed Indigenous Peoples Day for the first time, replacing official observance of Columbus Day with an annual opportunity to reflect on the contributions of indigenous peoples to American history.
"American history did not begin in 1492," SUNY Cortland President Erik J. Bitterbaum said, referring to Columbus' landing on the Caribbean island that is now Haiti and the Dominican Republic. "Millions of people from hundreds of different cultures had already been living in the Americas for thousands of years."
Bitterbaum signed a declaration officially re-naming the day on campus on July 2. The change had been endorsed by the SUNY Cortland Faculty Senate in January and approved by the SUNY University Faculty Senate in October 2017. The Student Assembly of SUNY unanimously recommended the change in April 2016.
The idea of changing Columbus Day to Indigenous Peoples Day began in 1977 at the United Nations' International Conference on Discrimination Against Indigenous Populations in the Americas. Since then, scores of colleges, cities and even a handful of states have officially replaced Columbus Day — which many feel actually marks the beginning of colonialism in North and South America — in favor of recognizing the history and contributions of native cultures.
SUNY Cortland, like all of Cortland County, was founded on land considered the territory of the Iroquois Nation or Haudenosaunee. The indigenous people were displaced by settlers of European origin during the late 1700s.
Students Walk to End Hunger on Oct. 21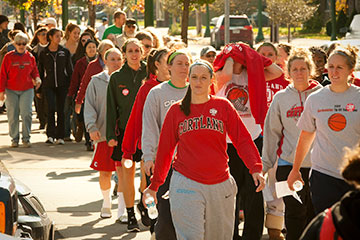 10/09/2018
The Cortland-area CROP Hunger Walk continues to grow in its fight against local and world hunger, thanks to the support of SUNY Cortland students.
The 24th annual event will take place on Sunday, Oct. 21, starting at Grace and Holy Spirit Church on 13 Court St. Registration begins at 1 p.m. and the walk starts at 1:30 p.m.
To register and donate, visit CROPHungerWalk.org/cortlandny.
SUNY Cortland's athletic teams, fraternities and sororities, clubs and COR 101 students have made the Cortland-area CROP Hunger Walk a fundraising success. The students, coaches, faculty and staff who participated in last year's walk raised $5,698 of the $8,900 that went toward fighting hunger locally and around the world.
"Almost all of last year's participants in the walk were SUNY Cortland students," said Jim Miller, history lecturer and the SUNY Cortland coordinator for the CROP Hunger Walk. "For the past 12 years, the SUNY Cortland community has been a major factor in the success of the walk. This provides a very visible and tangible example of the positive energy students contribute to the community."
Twenty-five percent of the money raised at the October event will stay in Cortland and support local food pantries. CROP Hunger Walks are sponsored by Church World Service and have been held all over the world since 1969. The walks raise approximately $20 million each year, with 25 percent of donations returned to local food pantries and feeding programs in host communities.
Theta Chi will handle information and signup tables and day-of-walk registration. Blaze will be on hand to greet walkers. A local band, Rock n' Blues, will entertain during registration. The walk will take place rain or shine just as millions must walk every day for food, fuel, and water.
For more information, contact Miller by email or at 607-753-2723.
SUNY Cortland Launches the 2018-19 SEFA Appeal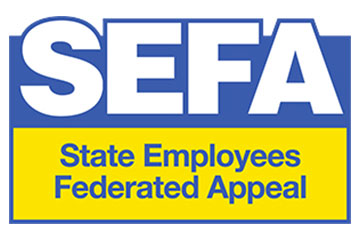 10/09/2018
SUNY Cortland will kick off its 2018-19 State Employees Federated Appeal (SEFA) campaign with a luncheon on Wednesday, Oct. 17, for more than 40 college volunteers and special guests.
The guest speaker will be Christella Yonta, executive director for United Way for Cortland County.
SEFA, which is the only authorized fundraising campaign among state workers, is directed by United Way of Cortland County, and unites fundraising efforts for a group of agencies under a common umbrella.
"Campaign donations last year totaled $3,9785.00 from 274 SUNY Cortland employees," said Heather Drew, who with Pam Schroeder will co-chair this year's SEFA campaign on campus. "While the total monetary amount is down from the past few years, the number of employees donating remains on par with other years." Both Drew and Schroeder have co-chaired the campaign for the past two years.
The College will offer incentives for employees who donate, as follows:
Pledges over $104 are entered to win a reserved parking space in a lot closest to the winner's building.
Pledges of $25 or more are entered to win one of three $25 Auxiliary Services Corporation (ASC) gift cards.
Civil Service Employees Association (CSEA) members who donate $25 or more will be eligible for a $50 gift certificate to a local restaurant.
According to Christella Yonta, executive director for the United Way for Cortland County, last year's United Way donations were allocated to more than 16 health and human service programs at 11 United Way Community Partner Agencies. Donations helped provide aid to victims of violence, support to parenting or pregnancy risk teens, literacy education for adult learners, quality childcare programs and many other essential services here in Cortland County.
SEFA campaigns are also conducted at the State Department of Labor, the Department of Environmental Conservation, the Department of Transportation, the Office of Court Administration and the State Police. Decisions are made locally about which agencies are included and how funds are distributed. The community-based SEFA committee is composed of representatives from state agencies and managers of human service agencies. Pledging takes place once a year.
Participants can choose to have their gifts shared among different organizations within Cortland County, used in another county of their choice or designated for individual local, state, independent or international organizations. Examples of local agencies include the United Way for Cortland County, American Red Cross Cortland County Chapter, Catholic Charities of Cortland County, Child Development Council, Cortland County Child Development Center, Family Counseling Services, the Salvation Army, YWCA of Cortland, and Seven Valleys Health Coalition. Other participating agencies include Lime Hollow Center for Environment and Culture, Madison-Cortland New York State ARC, Racker Centers, SUNY Cortland Child Care Center and the YMCA.
Local members of the Cortland County SEFA Committee include: Gary Evans, SEFA Chair, SUNY Cortland management/confidential employees (MC); Kathleen Burke, SUNY Cortland United University Professions (UUP) employees; Christella Yonta, local SEFA administrator; Ryan Fiddler, SUNY Cortland, UUP; Laurie Klotz, SUNY Cortland, retired; Lois Marshall, NYSDOT, CSEA employees; Julia Maslin, NYS OPWDD, PEF; Lori Porter SUNY Cortland, MC employees; Donna Raymond, NYSEC, CSEA employees.
For more information about SEFA in New York State, visit the SEFA website.
Classified Staff Recognized for Years of Services
The 2018 Annual Service Awards Ceremony recognizing classified staff will be held on Friday, Dec. 7, in the Corey Union Function Room.
The following employees are slated to receive awards. To note a correction or addition to the list, please contact Michelle Congdon, Human Resources, by email or phone at 607-753-2302.
2018 Service Awards Awardees
35 Years
Lori Crandall, Childhood/Early Childhood Education Department
30 Years
Claire Payne, Psychology Department
25 Years
Barbara Conrad, Childhood/Early Childhood Education Department
Kathleen Gross, Liberty Partnerships Program (Research Foundation)
20 Years
*Christopher Amedeo, Maintenance
Jennifer Baker, Nurse 1, Student Health Services
Darwin Bartholomew, Janitor, Custodial Services
April Calale, Financial Aid
George Cole, Custodial Services
*Benjamin Finton, Central Warehouse/Mail Services
*Deborah Lewis, Residence Life and Housing
Valerie McConnell, Custodial Services
*Denise Morse, Custodial Services
Debra O'Mara, Custodial Services
Laura Slater, Memorial Library
Kathleen Stockton, Custodial Services
Colleen Trinkle, Custodial Services
*Robin Wheeler, Alumni Engagement (Research Foundation)
Joyce Willis, University Police
Gary Withers, Custodial Services
15 Years
Stacey Buckley, Modern Languages Department
*Kathleen Card, Custodial Services
David Coakley, University Police Department
Judy Daniels, Custodial Services
Carol Freeman, Custodial Services
Katherine Gustafson, Institutional Research and Analysis
Nabila Khazzaka, Alumni (Research Foundation)
*Gary Lansdowne, Maintenance
Kevin Markowski, Maintenance
Anne McLorn, Art and Art History Department
Tracey Messinger, Migrant Education Tutorial and Support (Research Foundation)
Steven Rolfe, University Police
10 Years
Scott Chierchio, Maintenance
Patty Fisk, Custodial Services
Burton Fritts, Custodial Services
Lisa Hand, Registrar's Office
Corrina Harvey, History Department
Andrew Keegan, Maintenance
Linda Nelson, Custodial Services
Marie Nelson, Human Resources
Julie Randall, Athletics
Sheryl Robertson, Custodial Services
Jamie Scott, Facilities Operations and Services
Lawrence Smith, Transportation
Oscar Walters, Grounds
Haley Zurell, Geology and Physics departments
*Retired in 2018

Suggest a feature story
---
Faculty/Staff Activities
Eric Edlund
Eric Edlund, Physics Department, had an article titled "Overview of the Wendelstein 7-X phase contrast imaging diagnostic" published in the Review of Scientific Instruments. View the online version of the article here.
Jordan Kobritz
Jordan Kobritz, Sport Management Department, and colleagues Ray Cotrufo and Matt Kastel, had the article "Evaluating the evaluators: Developing an instrument to assess a baseball scout's effectiveness" published in the Review of Management Innovation and Creativity.
Kathleen A. Lawrence
Kathleen A. Lawrence, Communication and Media Studies Department, had her poem, "Three's a Crowd," published in Hay(na)ku 15, edited by Eileen R. Tabios for Meritage Press, xPress(ed), & Paloma Press. Also, she had her poem titled "Scarlet Letter" published in New Verse News the last week of September. The poem, written as a scrambled abecedarian, looks at the use of the word "accuser" when talking about women in the news, like Dr. Christina Blasey-Ford, for giving testimony about sexual assault identifying powerful men. This was one of several poems Lawrence has written lately that reflect the use of poetry for reflection about news stories, current events and elements of popular culture.

Tadayuki Suzuki
Tadayuki Suzuki, Literacy Department, presented "Pondering and Examining Equity and Identities in Gender-Nonconforming Children's Books" at the National Association for Multicultural Education of New York State, held Oct. 5 in Rochester, N.Y.

Submit your faculty/staff activity