Cortland Football Player to Represent All SUNY Students at Chancellor's Inauguration
09/11/2018
SUNY Chancellor Kristina M. Johnson will be joined by dozens of prominent leaders from academia, government, business and philanthropic organizations during her inauguration ceremony on Friday, Sept. 14.
She has also invited one student to represent the more than 600,000 currently enrolled in the SUNY system to participate in the event: SUNY Cortland senior Kyle Richard.
Richard and a friend stopped a sexual assault in progress during a party on Long Island during the summer of 2017. After chasing the assailant outside, Richard was shot twice, once in each leg. Richard, a linebacker and captain of SUNY Cortland's football team, recovered quickly and missed only one game before returning to the field that fall.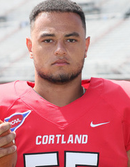 The Biden Foundation awarded Richard with the Biden Courage Award for Bystander Intervention in April. He was also presented with a Next Generation Award from Kristin's Fund, which was established in memory of Kristin Palumbo Longo, who was murdered by her husband in 2009 in Deerfield, N.Y.
Richard has become a vocal leader on campus in sexual assault awareness and prevention, having participated in the College's annual Take Back the Night march and the Yards for Yeardley event this spring. He was also invited to speak at Utica College's Take Back the Night march.
"Kyle Richard is a role model for us all," said Johnson. "When suddenly confronted with a dangerous situation he had the courage to save a person from unspeakable harm — and he did so at risk to his own life. We are proud of Kyle, not only for his heroic efforts, but also for his willingness to share his story as a way to build awareness to stop sexual assault. My congratulations to him."
Johnson will be inaugurated as SUNY's 13th chancellor at the Morris W. and Fannie B. Haft Theatre at the Fashion Institute of Technology. A live stream will be available online starting at 10 a.m.
She served as the dean of the Pratt School of Engineering at Duke University from 1999 to 2007 and was provost and senior vice president for Academic Affairs at Johns Hopkins University from 2007 to 2009. Johnson was under secretary of Energy at the U.S. Dept. of Energy from 2009 to 2010 and is co-founder and CEO of Cube Hydro Partners, LLC, a clean energy infrastructure company.
NSF Grant Supports Pollutant-Digesting Bacteria Research for Undergraduates
09/11/2018
To many people, the ingredients listed on their shampoo bottle look like an alphabet soup of unpronounceable chemicals.
But not to Assistant Professor Katherine Hicks and her chemistry students. And they are fascinated by one of those in particular: nicotinic acid.
Nicotinic acid is an example of a class of organic compounds called N-heterocyclic aromatic compounds (NHACs), which are found in a variety of personal care products and pharmaceuticals. Although they won't hurt your hair, this class of small molecules ultimately winds up in soil and water as pervasive environmental pollutants that pose health and mutagenic risks to aquatic life.
Thanks to a collaborative three-year grant of $290,796 from the National Science Foundation (NSF), Hicks and her students, as well as a team at the College of Wooster (Ohio) will investigate a biochemical solution to this problem. Common soil-dwelling bacteria contain enzymes that are involved in breaking down nicotinic acid. Using genetic technology and structural protein crystallography, Hicks hopes to further discover the mechanisms behind how bacteria in soil and water degrade pollutants.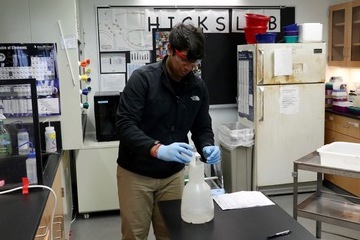 Ultimately, they hope to find a way to use otherwise harmless bacteria to gobble up unwanted nicotinic acid in the environment.
That goal is part of a larger trend. The field of bioremediation is growing, as scientists look to find ways to remove harmful elements from the environment without using additional chemicals.
"There are harmless bacteria that live in the soil naturally and you can engineer them so that they can break down these pollutants rather than introduce chemicals or some other method of removing them," Hicks said. "In order to engineer those bacteria, you have to take a step back and understand their natural way of breaking down those types of molecules."
Protein crystallography will allow Hicks and her students to determine the position of every atom in the enzymes produced by the bacteria. From there, they will be able to confirm the functions of enzymes in soil-dwelling bacteria that digest nicotinic acid.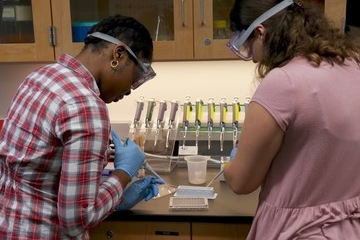 Part of the grant money will also allow Hicks to take her undergraduate assistants to the annual Buckeye Women in Science, Engineering and Research Institute (B-WISER) summer camp hosted by The College of Wooster. The week-long camp is aimed at middle school-aged girls who are interested in Science, Technology, Engineering and Mathematics (STEM). Hicks hopes to introduce a younger generation of students to her research as well as inspire them to continue their studies and consider careers in science.
"Seeing women in STEM and female students in STEM encourages girls that they can be in STEM also because they see us as role models," Hicks said.
Mark Snider, professor of chemistry at The College of Wooster, serves as principal investigator of the NSF grant and works closely with Hicks. In fact, a previous joint project between the two faculty members resulted in a publication in the peer-reviewed journal, Biochemistry, that included a number of undergraduate co-authors from their respective schools.
"Scientists are portrayed sometimes as working by themselves with their test tubes, but really science is super collaborative," Hicks said. "We're always talking to other people and we're working in teams."
Hicks recalled her undergraduate research experience as a transformative moment in her career. No matter what path her students take after SUNY Cortland, whether it be further higher education or careers in biochemistry, medicine or beyond, she knows that the process will serve them in the long run.
"What I tell my students is that one of the most important things about a science education is that it makes you think critically about problems," she said. "It impacts your whole life and how you approach getting a mortgage and fixing your car, all of those things. It trains you to think more analytically, which has life benefits."
---
Capture the Moment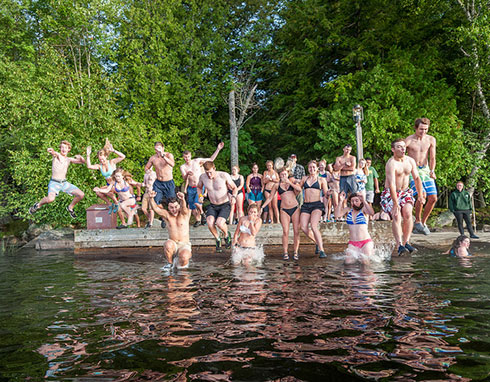 Some students' most memorable SUNY Cortland experiences take place in the heart of the Adirondack Mountains at the William H. Parks Family Center for Environmental and Outdoor Education at Raquette Lake. Participants of the Adirondack Trail Blazers program, pictured above, recently enjoyed a mass launch off the dock at Huntington Memorial Camp. Members of the History Department, baseball team and Peer2Peer Mentor Program also shared team-building activities, experiential learning and outdoor fun during the early weeks of the semester.
---
In Other News
Alumna to Discuss Symbolic World of Maya Women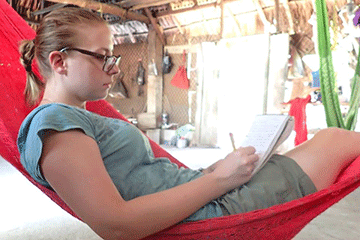 09/11/2018
Many anthropologists have studied the culture of the Maya, Mexico's indigenous people. Crystal Sheedy '08 is one of the first women to do it in the ancient Maya language.
In doing so, she found that women of the Maya village of Xocén located in the Yucatán Peninsula of Mexico have developed a special way to communicate to children as a way to keep their traditions strong in the face of the lure of mass culture and city life.
Sheedy, a former sociology/anthropology major at Cortland who is currently a Ph.D. candidate at University at Albany's Institute for Mesoamerican Studies, will return to her alma mater on Wednesday, Sept. 19, to share her research in a talk titled "An Entrance into Maya Women's Symbolic World."
The lecture, at 3 p.m. in Moffett Center, Room 2125, is free and open to the public. Afterward, Sheedy will meet with students interested in pursuing graduate studies in the field.
As a SUNY Cortland undergraduate, Sheedy wanted to study the culture of the Maya and learned the basics of the Maya (Yucatec) language from John R. Sosa, an associate professor in the Sociology/Anthropology Department.
After she graduated from SUNY Cortland with a B.A., Sheedy earned an M.A. at Texas State University-San Marcos in 2011. While enrolled there, she completed three summers of the Yucatec Maya language offered through University of North Carolina and conducted her master's thesis research in a Maya community in Yucatán.
"I chose to do my fieldwork in Maya because I feel that it is the ethnographer's obligation to learn a culture's indigenous language," Sheedy said. "To me, this not only strengthens the bond between the ethnographer and their participants, but also furthers the validity of the ethnographer's research."
Ethnography is the systematic study of people and cultures.
According to Sheedy, many changes are happening in the lives of the Xocén residents. Instead of following their parents' paths, younger generations are now creating their own road by leaving the village to pursue work in cities or tourist epicenters, such as Cancún and Tulum. This has caused dramatic economic and social changes in the village.
"Yet, despite these changes, female residents still strive to raise their children according to a moral framework through the use of their daily speech patterns and routines," Sheedy said.
The women refer to some of these utterances as u t'àan nukuch máak, "the language of the ancestors" (UTNM), or "dichos" in Spanish ("sayings" in English).
Utilizing a female-centered approach in her SUNY Cortland talk, Sheedy will describe and analyze this genre, which has never been fully documented in the academic record.
"Through this, I will reveal the traditional knowledge contained in these symbols as unique ways of viewing the world for my female participants, as they preserve this knowledge as they transition into more westernized spaces," Sheedy said.
Sheedy's past research focused on migration and its effects on the community's economy and gender roles. Her current work explores how Mayas are preserving their cultural practices and traditions for future generations.
For more information, contact John R. Sosa or Sheedy.
Constitution Day Event Focused on Campus Freedom of Speech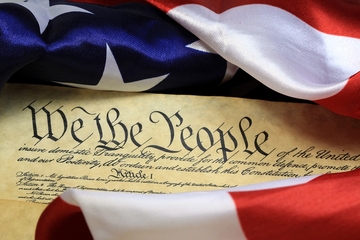 09/07/2018
At college campuses across the country, controversial and provocative speakers have been forced to cancel events or been shouted down by outraged students, raising questions about freedom of speech.
That hasn't happened at SUNY Cortland. And before any potentially divisive speaking engagements lead to shouting, students want to try a different approach to democracy's inevitable collisions of values and ideas: talking about it.
Tapping into the national discussion sparked by campus conflicts over speakers, SUNY Cortland will mark this year's Constitution Day with a presentation and a deliberative group dialogue on freedom of speech.
"The thoughtful consideration of new ideas and different opinions is critical to the task of higher education and the role of individuals in a democracy," President Erik J. Bitterbaum said. "Respect, compassion and critical thinking are all traits we encourage our students to develop and use throughout their lives."
SUNY Cortland's annual Constitution Day event will take place from 4:30 to 6:30 p.m. on Monday, Sept. 17, in Corey Union's Fireplace Lounge. To register, contact John Suarez, director of the Institute for Civic Engagement, by Wednesday, Sept. 12.
Assistant Professor Timothy Delaune of the Political Science Department will open the event with a 20-minute presentation, "Freedom of Speech on the College Campus."
The presentation will be followed by a 100-minute deliberative dialogue, moderated by Suarez, in which all audience members will be required to participate. Participants will be broken into groups and each also will have a trained student or faculty or staff member to help facilitate the discussion.
The goal is to have the participants discuss challenges surrounding freedom of speech on campus and for them to identify shared values and develop an action plan on how to take a hypothetical discussion into the real world.
"One outcome of this might be, for example, a push by students representing a variety of backgrounds and political views to work together to bring to campus people with disparate points of view," Suarez said. "How do we avoid those confrontational situations that are all too common on campuses around the country and elsewhere?"
The Institute for Civic Engagement's Action Team interns organized two deliberative dialogues during the 2017-18 academic year on the topics of voter engagement and mass shootings.
"Reflecting on these two deliberative dialogues, they distilled the idea that we really need to learn how to address contentious issues no matter what the issue may be," Suarez said.
Another deliberative dialogue, on the topic of environmental sustainability, is scheduled for Oct. 25 from 4:30 to 6:30 p.m. in the Hall of Fame Room. Suarez encourages students from all disciplines to register for deliberative dialogues so that they can learn techniques to help society deal with important issues.
Constitution Day recognizes the signing of the U.S. Constitution on Sept. 17, 1787 and serves as a reminder of the importance of public participation at all levels of government. SUNY colleges hosting similar events in mid-September will share ideas across social media using the hashtag "#SUNYConstitutionDay."
College to Embrace 'Healthy Campus' Sept. 26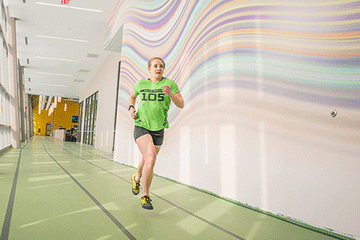 09/11/2018
SUNY Cortland will toast "Wellness Day: 150 Years of Healthy Red Dragons" on Wednesday, Sept. 26, with free historical displays, health-related activities and prizes in the Student Life Center lobby.
From noon to 3 p.m. that day, students can help advance the campus community toward an ultimate wellness milestone while reflecting on a timeline created to mark the many related accomplishments College has achieved since its founding in 1868.
The inaugural event takes place during Healthy Campus Week, celebrated this year from Sept. 24-28 by the national organization Partnership for a Healthier America (PHA).
This year, the Washington, D.C.-based PHA launched its fourth annual Healthy Campus Week as part of its Healthier Campus Initiative (HCI), a national effort to ensure college students have access to healthier environments during a time of profound change in their lives — a time when new habits are formed.
Research shows that overweight and obesity rates increase by more than 15 percent for first-year college students. According to a study published in 2014 in the journal Preventive Medicine, 95 percent fail to eat the recommended amount of fruits and vegetables and more than 60 percent report not getting enough physical activity.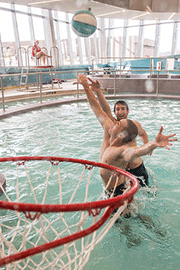 SUNY Cortland is bucking the trend. An average of 2,000 people, approximately one-third of the student body, use the Student Life Center every day to lift weights, run on the elevated track, play basketball or engage in activities such as yoga and meditation, group exercise classes, swimming or another fitness or recreational activity. Julian Wright, the College's director of recreational sports, estimates that the one millionth user will enter the three-year-old Student Life Center by the early part of fall semester. Approximately 500,000 additional people have toured the facility since it opened.
During SUNY Cortland's event, students, faculty and staff can walk around with a cardstock booklet "passport" to stations where they can check off health-related actions they have just completed such as having their overall calorie needs assessed, sampling healthy snacks, getting their blood pressure taken, performing an exercise test, checking their resting heart rate and undergoing a stress test. At one station, the participants might have their daily caloric needs calculated by College nutritionist Andrea Hart, for example. Interns with the College's Health Promotion Office will staff some stations.
"We're asking students to assess their wellness currently so they can compare their own health-related specific information in the future," said the College's health educator, Lauren Scagnelli '12, M '14.
"We have marked Healthy Campus Week for the last two years but we haven't promoted it this way," Scagnelli said. "In the past two years, we asked students to take pictures of themselves eating a healthy meal, using a stress ball, etc., and posted them on Twitter using the hashtags #HealthyCampus and #RedDragonStrong."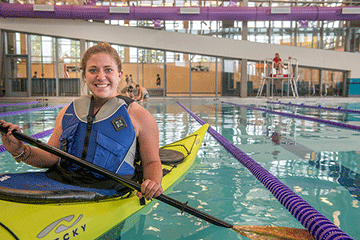 This year, participants who visit all six information stations will receive a free water bottle both as a prize and a reminder to always stay hydrated when exercising.
Additionally, those who complete even one station are entered into a drawing to win a session of Bod Pod body composition analysis, valued at $20, or a one-hour massage. A 50 minute, sport or relaxation massage costs $50 for students and $60 for faculty. Individuals who fill out the whole "passport" are entered in the competition six times over.
"We want to encourage any participation, so we offer everyone at least one chance to win," said Scagnelli, who served on a committee to organize the day's events. Committee members include Theresa Baker, CAN'T FIND HER IN DIRECTORY; John Cottone, dean of professionals studies; Hart; Bonni Hodges, Health Department professor and chair; Eve Mascoli, assistant director of recreation sports for facilities and aquatics; Fred Pierce, the College communications director; and Deborah Van Langen, associate professor of kinesiology. Van Langen and her students also will assist during the event.
Another table at the healthy campus event will feature a timeline of health-related milestones in SUNY Cortland history over the course of 150 years, created by Health Promotion interns.
Hodges and students enrolled in her classes will staff a separate table that will feature highlights of the Health Department's history.
The timeline will note, for example, that in 2013 the College campus became tobacco-free.
Another big milestone in nutrition, physical activity and programming appears to be coming up, according to Scagnelli.
SUNY Cortland has completed 19 of the 23 requirements in nutrition, exercise or programming to be officially named one of the nation's healthiest colleges through the PHA's Healthier America's Healthier Campus Initiatives. The College was given three years to reach the goal, until 2019. PHA developed these guidelines in collaboration with some of the nation's leading nutrition, physical activity and campus wellness experts.
This initiative was first introduced by SUNY Cortland President Erik J. Bitterbaum, Scagnelli said.
"The year 2016 was our first year and we are pretty confident we are within reach of having all 23 areas identified," she said. "Looking into the future, we hope to mark in 2019 that we've achieved the PHA's Healthier Campus Initiative."
To date, more than 50 colleges and universities across 29 states and the District of Columbia are participating in the Healthy Campus Initiative, impacting more than 1.3 million students, faculty and staff. The partnership also works to encourage for-profit businesses to produce healthier products.
The event also occurs on "Wellness Wednesday," the week day that SUNY Cortland campus traditionally sets aside all semester long to offer a different well-being initiative, for example, mental health outreach.
"Knowing that health is related to all different aspect of wellness, we make sure that that last aspect is included, too," Scagnelli said. The College has long conducted an annual Body Appreciation Week to encourage another major area of wellness.
For more information, contact Scagnelli in the Health Promotionoffice in Van Hoesen Hall, Room B-38 or 607-753-2066. Follow PHA on Twitter @PHAnews.
Experts to Discuss Cortland Concert History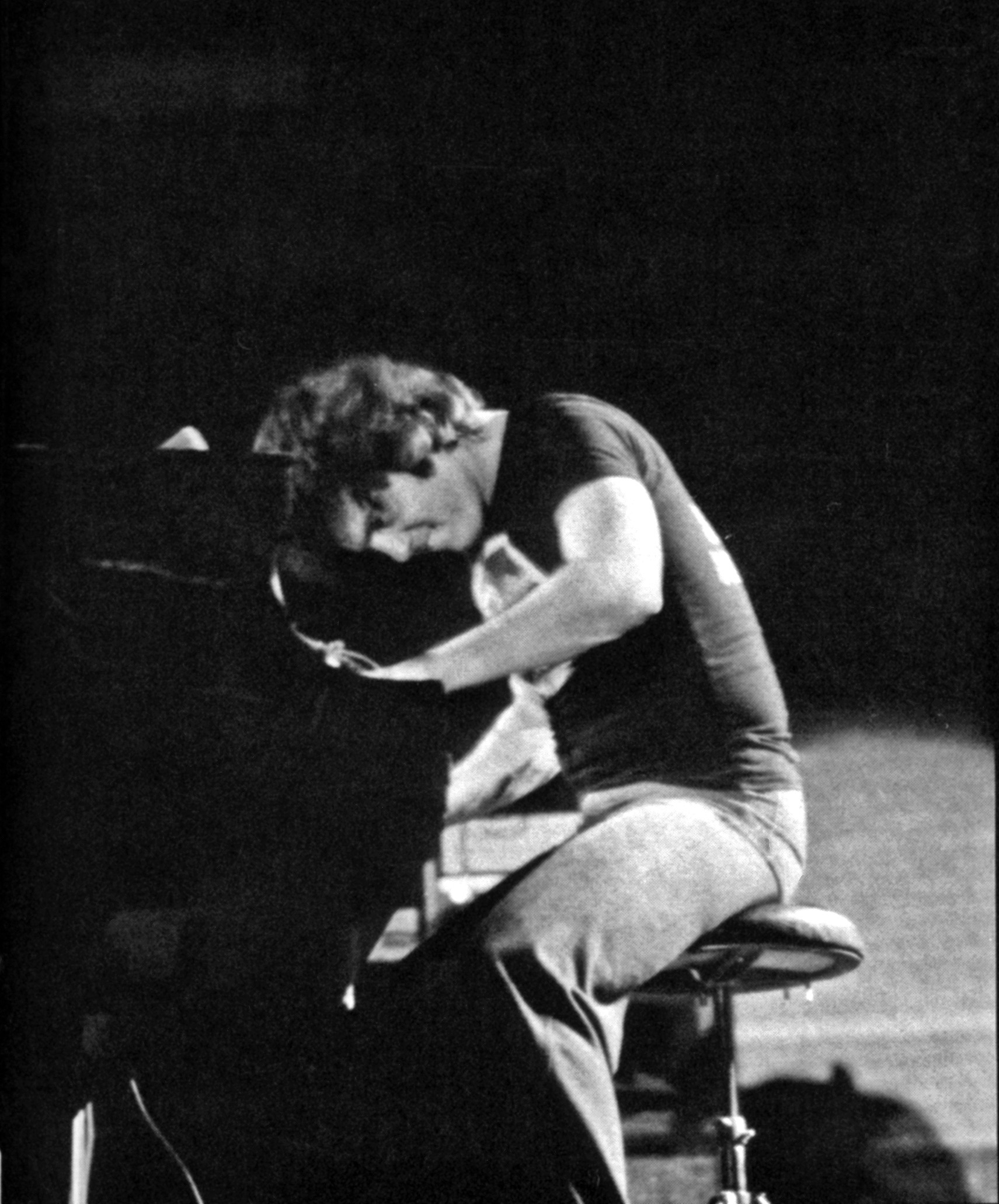 09/11/2018
Over the course of SUNY Cortland's 150-year history, the college helped launch more than 80,000 careers.
Pop music icon Billy Joel may not be an alum, but you can include him on that list. And Linda Ronstadt. And Neil Diamond, the Eagles and the Grateful Dead. All of them – and many more — honed their skill and built their fan base playing at SUNY Cortland before becoming household names.
From roughly 1960 through 1990, college campuses played an important role in making or breaking a music artist's career, and few Upstate New York campuses played as active a part as SUNY Cortland.
To commemorate this special time and review lessons relevant to the music industry today, people involved with the local concert scene during that era will hold a panel discussion Saturday, Oct. 6, as part of the College's 150th Birthday Celebration.
"Dream On, Dream Until Your Dreams Come True: How Musicians Like Billy Joel and The Grateful Dead Helped SUNY Cortland Become an Upstate New York Hub for Music Entrepreneurship" will take place at 10 a.m. in the new lounge area near the Union Station coffee shop in the basement of Corey Union.
The panel is just one of the events scheduled for that weekend that celebrates the SUNY Cortland Sesquicentennial. The centerpiece is the public birthday party scheduled for the night before on the Moffett Center lawn. Performances by campus groups, a giant birthday cake, fireworks and a slide projection on the front of Moffett are planned. Students, faculty, staff and members of the community are all invited to the 6 p.m. event.
That's the same "everybody's welcome!" invitation policy for the following day's panel discussion, which will touch on issues relevant for students interested in business, history, music and communications as well as alumni, community members and parents visiting students for "Family Weekend" who will remember the era and might have attended one of the concerts themselves.
"The music industry has gone through several turbulent upheavals over the last 50 years," explained Jack Samuels '73, a professor of recreation, tourism, events and sports management at Montclair State University who — as a Cortland student — was instrumental in bringing acts like the Beach Boys, Billy Joel and the Grateful Dead to campus.
"Those artists and entrepreneurs who survived learned to navigate major technological and business challenges that might seem counterintuitive, and that's part of what we want to share with students, Samuels said. "We're going to look back at SUNY Cortland's storied musical past and its role in launching legendary entertainment careers – many of which are still touring to sold-out crowds. We'll talk about entrepreneurial survival through passion and staying relevant. Students and community members will discover what success looks like for musicians and artist managers today and how they can benefit from their wisdom."
Joining Samuels on the panel will be local musicians and music business veterans, including:
Todd Hobin, a legendary Central New York singer, songwriter and leader of a wildly popular regional band that opened for chart-topping artists such as the Beach Boys, Allman Brothers, and the Kinks and performed at SUNY Cortland several times. Hobin's career has since expanded to include music producer, studio musician, musical director of children's television, movie scores ("King Kong"), audio books and writing and producing commercials for clients such as Coca Cola, ABC Television and Tri-Star Pictures. In addition to continuing to tour with his band, he is an Adjunct Professor at Le Moyne College's Department of Music.
Dave Rezak, founder of DMR Artist Booking Agency and founding director of Syracuse University's Bandier Program in the College of Visual and Performing Arts, the first academic program of its kind to focus on the business of music. In 2015 he won both Variety magazine's Media Mentor Award and the SAMMY (Syracuse Area Music Award) for Music Educator of the Year. He worked with Cortland students to book performers on campus.
David "Rock" Feinstein, former bandmate (and cousin) of Cortland's legendary heavy metal singer Ronnie James Dio, who replaced Ozzy Osborne in Black Sabbath, founded Dio and is credited with creating the iconic, heavy metal "devil horns" hand symbol. David was a 2011 SAMMY Hall of Fame inductee and guitarist of the bands Ronnie Dio and The Prophets, The Electric Elves, Elf and The Rods. Feinstein wrote Ronnie James Dio's last recorded song, "Metal Will Never Die" and has been part of the Upstate New York music scene since the 1960s. In addition to playing music, Feinstein owns Cortland's fabled Hollywood restaurant.
Jim Pantas, Ronnie James Dio's manager until 1972 and an artist manager and booking agent until 1975. In the latter role, he helped students bring notable acts to campus.
The panel discussion will be moderated by Dave Frisina '77, program director and afternoon drive DJ of Syracuse classic rock station 105.9, The Rebel. Frisina, who has long promoted Central New York musicians through his "Soundcheck" radio show, was a Billboard magazine nominee for Personality of the Year, Music Director of the Year and Program Director of the Year and received a SAMMY for Lifetime Achievement in 2018. He started his career at Cortland with the campus radio station and was a founding member of WSUC-FM.
The panel is one of several initiatives by SUNY Cortland's alumni Concert Commemoration Committee, which is dedicated to preserving the College's concert history and helping students succeed in the fields of communications, business, entrepreneurism, music, event management and history.
Ultimately, the group — which Samuels co-chairs — hopes to raise funds for a commemorative sculpture installation in the Corey Union lounge where the panel discussion is scheduled to take place.
For more information on SUNY Cortland's Sesquicentennial, visit Cortland.edu/150.
College Adds Three New Majors in 2018-19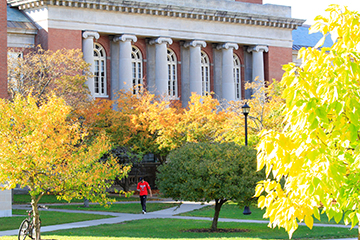 08/30/2018
A new school year will bring more academic opportunity for SUNY Cortland students, with three majors added in science, business and education.
Starting in the fall, students officially can declare majors in environmental geoscience, healthcare management and inclusive early childhood education. The new programs reflect retooled curricula that will help prepare students for a wide range of rewarding careers.
SUNY Cortland now offers 67 academic majors across the College's School of Arts and Sciences, School of Education and School of Professional Studies.
"As an institution of higher learning, our top priority is the education of our students — one that prepares them in all ways for a fulfilling life after Cortland," said College President Erik J. Bitterbaum. "To that end, it's crucial to always assess our academic offerings, making sure that they align with student interests, provide critical thinking skills and meet the needs of a changing workforce. These three new programs are exciting for many different reasons."
Here's a closer look at each new major:
Students who have an interest in earth science and solving environmental problems should consider this new offering in the Geology Department. Graduates are trained to tackle issues such as water pollution, stream bank erosion and flooding in an increasingly interdisciplinary field.
A core curriculum in geology and environmental science is supplemented by coursework in areas such as ecology and geographic information systems, which provide an understanding of other sciences and useful technical skills. Electives and a required internship allow students to consider topics that interest them the most.
Possible internship destinations may include a nature preserve, a government agency, a local soil and water conservation district, a landfill operation, an environmental consulting company or a non-profit organization.
"There are other environmental science and environmental studies programs in New York but they tend to have more emphasis on biology or policy," said Professor David Barclay, chair of the Geology Department. "Ours is different because we emphasize the geology that is critical for understanding environmental problems in water and at the land surface."
The College's new major replaces a concentration that previously existed in geology. SUNY Cortland alumni have gone on to careers with the federal Environmental Protection Agency, the New York State Department of Environmental Conservation, local soil and water agencies and private companies.
One of the first four-year programs of its kind within the SUNY system, this degree prepares students for roles that include finance, human resources or business management across various settings — hospitals, nursing homes, clinics and larger healthcare systems.
The major links the College's strong reputations in business economics and public health while providing training in a fast-growing field. The projected growth rate for health services managers by 2024 is 17 percent nationally and 12.5 percent in New York state, with an average annual salary of $128,470 for hospital administrators statewide, according to the U.S. Bureau of Labor Statistics.
"We want students to know that healthcare management could be an exciting option if they're interested in health or business or both," said Bonni Hodges, SUNY distinguished service professor and chair of the Health Department. "And we're not pulling it out of thin air. Instead, we're building on SUNY Cortland's success in two disciplines. We're introducing a well-designed entry point to a fulfilling career."
The Economics and Health departments will share the cross-disciplinary major, which replaces the healthcare administration and planning concentration within the community health major. Recent graduates are working in a variety of roles and settings, including hospitals, physicians' offices, outpatient care centers, rehabilitation facilities and home healthcare service agencies.
Inclusive Early Childhood Education
In addition to joining one of the largest and most respected teacher education networks in the country, students earn dual certification in early childhood education and early childhood: special education, learning to teach students of all abilities from preschool settings through second grade. Early childhood education and early intervention provide the foundations that all children need to be successful in school and within their communities.
"This new major will offer students the unique opportunity to provide some of the best integrated curriculum as well as needed interventions for young children across many settings," said Associate Professor Kim Rombach '88, chair of the Childhood/Early Childhood Education Department. "In the field of early childhood education, the need and desire for expertise in inclusive practices and interventions has grown.
"Graduates of this program will fulfill that need and the vision of assuring children start their education in the best and most inclusive settings."
The unique structure of SUNY Cortland's teacher education programs allows teacher candidates to complete student teaching in their choice of region, including in New York City, on Long Island, in the Syracuse, Albany, Binghamton, Buffalo or Utica areas, and in locations in and around Cortland.
A highly-respected degree, dual certification and the opportunity to student teach in a region where candidates wish to work make the new inclusive early childhood education major a strong option for future educators.
Wall Street Journal Ranks SUNY Cortland Among Nation's Best Colleges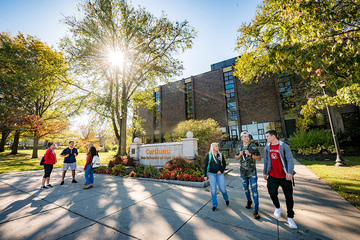 09/07/2018
Is a SUNY Cortland education worth the investment? The Wall Street Journal thinks so.
For the second consecutive year, the world's premier business news source listed SUNY Cortland as one of the best colleges in the nation in the Wall Street Journal/Times Higher Education 2019 College Rankings.
The annual ranking, which focuses on how well a college prepares students for life after graduation, highlighted SUNY Cortland's successful student outcomes and strong student engagement.
SUNY Cortland was the second-highest ranking SUNY comprehensive college in the 2019 report, which identifies what the organization determines are the best 500 four-year colleges in the United States. In a country with more than 3,000 four-year, degree-granting higher education institutions, that's roughly the top 16 percent.
"SUNY Cortland offers a high-quality education at an affordable price, and that's the foundation for success in today's economy," SUNY Cortland President Erik J. Bitterbaum said. "Our faculty and staff work tirelessly to help students pursue their career dreams, and we are gratified by this recognition."
It is far from the first. Earlier this year, Money magazine ranked SUNY Cortland in the top 5 percent of all four-year colleges in the United States as a "Best College for Your Money." US News &World Report consistently includes SUNY Cortland on its annual list of "Best Universities in the Northeast," again placing it among the top 100 colleges in the highly competitive region for 2019. The Sierra Club named SUNY Cortland on its annual "Cool Schools" list of the nation's most environmentally-friendly universities. The College was also recognized for excellence in programs including kinesiology, special education and sport management.
The Wall Street Journal rankings use a variety of data sources, including the Integrated Postsecondary Education Data System (IPEDS) and Times Higher Education's U.S. Student Survey of 200,000 current student voices. Colleges were ordered based on weighted categories including resources, engagement, environment and outcomes.
SUNY Cortland scored particularly well in outcomes, which measures academic reputation, graduation rate and a pair of value-added indicators: salary and ability to repay student debt. Times Higher Education used statistical modelling to create expected graduate salaries and loan default rates that tell how each college exceeds expectations in getting students higher average salaries than one would predict.
The engagement metric attempts to determine how well each college manages to inform, inspire and challenge its students and how much students immerse themselves in the intellectual and social life of their college.
SUNY Cortland placed No. 484 overall in the Wall Street Journal/Times Higher Education College Rankings, trailing only SUNY New Paltz among SUNY comprehensive colleges. The College ranked No. 338 nationally in outcomes and was No. 424 in engagement.
Free Laughs: International Standup Comic to Perform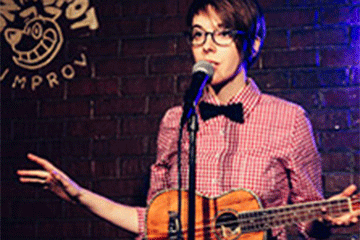 09/11/2018
If by the middle of your week you feel like you could really use a good laugh, take a hump day break from the books to experience a free show by comedian DeAnne Smith on Wednesday, Sept. 19.
Smith, who will be featured in a standup comedy special on Netflix in January, will take the stage at 8:30 p.m. in Old Main, Brown Auditorium. The event is free and open only to SUNY Cortland students, staff and faculty.
Smith, a Canadian writer-turned-comic who describes her boyish look as "nerdy Justin Bieber," has performed all over the world, including the Edinburgh Fringe Festival, the Melbourne International Comedy Festival, the Iceland Comedy Festival and Just for Laughs Montreal and Chicago to name a few. She's also been on TV in four countries, including "Last Comic Standing" on NBC, "The Late Late Show" on CBS, Canada's The Comedy Network and CBC, Australia's Channel 10 and ABC, and UK's Sky TV.
The Montreal Gazettedescribed Smith as "Fresh, cutting…one of the finest wits in the country." The UK's Telegraphcalls her "Smart. Very funny. Effortless charm lets her get away with murder." She has not, however, ever actually murdered anyone, according to her website.
Study Abroad Fair Set for Sept. 27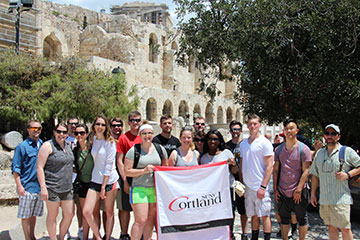 09/11/2018
SUNY Cortland's international school partners including Belize, Costa Rica, Ireland and Spain will showcase their programs during the Study Abroad Fair on Thursday, Sept. 27.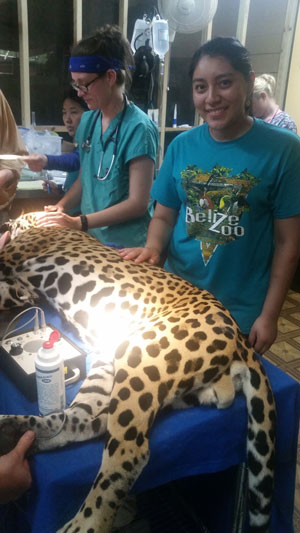 The event will be held from 11 a.m. to 2 p.m. in Corey Union Exhibition Lounge. The fair is free and open to the campus community. Information on funding and scholarships will be available.
"Students who visit the Study Abroad Fair will learn of the more than 1,000 study abroad destinations that are available through SUNY, including internships, service-learning, faculty-led programs and traditional study abroad programs," said Hugh Anderson, senior study abroad advisor in the College's International Programs Office, which is hosting the fair.
"There is a program for every field of study — some for the same cost as studying here at SUNY Cortland or even less," he said.
At the fair, students who have studied abroad already, as well as international visitors on campus and representatives from other SUNY campuses, will be on hand to describe their life-changing experiences and give their classmates a taste of what awaits them as scholars in a different land.
Participants may enter a raffle for a chance to win one of two $500 travel awards that can be used in the future towards any SUNY study abroad program.
At SUNY Cortland, students may choose from a wide array of SUNY-sponsored destinations, virtually anywhere in the world, in a range of disciplines. Study abroad participants may choose options that include attending a college or university, participating in an internship, student teaching, volunteering their talents, engaging in a faculty-led program or joining a short-term specialized program.
"Study Abroad 101," an information session on how to get started with the study abroad process, will be offered throughout the semester. Individuals only need to attend one session. These will be offered every Friday at 3 p.m. in Old Main Colloquium.
Surveys exploring the long-term impact on a student's personal, professional and academic life show that the experience of immersing one's self in another culture positively influences the individual's career paths, world-view and self-confidence.
For more information on the fair, contact studyabroad@cortland.edu or 607-753-2209 or visit the International Programs Office in Old Main, Room 219 or online at cortland.edu/studyabroad.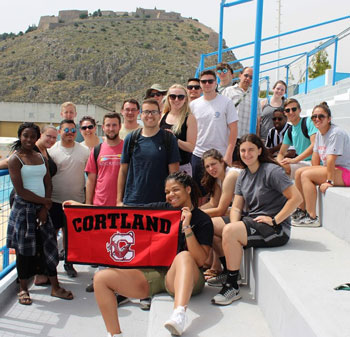 Academic Support and Achievement Program Receives Recertification
SUNY Cortland's Academic Support and Achievement Program's (ASAP) Peer Tutoring Program recently was recertified for five years by the College Reading and Learning Association (CRLA), said ASAP Director Esa Merson.
CRLA, an international organization founded in 1989, recognizes tutor programs that demonstrate high standards. The Peer Tutoring Program is led by ASAP academic tutors Mark Bischoff and Amy Russell. ASAP provides tutoring and other academic support programs for the College's undergraduate and graduate students.

Suggest a feature story
---
People on the Move
Vincent DeTuri Named Associate Dean
09/11/2018
Vincent DeTuri joined SUNY Cortland on Aug. 1 as associate dean for the School of Arts and Sciences. He reports to the dean, R. Bruce Mattingly.
DeTuri previously held several administrative positions at Ithaca College, including the last three years as the director of the integrative core curriculum. He also served two years as the assessment coordinator for the School of Humanities and Sciences and eight years as chair of the Chemistry Department.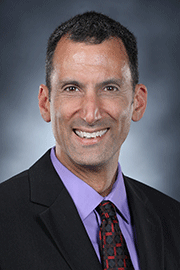 DeTuri came to Ithaca College in 1999-2000 as a visiting assistant professor in a two-year teaching postdoctoral position and was hired in 2001 in a tenure-track line. In 2007, he attained the rank of associate professor.
DeTuri taught courses at all levels of the curriculum that included a first-year seminar course team taught with Physics on the Nature of Science, Chemistry and Your Body, a course developed for non-science majors. He also taught Thermodynamics, Quantum Chemistry, and developed advanced electives in Computational Chemistry and Instrumental Analysis. He advised eight honors students on their thesis projects and from 2011 to 2015 was the local section coordinator for the US National Chemistry Olympiad.
DeTuri is the author of numerous peer-reviewed articles and has delivered many lectures to students and fellow scholars at conferences. Five of his research projects have been supported by grants.
DeTuri has a B.A. in chemistry from the University of San Diego and a Ph.D. in chemical physics from the University of Nevada, Reno.
He replaces Jerome O'Callaghan, who returned to teaching as an associate professor of political science after having served as associate dean for 13 years.
---
Faculty/Staff Activities
Timothy J. Baroni
Timothy J. Baroni, Distinguished Professor Emeritus of Biological Sciences, presented a poster at the 11th International Mycological Congress meetings held July 15 to 21 in San Juan, PR. Baroni and co-authors from Italy, the Dominican Republic, Puerto Rico and the US, including two of Baroni's former students, Tracy Armstrong Curtis '01 and Lance Lacey '04, presented data accumulated in the Dominican Republic over an extended 20-year period on the biodiversity of group of not well-known fungi. Curtis and Lacey worked in the Dominican Republic with Baroni from 1996 to 2006 funded by Research Experiences for Undergraduates from the National Science Foundation. The title of the presentation and the publication that will result from the work is "The Rhodocybe/Clitopilus clade (Entolomataceae, Agaricomyetes) in the Dominican Republic: a new genus, new species and first reports for Hispaniola."
Amy DiRenzo
Amy DiRenzo, Recreation, Parks and Leisure Studies Department, will speak at the Empire Longevity Symposium on Saturday, Sept. 29. The symposium will be held at the Center 4 the Arts in Homer, N.Y. She will be speaking on the impact natural environments can have on human health, with a particular focus on the connection between adventuring outdoors and wellbeing. For more information and tickets, go to empirelongevity.com.
John C. Hartsock
John C. Hartsock, Communication and Media Studies Department, participated in a panel discussion at the 13th annual conference of the International Association for Literary Journalism at the Austrian Academy of Sciences in May in Vienna, Austria. He discussed "Internationalizing American Campuses: Teaching World Literary Journalism."
Also at the conference, the second "John C. Hartsock Award for Best Article" published in Literary Journalism Studies for the previous publication year was awarded. The recipient was Julie Wheelwright of the City University of London for her article on the ethical relationships in Gay Talese's Thy Neighbor's Wife. The award was created by IALJS in 2017. Hartsock was the founding editor of the peer-reviewed Literary Journalism Studies, the official scholarly journal of the IALJS. Previously unreported was the first award recipient, Leslie Cowling of the University of Witwatersrand, South Africa, for 2016 publication year.
Michael Hough
Michael Hough, Biological Sciences Department, had his article, "Geum ×cortlandicum (Rosaceae), a new natural hybrid plus three Geum urbanum hybrids new to the flora of New York," published in the August 2018 issue of Phytoneuron, an open-access journal. Geum ×cortlandicum M. Hough is a previously undescribed hybrid of two common native species, G. canadense and G. laciniatum. The taxon is named for Cortland County, N.Y., where this and three other Geum hybrids have recently been collected by the author. Two of the other hybrids, G. ×catlingii and G. ×macneillii, are new to the flora of New York and the other, G. ×intermedium, is not only new to New York but had not previously been reported from North America.
Ben Lovett
Ben Lovett, Psychology Department, had an article accepted for publication in the Journal of Psychoeducational Assessment. His article, co-authored with Lindsey Carter '18, reports the results of a study investigating the effectiveness of separate room testing accommodations for college students with and without Attention Deficit Hyperactivity Disorder (ADHD).
Mechthild Nagel
Mechthild Nagel, Philosophy Department and the Center for Gender and Intercultural Studies (CGIS), participated in plenary session on "Mentoring Advice: Publishing in Top 5 Journals," on July 1 at the Economic Science Association World Conference at Humbold University in Berlin, Germany.
Robert Spitzer and Brian Williams
Robert Spitzer and Brian Williams, Political Science Department, participated in activities at the annual meeting of the American Political Science Association, held Aug. 30 to Sept. 2 in Boston, Mass. Williams presented a paper titled, "Democratization and Polarization in Belgium" for a panel on "The Historical Development of Legislatures." Spitzer served as a discussant for a panel on "Executive Power and Democratic Functioning in the Trump Era." He also participated in the governing board meeting of Pi Sigma Alpha, the national political science honors society. He has served on the board for the last three years.
John Suarez
John Suarez, Institute for Civic Engagement, learned that his workshop, "Build Organizational Capacity: Invert the Triangle," has been accepted for the SUNY Applied Learning Conference set for Nov. 1 and 2. To address the challenge of limited budgets, directors of applied learning offices can build office capacity by hiring, for academic credit, interns who demonstrate entrepreneurial qualities such as creativity and initiative. Directors can nurture those qualities by inverting the traditional management triangle, thereby giving interns some autonomy in creating, designing and conducting office projects. This approach does require directors to relinquish some ownership of intern-led projects, so this session's role plays will give participants the opportunity to surrender ownership of projects and to experience the resulting ambiguity regarding those projects' trajectories.

Submit your faculty/staff activity