Hear the Buzz? SUNY Cortland is a National Bee Campus
03/22/2016
It's official: SUNY Cortland is the place to bee.
And no, that's not a typo.
SUNY Cortland last week became the sixth college in the nation – and the only one in New York state – to be certified as pollinator-friendly under the national Bee Campus USA program.
To earn that certification, colleges must manage their campus environments with landscapes that encourage bee foraging and nesting and recognize the importance of pollination in sustaining agriculture and natural habitats.
"As a biologist, I couldn't be prouder of SUNY Cortland's new designation," College President Erik J. Bitterbaum said. "Many of our students, faculty and staff already are working on pollinator health and sustainability issues. They will provide the type of solid leadership in pollinator conservation efforts one would expect of a Bee Campus."
Roughly 85 percent of all flowering plants and trees, including two-thirds of the species that provide food, depend on pollinators for species survival. Bees, the most effective pollinators of all insects, face increasing pressures from pesticide, disease and habitat loss. All of the native bee species are declining in population, including the honeybee population, which is dropping by 30 percent or more each year.
That's why the native plant environments maintained by the College in its "no-mow" zones, wildflower gardens and the rolling bio-swale that controls storm water in front of Bowers Hall are so important. The same is true of the more than 600 acres of undeveloped, natural space occupied by SUNY Cortland's William H. Parks Family Center for Environmental and Outdoor Education. The W.H. Parks Family Outdoor Center includes the outdoor education facilities of Hoxie Gorge, Brauer Field Station and Camp Huntington/Antlers.
SUNY Cortland's designation as a Bee Campus USA will be celebrated during two Green Days events, said Jeremy Zhe-Heimerman, the College's coordinator of assistive technology and test administration services and chairman of its Garden Advisory Committee.
Green Days is a series of events related to sustainability that reaches its peak of activity every April. For more information, go to cortland.edu/greendays.
The first will be the slideshow discussion "Caterpillar Gardening: The Plants That Butterflies and Moths Need to Complete Their Life Cycles" by Colleen Wolpert of the Finger Lakes Native Plant Society. Wolpert will talk about the importance of protecting and encouraging these pollinators at 7 p.m., Tuesday, April 19, in Sperry Center, Room 204.
The second will be a sandwich seminar explaining the importance of the Bee Campus designation and what it means at SUNY Cortland. The presentation will be at noon on Wednesday, April 27, in Brockway Hall Jacobus Lounge.
"SUNY Cortland strives to be both a student and a teacher of sustainable practices," Zhe-Heimerman said. "Our goal is to model pollinator-friendliness in our landscaping practices by incorporating as many locally native plants as possible, avoiding the use of invasive species, and implementing Integrated Pest Management policies for our campus."
No beekeeping is done on campus and none is planned. Bee Campus USA is recognizing work that the College has already been doing, so members of the campus community are unlikely to notice a change in bee population. Rather, the College will do all it can to ensure that the bees continue to thrive, largely unnoticed, on campus.
Psychology Project Seeks to Create Ideal Study Place
03/18/2016
It's easy for even the most capable college students to "get lost" when they've set out to read dense material on their own, according to SUNY Cortland Associate Professor Raymond Collings.
"One minute, you're sitting down ready to read and then 20 minutes later your mind is off in Spain," said Collings, a 13-year member of the College's Psychology Department who focuses his research on attention spans.
That's why Collings and a team of SUNY Cortland students are launching The Study Place Project beginning in the 2016-17 academic year. The two-year study aims to help first-year students acclimate faster to college-level academic work, especially when they're tackling it on their own.
"This is about helping students learn how to be better independent learners," Collings said. "We're going to try to help them answer the question, 'What's the best way for me to learn?'"
The endeavor will offer student participants access to a distraction-free, controlled study space in the McDonald Building, a College facility located at 60 Tompkins St. that previously housed SUNY Cortland's speech and hearing clinic.
Collings emphasized the student-designed nature of the project. SUNY Cortland undergraduates in their junior and senior years representing several different academic majors have taken the lead on several tasks, from designing study areas to serving as peer facilitators. Although they won't necessarily provide content-specific training or tell new students how to study, the upperclassmen will look to help first-year students establish individual goals for academic success.
The Study Place Project provides a unique workspace and
training for first-year students adjusting to academic life.
Study participants also will gain access to a brief online course in effective study skills — one that covers common first-year challenges such as time management, note-taking and test preparation.
Megan Whitbeck, a senior psychology major from Jamesville, N.Y., was one of the approximately 10 students who helped map out The Study Place Project. She emphasized that upperclass facilitators will assist first-year students in their goal setting without tutoring in a specific subject.
"If a student is having trouble with content in biology, we'll direct them to the best resources on campus," said Whitbeck, who also works as a peer tutor with SUNY Cortland's Academic Support and Achievement Program. "We're kind of like the kick-start to get them thinking about other resources.
"We're there to help make goals specific and make sure students are staying on task."
The jump from high school to college-level studying can be significant for some students, she said. Participants will be asked to visit the McDonald Building twice each week for at least two hours, checking in at the beginning and end of their sessions with peer facilitators.
Study areas will include sofas and tables of different sizes — a student preference that surprised Collings, he said. Participants also will have online access to Pandora Radio if they prefer music during their studies.
"Some folks need totally quiet, others need a little bit of noise," Collings said. "All of this is designed to 'what you need' as a student."
According to Collings, most people have fully developed their attention spans by late childhood. The Study Place Project won't try to change that, but instead teach new students how to work more effectively on their own.
"By the time you're a junior or senior, you've learned how to do that," Collings said. "We just want to speed that up a little bit."
Whitbeck said her work with The Study Place Project — specifically the research she's conducted on thinking and behavior — has encouraged her to pursue master's programs in psychology and then likely a doctoral degree.
"I love the one-on-one interaction and looking at all of these different psychological constructs," she said.
Participants will be asked to fill out several surveys at the beginning and end of the study, which should help the researchers examine how participation in the project may have affected attitudes towards learning and the overall adjustment to college. The organizers also will look to track the participants' academic progress throughout their undergraduate careers.
The Study Place Project is funded by the College's Research and Sponsored Programs Office as well as the William L. Haines '63 President's Discretionary Fund, which means there is no cost for participants. They also receive a $30 gift card from Auxiliary Services Corporation, the College's dining and retail services provider, for their semester-long participation. Peer facilitators earn research credit for their time.
Project organizers will attend the College's Admissions Open House on Saturday, April 2, as well as different Orientation sessions. Interested applicants can visit the project's webpage or contact Collings at 607-753-2046 to learn more about the project.
---
Capture the Moment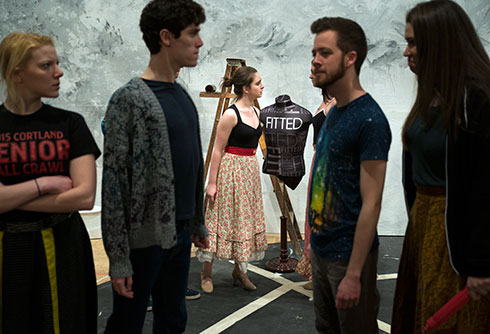 Emily Woods, a sophomore from Staten Island, N.Y., seen at center in the role of Celeste 2, rehearses a scene from the SUNY Cortland production of "Sunday in the Park with George." Performances will be held April 8 to 10, and April 15 to 17 in Dowd Fine Arts Theatre. Tickets will be available online and at the door. Also participating in the March 21 rehearsal, having a discussion over cheating spouses, are, from left, Camille Parlman, a senior from Hudson, N.Y., as Frieda, Andrew Cuccaro, a junior from Baldwinsville, N.Y., as Franz, Matthew Spina, a junior from Sayville, N.Y., as Jules, and Kayla Arias, a junior from Long Island, N.Y., as Yvonne.
---
In Other News
SUNY Cortland Seeks Qualified STEM Teachers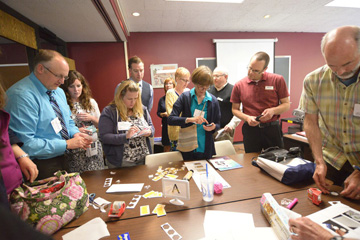 03/22/2016
All outstanding math and science teachers from the Central New York region are encouraged to apply for the expanded New York State Master Teacher Program housed at SUNY Cortland. This is especially true of professional educators who feel that neither language issues nor special needs should be barriers for students interested in science, technology, engineering and mathematics (STEM).
With 68 Master Teachers in training, the College currently serves as one of the largest regional hubs of the incentivized professional development program. The statewide effort, which launched in 2013 and currently includes a network of 623 high-performing teachers, rewards talented STEM educators and attempts to keep them in the classroom to share their expertise with peers and pre-service teachers.
Applications will be accepted through Saturday, May 14.
And starting in the fall, SUNY Cortland will host a new pilot extension to the program, one that encourages participation from STEM teachers who specialize in working with English-language-learners and students in special education programs.
"There's a need to provide additional support in STEM-focused courses for this diverse population of students," said Dominick Fantacone M.A.T. '12, the Central New York region coordinator and the chief campus coordinator for the program statewide. "We're still recruiting purely STEM teachers and now also those who have these additional certifications."
Governor Andrew M. Cuomo last week announced additional funding to expand the Master Teacher Program. SUNY Cortland, which runs the largest accredited teacher education program in the Northeast, serves as one of the nine campus partners representing the state's economic development regions. The Central New York region covers Cayuga, Cortland, Madison, Onondaga and Oswego counties.
Collectively, Master Teachers represent nearly 300 school districts statewide. They possess an average of 14 years in the classroom, teaching a wide range of STEM courses at the middle and high school levels.
The program requires a four-year commitment to mentoring other secondary school teachers and helping both prospective educators and new teachers. Master Teachers also engage in peer mentoring and intensive content-oriented professional development opportunities throughout the school year. Selection comes with a $60,000 stipend awarded annually in $15,000 increments for four years.
Master Teachers are chosen for their classroom effectiveness in science or math. They meet routinely as a group for mini-courses and workshops and pursue individualized development plans in their content areas. They then share what they've learned with other working educators and pre-service teachers.
To be eligible for the Master Teacher Program, applicants must be certified New York State public school teachers in grades six through 12. Teachers also must have a minimum of four years of experience teaching STEM subjects and must spend at least 60 percent of their time in the classroom teaching those subjects.
Individuals who meet the eligibility requirements and the following criteria are encouraged to apply for the pilot program being launched at SUNY Cortland, on Long Island and in the Western New York region:
Hold an extension certificate in bilingual education, or
Hold certification in English as a Second Language, or
Hold a dual certification in a content area and special education.
Visit suny.edu/masterteacher for additional information about the Master Teacher Program, the application requirements and the process associated with it.
Roundtable to Discuss Student Life Center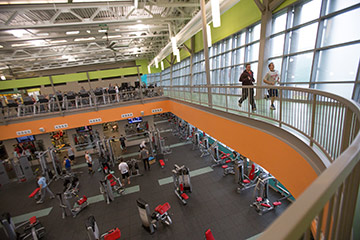 03/22/2016
Exactly what makes the year-old Student Life Center (SLC) a magnet for so many SUNY Cortland students will be discussed during a Community Roundtable on Thursday, April 7, at the College.
Julian Wright, director of recreational sports, who conceived the project two decades ago and then followed it through to fruition, will provide an overview of "Student Life Center Opportunity" from 8 to 9 a.m. in the in the Student Life Center, Room 1104. That is a change from the usual meeting location, the Park Center C-Club Hall of Fame Room.
Afterward, he will take community members who have not seen inside the unique, glass-walled complex on a tour of the facility.
Sponsored by the President's Office, the roundtable is free and open to the public. Refreshments will precede the lecture at 7:45 a.m.
Since it opened to students, faculty and staff on Feb. 16 last year, the SLC has increased use to an average of 2,200 students per day, with up to 2,600 students some days, Wright said. This represents approximately one-third of the entire student body.
Wright, the man who spearheaded the project to construct a new focal point on campus for student recreation, social interaction and experiential learning, will answer questions after his presentation and before the tour.
During his talk, Wright will provide a brief history of the project; describe the purpose of the facility and its priority of use; will outline special programming opportunities for the College's students, faculty and staff; discuss sustainability features of the facility; and share usage numbers for the facility and the impact it is having on the SUNY Cortland campus.
Student recreation space is located in the south wing, including two floors of fitness facilities, a three-court gymnasium, a recreational swimming pool, student lounge with video games and pool tables, a one-fifth-mile elevated running track and much more. Features in the north wing of the 150,000-square-foot complex include a 343-seat food court, Recreational Sports' Outdoor Pursuits Center and a retail snack bar.
| | |
| --- | --- |
| | |
| | Students can nurture their spirits as well as their bodies in the Student Life Center's Mind-Body Room, where new age music wafts around and a ceiling installation mimics the stars. In the photo above left, a pair of students runs the elevated track. |
The College also committed to sustainability in designing and building the complex as it strives to achieve the New York state BuildSmart NY program goal, which requires all state-owned and managed buildings to reduce how much power they use 20 percent by 2020.
A succession of campus presidents and senior administrators were involved in bringing the project about. Out in the community, State Sen. James L. Seward, R-Oneonta, Assemblywoman Barbara Lifton, D-Ithaca, and former Cortland Mayor Martin "Marty" Mack M '76, a senior staffer for the New York Attorney General's Office, were all instrumental in lining up the funding for the $56 million construction project.
For more information, contact Samantha Howell, special events coordinator for the President's Office, at 607-753-5453.
Tobacco Clean-Up Looks to 'Kick Butts'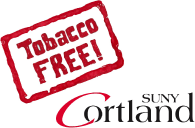 03/22/2016
There's nothing violent about SUNY Cortland's upcoming "Kick Butts" Day. Instead, the intention is to continue the College's notable tobacco-free efforts by cleaning up cigarette litter on campus and in the nearby community.
Students, faculty and staff members are invited to volunteer from noon to 2 p.m. on Tuesday, March 29. They're encouraged to sign up for the clean-up by sending an email to Lauren Herman, the College's health educator, and then report to the lobby in the Student Life Center any time during the two-hour window.
Campus employees can be granted up to one and a half hours of release time with supervisory approval.
In 2011, the College became just the second SUNY institution to announce its intention to go completely tobacco-free — a feat it accomplished in 2013. Since that time, SUNY has adopted a system-wide tobacco-free policy, which took effect in 2014.
A 2014 survey conducted by the College reported that 65 percent of 369 respondents observed a decrease in tobacco use on campus, while 68 percent noted an observable decrease in tobacco litter. Most recently, SUNY Cortland was recognized in the fall on the Tobacco-Free U: 2015 New York State Dean's List as one of only 13 higher education institutions to receive an A-plus rating from the American Cancer Society.
Those grades, which scored 201 colleges and universities across the state, were awarded based on surveys reporting how effectively tobacco- or smoke-free policies held up at different institutions. The highest scoring schools demonstrated a commitment to compliance beyond simply instituting policies on paper, according to the report.
SUNY Cortland continues to offer support and quitting mechanisms for campus community members who wish to kick their smoking or tobacco use habits.
The upcoming clean-up is sponsored by SUNY Cortland's Tobacco Advisory Committee and Tobacco-Free Cortland. It is considered part of the College's yearlong Green Days celebration. Green Days is a calendar of events related to sustainability that reaches its peak of activity every April. Visit cortland.edu/greendays for more information.
Parents to Discuss 'Opt-Out' School Test Movement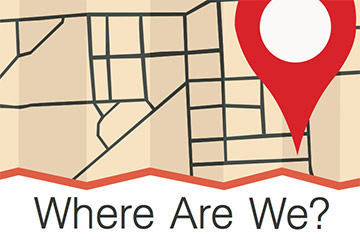 03/21/2016
A panel of parents from Cortland, Ithaca and Dryden will describe their motivation for refusing to let schools administer to their children the standardized tests put in place by New York state, on Thursday, March 24, at SUNY Cortland.
Their presentation, "The Local Opt-Out Movement: Parents' Responses to Standardized Testing Requirements," begins at 7 p.m. in Brockway Hall Jacobus Lounge.
The talk fits into SUNY Cortland's yearlong program of lectures, panel discussions, exhibitions and concerts themed on "Where Are We?
The series explores the role that local communities play in the greater society's achievement of economic health, environmental resilience and overcoming inequalities of all types. Presented by the College's Cultural and Intellectual Climate Committee (CICC), all the events are free and open to the public.
Two presentations during March remain. The April series will be announced soon.
During the panel presentation, these parents — who personify the movement to take control of the testing requirements for students by having their children "opt out" of the tests — will share how this local activism has spread beyond each family's decision.
A question-and-answer and discussion period will follow.
The event is co-sponsored by Cortland's Urban Recruitment of Educators (C.U.R.E.) Program.
Multi-media Show Spotlights Local Changes
Howard Lindh, a lecturer and scenic designer emeritus with the College's Performing Arts Department, will give a multi-media presentation titled "Our Town: Cortland Then and Now" on Tuesday, March 29.
His program begins at 7 p.m. in Sperry Center, Room 104.
By holding an annual series on a different intellectual theme, the CICC committee aims to generate common topics of discussion and to establish traditions of intellectual discourse on campus. The series encourages faculty and staff to infuse the theme into their course curricula, engage in classroom discussions and debates around the theme, and propose campus events or speakers on topics connected to the theme.
The series also is sponsored by the Campus Artist and Lecture Series, the Provost and Vice President for Academic Affairs' Office, the President's Office and the Cortland College Foundation.
For more information, contact CICC co-chair Scott Moranda, associate professor of history, at 607-753-2052.
Muslim Speaker Strives to Further Tolerance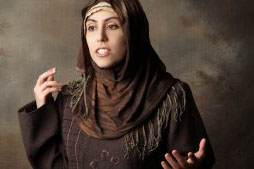 03/22/2016
Hatred and animosity can begin at a young age. As a female Orthodox Muslim, Zohra Sarwari is traveling around the nation to reverse those prejudices.
Sarwari, a spiritual leader, author and life and business coach will address current issues of intolerance towards Muslims and Islamic culture on Thursday, March 31, at SUNY Cortland.
She will share inspirational stories with humor and passion in her talk "No, I am Not a Terrorist" at 7 p.m. in Old Main Brown Auditorium.
Presented by Campus Artist and Lecture Series (CALS), the event is free and open to the public.
Sarwari works to cut through misinformation and hate regarding terrorism targeted towards the Islamic culture.
"Hatred isn't going to get your life anywhere," Sarwari said to Fox News in Toledo, Ohio. "It's going to hurt you."
Based off her book, No, I am Not a Terrorist, she opens a dialogue with her audience on difficult issues facing the world today. Sarwari pushes for equal respect among people of any race, religion or background.
"Forty-eight percent of Americans don't like Muslims because 55 percent of them don't know who we are," Sarwari said in a report with CBS.
Sarwari came to the United States from Afghanistan at age six as a refugee. She married at 19 and began working full-time while pursuing her bachelor's degree in psychology. Later, Sarwari received a master's degree in business administration. She currently is working on her bachelor's degree in Islamic studies.
While juggling her studies and actively being a mother to four children, Sarwari travels all around the world with her family to educate others. She is author of 10 books, including the groundbreaking Who Am I?, Are Muslim Women OPPRESSED?, and 9 Steps To Achieve Your Destiny.
A life and a business coach, Sarwari has called upon her personal experiences and entrepreneurial expertise to provide guidance to those who seek her help.
"My mission is to serve God by teaching others how to live effectively and productively and to benefit their communities with the gifts they are blessed with," Sarwari wrote on her website.
CALS is funded by the mandatory student activity fee, the Cortland College Foundation and grants from the Auxiliary Services Corporation.
Visit the website zohrasarwari.com for background about Sarwari. For more information regarding CALS events, contact the Campus Activities and Corey Union Office at 607-753-5574 or visit the CALS webpage at cortland.edu/events/cals.
Prepared by public relations intern Bethany Lunden
SUNY Cortland Holds the Line on Room and Board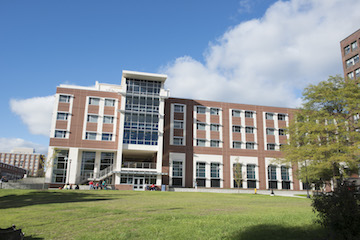 03/22/2016
Over the last five years, the price of public college room and board has increased by nearly 10 percent above the rate of inflation, according to U.S. News and World Report.
But not next year. Not at SUNY Cortland.
Recognizing the burden that steadily rising costs places on our college students and their families, SUNY Cortland officials have decided to hold the price of room and board steady for the 2016-17 academic year. That means the rental rates for on-campus housing and the price of SUNY Cortland's meal plans will not increase next year from their current level.
It's just another way that SUNY Cortland is trying to keep its high-quality educational experience affordable for all deserving students, President Erik J. Bitterbaum said. And it's the kind of student-focused policy that led Consumer's Digest to name SUNY Cortland one of the nation's top 50 "best value" public colleges and universities in 2015.
College room rates ­­– currently $3,910 a semester for a standard double ­– will remain unchanged, even though all campus residence halls will have been recently updated and renovated once DeGroat Hall reopens in the fall.
Similarly, the College's Auxiliary Services Corporation is maintaining the current price of its on-campus meal plans. The cost of a standard Silver plan will remain $2 190 per semester.
Annual Admissions Open House Set for April 2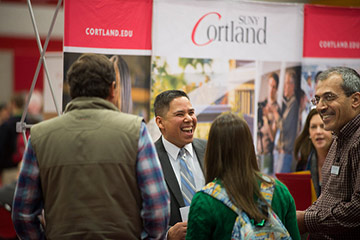 03/22/2016
The 34th annual Admissions Open House, a one-day program allowing accepted freshmen, transfer applicants and prospective students to acquaint themselves better with SUNY Cortland, is expected to attract 1,800 visitors to campus on Saturday, April 2.
This year, more than 10,700 prospective freshmen have applied for the fall semester at SUNY Cortland, said Betsy Cheetham, assistant director of admissions at the College and coordinator of Open House since its inception in 1983.
Additionally, the College anticipates more than 2,400 transfer applications for the Fall 2016 semester, she noted. In the past, more than 70 percent of prospective first-year students who attended Open House actually enrolled in the fall semester and 90 percent of the transfer applicants have enrolled.
Spring Open House is a critical part of the recruitment process of new students to the College, added Mark Yacavone '94, SUNY Cortland assistant vice president for enrollment management.
| | |
| --- | --- |
| | |
| | Prospective freshman and transfer students will tour the campus during the 34th annual Admissions Open House on April 2. Above left, Admissions Office staff and faculty answer one visiting family's questions. |
"Many of the visitors to Spring Open House have been accepted as either freshman or transfer students," he said. "This event allows them a final opportunity to interact with our faculty, staff and students before they make their final decision on a college to attend in the fall."
Events will take place in Park Center, on the lower campus, and Corey Union, located halfway up the hill.
Visitors are encouraged to participate in a variety of information sessions and tours. The dining halls will welcome visitors to eat alongside current students at no charge for the prospective students and at the regular rate for their family members.
Open House begins at 9:45 a.m. in the Park Center Alumni Arena with welcoming remarks by College President Erik J. Bitterbaum, Student Government Association President Patrick Viscome and Yacavone.
An academic, student services and student organization fair will be offered between 10:15 a.m. and 12:30 p.m. in the Park Center Corey Gymnasium and Poolside lobby. The facility is located in the lower campus near the sports complex and tennis courts. Prospective students and their families can meet current faculty and students to discuss the College's major and minor programs, as well as its clubs and activities. Walking tours of campus led by current students will include academic buildings, residence halls and the year-old Student Life Center. A shuttle bus will transport students wanting to tour the West Campus Apartments.
New this year will be planetarium shows at 1 and 2 p.m. with planetarium director and physicist Sean Nolan. He describes this as an hour-long "journey through our solar system into deep space" that includes a 30-minute I-MAX movie titled "From Earth to the Universe." Afterward, visitors can learn about what constellations and celestial objects they can see right from their own backyards. The programs also showcase the fairly recent Planetarium replacement that is located off the Bowers Hall lobby. The facility can accommodate 41 people per show.
Information on an array of programs relating to the academic, cultural and social life of the Cortland campus will be presented between 10:30 a.m. and 1 p.m. in Park Center and Corey Union. Sessions will cover housing and residence life for both freshman and transfer students, financial aid, Honors Program, career services, academic support services and dining, College Store and other essential services.
Additional sessions include campus activities and involvement, Greek life, study abroad, student disability services, recreational and outdoor pursuit opportunities, intramural sports, fitness and sport clubs, childhood and early childhood education, special education, pre-med and pre-law advisement, transfer credits, and learning opportunities for students who haven't declared a major. DanceWorks, Kickline and the Cortland Dance Company will perform, as well.
Special presentations in an array of disciplines are planned from 10:30 a.m. until 1 p.m.
In Park Center Jason Harcum, assistant director for recreational sports for Outdoor Pursuits, will discuss the College's off-campus facilities in the Adirondacks and their role in the successful transition of youth to the campus experience. Both first-year and transfer students can be part of an Orientation experience called the Adirondack Trailblazers. Theresa Curtis, associate professor of biological sciences and the pre-medical and pre-dental advisor, will offer advice. New this year, Deborah Van Langen, assistant professor of kinesiology, will discuss pre-physical therapy advisement. Assistant Professor of Political Science Timothy DeLaune will advise visitors interested in pre-law.
Meanwhile in Corey Union, Mary Reagan, field placement coordinator, will present on "Student Teaching Opportunities at Home and Abroad."
Guests will be given meal vouchers and encouraged to sample lunch alongside current students at their choice of dining facilities in Brockway Hall, Neubig Hall, the Student Life Center and Corey Union.
Visitors also are invited to attend the free campus athletic event, a softball doubleheader versus Brockport with first pitch slated for noon.
For more information, visit online at cortland.edu/admissions or contact Cheetham at 607-753-4712.
Onondaga Nation Litigator Joe Heath to Speak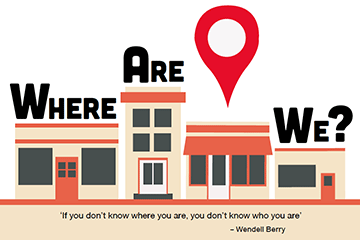 04/06/2016
Joe Heath, the general counsel for the Onondaga Nation since 1982, will team up with a musical SUNY Cortland faculty member to focus attention on the local politics of fracking and the fight against natural gas storage under Seneca Lake Thursday, April 7.
| | |
| --- | --- |
| | |
| | Joe Heath |
Heath, an attorney since 1975, and Colleen Kattau, an associate professor of Spanish in the Modern Languages Department, will present "What Porter Ranch Can Teach Us about Seneca Lake" at 7 p.m. in Jacobus Lounge.
Her talk continues SUNY Cortland's yearlong program of lectures, panel discussions, exhibitions and concerts themed on "Where Are We?" Events are free and open to the public.
Heath's most visible work for the Onondaga Nation has centered on environmental protection, particularly under the Clean Water Act and focusing on Onondaga Lake and Onondaga Creek.
He also has represented the Onondaga people in the areas of archeological site and unmarked burial site protection; Native American Graves Protection and Repatriation Act repatriation and litigation; Indian Child Welfare Act litigation; hunting and fishing rights; treaty rights; excise tax issues; and land rights.
Heath, who has spoken to landowners in more than 40 towns, will share his knowledge of the many different environmental dangers created by fracking based on his research with community groups over the last six years. For four of those years, he also educated landowners on how to terminate their leases and manage the many questionable ways gas companies are seeking to extend old leases.
Heath previously gained extensive experience in civil rights litigation as one of the four lawyers representing the class action against New York state for the 1971 Attica prison assault and brutality. He also has worked with criminal defense; constitutional law and protection of free speech and assembly; protection of abused and neglected children; and fighting domestic violence.
Heath is an active member of Veterans for Peace.
Kattau, a singer-songwriter, has produced several compilation benefit CDs including "Singing Clear: Clean Earth, Air, Water Round Here."
| | |
| --- | --- |
| | |
| | Colleen Kattau |
She will perform songs influenced by the movement for alternative energy and against hydraulic fracturing and fracked gas storage in New York state and beyond.
Kattau, who specializes in Latin American literature and culture, is interested in nueva canción or 'new song' social movements as they relate to Latin American culture, and translation. She has written published articles on the new song movement and on women writers, and has created multimedia presentations on art and activism.
She is active in a sister city partnership between Central New York and Cajibio, Colombia where both communities work together to face similar problems and environmental challenges brought on by corporate incursion.
"Music has always been an important part of social change activism," Kattau said. "I will offer two or three songs from the organizing efforts to stop fractured gas storage in Seneca Lake and from the larger movement to make New York state frack-free and wholly powered by renewable energy. In these movements everyone sings — so be ready to sing along!"
Policymaker to Discuss Community Nutrition Planning
A University at Buffalo researcher considering the role of planning and policy in building sustainable food systems and healthy communities will discuss "Planning Communities as if People Eat" on Monday, April 11.
Samina Raja, an associate professor in the University's Urban and Regional Planning Department, will speak at 4:30 p.m. in Sperry Center, Room 104.
| | |
| --- | --- |
| | |
| | Samina Raja |
Raja serves as the principal investigator of the Food Systems Planning and Healthy Communities Lab — the "Food Lab" — research involving her own team in partnership with collaborators nationwide.
Raja currently directs Growing Food Connections, a comprehensive five-year initiative funded by the National Institute of Food and Agriculture to build capacity of local governments to strengthen food systems.
Locally, Raja works with partners in Buffalo and surrounding communities to advance the state of food systems planning and policy. She has worked closely for the last 10 years with the Massachusetts Avenue Project to document how its community-based efforts can strengthen food systems and inform food policy and planning.
Raja is a steering committee member of the Healthy Kids, Healthy Communities-Buffalo coalition, led by the Buffalo Niagara Medical Campus, Inc., which strives to encourage policy and environmental change promoting healthy eating and active living in Buffalo. She currently serves on the Buffalo-Erie Food Policy Council, the first city-county food policy council in New York state.
Immigrants Young and Old to Tell Stories
Students and families of recent immigrants from the H. W. Smith Elementary School in Syracuse, N.Y., will tell their stories in a variety of formats on Monday, April 18.
The program, "Through My Eyes" Café Night, will take place from 4:30 p.m. to 6:30 p.m. in Jacobus Lounge.
For more information, contact Brian Barrett, a SUNY Cortland associate professor of foundations and social advocacy.
Screening Set for 'I Learn America'
A film about five resilient immigrant teenagers in New York City will be shown Monday, April 25.
"I Learn America" will begin at 4:30 p.m. in Sperry Center, Room 104.
The International High School is a New York City public school dedicated to serving newly arrived immigrant teenagers, with more than 300 students speaking two-dozen languages from 50 countries.
The movie shows how these youth come together over a year at the International High School at Lafayette and struggle to learn their new land. The students strive to master English, adapt to families they haven't seen in years, confront the universal trials of adolescence and search for a future they can claim as their own.
The purpose of the film is that, through the stories and struggles of these five vibrant young people and their willingness to open their lives and share them with us, viewers can "learn America."
Performance to Tell of Refugees, Family and Faith
Dylan Fresco's "Welcoming The Stranger," a 30-minute solo performance weaving together true stories of refugees, family and faith will be presented on Tuesday, April 26.
The presentation, commissioned by Rimon: The Minnesota Jewish Arts Council, starts at 7 p.m. in Jacobus Lounge.
Fresco shares stories of changes in identity, language, and food through the prism of immigration and acculturation in America. He makes links between his own family's past experience of diaspora with stories of people he's gotten to know in the Twin Cities who have arrived as refugees in the last decade.
| | |
| --- | --- |
| | |
| | Dylan Fresco |
"Welcoming the Stranger" has been performed for theaters, youth groups, colleges, religious organizations and employees of a mental health center. The presentation has been described as "teaching cultural competency in three dimensions."
By holding an annual series on a different intellectual theme, the CICC committee aims to generate common topics of discussion and to establish traditions of intellectual discourse on SUNY Cortland's campus. The series encourages faculty and staff to infuse the theme into their course curricula, engage in classroom discussions and debates around the theme, and propose campus events or speakers on topics connected to the theme.
The series also is sponsored by Campus Artist and Lecture Series grants, the Provost and Vice President for Academic Affairs' Office, the President's Office, the Cortland College Foundation, the Project on Eastern and Central Europe, the Foundations and Social Advocacy and the Art and Art History departments, the Clark Center for International Education, the Center for Gender and Intercultural Studies and the Cortland's Urban Recruitment of Educators Program.
For more information, contact CICC co-chair Scott Moranda, associate professor of history, at 607-753-2052.
College Will Stream Dunwoody's Campus Speech Live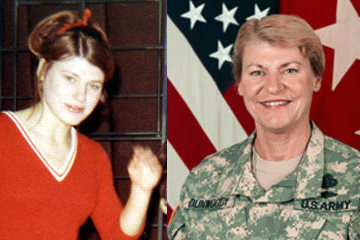 03/22/2016
Retired Gen. Ann Dunwoody '75, the first woman four-star general in U.S. Army history, wasn't bound by limitations as she broke multiple glass ceilings to reach the highest rank ever achieved by a female officer.
So it is only fitting that SUNY Cortland streams live coverage of Dunwoody's April 4 campus presentation over the Internet, making it available to all members of the campus community, regardless of geographic limitations.
Dunwoody, the author of a recent book on leadership strategies, will hold a public presentation, reception and book signing in the David J. Vittor '67 Lecture Hall, located in Sperry Center, Room 105, at 7 p.m. on Monday, April 4. Anyone interested in attending Dunwoody's presentation should fill out the online reservation form by March 31.
People who can't be there in person, but would like to hear the general's her insights into leading, managing and making history, can watch it live by going to this link.
Dunwoody will visit campus Monday, April 4, and Tuesday, April 5 as an executive-in-residence. She will be a guest lecturer in three classes in addition to her public presentation.
Dunwoody's book, A Higher Standard, is on sale in the College Bookstore now. It chronicles her time as a SUNY Cortland physical education major, competing in Red Dragon gymnastics and tennis, through her unprecedented rise through the Army's ranks. By the time she retired as head of the Army's Materiel Command in 2012, she was responsible for 69,000 military and civilian employees, a $60 billion budget and locations spread across 55 countries.
Woven into Dunwoody's book are lessons in leadership and management applicable to any industry or endeavor. With a foreword by Facebook Chief Operating Officer Sheryl Sandberg, another pioneering woman executive, A Higher Standard champions accountability, diversity, endurance and integrity.
"The courage and determination Ann needed to break the military's 'brass ceiling' and reach a rank no woman had ever attained before are we strive to cultivate in all SUNY Cortland students," College President Erik J. Bitterbaum said. "Her journey is inspirational, and we appreciate her willingness to share the lessons learned along the way."
Dunwoody was granted an honorary doctoral degree by SUNY and was a SUNY Cortland Commencement speaker in 2009. She has received several national honors, including the NCAA's top award, the International Tennis Association's lifetime achievement award and the French National Order of Merit. SUNY Cortland also has recognized her with the College's Distinguished Alumni Award, the highest honor for its graduates, and induction in the C-Club Hall of Fame.
Business Economics Majors Boost Free Tax Prep Service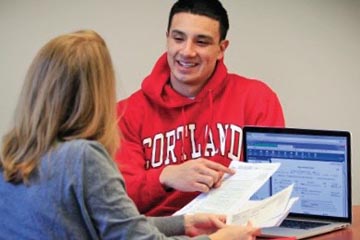 03/08/2016
SUNY Cortland students continue to make tax season easier by preparing free returns for qualifying community members. Their volunteer work is approaching record levels in 2016 while saving local residents tens of thousands of dollars in tax preparation fees.
This year, 23 business economics majors are doubling as IRS-certified tax preparers with Volunteer Income Tax Assistance (VITA) Cortland County. Joined by two other community volunteers, they offer free services four times each week for individuals who fall into two categories: those who made $54,000 or less in taxable income last year or those who qualify for earned income credit.
"This is a win-win," said Raimona Rowe, the local site coordinator for the VITA program. "It's a good way for students to interact with community members who they might never interact with otherwise."
To date, volunteers have prepared approximately 550 tax returns — roughly 200 more than at the same time last year. Similar services through a private company could cost between $200 to $300, Rowe estimated. That means collective savings of at least $100,000 for local residents.
Rowe credited the jump in tax returns to a successful grassroots effort that posted flyers at 85 locations across Cortland County. That marketing push was led by community member Jim Kruser and SUNY Cortland business economics major Michael Juresich.
"It's a great example of what can be done when the community and students work together," said Rowe, noting that volunteers hope to prepare 700 to 800 tax returns by season's end.
Throughout the rest of tax season — which concludes Monday, April 18 — VITA preparers will be at the following locations:
Cortland Free Library: Every Tuesday from 3 to 8 p.m.
United Presbyterian Church of Cortland: Every Friday from 3 to 8 p.m.
Access to Independence: Every Saturday from 9 a.m. to 5 p.m.
Chenango Rural Services: Every other Wednesday — March 9, March 23, April 6 — from 1 to 5 p.m.
Truxton Town Hall: Every other Thursday — March 17, March 31, April 14 — from 4 to 6 p.m.
To schedule an appointment, people can call 1-877-211-8667 or simply dial 211. Visit cortlandfreetaxes.org for a full calendar and more information.

Suggest a feature story
---
Faculty/Staff Activities
Seth N. Asumah
Seth N. Asumah, Africana Studies and Political Science departments, recently was informed by SUNY Oneonta that he has been selected as one of SUNY Oneonta's Alumni of Distinction. The SUNY Oneonta Alumni Association bestows this honor upon its most inspirational and accomplished graduates. Nominations are assessed and approved by the Alumni of Distinction Committee. Asumah will officially be recognized during SUNY Oneonta's Red Day Anniversary Celebration on Sept. 2. Asumah earned his baccalaureate degree in 1982 from SUNY Oneonta. He received his MPA and doctorate from Lehigh University, Bethlehem, Pa.
Tyler Bradway
Tyler Bradway, English Department, presented a paper titled "The Queerness of Creativity: Aesthetic Object-Relations in Eve Sedgwick and Alison Bechdel" at the 2016 American Comparative Literature Association's annual meeting on March 18 at Harvard University. Also, he co-chaired and organized a seminar titled "Are We Queer Yet?" Also, in January, Bradway presented a paper titled "Bad Writing: Queer Experimentalism at the Limits of the LGBT Canon" at the 2016 Modern Language Association Convention in Austin, Texas.
Noelle Chaddock
Noelle Chaddock, Multicultural Life and Diversity Office, gave a talk at the SUNY Voices System Wide Conference titled "Cultivating Inclusive Campuses Through Intentional Dialogue and Civil Discourse" on March 5 in Albany, N.Y. Also, on Jan. 12, Chaddock presented an opening daylong faculty, staff and senior administration diversity workshop with the State University of New York College of Environmental Science and Forestry titled "Cultivating Inclusive Leadership: Frameworks and Practices for ESF" in Syracuse, N.Y.
Jena Nicols Curtis and Susan Burnett
Jena Nicols Curtis and Susan Burnett, Health Department, presented a workshop at the 23rd annual conference of the National Collegiate Emergency Medical Services Foundation held Feb. 26-28 in Philadelphia, Pa. The workshop was titled "Responding to Campus Sexual Violence" and was based upon Curtis' and Burnett's research with survivors of campus sexual violence.
Mark Dodds
Mark Dodds, Sport Management Department, recently had his paper, "Revisiting the Salt Lake City Olympic Scandal: Would the Outcome Be Different Today?" accepted by the Sports Management International Journal 'Choregia.'
Karen Downey
Karen Downey, Chemistry Department, and seniors Laura Patrick and Matthew Ellis shared their research progress in two posters presented at the spring national meeting of the American Chemical Society held in March in San Diego, Calif.
Thomas Hischak
Thomas Hischak, professor emeritus of theatre, had the second edition of his textbook, Theatre as Human Action: An Introduction to the Theatre, released by Rowman & Littlefield in March.
Deborah Matheron
Deborah Matheron, Communication Disorders and Sciences Department, presented a research poster at the Biennial Madonna Rehabilitation Hospital Conference on Motor Speech on March 4 in Newport Beach, Calif. Her poster was titled, "Speech breathing and laryngeal aerodynamics in individuals with Multiple Sclerosis."
Melissa Morris
Melissa Morris, Physics Department, has been asked by Scientific American to comment on a recent paper appearing in the peer-reviewed journal Icarus titled "A new mechanism for chondrule formation: Radiative heating by hot planetesimals," by Herbst & Greenwood (2016).
Mechthild Nagel
Mechthild Nagel, Africana Studies and Philosophy departments and the Center for Gender and Intercultural Studies, gave an Edu-Drama talk on March 4 titled "Playing with Memories" for the inaugural "Women of Character, Courage and Commitment" program at Hudson Valley Community College, Troy, N.Y.
Jennifer Olin and Mark DePaull
Jennifer Olin, University Police officer, and Mark DePaull, University chief of police, were recognized by the New York State Division of Criminal Justice Services for leadership and dedication demonstrated while serving as the program managers for the University Police Department during the most recent accreditation assessment. The assessment was conducted by the New York State Law Enforcement Accreditation Council. Both Olin and DePaull received the DCJS John Kimball O'Neil Award on March 3 in Albany.
Robert Spitzer
Robert Spitzer, Political Science Department, is one of several experts interviewed in the new documentary film, "Under the Gun." Produced by Katie Couric's film company, Atlas films, and narrated by Couric, the documentary examines contemporary gun violence in America and why the country has not moved ahead with stricter gun laws. The film premiered at the Sundance Film Festival in January, and will have its New York City premiere in May.
Tiantian Zheng
Tiantian Zheng, Sociology/Anthropology Department, edited a book titled Cultural Politics of Gender and Sexuality in Contemporary Asia, published by the University of Hawaii Press in March.

Submit your faculty/staff activity