Students Plan One 'Big Event' for Service
03/10/2015
Ashlee Prewitt '14 believes every anchor institution in a college town should aim for three big events each year: one athletic, one social and one centered on community service.
When she arrived in Cortland three years ago from the Midwest, Prewitt quickly learned about SUNY Cortland's annual Cortaca Jug football game, the College's biggest sports rivalry, and its Spring Fling concert, a marquee social event. She thought the area needed a student-led community service event capable of rising to the same level.
Enter the idea for the Big Event, a one-day volunteer project slated for Saturday, May 2, that aims to round up the efforts of SUNY Cortland students, employees and alumni. Volunteers are asked to give four hours of their time to community members or local organizations that need it the most.
It's a day of service built on the concept of strength in numbers, to be held on the same day as the Cortland Downtown Partnership's annual community clean-up.
"The idea behind the Big Event is that we can fold in any service project that students do," said Prewitt, who transferred to Tompkins Cortland Community College (TC3) then SUNY Cortland from the University of Oklahoma, where a similar event took place in Norman, Okla. "It's not necessarily about giving goods to the community, it's about providing services.
"Instead of donating money or food, we're saying: 'What can we do for you?'"
Those jobs could include outdoor painting, trash and brush haul, mulching and gardening, hedge trimming or shoveling and raking.
Volunteers are asked to register for the event by Friday, April 3, so that Prewitt and other student organizers can match services with projects and purchase necessary supplies. Community members and groups should apply for assistance by the same date. There is no level of socioeconomic need required for service, so any individual person or organization can make a request. Examples might include a local non-profit agency, a group home for people with disabilities or simply an elderly couple in need of extra sets of hands for a few hours.
Prewitt
"Looking at the College's Institute for Civic Engagement and service learning program, there's a lot of evidence that students have the initiative to give back," said Prewitt, who completed her bachelor's degree in political science in December and will pursue a master's in public administration at Binghamton University in the fall. "The question is: how can we give high visibility to that initiative?"
The Big Event is supported by $10,000 in funding from SUNY Cortland's Student Government Association, funds that will be used to purchase supplies and equipment. Breakfast, t-shirts and bus transportation to job sites also will be provided to volunteers. They are asked to meet at Park Center Alumni Arena at 9 a.m. for their service assignments and a short kick-off ceremony.
Prewitt's work on the Big Event goes back more than a year, when she interned in SUNY Cortland's Research and Sponsored Programs Office. Her goal was to find a project within the community to which she could contribute.
"I thought there could be more direct overlap between students and residents," she said.
Texas A&M University came up with the concept of the Big Event more than 30 years ago. There's no national organization or governing structure for the Big Event, although dozens of colleges and universities across the nation have followed through with similar days of service.
The president of the College's Non-Traditional Student Organization (NTSO), Prewitt enlisted the resources of the group that exists for undergraduates who are at least 24 years old or have had an interruption or delay in their education since high school. She currently leads a team of eight student volunteers who are handling tasks such as recruitment and job site visits for The Big Event.
They've received endorsements and support from the NTSO, the College's Institute for Civic Engagement and government officials in the City of Cortland. Between SUNY Cortland's Greek organizations and other student groups, Prewitt said a goal of 300 volunteers is attainable.
"There's the potential to build a lot of community pride for the College, and vice versa," she said.
For more information, contact Prewitt or thebigeventcortland@gmail.com. Stay current with The Big Event on Facebook and on Twitter @TBE_Cortland.
Blaze Falls Just Short in Mascot Madness
03/24/2015
SUNY Cortland's fearless red dragon came up just short in SUNY's third annual Mascot Madness online voting competition, falling to Geneseo's knight by the narrowest of margins in second round action.
Victor E. Knight collected 50.67 percent of the vote to Blaze's 49.33 percent in moving on to the Elite Eight round of the competition. Last year, Blaze made a run to the Final Four.
SUNY Cortland fans showed a tremendous outpouring of support for Blaze this year in helping the College's mascot knock off both SUNY Poly and Adirondack Community College in the first round and nearly making a huge comeback against Geneseo.
Prior to the competition, SUNY administration sent a series of questions to mascots at all SUNY campuses. Below are the questions, as well as Blaze's answers:
Name?
Blaze. One word. Like Godzilla.
Where are you from?
Cortland. I was hatched on the banks of the mighty Tioughnioga River, to be exact.
What do you do to get pumped before a game?
Binge watch "Game of Thrones" on my smart phone. Go team Targaryen!
What is your favorite snack?
Whoever Cortland is playing.
Who is your biggest SUNY rival?
In terms of mascots, I'd have to say the Geneseo Knight. He takes that whole dragon-slaying shtick way too seriously.
How do you stay in shape?
Pilates. When you exhale flames it's really important to control your breathing. Birthday cakes are a real challenge.
What do you do in your spare time?
Rattle windows with my awe-inspiring roar, intimidate cowering opponents, light the night sky with my fearsome flames… you know, dragon stuff. Also, I like to barbeque.
What is your favorite TV show?
"River Monsters" on Animal Planet. It's nice to see what some of my relatives are up to.
What's the greatest aspect of being a mascot?
Being a member of all 25 SUNY Cortland athletic teams and supporting the student athletes' accomplishments.
Name a place that you would like to travel to.
Erebor in Middle Earth. I've got a beef with my cousin Smaug – laying waste to villages, scaring hobbits, hoarding gold. He's giving dragons a bad name.
What's the best part about being from New York?
Bagels. Toasted bagels.
---
Capture the Moment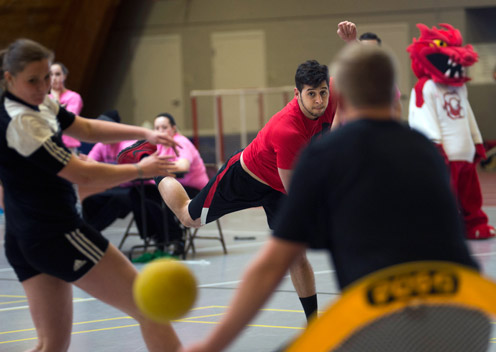 Rob Pizzola, a junior exercise science major, looks to score during the European Handball Tournament held Sunday at Lusk Field House. Organized by the Sport Management Club and co-sponsored by Mark's Pizzeria, the tournament included 76 students and raised more than $300 to benefit Susan G. Komen, the breast cancer awareness organization.
---
In Other News
Student Life Center Ribbon to Be Cut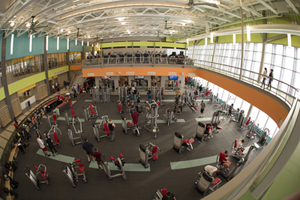 03/10/2015
The ceremonial grand opening of SUNY Cortland's 150,000-square-foot Student Life Center as the new focal point for campus life is scheduled for Friday, March 13, at 11 a.m. on the building's multi-activity court. It will be followed by tours of the unique, glass-walled complex.
In addition to SUNY Cortland President Erik J. Bitterbaum, State Sen. James L. Seward, R-Oneonta, Assemblywoman Barbara Lifton, D-Ithaca, and former Cortland Mayor Martin "Marty" Mack M '76, a senior staffer for the New York Attorney General's Office, will speak. All three were instrumental in funding the $56 million project.
Gil C. Quiniones, president and CEO of the New York Power Authority, will address SUNY Cortland's commitment to sustainability in designing and building the complex.
"The commitment demonstrated by SUNY Cortland to make the Student Life Center, along with the entire campus, a model for energy efficiency is nothing short of extraordinary," said Quiniones. "Governor Cuomo started the BuildSmart NY program, which requires all state-owned and managed buildings to reduce how much power they use 20 percent by 2020. Cortland is already more than halfway toward that goal."
Since it opened to students, faculty and staff on Feb. 16, SUNY Cortland's Student Life Center has become the campus' new focal point for student recreation, social interaction and experiential learning.
Features in the north wing of the complex include a 343-seat food court, Recreational Sports' new Outdoor Pursuits Center and a retail snack bar. Student recreation space is located in the south wing, including two floors of fitness facilities, a three-court gymnasium, a recreational swimming pool, student lounge with video games and pool tables, a one-fifth-mile elevated running track and much more.
Diversity Conference Planned for March 28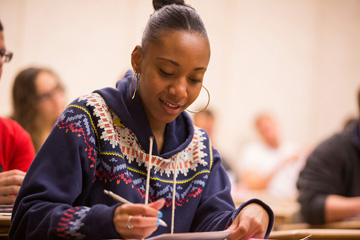 03/10/2015
"Show Me YOUR Brave" is the theme of this year's diversity conference Saturday, March 28, presented by SUNY Cortland's Multicultural Life and Diversity Office.
The sixth annual Student Conference on Diversity, Equity, Inclusion and Social Justice will explore the deeper meaning of bravery from 8 a.m. to 5 p.m. in Corey Union.
"This theme encourages participants to inspire others to truly think about the meaning of bravery and challenges one to become an advocate and ally," said Melissa Da Costa, interim assistant director of multicultural life and diversity, and Casey Towers Hall director.
Last year's conference attracted 150 participants from nine different colleges and universities to participate in the various lectures, panels and creative performances offered.
This year's keynote speaker, Lyndon Huling, a student activities coordinator at University of California at Davis, exemplifies the conference's theme.
"I believe that the free exchange of ideas is at the foundation of higher education and that challenging dialogues are crucial in the development of student leaders," Huling said.
Lyndon Huling
Huling's journey has brought him back from California to New York and the SUNY Cortland campus again, where he served two years from 2011 to 2013 as the College's first assistant director in the Multicultural Life and Diversity Office.
He hopes to challenge thinking while creating dialogue.
"By working with students, administration and community members, I strive to create spaces where every voice can be heard. I hope to engage the community and stimulate critical thinking."
Huling received the 2009 International Campus Citizen Award from the Department of International Programs and Services at University of the Pacific in Stockton, Calif.
With his accomplishments, Huling feels he is honoring those who helped him on his own educational journey.
Huling has a Bachelor of Arts in Psychology from the University of California at Davis, where he completed minors in human development and education. As a student, he gained multicultural experience in working with learning communities.
As an assistant residence community coordinator at California State University at Chico from July 2009 to 2010, he oversaw the development, programming and sustainability of seven learning communities including Honors Houses, the Sustainability/Environmental House, the Project MATH House, the Natural Sciences building and the International House. As a campus staff member, he was frequently recognized for the quality of his service to students.
He received a Master of Arts in Education Administration with a specialization in student affairs from the University of the Pacific in Stockton, Calif.
His graduate fieldwork at the University of the Pacific included developing diversity-related campus initiatives, including an inter-American Spanish immersion program. He also served as a graduate residence hall director there.
Before joining SUNY Cortland, he served as a residence hall director for Onondaga Community College, where he took part in multicultural and diversity programming and training.
The conference is open to the SUNY Cortland students, faculty, staff and alumni as well as students from other higher educational institutions.
To find out more about the conference or to register, visit the SUNY Cortland Student Diversity Conference page on the Multicultural Life and Diversity Office website. For information, contact Da Costa at 607-753-4162.
Prepared by Public Relations Office intern Kathryn Monno
Woods Tea Co. to Perform March 28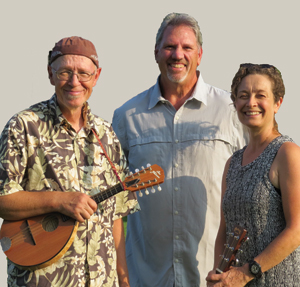 03/09/2015
The Woods Tea Co., a nationally acclaimed folk band from Vermont, will perform its eclectic mix of traditional and original songs including Celtic, sea shanties, French Canadian and Appalachian music at SUNY Cortland on Saturday, March 28.
The band, which has built a solid reputation as a leader in the Irish folk music world, will begin at 7 p.m. in Old Main Brown Auditorium.
Presented by the Campus Artist and Lecture Series (CALS), admission to the show is free for SUNY Cortland students with College ID and children ages 10 and under. The general admission charge is $5.
Tickets may be purchased through the Campus Activities and Corey Union Office, Corey Union Room 406, weekdays from 8:30 a.m. to 4 p.m., or at the door one hour prior to the performance. For more information, call 607-753-5574.
Like maple syrup, fall foliage and baked bean suppers, the Woods Tea Company has been synonymous with New England since the early 1980s, when the group was formed. In 1981, penny-whistler Rusty Jacobs and guitarist Bruce Morgan were beginning their musical careers in Vermont, playing in local clubs and bars. On one such fateful night they happened upon an old wooden crate with the words "Wood's Tea Company" stenciled on the side. It seemed like a good idea at the time, perhaps even a sign, and the duo was named.
Membership in the group has changed and the music evolved, but the spirit of fun and audience participation on which the group was founded remains as bright and alive as ever. The Woods Tea Co. equals pure folk fun.
Band members currently include Howard Wooden on bass and guitar, Patti Casey on guitar and flutes, and Pete Sutherland, described as Vermont's greatest living folk musician and multi-instrumentalist.
"The band spent most of its nearly 30 years performing as a trio, and now more than ever, with its wealth of instrumental and vocal combinations, a trio makes sense," said Casey. "Really, if you count up all our instruments, we're more like an orchestra than a trio."
Woods Tea started out playing to small college audiences in Burlington, Vt. and then expanded to coffeehouses and Irish pubs. After building a reputation in New England, the band, which used folk legend Woody Guthrie as an early inspiration, began touring on the concert circuit nationwide. Noted venues have included New York's Lincoln Center, the Chautauqua Institute and an appearance on National Public Radio, which labeled them "Vermont's hardest-working folk group."
The Burlington Free Press wrote: "Wood's Tea Co. has an enduring quality built on a foundation of music that's timeless." The band won an Outstanding Innovation Award from the Irish Heritage Foundation "in appreciation and recognition for their creative contributions to Irish music."
For more information, visit the band's website at www.woodstea.net.
Students Bring Leadership Society to Campus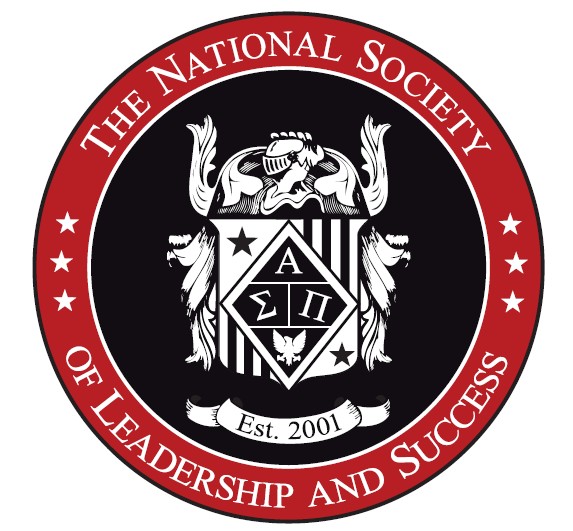 03/10/2015
Two SUNY Cortland students have introduced a new on-campus leadership opportunity for their classmates known as the National Society of Leadership and Success. It's an honor society made up of more than 200 chapters across the country.
The organization's mission is "to build leaders who make a better world," according to its website. Regional chapters allow members to experience hands-on, personalized leadership development as well as access to networking opportunities with their peers around the globe. All SUNY Cortland students with sophomore or junior class standing were invited to join the College's chapter on Feb. 25.
Other SUNY members include University at Albany, Binghamton University, University at Buffalo and SUNY Purchase.
Aubrey Martin, a senior communication studies major from Marlboro, N.Y., and Kaylee Cunningham, a junior childhood education and Spanish major from Centerport, N.Y., worked together to bring a National Society of Leadership and Success chapter to campus. Martin attended one of the organization's conferences in Georgia and sought to bring it to SUNY Cortland.
"Anyone can have the opportunity to be a leader if they want to be," through the National Society of Leadership and Success, Martin said.
Students interested in joining should complete an online application form and pay the one-time registration fee. They then are expected to complete a series of online training that takes approximately 12 hours to become an official inducted member.
The first and second stages to induction include an orientation and Leadership Training Day. The third stage includes three Speaker Broadcast Events featuring webcasts of some of the world's most successful motivational speakers.
This semester's speakers are Arianna Huffington, co-founder and editor-in-chief of The Huffington Post; Debbi Fields, founder and current spokesperson of Mrs. Fields Bakeries; and Dan Harris, correspondent for ABC News, anchor for Nightline and co-anchor for the weekend edition of Good Morning America.
The final stage of induction includes three Success Networking Team Meetings to provide members with a support network of like-minded, goal-oriented students on campus.
In addition to the leadership development activities that come with the induction process, students will have access to more than $100,000 in scholarship and award money, earn a certificate to signify their leadership training and discover the ability to connect with thousands of other inducted members.
Although the organization is recognized by the College, it does not receive funding from the Student Government Association because it requires a membership fee. For more information, students can contact Mary Kate Boland, the advisor for SUNY Cortland's chapter of the National Society of Leadership and Success, at 607-753-2322.
Prepared by Public Relations Office intern Sarah Kelly
Women's History Month Theme is 'Weaving'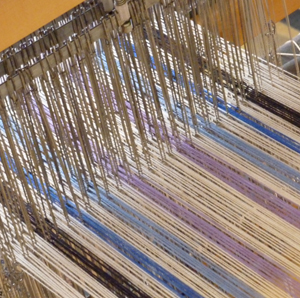 03/06/2015
"Weaving the Stories of Women's Lives" is the theme of this year's Women's History Month series of events, continuing at SUNY Cortland through the end of March and into early April.
Presented by the College's Women's Studies Committee, the series illuminates its distinctively feminine focus by tying together talks, films, a trip to the Women's Rights National Historical Park in Seneca Falls, a conference on diversity, a coffeehouse and herbal workshop and other programs.
"Wave movements are typically used to categorize the different generations of feminists in modern history," said one organizer, Kathleen Lawrence, associate professor of communication studies.
"Our committee chooses to focus on a newer, more inclusive perspective that suggests all women are part of weaves, instead of waves," she said. "These weaves represent symbolic threads from different stories that, when pulled together, weave the rich, colorful, complex and diverse tapestry of women's lives."
Faculty and students primarily present the events. A complete listing of "Weaving the Stories of Women's Lives" can be found on the college's online calendar. The following are a few highlights:
Students take a prominent place in the presentations. One conference highlight is the "Show Me Your Brave" themed sixth annual Student Conference on Diversity, Equity, Inclusion and Social Justice on Saturday, March 28.
The conference, which begins at 8:30 a.m. in the Corey Union Function Room, is meant to inspire students to truly think about the meaning of bravery. The day features as the keynote speaker Lyndon Huling, SUNY Cortland's former assistant director of multicultural life and diversity. For more information, contact Melissa Da Costa, Casey Tower residence hall director, at 607-753-5475.
On Tuesday, March 31, two students completing minors in women's studies will share a documentary film they are currently taping with interviews of students around campus. Jocelyn Almodovar and Beesanne Kurzam will screen "What's a Feminist and Why Would I Want to Be One?" from 4:30 to 6:30 p.m. in Sperry Center, Room 304.
A trip to the Women's Rights National Historical Park on Saturday, April 4, will begin at 8 a.m. when a bus headed for Seneca Falls departs promptly from the Corey Union front steps. To attend, RSVP by Monday, March 16, to Sally Dear-Healey, Women's Studies coordinator, by email with "Seneca Falls" in the subject line.
Women's History Month is sponsored by the President's Office, Women's Studies Committee, Center for Gender and Intercultural Studies, Women of Color, Memorial Library, Committee on the Status and Education of Women, National Historic Women's Rights Hall of Fame, Women's Initiative Committee, Cortland (N.Y.) American Association of University Women, Cortland YWCA and Mark's Pizzeria.
For more information on Women's History Month, contact Dear-Healey at 607-753-4762.
Students Offer Free Tax Prep Services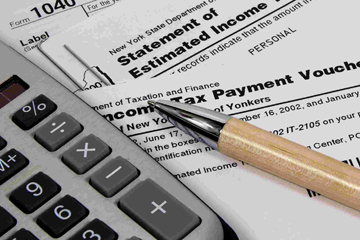 03/09/2015
SUNY Cortland economics majors are bringing community service to tax season by preparing free tax returns for community members. It's volunteer work that's saving tens of thousands of dollars in fees.
The 24 students, who all are IRS-certified volunteer tax preparers with Volunteer Income Tax Assistance (VITA) Cortland County, will offer their free services to the community from 9 a.m. to 5 p.m. on Saturdays and noon to 2 p.m. on Sundays at Access to Independence, located at 26 N. Main. St., through Sunday, April 12. The IRS tax filing deadline is Wednesday, April 15.
Additionally, the student tax preparers will hold two special sessions for their classmates from 5:30 to 9 p.m. Monday, March 9, and Tuesday, March 10, in Old Main, Room G-11.
A full calendar that includes locations and hours can be found at cortlandfreetaxes.org
Qualifying clients must have taken in less than $53,000 or less in taxable income for the 2014 tax year. They are asked to call 607-745-2114 or email info@cortlandfreetaxes.org to make an appointment.
"Our program has a good reputation of being approachable and hands-on with community members," said Liz Ingalls, a junior economics major from Centerport, N.Y. "People appreciate and get used to that experience."
The normal cost of the students' tax preparation likely would approach $150, Ingalls said. So far, the students have prepared more than 400 tax returns this season, which would add up to at least $60,000 saved by local residents.
SUNY Cortland students received official IRS training in the fall that required 10 classes and passing a preparer's exam. Most opted to take an advanced exam as well. All of their work is double-checked by a supervisor.
"We work one-on-one with a person's W-2 forms and we don't take any money," Ingalls said.
Many economics majors opt to participate in the VITA program to fulfill an elective that requires at least 120 hours of community service, but they quickly discover crucial finance skills.
"There are so many little things you need to know and it's taught me those," said Ingalls, who will pursue an internship with Merrill Lynch this summer. "They're things most people my age wouldn't know because they haven't had this experience."
College Creates Online Physical Education Degree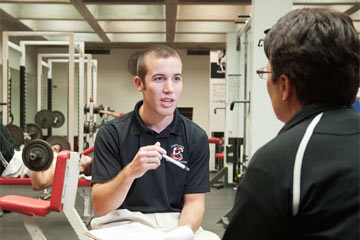 03/04/2015
SUNY Cortland will introduce a new physical education master's degree this summer that's offered almost entirely online to teachers looking to become school district leaders in the discipline.
The Master of Science in Physical Education Leadership follows a hybrid format, which means all courses will be delivered online with the exception of a one-time, on-campus requirement for two weeks during the summer. Students can pursue the 30-credit program full time or part time.
"We wanted to change the delivery system to open enrollment to a wider population," said JoEllen Bailey, an associate professor of physical education and the program's coordinator. "We were hearing from a lot of students that they wanted online programs."
Previously, the College's Physical Education Department offered a master's degree with a concentration in physical education leadership exclusively on campus. In January, the new online program was approved to meet National Association of Sport and Physical Education advanced standards for teacher education. The basic goal is to produce well-trained leaders of quality physical education programs.
"Every district is required to have a physical education director," Bailey said. "This is a natural step to becoming a physical education director."
Graduate students will work with school district leaders to build their knowledge and professional administrator skills. Projects will include a needs assessment, analysis of teaching lessons, evaluation of a school curriculum and creation of a curriculum trend proposal. Students will be tasked with using their research and data for program improvement.
The program's Research in Physical Education and School-Based Leadership courses only will be offered in person on the SUNY Cortland campus during the summer.
"That's the basis of the entire program," Bailey said. "We wanted to deliver that in real-time meetings with students."
Applicants can begin the program in the summer, fall or spring but should note the application deadlines for each session: Wednesday, April 1, for the summer session; Wednesday, July 1, for the fall semester; and Tuesday, Dec. 1 for the spring semester. Applications submitted after the deadline may be considered on a space availability basis.
For more information on the master's program in physical education leadership, including admissions criteria, visit the Physical Education Department webpage or call the department at 607-753-5577.
Physical Education Student Teachers Honored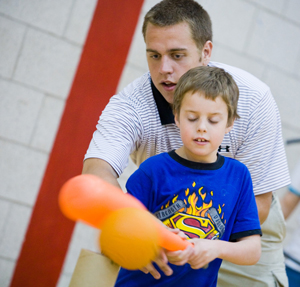 03/06/2015
SUNY Cortland recently honored 13 senior physical education majors with the Lenore K. Alway and the Anthony P. Tesori Awards for their outstanding work during their student teaching placements in New York state schools throughout the Fall 2014 semester.
Faculty members of the Physical Education Department selected seven women and six men for the recognition, and the students received certificates.
The Alway Award, given to women, pays tribute to the late Lenore K. Alway, the pioneer head of women's physical education at the College from 1941 to 1965. The men's award honors the late Anthony P. Tesori, a 1939 graduate who earned the College's C-Club Hall of Fame Award for his achievements before and after graduation and gave the College many years of leadership in athletics and administration.
A SUNY Cortland physical education major offers encouragement to her two youthful charges.
The Alway Award honorees and the schools where they completed their teaching for Fall 2014 are:
Jenifer Aberle of Middle Island, N.Y., at William Floyd Elementary School in Shirley, N.Y., and the Sachem Central School District's Seneca Middle School in Holbrook, N.Y.
Michelle Cushman of Fairport, N.Y., at Listwood Elementary School in Rochester, N.Y., and the Rochester Early College International High School.
Mallory Guerin of Port Jefferson, N.Y., at Setauket Elementary School in East Setauket, N.Y., and Longwood High School in Middle Island, N.Y.
Ashley Kelly of Rochester, N.Y., at two schools in her city, Clara Barton School No. 2 and Twelve Corner Middle School.
Megan Russell of Bath, N.Y., at Campbell-Savona Elementary School in Savona, N.Y., and Corning-Painted Post High School in Corning, N.Y.
Danielle Shangold of Holbrook, N.Y., at Northeast Elementary School in Brentwood, N.Y., and Sachem High School North in Lake Ronkonkoma, N.Y.
Isabella Zaccagnino of Buffalo, N.Y., at Theodore Roosevelt Elementary School in Buffalo and Transit Middle School in East Amherst, N.Y.
The Tesori Award honorees and the schools where they completed their teaching for fall 2014 are:
Maxwell Dineen-Carey of Shrub Oak, N.Y., at Walter Panas High School in Cortlandt Manor, N.Y., and Oakside Elementary School in Peekskill, N.Y.
Dillon Giorgis of Avon, Ohio, at William Appleby Elementary School in Marathon, N.Y., and Homer High School in Homer, N.Y.
William Maldonado of Mastic Beach, N.Y., at South Middle School in Brentwood, N.Y., and the William Floyd Unified School District's Tangier Smith Elementary School in Mastic Beach.
Kyle McManus of Oakdale, N.Y., at Brookhaven Elementary School in Brookhaven, N.Y., in the South Country Central School District and West Babylon Senior High School in West Babylon, N.Y.
Kieran Shaughnessy of Ronkonkoma, N.Y., at Academy Street Elementary School in Bayport, N.Y., and Central Islip Senior High School in Central Islip, N.Y.
Daniel Vogl of Buffalo, N.Y., at Public School 80-Highgate Heights Elementary School in Buffalo and Iroquois Middle School in Elma, N.Y.
For more information, contact the Physical Education Department at 607-753-5577.
EAP to Offer Tips on Eating Healthy on the Run
Employees who want to balance good health with a busy lifestyle can spend an hour at a "Living Well on the Fast Track: Eating Healthy on the Run" talk on Monday, March 30.
Professional trainer Linda Hall will facilitate the Employee Assistance Program (EAP) seminar from noon to 1 p.m. in Brockway Hall Jacobus Lounge.
The seminar will address how to make healthier food choices, prepare balanced meals and find time to exercise when faced with family commitments and work responsibilities.
Hall, a former SUNY educator and Educational Opportunity Program director, now oversees Hall Placement and Training, assisting those living in poverty to become taxpayers and providing training programs. Formerly the executive director of the Onondaga County Human Rights Commission, Hall successfully administered a five-year grant to place into employment those who have completed an adult vocational program.
The EAP Program, jointly sponsored by labor and management, is a confidential service to help all state employees, their families and retirees. SUNY Cortland's EAP Committee includes 15 members; three from Civil Service Employees Association, eight from United University Professions, two from management/confidential, one member from Public Employees Federation and one Auxiliary Services Corporation representative who does not belong to a union. The purpose of the EAP Committee is to promote and ensure the EAP Program's continued usefulness to employees, their families and their employer.
Grant money funds EAP Committee efforts, which include sponsorship the following campus activities: food drives for local charities, the wellness program, informational seminars, the PAWS for Stress Relief program, the Tobacco Clean Up program and the Weigh in on Wednesdays program. The Committee also works with coordinators to provide consultation and referral services to employees in need.
For more information, contact Athena Vunk-Moynihan, Registrar's Office, or visit the EAP website to learn more.
Student Conduct Office Recruiting Justices
The Student Conduct Office is seeking new faculty, staff and student justices for the 2015-16 academic year, and the deadline to apply is Wednesday, March 11.
As voluntary justices, members of the panel sit in on student hearings regarding alleged violations of the College's Code of Student Conduct. Justices review evidence, listen to testimony and ultimately decide whether a student has broken a policy. If the panel finds the student in violation of a policy, the justices decide what educational sanctions to be imposed.
"Our faculty justices are rewarded by moving students toward being responsible, civic minded citizens and others enjoy serving as a justice because it gives them a sense of what was happening on campus and things our students were doing," said Michael S. Pitaro, associate director of Student Conduct.
"All of our justices, whether they are students, faculty or staff members, strive to uphold our community standards and help students learn from their mistakes and how their actions impact those around them," he said.
Initial training begins each fall and justices serve three to four hearings throughout the semester. Students commit to attend mandatory monthly training sessions and may earn one credit per semester serving as a justice.
Both faculty and staff members are encouraged to apply to become justices. The application and recommendation forms are available on the Student Conduct website at www.cortland.edu/student-conduct by clicking on the leadership opportunities link. Forms also are available in the Student Conduct Office, Corey Union, Room 409-B.
Applications are due by 4 p.m. on Wednesday, March 11. Interviews will be scheduled after the College's Spring Break. For more information, contact Pitaro by email or at 607-753-4725.
Raquette Lake Summer Reservations Open to Staff
Antlers at William H. Parks Family Center for Environmental and Outdoor Education, located at Raquette Lake, will be available for use by Auxiliary Services Corporation (ASC) employees, faculty, staff and their guests including spouses, children and significant others, from Thursday, June 18 through Sunday, June 21 and also from Monday, June 23 through Saturday, June 28.
Reservation information is available at the Center for Environmental and Outdoor Education Office, Miller Building, Room 230. Registration forms can be found on their website under Raquette Lake, upcoming events. A $50 deposit is required with registration. Participants will be acknowledged on a first-come, first-served basis following receipt of reservation and deposit.
Room and board for the four day-three night stay is $153 per adult and $120 per child age 12 and under. Room and board for the six days and five nights is $235 per person for adults and $184 per person for children age 12 and under. There is no charge for children under one year of age.
Participants will arrive between 2-4 p.m. on the first day of camp. An orientation will be held at 5 p.m. with dinner following at 6 p.m. Visitors will depart following breakfast on the last day.
Antlers is a hotel built in 1886 on the shores of Raquette Lake. Guest rooms are comprised of twin-sized beds, dressers and personal bathrooms complete with showers and tubs. Three meals a day will be served family style throughout the week, beginning with dinner on the day of arrival Monday and ending with breakfast before departure.
For more information, contact Rhonda Jacobs by email or by phone at 607-753-5488.

Suggest a feature story
---
Faculty/Staff Activities
Carol Costell Corbin
Carol Costell Corbin, Advisement and Transition, presented a concurrent session at the National Institute for the Study of Transfer Students annual conference held Feb. 4-6 in Atlanta, Ga. Her presentation was titled "Transfer Credit Services that Support Completion for all Students."
Anna Curtis
Anna Curtis, Sociology/Anthropology Department, presented a paper titled "Paternity and the Paradigms of Possibility: Comparing Two Fatherhood Programs in American Prisons" at the 2015 International Conference on Masculinities held March 5-7 in New York City.
Mary McGuire
Mary McGuire, Political Science Department, was interviewed for education reporter Solveigj Wastvedt's story "State Education Boards: Who's Got the Power." The segment was aired March 9 on public radio stations WSKG, WRVO and WXXI. McGuire focuses on education policy.
Melissa A. Morris
Melissa A. Morris, Physics Department, had her NASA Emerging Worlds grant proposal selected for funding in the amount of $319,000. This highly interdisciplinary grant will involve Morris, an undergraduate student and a research assistant at SUNY Cortland, as well as researchers at Arizona State University and Caltech. The entire project has been funded by NASA at a level of approximately $500,000.
Also, Morris submitted a paper, "The Effect of Multiple Particle Sizes on Cooling Rates of Chondrules Produced in Large-scale Shocks in the Solar Nebula" to Meteoritics and Planetary Science.
Also, Morris has been invited to give a talk at NASA headquarters in Washington, D.C. in September 2015.
Mechthild Nagel
Mechthild Nagel, Philosophy and Africana Studies departments and Center for Gender and Intercultural Studies, presented "Pitfalls of Diversity Management" at a symposium titled "Difference that Makes no Difference: The Non-Performativity of Intersectionality and Diversity." The symposium was hosted on Feb. 5 by the Frankfurt Research Center for Postcolonial Studies at Goethe University in Frankfurt, Germany. Nagel is serving as a visitor at the Max Planck Institute for Ethnic and Religious Diversity in Germany during the spring semester. Best papers from the symposium will be edited by Professor Nikita Dhawan, University of Innsbruck, Austria, and will appear in SUNY Cortland's journal Wagadu in 2016.
Emmanuel S. Nelson
Emmanuel S. Nelson, English Department, is the editor of the recently published Ethnic American Literature: An Encyclopedia for Students, Santa Barbara: ABC-CLIO Press. It is a revised, updated version of the five-volume Encyclopedia of Multiethnic American Literature that he edited in 2005.
Gregory D. Phelan
Gregory D. Phelan, Chemistry Department, had his paper, "Properties and Structure of Two Fluorinated 1,10-phenanthrolines," accepted for publication later this year in the peer-reviewed Journal of Fluorine Chemistry. Also, Phelan had his 15th United States Patent issued on Feb. 10. The patent, 8,952,102, is titled "Alkyl ether compositions and methods of use."
Pam Schroeder
Pam Schroeder, Academic Affairs Office, presented a session titled "Lessons from a Curriculog Implementation" at Digital Architecture's (Curriculog) annual conference, held March 1-4 in Tampa, Fla.

Submit your faculty/staff activity