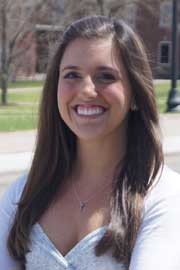 Campus Champion
Her weeknights often are filled with multiple campus-related commitments, but Student Government Association (SGA) President LeighMarie Weber wouldn't have it any other way. For two years, the speech and hearing science major has led SGA — the governing body of 60-plus student clubs — while serving on more than a dozen campus committees. And that's in addition to a pair of internships. "It's all just part of the job," says the recent SUNY Chancellor's Award recipient. All of it has prepared LeighMarie for the fall, when she begins pursuit of a master's degree tied to student affairs administration at New York University.

Nominate a Campus Champion
---
Tuesday, April 29
Green Days Event: Uganda Water Project Fundraiser, sponsored by BASIC and NYPIRG, help raise money for a rain catching system that will be purchased for a community in Uganda and serve more than 400 citizens, Corey Union Exhibition Lounge, 7 p.m.

Wednesday, April 30
Green Days Lecture: "Gender, Race and Climate Change," by Kathryn Russell, Philosophy Department, Old Main Colloquium, noon
Lecture: "Wage Theft, Income Inequality and the Fight for America's Future," by labor activist Kim Bobo, Brockway Hall Jacobus Lounge, 2:30 p.m.
Book Chat: "Lean In….Part II: Extending the Conversation," discussing the book by Sheryl Sandberg, led by Judith Ouellette, Psychology Department, sponsored by the Faculty Development Center, Brockway Hall Jacobus Lounge, 4-5:30 p.m.
Hypnotist: Corey Union Function Room, 8-10 p.m.
Thursday, May 1
Community Roundtable: "HealthyNOW Teens in the Cortland Community," by Philip J. Buckenmeyer, Kinesiology Department, Park Center Hall of Fame Room, 8-9 a.m.
Sandwich Seminar: "My Flipped and Blended Course: A First-time Experience," Katherine Graham, Economics Department, Brockway Hall Jacobus Lounge, noon-1 p.m.
Lecture: "Inside the International Criminal Court: A Prosecutor's View," by Karen L. Corrie, Old Main, Room 209, 7 p.m.
Opening Reception: Student Select 2014 exhibition, Main Street SUNY Cortland Dowd Gallery, 4:30-6:30 p.m.
Gamba Concert: Dowd Fine Arts Center, Room 0110, 7:30-10 p.m.
Saturday, May 3

Spring Fling Carnival: Corey Union steps, noon-3 p.m.
Dance Demonstration: Dowd Fine Arts Center Theatre, 7 p.m.
Spring Fling Concert: Park Center Alumni Arena, 8-10:30 p.m.
Tuesday, May 6
Classes end
Hand in Hand Celebration: Walk and barbecue lunch, open to the campus community, R.S.V.P. to uup@cortland.edu
Choral Union Concert: Dowd Fine Arts Center Theatre, 8 p.m.
Wednesday, May 7

Study Day
Awards Ceremony: "Honoring Excellence," recognizing faculty and professional, Corey Union Function Room, 2-4 p.m.
Thursday, May 8

Study Day
PAWS for Stress Relief: Corey Union Function Room, 10 a.m.-4 p.m.
Friday, May 9-Wednesday, May 14
Final Exams
Friday, May 9

PAWS for Stress Relief: Corey Union Function Room, 10 a.m.-4 p.m.
Golf Tournament: SUNY Cortland Athletics Department's annual Red Dragon Golf Classic, Elm Tree Golf Course.
---
---
Honorary Degree Recipients Bring Global Reach
04/29/2014
The State University of New York will award honorary doctoral degrees to two individuals who have earned international recognition in their respective fields during SUNY Cortland's Undergraduate Commencement ceremonies on Saturday, May 17.
Barbara J. Ryan '74, an international leader in the field of satellite imaging, and Wang Gongxin, a world renowned video artist, will deliver the Commencement addresses at the 9:30 a.m. and 2:30 p.m. ceremonies respectively.
Both embody SUNY Cortland's global approach to education and both share unique connections to the College. Ryan earned a bachelor's degree in geology from SUNY Cortland in 1974 and Gongxin studied as a visiting student at the College in the late 1980s.
Biographies on each honorary degree recipient follow:
Wang Gongxin
Gongxin, a respected artist who introduced modern computer-aided video art to China, will receive an honorary Doctor of Fine Arts degree.
Gongxin was a visiting student at SUNY Cortland in 1987 and 1988 and helped inspire the creation of the College's New Media Design major. Because of his work, avant-garde art in the form of computer-assisted video installations is widely accepted in China, influencing public discussions on social and cultural issues.
Trained in traditional Chinese art forms as well as communist "socialist realism," Gongxin was challenged by exposure to western, "new media" art as a student in SUNY Cortland's Art and Art History Department. He explored new mediums of expression and exhibited in the department's Student Select exhibition in 1988.
Gongxin returned to China, where he became the first Chinese artist to introduce and master computer manipulation of video. His work has been shown at major art exhibitions around the world, earning honors that include the 2006 Martell Artist of the Year and a Lawrence Olivier Award — British Theater's equivalent of a Tony Award — for best video set design.
Work such as "My Sun" in 2000 questioned established political and social norms, exploring the rise of individualism in China and focusing on the subtleties of everyday life. "Here? Or There?" a collaboration with his wife, acclaimed artist Lin Tianmiao, reflects the uncertainty caused by fast-paced growth and change in modern China with images that shift between reality and fantasy.
Video installations such as "Rain, or Water," a piece highlighting water conservation commissioned by the Beijing Center for Contemporary Art as part of its Green Art Project, demonstrate Gongxin's commitment to creating a sustainable planet.
By merging western influences with traditional Chinese culture, Gongxin has created a body of work that is visually stunning, emotionally gripping and intellectually stimulating.
Barbara J. Ryan '74
Ryan, the secretariat director of the intergovernmental Group on Earth Observations (GEO) in Geneva, Switzerland, will receive an honorary Doctor of Science degree.
Under Ryan's direction, millions of satellite images have been made available to the general public at no charge, allowing scientists, planners and policy makers to take a comprehensive approach to problems that transcend political boundaries. Her work addresses critical issues in agriculture, public health, disaster planning, energy, bio-diversity and climate change.
After graduating from SUNY Cortland with a degree in geology in 1974, Ryan joined the United States Geological Survey (USGS), the nation's largest civilian mapping agency. She became an expert in groundwater contamination and eventually was selected as staff assistant to the Department of the Interior's top official for water and science.
Ryan advanced steadily in the USGS, earning master's degrees in geography from the University of Denver and in civil engineering from Stanford University along the way. As associate director for geography at the USGS, she was responsible for the Landsat program, which includes the agency's remote sensing, geography and civilian mapping features.
Ryan has served as chair of the international Committee on Earth Observation Satellites, which coordinates information from more than 100 civilian satellites and in 2008 became director of the World Meteorological Organization's space program.
Since 2012, in her current role as secretariat director of the GEO, Ryan has worked to pull earth observation systems from around the world into a single, comprehensive system that uses coordinated data to understand how environmental factors impact human life. Like Ryan's career body of work, the system helps guide decision-makers toward better energy, agricultural and land-use decisions.
Jets to Return to SUNY Cortland
04/23/2014
The New York Jets will return to SUNY Cortland for training camp this year, under a renewal of the team's partnership agreement with the College that was announced today.
The team will report to campus in July for its fifth year in Cortland under head coach Rex Ryan and its second under General Manager John Idzik.
"The school and the community have joined together to continually provide a terrific backdrop for our team to come together at a critical stage of our season," Idzik said Wednesday. "I am pleased that we are returning to Cortland for training camp again this summer."
"I love the fact that we are going back to Cortland," Ryan said. "Everyone knows how I feel about going away. I think it is a big part of building our team camaraderie. The community, the school and the people of Cortland have been outstanding and we are all excited to be going back this summer."
SUNY Cortland's partnership with the Jets has provided year-round opportunities for the College's students and alumni. The 2014 camp will again attract thousands of visitors to Cortland this summer, giving local businesses a boost and raising the profile of the College and the region in a positive way.
"We are pleased and excited to welcome the New York Jets to the SUNY Cortland campus once again," College President Erik Bitterbaum said. " As it has in the past, this summer's training camp will bring millions of tourist dollars into the Cortland economy, showcase the college's professional-caliber facilities on an international stage and provide SUNY Cortland students with the educational experience of a lifetime."
In 2013, 21,000 visitors from 34 states and five countries spent more than $1.6 million locally, creating an economic impact of nearly $3.7 million, according to a study by SUNY Cortland faculty members. Together, the four New York Jets training camps hosted at SUNY Cortland since 2009 have generated $19.24 million in economic impact for Cortland County.
Every training camp, more than 50 SUNY Cortland students across a range of majors work in internships for the Jets. Many economics and business economics majors, meanwhile, receive field experience researching and quantifying the Jets' economic impact on the region.
Definite dates for training camp have not yet been determined. They will be announced as soon as they are available and posted on the SUNY Cortland website.
---
Capture the Moment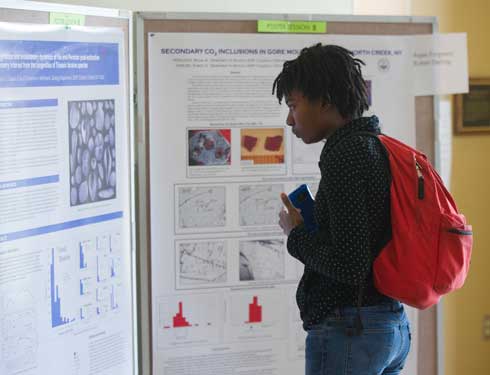 Kadeeja Fredankey, a sophomore biomedical sciences major from Brooklyn, N.Y., reads a poster on display at Transformations: A Student Research and Creativity Conference, held April 25 in Sperry Center. The conference is devoted to showcasing a wide array scholarship, research and creative activities occurring on campus. Now in its 18th year, the annual event begins with a keynote address and is followed by presentations and a poster session.
---
In Other News
Prosecuting Genocide is May 1 Topic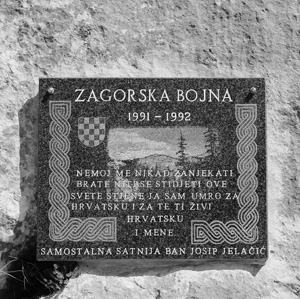 04/25/2014
Karen L. Corrie, a former International Criminal Court (ICC) prosecutor, has gathered evidence and litigated against genocides, crimes against humanity and war atrocities.
Corrie will discuss her experiences in both the international and domestic settings on Thursday, May 1, at SUNY Cortland.
She now serves as an adjunct professor at Fordham University and a consultant to the president of the Assembly of States Parties to the Rome Statute of the ICC.
Her lecture, titled "Inside the International Criminal Court: A Prospector's View," begins at 7 p.m. in Old Main, Room 229. The talk is free and open to the public.
Corrie will discuss her time as a prosecutor at the ICC and how she settled in that position. She also will explain what the ICC is, how it works and recent issues surrounding the ICC, which include particular concerns about its so-far exclusive focus on African leaders.
"I am very excited to speak to, not only students, but also faculty as well," Corrie said. "There aren't too many Americans that have worked in the courts and at the prosecutorial level."
At Fordham University, Corrie currently teaches undergraduate courses on international law and accountability mechanisms for international crimes.
A native of Brooklyn, N.Y., she began her career as an assistant district attorney at the New York County District Attorney's (DANY) Office in Manhattan. She then worked as an analyst and a trial lawyer with the Office of the Prosecutor at the ICC in The Hague, the Netherlands.
"Corrie will be sharing her knowledge of the court and its work, and her thoughts on its role in bringing war criminals to justice," said Tim Delaune, a SUNY Cortland assistant professor of political science and pre-law adviser.
Corrie's experience in the area of war crimes and human rights violations prosecutions will be useful to SUNY Cortland students interested in that line of work.
"Her talk will be of great interest to anyone who has followed the progress of the Court, or who wants to learn about its work for the first time," Delaune said.
Upon returning to New York from the Netherlands, Corrie worked as a litigation fellow with the Open Society Justice Initiative, where she litigated human rights issues before international and regional human rights courts and UN treaty bodies.
Next, as an ICC prosecutor, Corrie drafted legal submissions, which included a co-drafted brief that successfully opposed the Kenyan government's admissibility challenge in Prosecutor v. Ruto and Sang.
Corrie also conducted internationally broadcasted hearings, which consisted of oral argument and witness examination. She supervised 20 staff members to execute redaction and disclosure of evidence and she advised investigators, spoke with witnesses and collected documentary evidence.
During her time as an associate analyst in the Investigation Division of the ICC, Corrie researched and drafted factual reports on the structure of criminal organizations, the execution and consequences of criminal attacks and profiles of suspects.
She also collected documentary evidence in the field and from open sources, helped investigators prepare for witness interviews, screened potential witnesses and drafted legal submissions.
Before her years spent at the ICC, Corrie gained significant experience during her three years at the DANY, where she prosecuted felony and misdemeanor criminal cases, conducted grand jury presentations, hearings and trials and served as a member of the Sex Crimes Unit, Domestic Violence Unit and Identity Theft Unit.

Corrie's SUNY Cortland lecture is sponsored by grants from the Campus Artist and Lecture Series, the Political Science Department and the Clark Center for International Education.
For more information, contact Delaune.
College Shares Plant, Fungi Info Online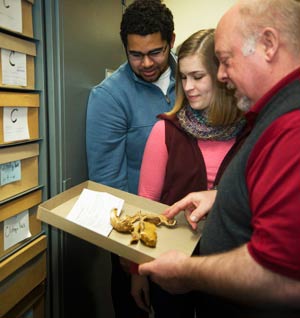 04/29/2014
Scientific knowledge is simply mushrooming for SUNY Cortland seniors Melcolm Crutchfield and Cassandra Elliott.
New species in the non-plant life form commonly called "fungi" are popping up all over the place, with a possible 1.5 million species suspected, of which only 100,000 have been described.
So Crutchfield and Elliott, a pair of budding biological researchers, have all they can do keeping up with photographing and entering identification and field notes about SUNY Cortland's impressive collection of fungi, that is to be part of a huge, national database.
They're collaborating in the College's recent participation in building the Mycology Collections Data Portal, a website that is the New York Botanical Garden's answer to anything anyone anywhere with a computer and curiosity about mycology might have.
The arrangement will help bring the College's world-class fungal collection into the Internet age, where formerly remote details will now be just a few keystrokes or mouse clicks away.
On a recent afternoon inside the College's Bowers Hall science building Elliott, a biology major from Whitney Point, N.Y., busily opened a small, cardboard box and after adding new barcodes to the box and information inside, photographed the specimen identification, and scientific notes using a classic Canon camera with macro lens mounted on a tabletop light stand.
Next to her Crutchfield, a conservation biology major from Locke, N.Y., entered these snapshots of information into an Excel database from a laptop plugged into output from the camera. The barcodes will make the specimens easy to track down later once the tiny box is labeled with them and carefully replaced among thousands of others in the College's moderate sized herbarium.
"I can do about 10 an hour," said Crutchfield recently as the materials passed rapidly between the pair. "To make things more interesting, sometimes I time myself in competition with Cassandra. So far, she's winning."
Melcolm Crutchfield and Cassandra Elliott consider a fungal specimen in a box, having just entered identifying information about the sample into a database that allows the College to share its existence with the scientific and hobby world.
Elliott cautioned that they understand the need to not rush their work.
"You have to concentrate when you're working on these images," she noted. "We learn how to go back and check for our mistakes but they can be very hard to find later."
The gigantic online herbarium represents four centuries worth of dedicated world-wide scientific documentation of the earth's plant and fungal diversity, according to its website. Approximately 3,400 herbaria in the world with roughly 10,000 associated curators and biodiversity specialists are involved in documenting an estimated 350,000,000 specimens from the Earth's vegetation.
Last fall, the College received a $30,000 Advancing Digitization of Biodiversity Collections grant through the National Science Foundation (NSF) and the project's lead scientific investigating institution, the New York Botanical Garden.
With the award, SUNY Cortland Distinguished Professor of Biological Sciences Timothy Baroni was trained at the New York Botanical Garden on how to manage the technical details of this online biology reference. Baroni is a mycologist, or fungi specialist. SUNY Cortland, with its share of the NSF grant funds, bought the camera, light table and supplies like barcodes and currently pays Crutchfield and Elliott to undertake this hands-on learning opportunity.
Faculty and students will work on the project through summer 2015.
"Questions will keep coming up on how to enter information into the database," Baroni commented, from his seat at a desk where he can keep an eye on his assistants. His efforts, assisted since the 1980s by a few graduate and many undergraduate students, have approximately doubled the size of the College's herbarium collection. The NSF over the course of the last 40 years has contributed close to $1 million to enable SUNY Cortland to collect, maintain and share its world-class fungal and plant collections.
Until now however, that collection has remained locked up in cabinets but sometime in the future will go live.
"It's really kind of a jewel for SUNY Cortland to have something like this," Baroni said.
For hundreds of years, scientists have identified new species by finding out what each others' collections contain and, for the sake of comparison, loaning interesting specimens to one another across state and international boundaries in order to produce scholarly publications, Baroni said. The process is easier, now. Take Boletus frostii — or Frost's bolete as it is more commonly known. Today a scientist or amateur enthusiast could quickly learn a lot about Frost's bolete — the species discovered by Charles C. Frost, an early amateur collector in Vermont — through the Mycoportal website. The individual can open a page that will contain Boletus frostii's scientific name and lineage, very precise description, pictures of dried or living specimens and a precise geographic positioning system (GPS) map of where this capped mushroom was harvested for a specific herbarium. Many examples may be posted to the page for each species, collected by different scientists working at different institutions across the United States.
That's amazing, considering that Boletus frostii is just one of 1,300 species in the Boletaceae, or porcini family of mushrooms alone; which in turn is among 177 families of the major fungi group called basidiomycota. Currently mycologists, that is, scientists specializing in this non-plant life form, have identified approximately 32,000 different species in basidiomycota.
SUNY Cortland's herbarium was named to a rather short list of college facilities in the U.S. working diligently to share their considerable wealth of information about their collections of dried specimens — collected both in this country as well as abroad.
Scientists from far away can investigate the unique qualities of this fungal specimen housed in SUNY Cortland's herbarium, thanks to a project to put information about it on the Internet. In the background students Cassandra Elliott and Melcolm Crutchfield can be seen photographing and entering information about the mushroom into the computer.
That enabled the College to join the Mycology Collections Data Portal project, which consists of a network of universities, botanical gardens, museums and agencies in the U.S. that provide taxonomic, environmental and specimen-based information on the biodiversity of macrofungi found in North America.
The College had founded its herbarium in 1908, when it was a modest teaching and research collection of plants from Cortland and surrounding counties, according to a history penned by Michael Hough, lecturer in the Biological Sciences Department, and posted on the College's herbarium website. Today the Cortland Herbarium specializes in plants of New York state, especially central and western and the Adirondack Park; and fungi, especially Agaricales and fleshy ascomycetes of the state, with a focus on the Adirondacks; and Agaricales and Boletales of northern California, Massachusetts, the southern Appalachian Mountains, the Gulf Coast, Central America, Mexico, South America and Caribbean basin islands.
"We have plant collections that date back to the 1890s and the (former) Cortland Normal School, some very important historic collections made by what appear to be former students and staff," Baroni said.
"Our fungal collections, obtained mostly by me and my many students over the past 34 years, are most likely numbering more than 11,000 and could be close to 12,000," Baroni said.
Baroni's budding scientists complete their work as part of a Bioinformatics independent study that culminates at semester's end with a research paper.
"The experience of learning how to organize everything is invaluable," Elliott said. "Most important to me is learning how to work with a very large data set."
The research work inspires Crutchfield and Elliott to set their sights on a graduate education in their chosen areas of biological science. Crutchfield aspires to earn a doctorate in conservation biology while Elliott hopes to work in wildlife management once she has a related master's degree.
Already they have a sense of having joined a wide, scientific community.
"While doing this work I noticed a familiar name, Tracy Armstrong Curtis '01," Elliott said. "Then I realized she was my professor at Broome Community College and she had collected the samples I am now cataloging."
Armstrong Curtis was one of Baroni's original research assistants that travelled with him to the Caribbean to collect and identify new forms of fungi on the first NSF funded project in 1996, Baroni said.
"I felt very excited to realize that," Elliott said. "I felt a connection."
Everyone who cares about human health and who cares about the planet should be interested in the database, according to Baroni.
Two miracle drugs produced from fungi are Penicillin, an antibiotic, and Cyclosporin, which enables organ transplantation.
"We have a medicine chest out there that we haven't event cracked the door on," Baroni said.
Gallery Displays Student Select Artwork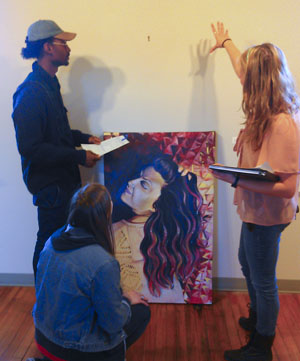 04/25/2014
SUNY Cortland's Dowd Gallery will showcase some of the College's best student artwork in "Student Select 2014," an annual display that opens Thursday, May 1.
Free and open to the public, the exhibition runs through Saturday, May 17. An opening reception takes place from 4:30 to 6:30 p.m. Thursday, May 1.
The Dowd Gallery remains located at Main Street SUNY Cortland, 9 Main St., through the summer. Gallery hours are 10 a.m. to 6 p.m. from Tuesday through Friday and 10 a.m. to 2 p.m. on Saturday. The gallery is closed Sunday and Monday.
"Student Select 2014" is a juried exhibition that provides SUNY Cortland students the opportunity to present their work in a gallery setting. The show also allows the public a glimpse of the wide variety of art created on the College's campus throughout the year.
Judith Meighan, an associate professor in Syracuse University's College of Visual and Performing Arts, serves as this year's juror.
An art historian and museum educator, Meighan worked at the Museum of Modern Art in New York City before joining Syracuse University's faculty in 1993. She is an expert in 19th and 20th century art and specializes in the beginnings of modern art in Italy.
For more information or to schedule a group tour, contact Gallery Director Erika Fowler-Decatur at 607-753-4216.
Campus Fosters Good Working Relationships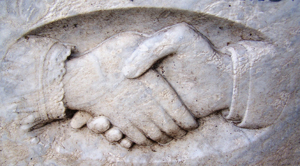 04/29/2014
SUNY Cortland recently embraced the concept that successful organizations deal with conflict in a way that improves rather than destroys relationships.
A disagreement between two co-workers no longer needs to morph into ongoing spats or a situation where Human Resources needs to step in as a mediator. While Human Resources staff members remain available to guide employees, and even intervene as necessary, the goal is to provide employees with tools to work through these situations on their own.
Employees now have avenues to resolve their conflict amicably and go forward as a close-working team, thanks to a recent collaboration between a volunteer Dispute Resolution (DR) Committee and College Human Resources staff.
The committee has developed a set of dispute resolution policies and programs intended to keep colleagues who don't see eye to eye from diverting unit managers, human resources staff and labor representatives from more productive, institutional pursuits.
"When we think about dispute resolution, we're actually talking about putting into place a system," explained Lisa Kahle, who chairs the DR Committee. "We're really giving people the ability to know where to go and what components we have put into place to support people. It's for staff at all levels."
"The program is not about 'This is something I'm doing wrong,'" agreed Joanne Barry, the College's assistant vice president for human resources. "No, it's about what you are doing right. We're going to try to give them the tools they need across the campus to respond effectively."
Besides Kahle, the committee members are: Michael Bersani, Wendy Cranmer (former co-chair and ex-officio), Tim Davis, Karen Gallagher, Molly McGowan, Jill Murphy, Richard Nauseef, Noelle Paley, Lori Porter, Tracy Rammacher, Greg Sharer and David Smukler.
During the past year the DR Committee, working closely with Wendy Cranmer — the former assistant director of human resources — used 15 campus focus groups from a cross-section of types of employees to identify campus needs in terms of workplace conflict alternatives.
"We asked them, 'What's been done?' 'What's working?,' 'What's not working?' and 'If you could change something about how the campus deals with conflict, what would that be?'," said Kahle.
The benchmarking efforts with six other higher educational institutions and the SUNY Cortland campus focus groups produced many ideas and Kahle is pleased to share with campus community participants that the College has acted upon most of their thoughtful suggestions.
The College's administration has adopted most of the policies the DR Committee recommended and has committed the resources to funding specific new and pilot training programs.
The new, proactive approach means that employees take opportunities to train in working relationships, leadership, management and problem-solving skills. Through this front-end effort, colleagues can forge more positive working relationships.
Many of the programs were piloted before the committee's work was done and will continue to be offered as the result of the positive campus feedback. They include:
The "Leading with Impact: Your Ripple Effect" program offers intensive training on leadership skills for supervisors at all levels;
A "Lunch-and-Learn" noon series offers campus leaders and supervisors quick seminars on particular topics, such as "Performance Management is Everyone's Job" or "Innovate or Evaporate";
The adoption and implementation of a bullying policy and procedures is in the works along with the development of civility standards. Employees would be required to comply with a policy that would rein in uncivil behavior between coworkers before it becomes a bigger problem; and,
A form of communication training called "Crucial Conversations" is intended to cultivate a culture that provides consistent and good service to faculty, staff and students, especially on subjects where emotions run strong and the stakes are high. Initially reserved for supervisors, the program now is open to all campus personnel.
Information about the programs presently is shared through email, although Kahle anticipates that College employees will eventually have a place to find information about them on the Human Resources website.
For more information, contact Kahle at 607-753-5793 or Barry at 607-753-2302.
Campus Plans May 6 'Hand in Hand' Walk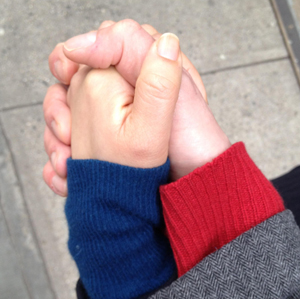 04/28/2014
Tickets are still available for members of the campus community who wish to celebrate SUNY Cortland's success to sign up for the "Hand in Hand" walk and barbecue lunch on Tuesday, May 6.
This first-time event will serve to mark the College's singular achievements, which thrive because of the collaborative efforts of students, faculty, administration and community members to make the campus community special.
So far, at least 100 campus faculty, staff and students have signed up to participate, according to organizers.
Sign up now is extended until the day of the event and tickets will be distributed on a first-come, first-serve basis. To register, email UUP@cortland.edu and an electronic ticket will be issued for each participant to print out and bring with them to the barbecue.
This walk for fellowship is sponsored by the Student Government Association and SUNY Cortland administration as well as United University Professions, Civil Service Employees Association, Police Benevolent Association and the New York Public Interest Research Group.
On May 6, College community members who have signed up in advance for the event will walk hand-in-hand starting at 11:30 a.m. from the bus stop on Graham Avenue or from the corner of Pashley Drive and Broadway Avenue in front of Whitaker Hall and through campus to the Corey Union steps.
There, speakers will share remarks and the barbecue will follow. The rain location is the Corey Union Exhibition Lounge.
For more information, contact the UUP Office at UUP@cortland.edu or 607-753-5991.
Corporate Challenge Team Welcomes Participants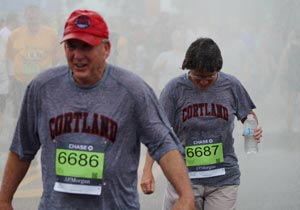 04/30/2014
SUNY Cortland's Corporate Challenge team needs faculty and staff members who enjoy good food, warm weather and the company of their work friends. There are no speed or fitness requirements for the all-inclusive running and walking event, which takes place Tuesday, June 17, in Syracuse, N.Y.
The 2014 J.P. Morgan Chase Corporate Challenge again offers a 3.5-mile course along Onondaga Lake Parkway for walkers and runners alike. The College covers the majority of the cost, but employees are asked to pay a $15 registration fee.
Registration includes a SUNY Cortland team shirt, post-race food catered by Murphy's Complete Catering, round-trip transportation from Cortland and all event fees.
"Anyone who has participated in the past knows how much fun it is," said Christopher Tucker, the College's property control manager and a team captain. "It's just a unique, laid-back way to catch up with co-workers and possibly even meet some new ones."
Online registration must be completed by noon on Friday, May 16, and payment — preferably by check and made payable to SUNY Cortland — should be turned in to Tucker or Kerry Mincher in the College's Purchasing Office, located in Miller Building. Payment can be made after online registration.
The Corporate Challenge is Central New York's largest fitness event and welcomes more than 6,000 runners and walkers annually. SUNY Cortland's team, which includes scores of employees of all ability levels, has maintained a strong presence at the event each year.
Rules state that only employees can represent a company.
For more information on the 2014 event, visit the Syracuse Corporate Challenge website or contact Tucker at 607-753-2488.
Physical Education Honors 13 Student Teachers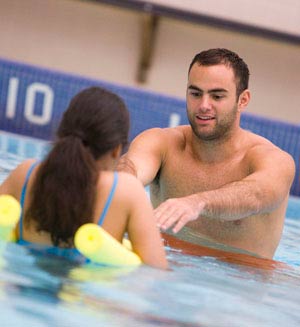 04/29/2014
Thirteen senior physical education majors were recently honored by SUNY Cortland with the Lenore K. Alway and the Anthony P. Tesori Awards for their outstanding work during their student teaching placements in New York state schools throughout the fall 2013 semester.
Faculty members of the Physical Education Department selected six women and seven men for the recognition, and the students received certificates.
The Alway Award, given to women, pays tribute to the late Lenore K. Alway, the pioneer head of women's physical education at the College from 1941 to 1965. The men's award honors the late Anthony P. Tesori, a 1939 graduate who earned the College's C-Club Hall of Fame Award for his achievements before and after graduation and gave the College many years of leadership in athletics and administration.
The Alway Award honorees and the schools where they completed their teaching for Fall 2013 are:
Elizabeth Beville of Jamesville, N.Y., at Dryden (N.Y.) Elementary School, and Homer (N.Y.) Junior Senior High School.
Stephanie Citro of Ronkonkoma, N.Y., at Beverly J. Martin Elementary School in Ithaca, N.Y., and Boynton Middle School in Ithaca.
Jennifer Ranieri of West Islip, N.Y., at Brentwood High School (Ross Center) in Brentwood, N.Y., and Bellerose Avenue Elementary School in East Northport, N.Y.
Antoinette (Fratto) Shama of Clifton Springs, N.Y., at Gorham Intermediate School in Stanley and Geneva (N.Y.) High School.
Julianne Dunn of Pine City, N.Y., at Beecher Elementary School in Elmira, N.Y., and Corning-Painted Post East High School in Corning, N.Y.
Madelyn Weaver of Troy, N.Y., at A.W. Becker Elementary School in Selkirk, N.Y., and Farnsworth Middle School in Guilderland, N.Y.
The Tesori Award honorees and the schools where they completed their teaching for Fall 2013 are:
Andrew Herman of Dix Hills, N.Y., at Countrywood Primary Center in Huntington Station, N.Y., and Commack (N.Y.) High School.
Ian Schwan of Burnt Hills, N.Y., at William C. Keane Elementary School in Schenectady, N.Y., and South Glens Falls Senior High School in Glens Falls, N.Y.
Justin Nassivera of Fort Ann, N.Y., at Glens Falls (N.Y.) Senior High School, and Hudson Falls Public School in Hudson Falls, N.Y.
David Vistocco of Victor, N.Y., at Honeoye Falls-Lima High School in Honeoye Falls, N.Y., and Martin B. Anderson School No. 1 in Rochester, N.Y.
Nicholas Costabile of New Fairfield, Conn., at Henry H. Wells Middle School in Brewster, N.Y., and Oakside School in Peekskill, N.Y.
William O'Hare of Tonawanda, N.Y., at Sweet Home Senior High School in Amherst, N.Y., and PS 80 Highgate Heights Elementary School in Buffalo, N.Y.
Jonathan LaPoint of Schenectady, N.Y., at Glendaal Elementary School in Schenectady, N.Y., and Draper Middle School in Rotterdam, N.Y.
For more information, contact the Physical Education Department at 607-753-5577.
Performing Arts Returns to Dowd Theatre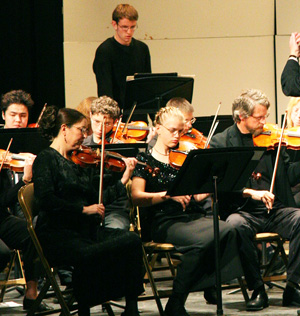 04/24/2014
SUNY Cortland's Dowd Fine Arts Center will continue to host various events as the College's academic year draws to a close.
Remaining performances this semester will be held on the Dowd Fine Arts Main Stage Theatre and are free and open to the public.
On Saturday, May 3, students will perform a Dance Demonstration at 3 p.m. The program will feature tap, jazz, contemporary, ballet and theatre dance techniques. New student choreography will be introduced, along with dances from performing arts course work.
The Choral Union will present a concert at 8 p.m. on Tuesday, May 6.
The Dowd Fine Arts Center re-opened in January for the College's spring semester. During construction, the College's concerts, plays and musicals took place at locations elsewhere on campus and off campus.
As recently as earlier this month, six performances of Leonard Bernstein's classic operetta "Candide" were staged in the Performing Arts Department's temporary main stage theater in Old Main Brown Auditorium.
Better lighting, new seats and sharper acoustics are just a few of the features in a new Dowd Theatre. Full theatrical productions by the College's Performing Arts Department will resume in the Dowd Fine Arts Center in the fall.
For more information, contact the Performing Arts Department at 607-753-2811.
Non-Traditional Students Inducted into Honor Society
Twenty-six non-traditional students at SUNY Cortland have been elected to membership in Alpha Sigma Lambda, an international honor society honoring the academic achievement of undergraduate students over the age of 24.
The SUNY Cortland chapter, Lambda Omicron, has elected members to the honor society for 14 years. The induction ceremony and dinner was held April 23 in Brockway Hall Jacobus Lounge. Alpha Sigma Lambda national standards indicate that students elected to membership are in the top twenty percent of all students at SUNY Cortland age 24 or older who have completed 24 credits of work at SUNY Cortland with a grade point average of 3.2 or better. For the inductees to be in the top 20 percent of students at SUNY Cortland this year, they needed to have a grade point average of 3.67 or higher. The GPA range for this group of students inducted was 3.67 to 4.13.
Associate Provost for Academic Affairs Carol Van Der Karr offered welcoming remarks to the new members. Joy Hendrick, Distinguished Service Professor from the Kinesiology Department was the faculty guest speaker. Christopher Coles, a senior business economics major and member of Alpha Sigma Lambda, explained the ideals of the honor society. Christopher Caughey, a senior selected studies with a focus on science of physical activity major and vice president of the Non-Traditional Student Organization, assisted in administering the pledge of membership to the inductees.
Students who have been elected to membership are:
Katie Austin, George Booze, Renee Brodeur, Bryan Carnes, Shannon Constantino, Jennifer Cutsogeorge, Joshua Eller, Josh Hammond, Heather Hernandez, Kerith Jensen, Sean Lord, Rachael Moore, Adam Niemiec, Kesar Nuon-English, Jenna Rubin, Michael Rosenthal, Cynthia Ruiz, Geoffrey Sadjadi, Karyn Scott, Brendan Shuey, Ellen Sorensen, Kathryn Szozda, Zachary Taillie, Paul Vair, Hope Vega and Jessica Walsh.
Hendrick was also inducted as an honorary member.
Our adult student population brings great life experiences to our campus," said Cheryl Hines, coordinator for Non-Traditional Student Support and the National Councilor for the Alpha Sigma Lambda Omicron Chapter. "They earn high GPAs while balancing family responsibilities, jobs and long commutes to campus. For some adult students, the adjustment attending a typically traditional-aged college can be overwhelming and intimidating. I am proud of them and happy that our campus has a chapter of Alpha Sigma Lambda so we are able to honor these outstanding students. I feel they are great role models for our campus."
For more information, visit the Alpha Sigma Lambda website.

Suggest a feature story
---
Faculty/Staff Activities
Seth N. Asumah
Seth N. Asumah, Africana Studies and Political Science departments, is the author of a new book chapter titled, "African Relational Democracy: Reframing Diversity, Economic Development and Society-Centered Governance for the Twenty-First Century." This chapter appeared in a volume, The Social Contract in Africa (2014, Africa Institute of South Africa), edited by Sanya Osha, Tshwane University of Technology, South Africa. The volume is part of the Africa Democracy Project of the Africa Institute of South Africa.
Stephen Halebsky
Stephen Halebsky, Sociology/Anthropology Department, has been informed that his paper, "Corporate Practices and Harmful Consequences: Learning from the Holocaust," has been accepted for publication in Humanity and Society.
Jordan Kobritz
Jordan Kobritz, Sport Management Department, gave a talk on "Why Baseball is a Metaphor for Life" on April 15 at the Southworth Library in Dryden, N.Y.
Thomas Lickona
Thomas Lickona, Center for the 4th and 5th Rs (Respect and Responsibility), has been invited to be a Distinguished Professor at the Jubilee Centre for Character and Virtues at England's University of Birmingham.
During the week of June 23-27, Lickona will present "Integrating Ethics and Excellence: Educating for Both Moral and Performance Character" as part of the centre's biweekly seminar series, and he will confer with teams working on different research projects within the centre. The invitation was announced in the March 2014 issue of the Jubilee Centre Research and Policy Digest.
The 2014 Winter-Spring issue of excellence & ethics, co-edited by Lickona and Office Manager Marthe Seales, focuses on how schools and parents can combat the rising rate of dating violence and sexual assault, which have received growing national attention. To download a copy, visit the center's website at www.cortland.edu/character.

Submit your faculty/staff activity