College Smashes 24-Hour Fundraising Goal
02/28/2014
The College's first-ever 24-hour fundraising challenge raised a total of $102,857 to support scholarships, undergraduate research, athletics and other priorities, more than tripling the number of donors in its initial goal.
On Thursday, Feb. 27, a total of 871 people responded to the 2/27 Challenge, named to signify both the date of the event and the original target of 227 challenge day donors. That target moved higher throughout the day, buoyed by three challenge gifts of $10,000 that raised the bar as each goal was met.
"It's thrilling," said College President Erik J. Bitterbaum, who joined students in making phone calls for donations Thursday evening. "And it's proof that there's something special about SUNY Cortland people — their pride, their loyalty, their generosity.
"What an extraordinary day and what a remarkable show of support for the College."
Gifts were submitted online, called in over the phone and delivered in person from alumni, students, employees and friends of the College. They ranged from $1 to several thousand dollars.
SUNY Cortland President Erik J. Bitterbaum joined
students in making phone calls during the
College's 2/27 Challenge.
The challenge's initial guidelines stipulated that if 227 people made a gift of any amount to the College, longtime College supporter Louise M. Conley would give $10,000 herself. That goal was achieved before noon, so Conley, the Cortland College Foundation Board chair, doubled her offer to $20,000 if SUNY Cortland supporters could duplicate the initial goal.
"The spirit behind this endeavor was most impressive," said Conley, the granddaughter of Francis. J. Cheney, the former principal of Cortland Normal School, which ultimately became SUNY Cortland. "I assumed we could easily surpass the first goal. The final number exceeded even my highest expectations."
With more than 454 gifts submitted by the early evening, Cortland College Foundation Board member Anthony Moon '86 stepped forward and offered a third and final challenge: another $10,000 in exchange for 600 total gifts for the day.
Student callers, working the phones throughout the day, helped surpass that challenge with time to spare.
"What a day," said Jennifer Janes, the director of The Cortland Fund. "There aren't enough thank yous to go around — to Louise and Anthony for offering their challenge gifts, to staff members and students who worked to collect donations and, most importantly, to every single person who fueled the day's spirit, whether it was with a $1 gift or a word-of-mouth mention.
2/27 Challenge Facts
First gift: 12:17 a.m.
Last gift: 11:50 p.m.
Furthest donor: Scotland
Youngest donor: 6 years old
Average gift: $84
Range of class participation: 1947 to 2014
"Cortland people have a reputation for conquering challenges and surpassing expectations, and that's exactly what we witnessed with the 2/27 Challenge."
People who made gifts to the College had the opportunity to designate their funds for a certain area of campus, as they do every day, Janes said. The challenge incentive simply gave a push to a collective, single-day effort.
"Many donors who called or made gifts in person mentioned the day's excitement," Janes said. "They also mentioned the SUNY Cortland people and programs that matter to them.
"In the end, that's what the day was about — building excitement and attempting to raise the funds that will help those types of experiences to continue."
College Joins Generation Study Abroad
03/04/2014
SUNY Cortland has announced its goal to double the number of students that experience studying abroad before the end of the decade.
The College has committed to join Generation Study Abroad, a nationwide effort to ultimately get thousands more American students to graduate with the international experience necessary for success in a globalized world.
Reaching this goal means that by 2019, more than 28 percent of the College's undergraduate and graduate students would venture outside America's borders to expand their intellectual horizons, according to Mary Schlarb, SUNY Cortland's director of international programs. In 2011-12, 14.3 percent of the College's undergraduate and graduate students traveled abroad for a semester of study, course, class project, internship or service learning opportunity.
"Yes, it is a bold and somewhat daunting goal to commit to doubling our numbers by 2019 from the baseline year of 2011-12," said Schlarb. "But it will motivate us to explore new ways to encourage students and increase access to study abroad, particularly for those students who are underrepresented, whether for financial reasons or because they have competing priorities, as is often the case for athletes, non-traditional students or students from certain disciplines."
The Institute of International Education (IIE), an independent not-for-profit organization founded in 1919, announced Generation Study Abroad on March 3.
Among the world's largest and most experienced international education and training organizations, the institute aims to increase the number of U.S. college students enrolled in credit or non-credit programs in other countries to 600,000 by its anniversary year 2019. The institute is recruiting 500 institutions of higher education across the U.S. and SUNY Cortland is among the first 150 lead partners.
During the last decade SUNY campuses overall have increased the student participation rate in study-abroad programs, averaging a little over 13 percent in 2011-12, the most recent year for which aggregate SUNY data is available.
According to a 2013 study published by the institute in partnership with the U.S. Department of State's Bureau of Educational and Cultural Affairs, 295,000 college students in the U.S. studied abroad in 2011-12. This represents only about 10 percent of the 2.6 million students who graduated with associate or baccalaureate degrees.
SUNY Cortland has been steadily improving by this measure and now does considerably better than that. The College's unofficial 2012-13 data suggests that approximately 19 percent of all students, nearly 275 academic adventurers, studied in another country that year.
"We got it going again. We're stirring it up," said Schlarb, who joined the College as the assistant director in early 2010.
"Several years ago, International Programs greatly stepped up its efforts to inform students about the availability of 600 programs of study around the world," she explained. "The office presents Study Abroad 101 information sessions twice a week during the semester and students are required to attend one first before speaking with a study abroad advisor."
The College has added a spring Study Abroad Fair, which offers one-stop information about international travel opportunities.
Two separate offices, International Programs and the James M. Clark Center for International Education, take a more integrated approach with faculty on raising the visibility and popularity of pursuing studies in another country.
"Faculty engagement is essential," Schlarb said. "There is no way we could sustain this without the faculty helping students understand that this is a valuable enterprise. We want the message to be integrated into the curricula across the campus: the importance of study abroad."
Eighty times last fall, faculty invited students who have returned from traveling abroad into their classrooms as Cortland study abroad promoters (CSAPs). Several faculty members take entire classes to another country for an academic or civic engagement-related learning experience.
Other individuals on the faculty have formed ties with international university partners so both institutions can maximize the affordability of scholar exchange programs. Professor of Philosophy Mecke Nagel, for example, works diligently to expand a very active exchange program at a university located in her native community in Germany, Fulda University of Applied Sciences.
"From the get-go, Cortland students have attended Fulda — good programs, word-of-mouth and much more generous scholarship money from Fulda than (possibly) any other exchange partner we have," Nagel said. "Obviously, it helps to have a faculty member who returns every semester to Fulda — as I have done since 2008 — to keep the partnership strong."
Word is getting out about the affordability and availability of scholarships to offset the costs, Schlarb said.
A SUNY Cortland student enjoys a majestic view as she incorporates study abroad as part of her academic experience.
Moreover, the generosity of SUNY Cortland faculty, emeriti faculty, alumni and friends coupled with financial efficiency on the part of International Programs means that more awards are available that target students in need of funds to offset their tuition differences, travel and living expenses outside the U.S.
SUNY Cortland students think the College's Generation Study Abroad challenge is timely.
"I was done with learning about other cultures in a book, looking at pictures on the Internet or watching TV," said Ryan A. Walker, a senior physical education major from Hampton Bays, N.Y. "I was ready to take the step out of my comfort zone and experience all of the above in real life."
In 2013 he did just that in Cologne, Germany.
"You're young, you have the world ahead of you, you're not tied down to anything, why wouldn't you study abroad?" observed LeighMarie Weber, a senior speech and hearing science major from Mineola, N.Y., who studied in Ghana. "It's the perfect, once-in-a-lifetime opportunity and it will be the best decision you ever make."
With Generation Study Abroad, SUNY Cortland also commits to launching new initiatives that include scholarships, innovative new support services, promoting alternatives to classroom experiences, encouraging underrepresented students to study abroad, and creatively engaging study abroad alumni.
Meanwhile, the institute will contribute $2 million to scholarships for the most outstanding campus programs. Eventually, it will bring together leaders in secondary education, business and governments that are also willing to commit to specific, measureable actions to help reach this ambitious milestone.
---
Capture the Moment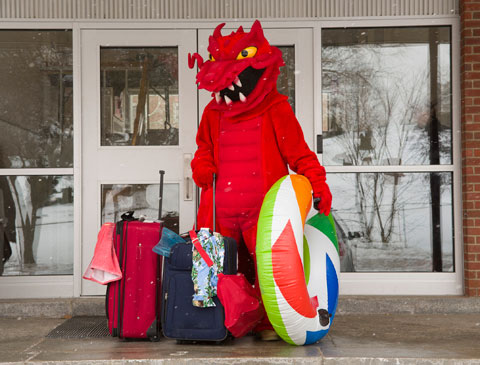 Blaze, the College's red dragon mascot, is ready to make spring break his most memorable yet. He's also prepared to put up a fight in the SUNY-wide Mascot Madness competition. Classes may come to a halt for the week, but the first round of voting kicks off Tuesday, March 11, at noon. Students, alumni, faculty and staff can show their support by voting once every 72 hours. They also can stay current with the competition by liking SUNY Cortland on Facebook, following @SUNY_Cortland on Twitter and using #CortlandPride and #MascotMadness.
---
In Other News
Scholar Explores Progress of Democracy after Communism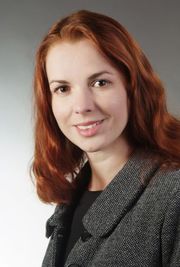 03/03/2014
SUNY Cortland will host a talk by a European scholar that looks at democracy abroad since the fall of communism — especially in former Soviet Union republics like Ukraine — on Tuesday, March 4.
Vera Axyonova, a political science fellow from Fulda University in Germany, will speak on the process of democratization in Central and Eastern Europe and in Central Asia at 4:30 p.m. in Moffett Center, Room 2125. Her talk is free and open to the public.
"This obviously is the appropriate time to have a discussion about the topic," said SUNY Cortland Distinguished Service Professor Henry Steck, referring to the ongoing political uprising in the Ukraine and Russia's recent military intervention. "The transition to democracy often can be difficult."
Axyonova's talk, "The European Union and Democratization: 25 Years On," will focus on the fall of communism and its effects on countries in Central and Eastern Europe as well as Central Asia since 1989. She will offer a European's perspective on several groundbreaking historical developments, including the dissolution of the Soviet Union in the early 1990s, the 2004 Orange Revolution in the Ukraine and the current tensions there.
Just last week, anti-government demonstrations in the Ukraine intensified to a point where former President Viktor Yanukovych was ousted, following street protests that killed dozens and wounded hundreds more. Protestors in western Ukraine generally support stronger relations with the European Union while the country's eastern population generally supports greater ties with Russia. On Monday, Russia's military entered Crimea, a strategically important peninsula in eastern Ukraine, with the apparent support of the population there.
Axyonova serves as a political science fellow in the Department of Social and Cultural Sciences and a researcher for the Centre for Intercultural and European Studies at Fulda University of Applied Sciences, a German institution with strong study abroad exchange ties to SUNY Cortland.
Political changes in the region were the subject of Axyonova's doctoral work and serve as a primary focus for her research. A specialist on politics in Central Asia, she has authored two books: Insights into Development: Meeting Civil Society's Needs in Kazakhstan (2011) and European Engagement Under Review: Promoting European Values and Practices in the Post-Soviet Space, which will be published later this year.
Axyonova studied international relations at East Kazakhstan State University before completing a master's in intercultural communication and European studies from Fulda University. She earned her Ph.D. in political science from the University of Bremen in Germany in 2013.
Sponsors for Axyonova's talk include: the Clark Center for International Education; the College's international studies and political science departments; Campus Artist and Lecture Series; the Project on Eastern and Central Europe; the Asian and Middle Eastern Studies Committee; the Center for Gender and Intercultural Studies; and the Political Science Student Association.
Warm Up for Wickwire at Brix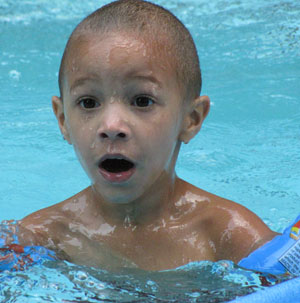 02/26/2014
Students in a SUNY Cortland communication studies class are developing their citizenship skills while saving an important part of the Cortland community, the Wickwire Pool.
They'll host a "Dine to Donate" event Tuesday, March 4, at 5 p.m., at Brix Pubaria at 60 Main St., to support their "Warm Up for Wickwire" project. Anyone can attend and donate 10 percent of their bill to the Wickwire fund.
Opened at Suggett Park in 1946 as a gift from former industrialist Charles Wickwire, the Wickwire Pool was closed in 2010. The landmark is at risk of being shut down permanently, unless close to $1 million can be raised for repairs.
Professor Caroline Kaltefleiter's students have been hard at work since spring 2012 to make this dream a reality, with many groups in her classes organizing different fundraising events.
Between donations from individuals, local groups and government officials as well as class members, the two-year drive has raised nearly enough to meet its goal this spring.
But raising money for the community staple isn't the only motivation behind this event.
Wickwire Pool as it appeared in its early days, as popular a method of summer recreation among Cortland youth as it has been in more recent years.
"People should come to the Brix event because not only does it give students a chance to contribute to a project involving the community, but it raises awareness about why this pool is not just a pool to the people of Cortland," said junior Jocelyn Almodovar of Lincolndale, N.Y., one of several communication studies majors working on the "Warm Up for Wickwire" project.
According to information gathered by Kaltefleiter's class in the past, Cortland County is among the poorest in New York state and during the summer, the pool has provided free lunches to children of the community. For some children, it's the only meal they will receive for the day. Wickwire also provides a safe environment where children can find an alternative to getting into trouble.
"By coming to Brix and participating in this event, people can help bring back the summer fun and a safe environment for the children," said Sheena Driscoll, a senior from Whitney Point, N.Y.
Over the duration of this fundraiser, a bond between the SUNY Cortland students and the Cortland community has been formed.
"The Wickwire project has been a great way for us students to truly get in touch and repay the community around us," said Corey Neuss, from Manlius, N.Y. "We are very close to achieving our goal of paying for the restoration of this classical feature of Cortland.
"We hope that 'Warm Up for Wickwire' will continue to get us closer to our monetary goal."
For more information, visit www.wickwirepoolproject.com.
UPD Offers Rape Defense Training

03/04/2014
SUNY Cortland's University Police Department (UPD) again will offer Rape Aggression Defense (RAD) training this spring as a way to prevent and defend against sexual assault.
The 12-hour course, broken down into four three-hour sessions, is free for SUNY Cortland students and employees. The class is limited to 25 participants and pre-registration is required.
The sessions take place from 6 to 9 p.m. in Brockway Hall, Jacobus Lounge on Tuesdays beginning March 18. Subsequent classes take place March 25, April 1 and April 8.
People who are interested should contact Mark DePaull, assistant chief of UPD, and include their name, College C-number, preferred email address and phone number and t-shirt size.
RAD training offers participants a comprehensive set of realistic self-defense tactics and techniques. The course starts by teaching awareness, prevention, risk reduction and avoidance then progresses towards the basics of hands-on self-defense. All classes are led by police officers and certified instructors.
The program is supported by the InterGreek Council, the Sexual Assault Awareness and Programming Committee, Students Active for Ending Rape and a community grant from Walmart.
For more information, visit the RAD training page.
Health Data Guru to Speak March 25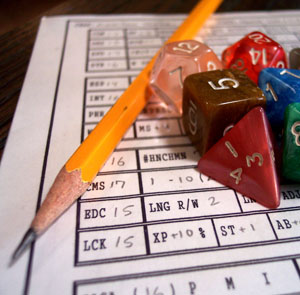 02/26/2014
Marya Zilberberg, a scholar on the interpretation of health statistics, knows how easy it is for public health professionals and the news media especially to mess up the data.
"People frequently misinterpret health-related statistics and information," said Zilberberg, who plans to discuss the pitfalls of data evaluation and the accuracy of media reports of such data on Tuesday, March 25, at SUNY Cortland.
"The presentation will be useful to those interested in learning how to better evaluate health information," said Zilberberg, the author of Between the Lines: Finding the Truth in Medical Literature and an adjunct associate professor of epidemiology and biostatistics at the University of Massachusetts School of Public Health and Health Sciences.
Marya Zilberberg
Zilberberg, who also is the founder, president and CEO of EviMed Research Group, will present "Scientific Evidence: Is There More than Meets the Eye?" at 7 p.m. in Sperry Center, Room 204.
Her talk is the seventh annual Charles N. Poskanzer Lecture sponsored by the College's Health Department. The lecture is free and open to the public.
Charles N. Poskanzer
The event is supported by the Charles N. Poskanzer Fund, an endowment named in honor of the late SUNY Distinguished Service Professor emeritus who taught in the College's Health Department for 40 years. The fund was established through the Cortland College Foundation as an endowment to support an annual, public lecture offered by the College's Health Department in honor of its former colleague. Since Poskanzer's death in 2010, the fund has continued to grow through donations made in his memory. The Poskanzer Lecture allows the Health Department to bring national leaders in public and community health to campus to meet with students and faculty and to deliver a public lecture on a current public health issue.
For more information, contact Judith Johns, assistant professor of health, at 607-753-5614 or Alan Sofalvi, assistant professor of health, at 607-753-2980.
Panel Explores Miscommunication Across Cultures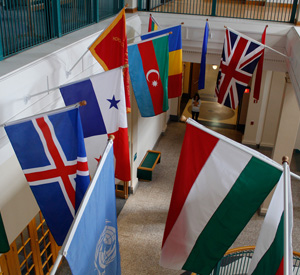 02/25/2014
A SUNY Cortland panel discussion on communication across cultures will examine how two people can have different understandings of time, historical events and word meanings even when they speak the same language.
"Cross-Cultural Miscommunication: A Panel and Audience Discussion" takes place Wednesday, March 5, from 4:30 to 6 p.m. in Moffett Center, Room 2125.
It is free and open to the public.
Five of the six panelists are SUNY Cortland students who will detail their firsthand accounts of misunderstandings. The discussion aims to identify the way culture complicates communication at a time when the classroom, workplace and sports arena are increasingly global.
Panelists include:
• Alexandru Balas, the director of the College's Clark Center for International Education and an assistant professor of international studies.
• Banu Bozkurt, an international student studying business economics from Turkey.
• Chunyu Fu, an international student studying linguistics from China.
• Ludmila Guedes Almeida, an international student studying chemistry from Brazil.
• David Paulino, an international studies major from the Bronx.
• Camila Silva Caldas, an international student studying physics from Brazil.
The first 30 minutes of the talk will be reserved for remarks from the panelists. Audience members will be able to ask questions and share their own stories with the remaining time.
The talk, now in its fifth year, is sponsored by SUNY Cortland's Clark Center for International Education, Institute for Civic Engagement and International Programs Office.
For more information, contact John Suarez, the College's service-learning coordinator.
Cast Announced for April Production of 'Candide'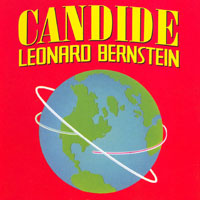 03/19/2014
The Performing Arts Department has announced the cast for its April production of Leonard Bernstein's classic operetta "Candide."
The musical will be performed April 4-6 and April 11-13 in the Performing Arts Department's temporary main stage theater location in Old Main Brown Auditorium. Friday and Saturday performances will begin at 8 p.m. and Sunday matinee performances will start at 2 p.m. Doors will open a half hour prior to show time.
Tickets for "Candide" are now on sale at The Bling Store, located at 101 Main St. in downtown Cortland, and will be available at the Brown Auditorium box office before each performance. Admission for the musical is $18 for the general public, $15 for senior citizens and SUNY staff, and $8 for all students.
Based on the novella of the same name by Voltaire, which was published secretly in 1759, "Candide" first was performed on Broadway in 1956.
"'Candide' has a wild and fascinating history," said Kevin Halpin, director-choreographer for the SUNY Cortland production. "Some of the greatest writers and musicians of our time had a hand it its creation. Oddly enough, both the 16th century novella and the 20th century operetta enjoyed great success as well as great scandal. The story contains religious blasphemy, political sedition, mixed with intellectual hostility, all hidden under a thin veil of naiveté. It attempts to show us 'the best of all possible worlds.' In short, it's got a little something for everyone."
Over the years, there have been many contributors to the show's lyrics, including poet and satirist Dorothy Parker, composer Stephen Sondheim and Bernstein himself, who was one of the earliest American conductors to receive worldwide acclaim.
The cast is comprised of SUNY Cortland musical theatre majors, including Ben Shimkus as Candide, Melissa Pipher as Cunégonde, Catherine Skojec as Paquette and Jacqui Fisher as Old Lady. William Rivera will play the part of Maximilian, Joey Gugliemelli will appear as Voltaire and Pangloss, Alejandro Circelli is the Governor, David Newman is the Baron and Hailey Berkowitz is the Baroness as well as the understudy to Old Lady.
Members of the ensemble include Nick Alteri, Jaclyn Collins, Lindsey Galgano, Sean Noonan, Sarah Shaiman, Kevin Rayo, Allie Tamburello, Billy Swenson, Catie Young and Andrew Cuccaro.
Swings are Matthew Spina and Chrissy Jackson. Howard Lindh is the set designer, Joel R. Pape is the sound and lighting designer and Preston Marye provides technical direction. Eliza Mitchell is stage manager and Tara Zebrowski is assistant stage manager. Mark Cryan supplied poster art direction and Nikki Ferrar produced the ads.
For more information, visit the Performing Arts Department website or call 607-753-2811.
Alumni Speaker Panel Looks at Careers in Health Professions
Students interested in a career in health-related fields should attend SUNY Cortland's Alumni Speaker Series event on Wednesday, March 19.
The panel discussion begins at 7 p.m. in Corey Union Exhibition Lounge. It is free and open to the public.
The five panelists include: Stephen J. Smith '75, retired senior counselor emeritus at SUNY Cortland's Counseling Center; Douglas A. Ribley '82, senior vice president of Health and Wellness Services at Akron General Health System; Juliana Hawes Chrysler '88, director of Volunteer Services at Rome Memorial Hospital; Peter R. Fallon '77, vice president of development and physical therapist at Fitness Forum and a partner at Sports Center 41; and Alan P. Peppard '66 , retired athletic trainer at Lifetime Assistance.
Students interested in a career in in the health professions should come prepared to ask the alums how they scored their first job, their paths from Cortland to where they are today and other questions related to their careers.
The discussion is sponsored by the Alumni Affairs Office and Career Services. For more information, visit the Alumni Speaker Series website or Career Services website.

Suggest a feature story
---
Faculty/Staff Activities
Lynn Anderson
Lynn Anderson, Recreation, Parks and Leisure Studies Department, recently completed the Distinguished Visiting Professor program with the University of Central Lancashire in the United Kingdom. The distinguished service professor spent the week lecturing, debating and working with faculty and students in the School of Sport, Tourism, and the Outdoors at UCLAN. The university published this article on its blog site:http://uclanoutdoors.blogspot.com/.
Brice Smith
Brice Smith, Physics Department, is an invited presenter at a public forum titled "New York's Energy Plan: Scaling Up Renewable Energy or Business as Usual?" being held Wednesday, March 5, in Ithaca, N.Y. The associate professor and former senior scientist at the Institute for Energy and Environmental Research has focused his work on renewable and sustainable energy systems for more than a decade. The forum will be moderated by Tony Ingraffea, a member of Cornell University's School of Civil and Environmental Engineering, and is free and open to the public.

Submit your faculty/staff activity