Wheelchair League Offers Hoops at a Fast Pace
11/22/2011
The pick-up basketball games that take place in SUNY Cortland's Park Center on Thursday nights are hotly competitive and anything but ordinary.
That's because the College's wheelchair basketball program, now in its 12th year, adds a unique twist to a traditional sport. It's not just a league for people who rely on wheelchairs. The program invites curious participants who are willing to try a new sport.
Suzanne Leslie, a junior physical education major from Ossining, N.Y., serves as the program's student advisor. She chose adaptive physical education as her concentration because she eventually wants to teach an integrated class.
"There are many able-bodied athletes who, when instructed to play in a wheelchair, see their talents challenged," Leslie said. "Seeing that makes you appreciate athletes in wheelchairs more."
Leslie is writing a grant for the wheelchair basketball league, which she calls "an open recreation program." The program was launched with the efforts of Timothy Davis, the group's faculty advisor and an associate professor of physical education, and Julian Wright, the College's director of recreational sports.
But little funding is available for this endeavor that makes it through each week on a few basketballs and 10 refurbished wheelchairs.
Presently, three of the league's wheelchairs require tire repairs.
"I wish there was more funding and opportunities for wheelchair sports," said Erik Kylan, a wheelchair basketball participant from Syracuse, N.Y. "I just wish more people knew about wheelchair sports, that they even exist and what they entail."
Kylan used to play for the Syracuse Flyers, a wheelchair basketball team that disbanded due to a lack of interest. He now travels to Cortland for the competition that draws roughly 20 participants each week.
Leslie said the week-to-week competitiveness has shown her what athletes in wheelchairs can accomplish.
"People normally only see disability when they see someone confined to a wheelchair," she said. "(The athletes in wheelchairs) have true talent though. Here, they are able to display it. And making everyone feel accepted and equal is a great feeling."
If the proper funding can be secured, the wheelchair basketball program could give way to other chair-themed activities at the College. Wheelchair football and sled hockey are two possibilities, Leslie said.
For more information on the wheelchair basketball program, contact Leslie.
Student-Athletes Deliver Thanksgiving Food Drive
11/22/2011
SUNY Cortland junior and men's basketball team member Harrison Hefele handed out a team-best 10 assists during a basketball tournament Friday and Saturday in Pennsylvania. On Sunday morning, however, he made his biggest assist of the weekend.
Hefele was among a group of SUNY Cortland student-athletes who handed out boxed meals as part of a fourth-year Thanksgiving food drive effort steered by the College's athletics department.
Hefele, a physical education major from Greenlawn, N.Y., said the decision to help was an easy one, despite the quick turnaround from the out-of-town tournament.
"This was something that needed to be done just as much as anything else in my daily routine," said Hefele, a member of the Student-Athlete Advisory Committee (SAAC) that organized the drive, along with Loaves and Fishes, a non-profit meal provider in Cortland.
In all, 56 local residents received food as a result of the Thanksgiving project. Student-athletes on the College's 27 intercollegiate varsity teams and staff members from Athletics each donated a dollar to raise approximately $700 to purchase the dinners.
Representatives from six SUNY Cortland squads
participated in the Nov. 20 Thanksgiving food drive.
"This is a total group effort from SAAC," Hefele said. "We're a very close group and we feel that this time of the year, around Thanksgiving, is an important time to contribute and help the people around Cortland that need us the most."
About 20 student-athletes from six teams, Athletics staff members and a few volunteers began boxing meals at 10 a.m. Sunday in SUNY Cortland's Park Center lobby. They then delivered the boxes of food to the front doors of 14 local families.
Hefele previously helped out food drives near his hometown. This was the first time he participated in the Thanksgiving event organized by SUNY Cortland student-athletes.
"Every little bit of food helped," he said. "Even if it's just a little progress, it's more than what the people in need would have had."
Food drive organizers identified the local families in need of Thanksgiving dinners with the help of Kim Hill, the director of Loaves and Fishes.
In their next community-minded activity, SAAC members will participate in the Polar Plunge for Special Olympics on Sunday, Dec. 4, in Brewerton, N.Y.
---
Capture the Moment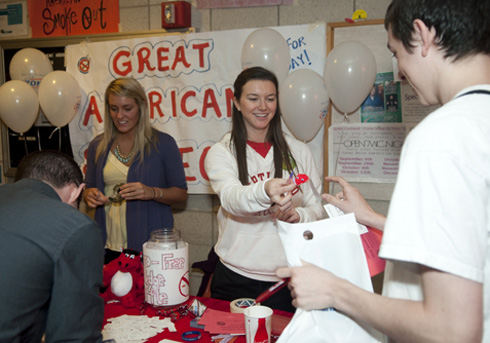 Seniors Danielle Shattuck, left, a community health major, and Amanda Cheetham, a health education major, were among several students to hand out educational materials and prizes related to SUNY Cortland's celebration of the Great American Smokeout on Nov. 16 in Corey Union. The College, which plans to go tobacco-free in 2013, received a Partner in Excellence Award from the American Cancer Society. Throughout the day, student interns from the Health Promotion Office collected 55 pledges to remain tobacco-free for life and 15 commitments to give up smoking or tobacco for a day.
---
In Other News
SGA Creates Michael Holland Day of Service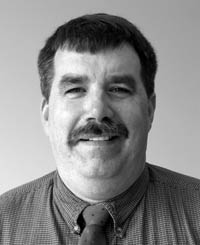 11/22/2011
The College's Student Government Association (SGA) passed a resolution designating Nov. 16 as a day of service in memory of the late Michael C. Holland.
Holland, the executive assistant to the vice president for student affairs, died on Oct. 29.
Jamie Piperato, SGA president, said the senate in its resolution asked the student body to set aside the day — which would have been Holland's 53rd birthday — for that purpose from now on.
The commemorative day was set during the student senate's regular meeting on Nov. 7 in the Corey Union Function Room.
"It's a day where every student could give back, pay it forward if you will, just to remember what Mike Holland was about, what he believed in," Piperato said. "We believe we owed that to him, as the SGA advisor, to do that for him."
SGA board members were fully aware the roughly two weeks between their action and the commemorative day gave very short notice to the campus community, Piperato added.
On the inaugural day, it was not possible to confirm any particular group's organized service event relating to the SGA's request.
"We had announced it as just a day to pay it forward and next year people serving on the SGA and other clubs are encouraged to plan events on the day," she said.
"We actually asked (the SGA club representatives present) to do their part in making it a service day in any way they could," she said. "Whether that be a club event or an individual event is up to them. This could be just helping out a friend, or helping out a stranger, or donating clothes."
SUNY Cortland's Student Government Association is not only active in campus events and issues, but is a major fundraiser for the College. In September, the group was awarded SUNY Cortland's philantropy medal for donating more than $100,000 to the College campaign.
Piperato said that future SGA leaders will have written suggestions as well as support in the form of an "e-board" (electronic board) of past officers in order to encourage them to continue the new tradition.
Volunteerism to assist the campus Emergency Squad (EMS) would be especially helpful, she advised.
Holland, a SUNY Cortland administrator for more than 30 years who was honored in 2005 with a Chancellor's Award for Excellence in Service, died unexpectedly while travelling back to Cortland with the EMS members after helping in the Binghamton flood disaster relief effort.
"He loved advising EMS," Piperato said, noting that Holland this year also had advised the SGA on behalf of C. Gregory Sharer, vice president for student affairs. "He loved having his hands in everything student-related. He was a great student advocate."
College Honors Longtime Classified Staff Members

11/21/2011
SUNY Cortland will formally honor one 35-year employee and four 30-year employees on Friday, Dec. 2, during the 42nd annual Service Recognition Ceremony sponsored by the College's Human Resources Office.
The employees, who are among 51 individuals to be recognized for their terms of service at the College at 11:30 a.m. in the Corey Union Function Room, are Wendy Fairchild, for 35 years of service, and Mavis Lefever, John Reynolds, Patrick Stack and Sharon Tucker for 30 years of service.
Wendy Fairchild started with SUNY Cortland in 1976 as a stenographer in the Admissions Office. In April 1982 she was promoted to senior stenographer and, in December of that year, she was reclassified to
Mavis Lefever, left, and Wendy
Fairchild will be recognized for their
longtime service to SUNY Cortland
at a ceremony on Friday, Dec. 2.
information processing specialist II. In 1989, she was upgraded to secretary I and, in 1993, she accepted a promotion to secretary II in Information Resources.
Mavis Lefever joined SUNY Cortland's College Union/Student Activities in July 1981 as a stenographer. She was promoted to senior stenographer in 1984 and reclassified to secretary I in October 1989. The office is now called Campus Activities and Corey Union.
John Reynolds started in the University Police Department in 1981 as a campus security officer II. Later that year his title changed to campus public safety officer. He was promoted to campus public safety supervising officer in 1989 and reclassified to university police officer II, with a campus title of lieutenant, in 2003.
Patrick Stack joined SUNY Cortland in 1981 as a cleaner and was promoted to janitor in 1987. In 2001, he was promoted to maintenance assistant.
Sharon Tucker started her career at the College in 1980 as a typist in Custodial Services. She accepted a promotion to senior typist in 1983 in the Art Department and Video Utilization Department. In 1985, she was again promoted to senior stenographer in the Graduate and Continuing Education Department. In 1989, she was reclassified to secretary I. In January 1993, she transferred to the President's Office and later that year transferred to the Music Department, which became known as the Performing Arts Department in 1997.
For more information, contact the Human Resources Office at (607) 753-2302.
Baby Bottle Campaign Seeks Hunger Prevention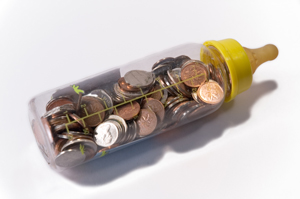 11/22/2011
A SUNY Cortland fundraiser is underway to fill a giant baby bottle with loose change and increase awareness for childhood hunger prevention.
An Adolescence Education: Social Studies class will attempt to fill a 12-foot baby bottle in Corey Union with coins by the end of the semester to support Doctors Without Borders, an international medical humanitarian organization that delivers emergency aid to people excluded from health care.
The imposing, see-through monolith serves as a symbol for the hunger problems faced by infants, said Jim Miller, the faculty advisor of the project and a lecturer of history.
"We thought not only would the baby bottle be a good visual for students to watch fill to the brim, but also a symbol of how many children need our help and support," Miller said.
In order to reach its goal, the social studies class also has placed regular-sized baby bottles in buildings across campus to make collecting the pennies, nickels, dimes, quarters and small bills easier. Once filled, the change from the smaller receptacles will be dumped into the giant baby bottle, located by the stairwell in front of Raquette Pizza.
SUNY Cortland students staffed tables from Nov. 7 to 18 in Corey Union to educate campus members on childhood hunger prevention and the Doctors Without Borders campaign. They handed out bands that fit around a malnourished child's arm, to visually display the effects of hunger.
"The doctors can tell the risk each child faces, and what actions need to be taken in order to save the child," Miller said.
Doctors Without Borders aids people affected by armed conflict, epidemics, natural and man-made disasters. The organization received the Nobel Peace Prize in 1999 and is A-rated by all major philanthropy watchdog agencies.
For more information, contact Miller.
Talk Examines Roles of Middle Eastern Women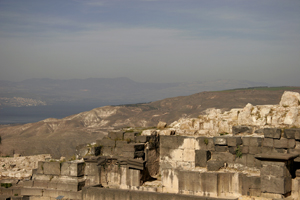 11/22/2011
Four scholars from the Middle East and North Africa will visit SUNY Cortland on Monday, Nov. 28, to present a Sandwich Seminar on the changing role of women in the Middle East and North Africa.
The lecture, titled "Arab Spring: Changing Lives of Women in the Middle East and North Africa," begins at 12:30 p.m. in the Corey Union Exhibition Lounge. The event is free and open to the public.
In addition to the lunchtime talk, the group will meet with representatives from several departments and offices across campus, including the Institute for Civic Engagement (I.C.E.); the English Department; the Recreation, Parks and Leisure Studies Department; and the International Programs Office.
"Recent changes in Middle Eastern and North African countries — particularly in Egypt, Tunisia and Libya — have consequences for the entire region and the world," said Richard Kendrick, the director of SUNY Cortland's Institute for Civic Engagement. "This panel will focus on the impact of these changes on women's lives. We are fortunate to have four scholars from Jordan and Morocco presenting on this important topic."
The I.C.E. is working with Syracuse University (S.U.)'s Civic Education Leadership Fellows (C.E.L.F.) program to sponsor the event.
Julia Ganson, the program manager for the Middle East and North Africa Program at S.U.'s Maxwell School of Citizenship and Public Affairs, will moderate the discussion.
The panelists include four female faculty members from overseas:
• Lubna Akroush, a dean and associate professor at Princess Alia University College at the Al-Balqa Applied University in Jordan, is member of several policy-making committees working on issues related to family, child protection and violence against the elderly.
• Rabea Aniq-Filali, a professor of English literature in Morocco, studies topics that include gender and media studies and currently coordinates the Women and Gender Studies Research Group.
• Fatima Ahmed Hassan Atiyat, an assistant professor at Princes Rhama College at the Al-Balqa Applied University in Jordan, has conducted several workshops in the field of family planning and population education; project planning and communication; and employment of women with disabilities.
• Khadija Safi-Eddine, a professor at Hassan II University in Morocco, has research interests that include feminist writing and women and development issues in Morocco.
"This is the fifth group of C.E.L.F. scholars we have hosted on our campus," Kendrick said. "And it is an outstanding opportunity to learn from people who live and work in the region about the impact on their lives of the dramatic changes we are seeing in the Middle East and North Africa."
For more information, contact Kendrick at (607) 753-2481.
Teacher Education Programs Earn Re-accreditation

11/08/2011
SUNY Cortland's teacher education programs recently were re-accredited by the National Council for the Accreditation of Teacher Education (NCATE).
The council's unqualified approval means the College's program, the largest teacher education program in New York state, has passed a rigorous and thorough external review and meets the highest national standards for teacher preparation.
"This is wonderful news and a testament to the hard work and dedication of the entire campus in preparing our teacher candidates," said SUNY Cortland Provost and Vice President for Academic Affairs Mark Prus.
NCATE's Unit Accreditation Board last week informed the College that it had been reaccredited without any qualifications, meaning NCATE's review found no deficiencies that required correction.
NCATE was created to establish professional standards for teacher, administrator and education specialist preparation programs. The council's approval indicates graduates of SUNY Cortland's education programs are fully prepared to enter the teaching field.
A Cappella Singers End Semester on a High Note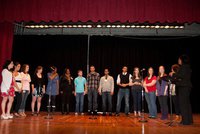 11/22/2011
Walk into Old Main Brown Auditorium on the SUNY Cortland campus for an A Cappella practice and you will meet not only a group of big voices and clear talent but plenty of warm personalities, too. The student singers laugh at their group's inside jokes seemingly on cue and maintain a sense of family that is matched only by their cohesion on stage.
That vocal talent will be on display Thursday, Dec. 1, when the group offers its major fall performance. The show, at 6 p.m. in Old Main Brown Auditorium, will serve as a senior sendoff of sorts, where graduating seniors will select a piece they would like the group to perform and arrange and direct it themselves.
The event is free and open to the public.
This semester's seniors are Yazmin Mczorn-Hines, a community health major, and Caroline Cregan, an inclusive special education major.
The group's repertoire is just as diverse as each of its members, relying on songs that range from negro spirituals and Africana heritage pieces to more contemporary music that is heard on the radio. Each year the Special Topics class, which is run through the College's Africana Studies Department, has Africana spirituals at its core.
The 18-member group performs a genre that goes without musical accompaniment. Noelle Chaddock Paley, the group's director and founder, described A Cappella's singers as "individuals with a communal sensibility."
"Every one of these people were soloists," said Paley, who also serves as the director of multicultural life and diversity and as a lecturer of philosophy and Africana studies at SUNY Cortland. "They came from a place where they were the best at what they did and they all got here and built a musical community, and for all of these big personalities to do that is extraordinary."
Student group members echoed her sentiments.
"Other groups rely on instruments, but to us, we are the instruments," said Sara Laursen, a senior musical theatre major and second-semester member of A Cappella.
Cregan said the group's family atmosphere calmed her nerves when she auditioned for the group last semester.
"I fell in love with the group," she said. "This is like my family. (Group practice) is always a nice end to my week and I'm always in a better mood when I'm here."
The group began in 2009 when SUNY Cortland Gospel Choir co-founders Samuel Kelley, a professor of communication studies, and Seth Asumah, a political science professor and chair of the Africana Studies Department, asked Paley if she would like to form a group of vocalists that would be much smaller than the Gospel Choir.
Paley began with two of her former voice students: Cassandra Criscitello '10 and Quinn Singer '10. The trio performed at smaller events and luncheons around campus before Paley heard the voice of Khalia Brown, a junior speech and hearing science major. Paley described Brown's voice as "unbelievable" and invited her to join the group. The group grew over five semesters from three to its current enrollment of 18.
"I love A Cappella because it's one of the few places we can put all of our creative juices together," said Brown. "We're like a little family and we're really diverse. So I love it."
For more information on the group, contact Paley at (607) 753-2336.
Choral Union Will Perform on Dec. 4
The Performing Arts Department's Choral Union, continuing its association with the Arts at Grace concert series, will perform music by Franz Joseph Haydn, Gustav Holst, Alan Hovhaness, Emma Lou Diemer and Leanne Daharja Veitch on Sunday, Dec. 4.
Performing Arts professor Stephen Wilson will conduct the concert with Alan Giambattista at the piano. The concert begins at 3 p.m. at Grace Episcopal-Holy Spirit Lutheran Church at 13 E. Court Street, in Cortland.
Recent Eastman School of Music graduate soprano Rebecca Farley Witty will perform "Gesu Bambino," "O Holy Night," "The Virgin's Slumber Song" and "Come Thou Long Expected Jesus."
To conclude the concert, interested audience members will be invited to join with the Choral Union in singing Handel's "Hallelujah Chorus."
The concert is open to the public. There is no charge for admission, though voluntary contributions will be accepted at the door.
For more information, visit www.cortland.edu/performingarts.
'Scrooge' Brings His 'Bah! Humbug!' to Dowd for Six Performances
The ghosts of Christmas past, present and future will visit the Lab Theatre at Dowd Fine Arts Center from Dec. 8 to 11 when the SUNY Cortland Performing Arts Department presents six performances of "A Christmas Carol."
The play is adapted from Charles Dickens's classic story about the mean-spirited Ebenezer Scrooge and his transformation on Christmas eve as he is visited by the ghost of his old business partner and the Christmas spirits.
The production, which includes all the familiar characters including Tiny Tim and the rest of Bob Cratchit's family, will be performed at 8 p.m. each day from Thursday, Dec. 8, through Sunday, Dec. 11. Matinees will be at 2 p.m. on Saturday, Dec. 10, and Sunday, Dec. 11.
Admission is $14 for the general public; $12 for senior citizens and SUNY staff; and $5 for all students and children. Tickets are on sale at Jodi's Hallmark at 11 Main St. in Cortland. Seating in the Lab Theatre is limited.
The cast for "A Christmas Carol" includes Paul Warren Smith as Ebenezer Scrooge, Rasheem Ford as the voice of Jacob Marley, Emily Freeman as the Spirit of Christmas Past, Anali Fuchs as the Spirit of Christmas Present, and Katie Quigley as the Spirit of Christmas Future. Members of the Cratchit family include Joseph Gugliemelli as Bob, Grace McGeoch as Mrs. Cratchit, Billy Swensen as Peter, Lauren Collins as Martha, Merideth Meagley as Belinda, Jenna Diescher as Kate and Seamus Gailor as Tiny Tim.
Other performers include Charles O'Connor as Scrooge's nephew Dick, Angelia Golden as his wife Lucy, Cassie Halpin as Fanny, David Perfetti as Master Scrooge, Will Rivera as Ebenezer, David Newman as Dick, Sarah Drain as Belle, Chad Henke as Topper, Ricky Wenthen as Mr. Fezziwig, Lisa Reid as Mrs. Fezziwig, Catherine Scojec as the Laundress and Sara Laursen as Mrs. Dilber. Thomas Fuchs, Barbara Jo Williams and Gregg Weatherby are the narrators. Anna Videto and Owen Thomas play a number of children's roles.
Dickens described his book as a "ghost story for Christmas" and this production promises some thrills and chills as well as some traditional carols.
For more information, visit the Performing Arts Department website or call (607) 753-2811.

Suggest a feature story
---
Faculty/Staff Activities
Timothy J. Baroni
Timothy J. Baroni, Biological Sciences Department, collaborated with colleagues from Louisiana State University and Humboldt State University on two papers that describe nine new species of mushrooms from Guyana. The papers were published in 2010 in the peer-reviewed journals Mycologia and Mycotaxon under the titles of "The Entolomataceae of the Pakaraima Mountains of Guyana," parts IV and V.
Baroni also coauthored two additional peer-reviewed papers in 2011, with colleagues from the USDA Forest Service in Wisconsin and the University of Oslo, on a new genus and species of polypore fungi from Belize, (Aurantiopileus mayanensis genus et species novum), and a new polypore (Polyporales, Basidiomycota) from Belize with connections to existing Asian species.
One paper was published in North American Fungi and the second paper, on a different new species of polypore from Belize (a new species of Daedalea (Basidiomycota) and a synopsis of core species in Daedalea sensu stricto, was published in North American Fungi.
These papers presented a part of the results obtained from funding to Baroni and colleagues by the National Science Foundation and the National Geographic Society. Baroni's most recent publication, coauthored with colleagues from Switzerland, Humboldt State University and Duke University, describes a new genus of pink-spored mushrooms that has its members widely spread in the temperate zones in the northern and southern hemispheres. Entocybe is proposed as a new genus in the Entolomataceae (Agaricomycetes, Basidiomycota) based on morphological and molecular evidence. It also appeared in North American Fungi.
Mary Gfeller
Mary Gfeller, Mathematics Department and SUNY Cortland Noyce Project, and Noyce Scholar Jason Miedema, adolescence education: mathematics major, hosted a book chat on Nov. 15 at the Blue Frog Café on Main Street in Cortland. Sponsored by the SUNY Cortland Noyce Project, the book chat brought together a group of SUNY Cortland faculty, staff and mathematics students to explore and review the book Reading and Writing the World with Mathematics: Toward a Pedagogy for Social Justice by Eric Gutstein. Social justice issues and examples of social justice mathematics lessons were discussed, along with questions such as the following: "Should math teachers encourage students to use mathematics to critique injustices in their community and the world?" and "Should the goal of mathematics education be to give students the tools to challenge oppression?"
Bonni C. Hodges
Bonni C. Hodges, Health Department, organized the webinar "School Health Education in the 21st Century" for the American Association for Health Education [AAHE]. AAHE webinars are developed for professionals, students and the general public for professional development, continuing education credit and general knowledge. The webinar was developed and presented by Hodges and her colleagues Donna Videto, Health Department; Tami Benham-Deal, University of Wyoming; and Nancy Hudson, Council of Chief State School Officers. It was delivered live on Nov. 16 and is available as a webinar-on-demand through AAHE.
David Kilpatrick
David Kilpatrick, Psychology Department, presented a one-hour workshop at the annual conference for the New York Association of School Psychologists on Oct. 28. The workshop was titled "Not all Phonemic Awareness Tests are Created Equal." Phonemic awareness is a very important linguistic skill that affects learning to read. The workshop was designed to assist school psychologists in determining if a student's reading difficulties were influenced by difficulties in phonemic awareness. The conference was held Oct. 27-28 at the Turning Stone Resort in Oneida, N.Y.
Bruce Mattingly and Jerome O'Callaghan
Bruce Mattingly and Jerome O'Callaghan, School of Arts and Sciences, presented at the annual conference of the Council of Colleges of Arts and Sciences (CCAS) held in early November in Montreal. Mattingly presented to colleagues on strategic planning. O'Callaghan's presentation was part of a panel devoted to the dean's relationship to the registrar.
Gregory D. Phelan
Gregory D. Phelan, Chemistry Department, started a new volunteer program with St. Mary's School in Cortland in mid-October. The work centers on the use of technology in the classroom. The students are using iPads and working through various activities in math, science and reading. Phelan hopes to expand the work to include other members of the SUNY Cortland community, including Noyce scholars.
Orvil White
Orvil White, Childhood/Early Childhood Education Department, received an award from Srinakharinwirot University (Bangkok, Thailand) for $11,880 for the "Nature of Science," a professional development workshop.
Henry Steck
Henry Steck, Political Science Department and Project on Eastern and Central Europe, recently presented a paper titled "Squeezing Liberal Democracy: Recent Developments in the United States," at the 22nd annual conference held at the Centre for Advanced Academic Studies of the University of Zagreb in Dubrovnik, Croatia. He also delivered "'There is No Santa Claus': Confronting the Challenges of Educating Students for the Real World of Modern Democracy" at a conference on "Cha(lle)nging (sic) Democracy at the Beginning of the 21st Century." The conference was held at Babes-Bolyai University in Cluj, Romania.

Submit your faculty/staff activity