Thomas Lickona Receives Honorary Doctorate
05/22/2012
Thomas Lickona, a developmental psychologist and emeritus SUNY Cortland faculty member who is an internationally recognized leader in character education, recently received an honorary doctorate from the Universidad Anahuac Mexico.
The degree of Doctor Honoris Causa (Honorary Doctor of a Cause), Anhuac University's highest academic recognition, was presented on March 13 during a ceremony at the university's Mexico City campus.
Lickona retired from the College in August after 40 years as a professor of childhood/early childhood education, but continues to direct SUNY Cortland's Center for the 4th and 5th Rs (Respect and Responsibility).
He is one of only six individuals to receive the honor in Anahuac University's history. The honorary degree is awarded to individuals whose work is judged to have promoted an important cause with far-reaching impact. In celebration of the University's 30th anniversary, the award was given simultaneously to Lickona and Mauricio Puente, who is regarded as one of Latin America's most important philosophers.
The university decided to honor Lickona in recognition of his contributions to children and youth as founder and director of the center, his theory of the development of moral conscience, and his project of character education in schools, explained Jorge Lopez Gonzalez, Anahuac University president.
"Your name will remain forever recorded in the history of our institution, next to other great names such as (influential Polish leader) Lech Walesa — persons who, like you, leave their imprint on history by always following their vocations and making great contributions to humanity," Gonzalez said in his letter inviting Lickona to the ceremony.
"Character education is hope on the horizon," Lickona said in his acceptance speech. "It has the potential to bring families, schools, youth organizations, faith communities, and the government together in a common cause. The well-being of our individual countries and the welfare of the whole human family in the century ahead depend on how seriously all of us commit to this calling."
"(Lickona) is a psychologist recognized worldwide for his innovative approach to character education," said Professor Elena Barrero, director of Anahuac University's School of Psychology, explaining the reasons for Lickona's selection. "His center's promotion of respect and responsibility has had impact on educational institutions, both public and private, in the U.S. and beyond."
During two days following the award ceremony, Lickona gave a series of invited talks to campus groups, including psychology faculty and students, public school teachers and principals, parents, and university presidents and faculty attending Anahuac's "Congress on Re-Thinking Learning."
"It really was an inspiring week," Lickona said. "I had a chance to be a part of the university for that week.
"I felt humbled and deeply honored and it came as a total surprise," Lickona said more recently about learning of the intended recognition.
Barrero, Lickona notes, spent a day at the Center for the 4th and 5th Rs with Lickona last July, ostensibly to research ways to incorporate character education components into Anahuac's evolving Psychology Department programming. In fact, she also was evaluating Lickona for the honorary degree. On the day of the ceremony, she offered a personal reflection about reading Lickona's book, Raising Good Children, as a first-time expectant mother.
Lickona never taught at Anahuac University, but high school and university educators in Mexico have taken a great interest in his Smart and Good model in their character education and he's worked closely with many of them.
"I had made approximately a dozen trips to Mexico going back to the early 1990s," Lickona said. "I've had 12 to 15 speaking engagements in the country and have conducted seminars there. I've done some work with public schools in the state of Guanajuato and we've had some of the universities use our smart and good model in their character education."
Jorge Lopez Gonzalez, Anahuac University president, left, presents Thomas Lickona and Mauricio Puente with the university's Honorary Doctor of a Cause degree.
Many faculty members and teachers in Mexico have read his books, and more are likely to do so now that two of his published English language books will soon be available translated into Spanish: Character Matters, available since 2010 in Spanish, and Smart and Good High Schools (with Matthew Davidson), to be released in translation in July.
Lickona also is the author or editor of other books on moral development and character education, including Moral Development and Behavior; Raising Good Children; Educating for Character; and Sex, Love and You (with Judith Lickona). Educating for Character received a 1992 Christopher Award for "affirming the highest values of the human spirit." An abridged Spanish language edition of that book was published.
Lickona joined SUNY Cortland in 1970 to direct a federally funded teacher education program, "Project Change," which won a national award for excellence in teacher education. From 1978 to 1980, he served as a visiting professor at Harvard and Boston Universities.
In 1994, Lickona founded the Center for the 4th and 5th Rs. Its Summer Institute in Character Education has since trained more than 5,000 educators from 40 states and 20 countries. The center's work was the subject of a New York Times Magazine cover story, "Teaching Johnny to Be Good."
In 1996, Lickona was invited to speak at the White House Conference on Character-Building for a Democratic and Civil Society. In 2001, the national Character Education Partnership named him the recipient of the "Sandy" Award for Lifetime Achievement in Character Education.
In the course of his 40-year career at SUNY Cortland, Lickona has obtained more than $2 million in foundation and federal grants in support of his work.
Lickona retired last August but continues to direct the center part-time. Its education letter, excellence & ethics, is co-edited by Lickona and Marthe Seales, the center's office manager, and is distributed to educators around the world. The newsletter is available free on the center's website, www.cortland.edu/character. The most recent issue focuses on 20 ways to prevent school bullying.
Athletics Program Again Earns SUNYAC Cup
05/16/2012
The SUNY Cortland intercollegiate athletics program finished first in the State University of New York Athletic Conference (SUNYAC) Commissioner's Cup standings for the 2011-12 school year. Cortland has won the Commissioner's Cup, which is awarded for overall sports excellence, in 15 of the 16 years that it has been awarded, including the last nine seasons.

Cortland finished with an average score of 8.56 points. Geneseo was second with an average score of 8.12 points.
Commissioner's Cup points are awarded based on each team's finish in the SUNYAC standings, both during the regular season and in league postseason tournaments, when applicable. The first-place school in each sport receives 10 points, second place receives nine points, and so on. A school's regular-season finish is added to its postseason finish and is divided by two to determine the points for each sport. The total points earned are then divided by the number of conference sports the school sponsors.
Cortland won eight league crowns: field hockey, women's volleyball, women's indoor track and field, baseball, men's lacrosse, women's lacrosse, men's outdoor track and field, and women's outdoor track and field. The Red Dragons were also league runner-up in six sports: women's soccer, men's cross country, men's basketball, men's indoor track and field, men's swimming and diving and softball. The SUNYAC sponsors 20 sports.
Cortland trailed Geneseo, 8.16 to 7.98, entering the spring, but surpassed the Knights by earning five conference crowns and one runner-up finish during the six-sport season.
---
Capture the Moment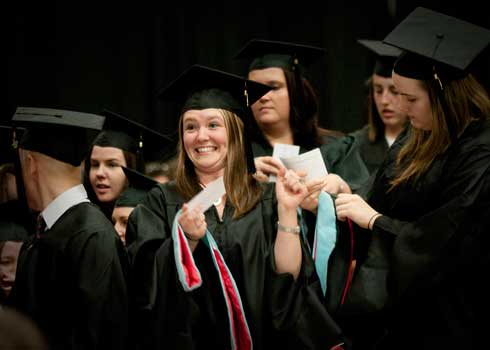 Spirits soared prior to the College's graduate Commencement on May 11. SUNY Cortland awarded 217 master's degrees and 22 certificates of advanced study during the evening ceremony. An estimated 1,408 seniors received their bachelor's degrees May 12 during two undergraduate Commencement ceremonies.
---
In Other News
Lynn Anderson Promoted for Distinguished Service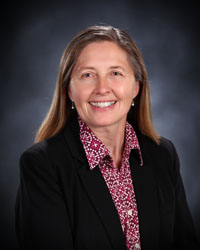 05/14/2012
SUNY Cortland Professor Lynn Anderson, a nationally recognized expert in the fields of outdoor, therapeutic and inclusive recreation, has been promoted to the rank of Distinguished Service Professor, one of the highest academic ranks in the SUNY system.
The SUNY Board of Trustees promoted Anderson, a SUNY Cortland professor of recreation, parks and leisure studies and the creator of a user-friendly database of inclusive New York recreational facilities, during its May 10 meeting in Albany, N.Y.
Anderson, as a distinguished service professor, is honored and recognized for her extraordinary service not only at the campus and within SUNY, but also at the community, regional, state and national levels. She was among 21 SUNY faculty promoted to 'distinguished' this year and brings to six the number of distinguished service professors currently serving at SUNY Cortland.
A highly successful grant writer, Anderson has obtained more than $700,000 in external funding, including an ongoing multi-year grant from the New York State Planning Council for Developmental Disabilities. The grant was used to establish a statewide inclusive recreation resource center that is housed at SUNY Cortland. The mission of the center is to identify Americans with Disabilities Act (ADA) compliant parks and recreational sites throughout New York with the goal of ultimately providing outdoor recreation opportunities for all state residents.
"Frankly, I cannot think of a single academic in the field who has done as much to make a difference in the lives of persons with disabilities, which has had a ripple effect on their partners, families, friends and communities," wrote Charles Sylvester, chair of the Department of Physical Education, Health and Recreation at Western Washington University. "When I pause to think of the thousands of students, practitioners and fellow educators Dr. Anderson's research has informed, inspired, and empowered, well, you cannot help but get the picture of her massive impact."
Anderson, who has served the College since 1998 and was promoted to professor in 2002, currently serves on the New York State Therapeutic Recreation Association State Licensure Committee. She has collaborated with the New York State Recreation and Park Society and the National Recreation and Park Association National Certification Board to ensure student access to the national exam to become a certified park and recreation professional. Through her grant work, Anderson also has collaborated with the I Love New York Tourism Division and the New York State Office of Parks, Recreation and Historic Preservation. She has participated in Park Ranger Training Workshops in New York state.
From 1998 to 2001, Anderson served on the committee that reviews national credentialing standards in the field of therapeutic recreation. For this and her many other contributions to her profession, Anderson was named the recipient of the New York State Therapeutic Recreation Society 2011 Member of the Year Award.
In addition, more than 1,400 outdoor recreation practitioners nationwide have been trained in ways to enhance the quality of life for individuals with all types of disabilities through "Inclusion U" an innovative program established by Anderson through ongoing funding from the New York State Developmental Disabilities Planning Council.
Anderson served as chair of SUNY Cortland's Recreation, Parks and Leisure Studies Department for her first 12 years at the College. As chair, she led strategic planning and successful accreditation visits.
As a teacher, Anderson has few peers. She was recognized for her superior teaching with the 2003 Teaching Award at SUNY Cortland for Incorporation of Service Learning and with the 1998 McDermott Outstanding Undergraduate Teaching Award at the University of North Dakota. She was listed in the Who's Who Among America's Teachers in 1998, 1999, 2004 and 2005.
Anderson is the published author of two books, 22 journal articles and book sections on therapeutic and inclusive recreation that were published in refereed journals. She also wrote 55 articles in non-refereed journals.
Anderson's 2011 book, Inclusivity Assessment Tool and User Guide, is already considered a seminal work within the recreation and leisure studies discipline. Her most recent manuscript, a co-authored book currently in press called Therapeutic Recreation Practice: A Strengths Approach, is a much-anticipated addition to the profession.
Anderson serves on the editorial boards of several prestigious journals in her field and has shared her expertise in presentations at national, state and local conferences. In 2011, she was an invited keynote speaker at both the Canadian Congress for Leisure Research and the Colorado Therapeutic Recreation Association Conference.
"Dr. Anderson's work is resulting in extending the theoretical base of the profession as well as serving as a national model and resource for communities and states to create and manage inclusive opportunities," said Marcia Carter, professor of recreation, park and tourism administration at Western Illinois University-Quad Cities.
Candace Ashton, professor and coordinator of recreation therapy at University of North Carolina, Wilmington, commended Anderson for her leadership and service on the national task force on therapeutic recreation curriculum accreditation, which drafted the standards and student learning outcomes for the profession.
"She is committed to making sure therapeutic recreation students from every university in the nation are provided with the best learning experiences possible as they become our future recreation therapists and have an impact on the lives of people with disabilities," Ashton stated.
Of major significance to the College in the past two years was Anderson's willingness to serve as faculty co-chair for the SUNY Cortland 2012 Middle States Decennial Self-Study and Site Visit. She played a key role in drafting the self-study and educating the campus about the Middle States initiative.
Richard Kendrick, director of SUNY Cortland's Institute for Civic Engagement, said Anderson has an extraordinary ability to integrate service with learning throughout the undergraduate and graduate courses she teaches..
"Dr. Anderson has for many years involved her students in real-world research projects that have assisted numerous community agencies in program evaluation and assessment," Kendrick wrote. "By integrating teaching, service and scholarship, Dr. Anderson extends the value that she places on service to her students and prepares the next generation for citizenship."
For example, in 2005 and 2006, Anderson and 538 SUNY Cortland students created useful program manuals on the Peer Assisted Inclusion in Recreation (PAIR) Program for the local Cortland community's JM Murray Center and published Individualized Recreation Inclusion Services (IRIS) Program manuals for the Cortland-Madison ARC.
She is active in recreation opportunities within the greater Cortland community and has conducted needs assessment analyses for the local YWCA and the Cortland Youth Bureau. She has established numerous student internships and volunteer opportunities at the nearby Lime Hollow Center for Environment and Culture and with the Adaptive Snowsports at Greek Peak in Virgil, N.Y. She has instructed members of the Migrant Education Outreach Program in kayaking and served as a member of the Tompkins Cortland Community College Recreation Leadership Advisory Board.
She volunteers frequently at sustainability events and for three years has spearheaded the Community Bike Program on campus, which provides free use of bicycles to students, faculty and staff on campus.
Anderson earned her Bachelor of Arts in French from the University of North Dakota; her Master of Science in Recreation and Park Management from University of Oregon; and her Ph.D. in education with emphasis in therapeutic recreation from University of Minnesota.
Writing Program Invites Competitive Applicants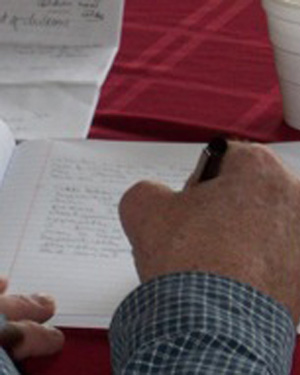 05/15/2012
The Seven Valleys Writing Project (SVWP) will accept applications for its 2012 Summer Institute, a workshop seminar for all teachers across the region in all fields of study.
Applications for the competitive program are due Saturday, June 2, and an orientation session will be held Wednesday, May 16, at the Lynne Parks '68 SUNY Cortland Alumni House, located at 29 Tompkins St. The three-week institute will be held at Main Street SUNY Cortland, an extension facility the College operates at 9 Main St. in downtown Cortland, from Monday, July 9 to Friday, July 27.
The SVWP is a National Writing Project (NWP) site based at SUNY Cortland. Now in its fifth year, the SVWP's Summer Institute refines the learning and writing skills of educators through a "teachers teaching teachers" model, explained Project Director David Franke, a SUNY Cortland professor of English and professional writing.
During the institute SUNY Cortland faculty members, who lead one of the largest teacher-education programs in the country, will speak to the importance of professional writing, new media technology, classroom teaching and learning techniques.
Program participants will develop personal and professional writing projects, practice strategies for teaching with the new Common Core literacy standards, interact with technology, and learn small-group leadership skills, Franke noted. Both novice and experienced teachers in all disciplines and levels K-12, are invited to apply.
Up to 16 applicants will be accepted into the summer session. Up to six graduate credit hours through SUNY Cortland are available and all books, loaned computers and parking will be provided free of cost. Stipends of up to $1,200 will be available for teachers in need of tuition assistance.
Under-represented groups in teaching, including male elementary school teachers and ethnic minorities, are encouraged to apply.
The Summer Institute emphasizes action research and reflective practice, Franke said.
"Those who apply tend to be creative, pragmatic and solution-oriented," he said. "Together, teachers develop their personal writing, their self-chosen research projects and their leaderships skills."
"The program was transformational for me," said Kathryn Cernera, a teacher at Dewitt Middle School in Ithaca, N.Y., and the associate director of the SVWP. "I learned how to use writing to inquire into my own professional questions and also how to use writing to help students learn in all my classes."
A matching grant from SUNY Cortland and the National Writing Project funds the program.
In 2008, SUNY Cortland was approved for long-term, renewable federal Department of Education funding to start a local branch of the NWP. The SVWP, which claims the Summer Institute as its centerpiece, serves 79 school districts in more than seven counties throughout the region, including Cortland, Madison, Chenango, Broome, Tioga, Tompkins, Cayuga and Onondaga counties.
Franke said the partnership has reached hundreds of teachers in the Central NewYork area and more than 17,000 students have worked with a Seven Valleys Writing Project teacher since the project began five years ago.
Former Seven Valleys Writing Project participants work in school districts that include: Auburn, Candor, Cortland, Dryden, Homer, Ithaca, Lansing, Port Byron, Tully, Windsor and several others. Statistics show that teacher retention is strongly increased by NWP participation, and a 2011 study reveals that "in every case the improvement of students taught by teachers who participated in NWP programs exceeded that of students whose teachers were not participants."
For application information, visit the Seven Valleys Writing Project website. For more information, contact Franke at (607) 753-5945.
Sixteen Physical Education Student Teachers Honored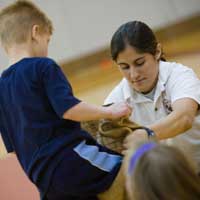 05/22/2012
Sixteen senior physical education majors at SUNY Cortland were recognized with Lenore K. Alway/Anthony P. Tesori Awards for their outstanding work in student teaching in New York state schools during the Fall 2011 semester.
Physical Education Department faculty members nominated nine women and seven men for the recognition. The students received a certificate.
The Alway award, given to women, acknowledges Lenore K. Alway, the late pioneering head of women's physical education at the College from 1941 to 1965. The men's award honors Anthony P. Tesori, a 1939 graduate who gave the College many years of leadership in athletics and administrative areas and earned the College's C-Club Hall of Fame Award for his achievements before and after graduation.
The Alway Award honorees and the New York state schools or school districts where they completed their teaching are as follows:
• Alyson Case of Naples, N.Y., at Rochester City School District and Victor Central School District.
• Jamie Florindi of Cortland at Ithaca School District and LaFayette Central School District.
• Gillian Garzia of Cortland at Clarkstown Central School District and Ramapo Central School District.
• Jacqueline Graves of Manlius, N.Y., at Syracuse City School District and East Syracuse – Minoa Central School District.
• Lauren Herman of Dix Hills, N.Y., at Ithaca City School District and Groton Central School District.
• Rebecca Knierim of Springville, N.Y., at Cheektowaga – Sloan Union Free School District and at Orchard Park Central School District.
• Alicia Nipper of Auburn, N.Y., at Marcellus Central School District and Fulton City School District.
• Nicole Sherman of Dix Hills at North Babylon Union Free School District and at Hauppauge Union Free School District.
• Sara Tagliaferri of Cortland at Dryden Central School District and Tully Central School District.

The Tesori Award honorees and the schools or school districts where they completed their teaching are as follows:
• Tyler Byrnes of Cortland at Burnt Hills-Ballston Lake Central School District and Glens Falls City School District.
• Scott Gilberti of Wappingers Falls, N.Y., at Beacon Central School District and Somers Central School District.
• Zachary Kiggins of Cortland at West Genesee Central School District and LaFayette Central School District.
• Joseph Roche of Mahopac, N.Y., at Groton Central School District and Newark Valley Central School District.
• John Roth of Johnstown, N.Y., at Marathon Central School District and Fabius-Pompey Central School District.
• Frank Thomas of Cortland at McGraw Central School District and Liverpool Central School District.
• Matthew Walker of New Windsor, N.Y., at Pine Bush Central School District and Ramapo Central School District.
For more information, contact the Physical Education Department at (607) 753-5577.
College Recognizes Student Leaders
SUNY Cortland honored students for their contributions to the College at the 27th annual Student Leadership Recognition Banquet held April 19 in Corey Union.
Following are the award recipients:
Outstanding Student Leaders
Lindsay Anderson
Meghan Babiarz
Kelsey Baylinson
Samantha Califano
Laura Cantori
Justin Carlson
Taylor Casciano
Jasmine Chandoo
Amanda Cheetham
Melcolm Crutchfield
Dean Damore
Kerri Dinsmore
Jenna Eason
Brenna Filipello
Allison Fucci
Maureen Gardner
Alison Gillis
Austin Glickman
Julie Gorman
Matthew Green
Jaclyn Grimaldi
Melissa Harechmak
Erin Harrington
Lauren Herman
Ashley Hoffman
Delvin Johnson
Brianna Kennedy
Erin Lange
Francesca Lansburg
Ngozichukwu Mafiana
Lori Jean Magnelli
Elizabeth McDonald
Yashema McGregor
Kathryn McKenna
Lauren Morcerf
Jessica Murphy
Jennifer Pedersen
Jamie Piperato
Violeta Rivera
Alexis Robinson
Rebecca Schwartzman
Lima Stafford
Scott Stampfl
Lauren Takeuchi
Jessica Taveras
Stacey Ulrich
José Valdez
Corinne Valenti
Sabrina Vidal
Tameka Wilkes
Megan Wise
Excellence in Leadership
Amanda Cheetham
Allison Fucci
Lauren Herman
Kathryn McKenna
Violeta Rivera
Lima Stafford
Outstanding Senior
Jamie Piperato
Vice President for Student Affairs Merit Award
Lima Stafford
Kara Silverman
Student Government Association Awards
Outstanding Staff Member – Matt Nuesell, Recreational Sports
Steven J. Barnes Outstanding Faculty Member – Regina Grantham, Communication Disorders and Sciences
Outstanding Club Member – Cheryl Ringer, NCTE
Outstanding Club/Organization – History Club
Outstanding Student Senator – Michael Doris
Challenge for Success Awards
Academic Strength Bronze – Jeremy Grant
Academic Strength Silver – Benjamin Sypher
Academic Strength Gold – Ho Woon Lee
Leadership – Khalia Brown, Ngozi Mafiana, Very Moraza, Lima Stafford
Gospel Choir Achievement – Sonimar Molina, Deston Hudson
Greek Awards
Chapter of the Year Award – Omega Phi Beta
Chapter Leadership Award – Jenna Eason of Alpha Sigma Alpha
Greek Advisor Special Recognition Award
Sigma Delta Tau: Kerri Kay
Delta Phi Epsilon: Kathleen McCabe
Alpha Phi: Michele Caruso and Elissa Madonia
Kappa Sigma: Daniel Berger and Matthew Furman

Suggest a feature story
---
People on the Move
Douglas DeRancy Retires After 26 Years
05/22/2012
Douglas DeRancy '75, M.S.Ed. '86, who served SUNY Cortland for 26 years in alumni affairs and fundraising executive positions, retired on May 31.
He was designated as director emeritus of alumni affairs and assistant emeritus to the vice president for institutional advancement.
During his tenure with the College, DeRancy worked tirelessly and without fanfare to establish beneficial relationships with SUNY Cortland's 68,000 alumni, according to colleagues. His years of visits and the friendship he established with John M. Fantauzzi '58 developed into a $6.5 million gift that provides dozens of scholarships for current and future deserving young students wanting to attend SUNY Cortland. His consistent, concerned, friendly and honest approach with alumni defined "friend-raising" at its best.
DeRancy was involved closely in the 2003 acquisition of a stately mansion on Tompkins Street from Charles Gibson, and its subsequent opening as a bed and breakfast and venue for major campus events and countless alumni get-togethers. DeRancy spearheaded the major fund drive among alumni, faculty and friends that established a $1.7 million endowment to support the house's upkeep. The generosity included a $1 million gift from an alumna who became the namesake for the Lynne Parks '68 SUNY Cortland Alumni House.
Since 2009, DeRancy has served as the assistant to the vice president for institutional advancement, a position that was created as the College undertook "Educating Champions: The Campaign for Cortland," to raise $25 million among alumni, friends, faculty, staff and corporate partners by 2013. DeRancy has played a key role in the initiative.
From 1999 until 2009, he was executive director of alumni affairs, providing leadership and direction for the College's Alumni Affairs Office and the Cortland College Alumni Association, Inc. As the principal liaison for the College in matters affecting alumni, he served as the alumni association's executive secretary. He also assisted with major gift development on behalf of the Cortland College Foundation, Inc.
DeRancy joined the College in 1986 as director of alumni affairs. He was a member of the Alumni Association's Board of Directors the two previous years. As director, he oversaw meetings, events, programs and services to an alumni base that was then 27,000 alumni strong. He also fulfilled key fundraising duties for the College.
DeRancy was promoted to director of alumni and foundation affairs in 1989. While managing day-to-day operations of alumni affairs, he oversaw an annual fund office as it grew into a full staffed annual giving program and the Cortland College Foundation, which he served as executive director for 10 years. During this period, he established the College's first major gift and planned giving programs. Under his leadership, the foundation in conjunction with the alumni association totally reorganized the gift-giving program to designate the foundation as the lead entity for College fundraising. The reorganization established the successful structure for supporting the College's first-ever capital campaign, which in 2003 successfully reached its $10 million goal.
In 1999, in the midst of the division's expansion and reorganization, DeRancy returned to the full-time executive director of alumni affairs, responsible for overseeing the alumni affairs operation and working with major donors. He served for many years on the College's C-Club Board of Directors, helping to lead a volunteer alumni group that promotes and supports athletics and hosts the C-Club Hall of Fame and Classic Teams weekend events.
Before working for SUNY Cortland, DeRancy was executive director of the Cortland County Youth Bureau for 10 years. After he resigned, he continued to participate in the City Youth Bureau's advisory board for many years.
He was a vice president, treasurer and regional director with the Association of New York State Youth Bureaus, a past president of the South-Central Leaders Association of Senior Centers and Clubs in New York State and an active member with the New York State Recreation and Park Society.
DeRancy and his wife, Deborah, live in Scott, N.Y. They have two grown children, Rachel and Daniel.
John R. Driscoll to Head UUP Chapter
05/22/2012
John R. Driscoll, instructional support technician in the Geology and Physics Departments, will serve as president of the Cortland Chapter of United University Professions starting on June 1.
Driscoll, the current chapter vice president for professionals, will finish the term of UUP chapter President Jamie Dangler, who recently was elected to serve as UUP's statewide vice president for academics.
Following procedures for filling officer vacancies as specified in the chapter by-laws, Driscoll was selected at a May 10 meeting of the chapter Executive Board.
UUP elections for new terms of office will take place in Spring 2013 and Driscoll's duties will conclude on May 31, 2013.
He is only the second professional staff member to head the local chapter. D. Jo Schaffer, slide curator emerita in the Art and Art History Department, was the first.
It is not unusual for professionals to be UUP chapter presidents, according to Dangler. She noted that currently 16 out of 32 other UUP chapters are presided over by professionals rather than faculty members.
Driscoll joined the College in 1999, having already given 32 years of service to SUNY, most recently as executive director of the Central New York Eye Bank and Research Corporation in Syracuse, N.Y. The eye bank supplied transplant material to SUNY Upstate Medical University.
He began attending union meetings and, several years ago, was asked to fulfill a one-year, unfinished term as vice president for professionals. After completing his term, he was elected to a two-year term of office.
A Syracuse resident, Driscoll has an associate degree as an electronics technician from Northwestern Electronics Institute in Minneapolis, Minn.
Ralph T. Dudgeon to Retire After 27 Years
05/22/2012
Ralph T. Dudgeon, a well-known scholar and major researcher in trumpet performance who served SUNY Cortland for 27 years, will retire on Aug. 31. He has been designated professor emeritus of music.
Dudgeon is among the greatest authorities on the history and music of the keyed bugle. He led the 20th century revival of that instrument through his research and performances. He also is a recognized authority on historically informed musical performance practice and a member of prestigious organizations on two continents. In 2005, Dudgeon received a SUNY Chancellor's Research Recognition Award, honoring him among SUNY's most important and innovative scholars and scientists. In 2006, Dudgeon received the Chancellor's Award for Excellence in Scholarship and Creative Activities.
Dudgeon earned a B.A. in music education and an M.A. in trumpet performance from San Diego State University. He also completed graduate studies in performance at Aspen School of Music and received a Ph.D. in musicology from University of California, San Diego. He undertook post-graduate study in trumpet performance and conducted with noted performers John Clyman, former principal trumpet with the Los Angeles Philharmonic and Film Studios; Gerard Schwarz, former principal trumpet with the New York Philharmonic; and studied conducting with Frederick Fennell, the emeritus director of the Eastman Wind Ensemble.
Dudgeon taught high school music for 11 years in California and then became an associate professor for five years at the University of Texas at Dallas.
He joined SUNY Cortland's Music Department in 1985. Promoted to professor in 1994, he chaired the department from 1997 to 2000. Together with his colleague Thomas Hischak, Dudgeon authored the current musical theater major and reorganized the former theater and music departments into the current Performing Arts Department. He authored and developed courses in world music, jazz, the current music history sequence of courses and co-authored the new course, Influences on the American Musical.
From 1998 to 1999, Dudgeon was an affiliate artist at Syracuse University in the Early Music Ensemble. Since 2004, he has taught trumpet and served as principal trumpet with the Colgate University Orchestra.
From 1993 to 1994, while on a leave of absence, Dudgeon served as acting director and curator of the Streitwieser Foundation Trumpet Museum in Pottstown, Pa., with responsibilities for collection management, educational programming, publications and development of a concert series. He assisted in the relocation of the collection to Austria.
Each year since 1996, he has devoted two months as a research consultant to the Instrumentenmuseum, Schloss Kremsegg, in Kremsmunster, Upper Austria.
His published books include The Keyed Bugle (1993) and Das Flugelhorn (2003). He wrote two chapters for The Cambridge Companion to Brass Instruments (1997), "Keyed Brass" and "Learning and Teaching Brass." The Keyed Bugle is considered the definitive research on that instrument. A second, expanded edition of The Keyed Bugle was released in 2004. Das Flugelhorn, published in German and English, provides a brief history of the flugelhorn and features more than 100 color photos of instruments housed in the Instrumentenmuseum, Schloss Kremsegg as examples of change in the instrument's technology over the past 300 years. He contributed two chapters to the Cambridge Companion to Brass Instruments.
His refereed articles have appeared in key publications including The International Trumpet Guild Journal, Journal of the American Musical Instrument Society, Historic Brass Society Journal; New Grove's Dictionary of Music in the United States, Continuum Encyclopedia of Popular Music of the World and Ovation.
A frequent reviewer of recordings and music, Dudgeon's book reviews have appeared in juried publications such as The Journal of American History, Historic Brass Society Journal and International Trumpet Guild Journal.
His research has been supported by grants from the European Union and German governments, the Crystal Trust and the American Association of Museums.
He has appeared throughout the U.S., Europe, Canada, Mexico and China as a trumpet soloist and conductor. He founded the San Diego Brass Quintet and Sonare Early Music Ensemble. His debut solo album, "Music for the Keyed Bugle," was the first full-length recording devoted to the keyed bugle. He has recorded for Musical Heritage Society, Music Masters, Newport Classic, Nimbus, Hyperion, Innova and Spring Tree labels.
Dudgeon is a member of the Society for New Music in Syracuse, N.Y., and has directed the Miss Lucy Long Social Orchestra and Quick Step Society since 1976. He also was a member of Syracuse Camerata, Utica Symphony and the London Gabrieli Brass Ensemble.
Dudgeon has been listed in Who's Who in America, Men of Achievement, and the International Who's Who in Music and Musician's Directory. A member of the Phi Kappa Phi interdisciplinary honor society, he also served as a campus representative of the College Music Society, a charter and advisory board member of the Historic Brass Society, a charter member of the International Trumpet Guild, and member and former president of the Streitwieser Foundation.
He and his wife, Virginia Dudgeon, a SUNY Cortland lecturer III emerita of childhood/early childhood education, live in Homer, N.Y.
Wade Jean Named Men's Soccer Head Coach
05/17/2012
Wade Jean has been named SUNY Cortland's men's soccer head coach, according to director of athletics Mike Urtz. Assistant coach Steve Axtell served as the program's interim head coach since January after the departure of eight-year head coach Dwight Hornibrook.
Jean is a veteran coach at all levels of collegiate soccer. Most recently, he served as the associate head coach at Division I University of Vermont from 2008-11. During that stretch, the Catamounts qualified for the America East playoffs three times and defeated two nationally ranked teams, including 13th-ranked Stanford University in 2010.
A native of St. Albans, Vt., Jean brings 24 years of successful college coaching experience to Cortland, including 10 years as a head coach in Division I and II. As the head coach at St. Michael's College in Colchester, Vt., from 2006-07, Jean led the Purple Knights to a combined 21-10-8 record. St. Michael's reached the Northeast-10 Conference tournament in each of his two seasons, and he was named NE-10 Coach of the Year in 2006.
Prior to his stint at Saint Michael's, Jean was the head coach at Division I Duquesne University in Pittsburgh, Pa., and compiled an 82-54-14 record over eight seasons. He was named Atlantic 10 Coach of the Year an unprecedented four times (1999, 2002, 2004, 2005) while leading the Dukes to a share of three consecutive A-10 regular-season titles (2003-05) and three appearances in the league's championship game. Duquesne also recorded four straight seasons of 13 or more wins from 2002-05. The Dukes were ranked 25th in the final 2003 national poll.
Jean arrived at Duquesne after serving five seasons as an assistant at two successful Mid-American Conference programs, Bowling Green State University (1995-97) and Illinois State University (1993-94). Prior to entering the Division I ranks, he was the head coach at Champlain College, a former National Junior College Athletic Association (NJCAA) power in Burlington, Vt., and was an assistant at his alma mater, Johnson State College in Vermont, for one year.
Academics have been an emphasis of Jean's throughout his career. His teams at Duquesne were regular winners of National Soccer Coaches Association of American (NSCAA) Team Academic Awards. In 2003-04, the Dukes had the second highest grade point average in the country. In 2006-07 at Saint Michael's, the Purple Knights also earned an NSCAA Team Academic Award and saw one of its student-athletes earn a spot on the ESPN The Magazine Men's Soccer College Division Academic All-America Team.
Jean is a native of St. Albans, Vt., and a 1990 graduate of Johnson State, where he was a four-year standout defensive midfielder. He helped lead the Badgers to three Mayflower Conference titles and was a co-captain as a senior. He also earned a master's degree from Illinois State in 1996.
Jean, who holds an NSCAA Advanced National Coaching License, has served as the executive director of the Nordic Soccer Club in Vermont. He and his wife, Marcella Pelkey, have two daughters, Sienna and Emma.
---
Faculty/Staff Activities
George R. Dugan
George R. Dugan, professor emeritus of art and art history, recently concluded a month-long exhibition of 40 paintings at the Windsor Whips Art Gallery in Windsor, N.Y. Dugan is a visiting professor of art at Binghamton University. This summer, he will serve as the director of art, conducting an eight-week course of study for the 11th year in Dingle, Ireland. The course is offered in conjunction with SUNY Cortland's Study Abroad Program through the International Programs Office at SUNY Cortland.
Gregory D. Phelan
Gregory D. Phelan, Chemistry Department, had a United States patent issued on April 10. Patent number 8,152,862 "Supercritical noble gases and coloring methods" deals with environmentally safer ways to add color to textiles. The patent was developed based on research that Phelan is currently doing with industrial partners.
Darrell Thomas
Darrell Thomas was appointed catering manager for Auxiliary Services Corporation. The 1992 graduate of culinary arts from The Culinary Institute of America in Hyde Park, N.Y., brings to the position a wealth of knowledge from his 25 years of experience in the food-service industry. Previously, Thomas worked at the Sherwood Inn in Skaneateles, N.Y., Phoebe's Garden Café in Syracuse, N.Y., and several Ruby Tuesday restaurants. His experience includes on and off-site catering, including weddings and corporate dinners.

Submit your faculty/staff activity