College Honors Longtime Classified Staff Members
11/17/2010
SUNY Cortland will formally honor five 30-year employees on Friday, Dec. 3, in the Corey Union Function Room during the 41st Annual Service Recognition Ceremony sponsored by the College's Human Resources Office.
The employees, who are among 40 individuals to be recognized for their terms of service at the College, are Julie Crandall, Mike Partigianoni, Laurie Pepper, Denise Riley and Kevin Russell.
Julie Crandall started with SUNY Cortland in August 1980 as a stenographer in the Admissions Office. In August 1987, she was reclassified to a keyboard specialist I and, in August 1995, was promoted to a keyboard specialist II. In July 2000, she accepted a promotion to secretary I in the University Police Department. In October, she became the secretary I in the Kinesiology Department.
Mike Partigianoni joined SUNY Cortland as a cleaner in December 1980. In September 1986, he was promoted to a stores clerk I and transferred to the Equipment Room in the Physical Education Department. He was promoted to stores clerk II in September 1996 reporting to the Athletics Department and remains in that role today.
Laurie Pepper started at SUNY Cortland in September 1980 as a typist in the Career Planning and Placement Department, now known as the Career Services Office. She was promoted to stenographer in May 1983 and reclassified to keyboard specialist I in August 1987. Pepper transferred to the Registrar's Office in that capacity in March 1997. In April 1998, she transferred to the Memorial Library and was promoted to library clerk II in March 2008.
Denise Riley held temporary positions, including stenographer and typist, at SUNY Cortland from July 1979 to May 1981, when she accepted a permanent stenographer position in the Educational Opportunity Program. In August 1986 she was promoted to a senior stenographer and transferred to the Athletics Department. In October 1989, she was promoted to secretary I. In August 1992 Riley transferred to her current position in the Economics Department.
Kevin Russell started his career at SUNY Cortland in December 1980 as a cleaner. He was promoted in December 1986 to janitor and in October 1991 to maintenance assistant. In 2001, he was promoted to his current position as general mechanic.
| | | |
| --- | --- | --- |
| | | |
| Julie Crandall | Mike Partigianoni | Laurie Pepper |
| | | |
| Denise Riley | Kevin Russell | |
Relay for Life Set for Dec. 4
11/16/2010
For SUNY Cortland junior Alaina Repetto, the fight against cancer has hit close to home multiple times. Seven years ago she lost her grandmother to liver cancer. Last year her grandfather was diagnosed with multiple myeloma. Over the summer, her best friend's mother was diagnosed with breast cancer.
"I think students should get involved because not only are you helping save people's lives, but you may be saving the ones you love," said Repetto, president of the SUNY Cortland chapter of Colleges Against Cancer (CAC).
Repetto of Hopewell Junction, N.Y., will chair the sixth annual Relay for Life from Saturday, Dec. 4, until Sunday, Dec. 5, at the newly renovated Lusk Field House located off Pashley Drive on the campus.
The overnight, circus-themed event is scheduled to take place from 6 p.m. until 6 a.m. and is open to the public.
Proceeds will underwrite cancer research, patient support programs and services, prevention and early detection programs, advocacy and public policy, and cancer information services.
To make a donation or to create or join a team, visit the Relay for Life website at www.relayforlife.org/sunycortland.
"Not only do we want to raise money but we want to make students aware that cancer not only affects older people, but people our age and younger as well," Repetto added.
Last year 71 teams raised $39,000. This year organizers aspire to assemble 75 teams and raise $35,000.
"As of today, more than 500 participants on more than 70 teams have raised more than $20,000, and we expect to see those numbers increase in the next few weeks," said Nanette Pasquarello, director of judicial affairs, who serves as this year's campus advisor.
As an additional fundraiser, in the days leading up to and during the event CAS will be selling t-shirts in Corey Union for $8 each.
"SUNY Cortland's Relay for Life has become a really energizing tradition on campus," said Pasquarello. "Relay gives us a chance to do something positive by celebrating survivors, raising money for cancer research, and remembering those lost to cancer. The student leaders from Colleges Against Cancer have been doing a fantastic job planning an event that will no doubt be very successful and a great deal of fun."
For more information about the Cortland Relay for Life, contact Repetto at cortlandcac@gmail.com.
For more information on Relay for Life events, contact Jillian Ladouceur '07, American Cancer Society associate.
---
Capture the Moment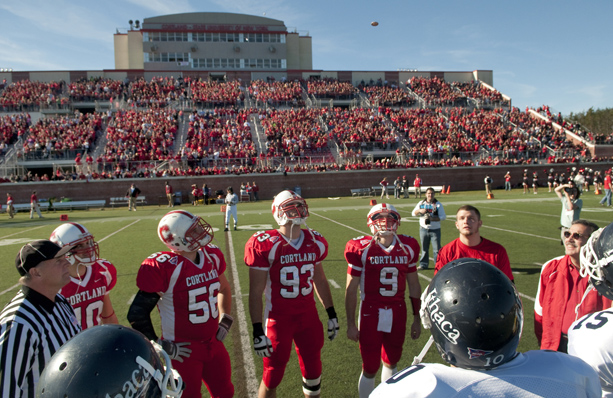 The referee's pre-game coin toss momentarily freezes the SUNY Cortland and Ithaca college football team captains, presidents and student government leaders, all awaiting the outcome of "heads or tails" and the right to kick or receive the football. More than 10,000 fans, the majority clad in red, watched the host Red Dragons come from behind to defeat Ithaca 20-17 in the 52nd Annual Cortaca Jug football classic on Nov. 13 at the Stadium Complex.
---
In Other News
BFA Exhibit Raises Ethical Questions About Genetics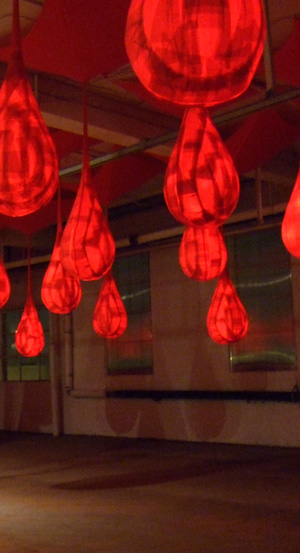 12/07/2010
Sculptor and SUNY Cortland senior Tara A. Evans will give a gallery talk at her Bachelor of Fine Arts thesis exhibition, "Down to Science," on Thursday, Dec. 9, at the third floor studio at the Cortland Corset Company Factory, 75 East Court St. Cortland.
Her presentation begins at 5 p.m.
The exhibition which opened on Nov. 19 is available for viewing upon request. For more information or to schedule a viewing, contact Evans at (315) 750-8348. Parking is available in the lot across the street.
Evans' past artwork was exhibited in the "2009 Best of SUNY Art Student Exhibition Series" at the New York State University Plaza Gallery. Her wooden sculpture, which is called "Without Sound," was displayed at the "Best of SUNY" exhibition as well as the "Art and Culture Series" at the Albany International Airport from Jan.-June 2010.
A previous piece of artwork by SUNY Cortland BFA student Tara A. Evans is titled "Without Sound."
Her planned, interactive exhibition will combine science with sculpture in a way that presents the viewer with a choice: "What gene will he or she pass on?"
"The modern advancements in science and technology inform my conceptual ideas regarding designer DNA," Evans said of the planned installation piece. "With 36 choices between medical and cosmetic genetic traits, I create a 'control panel' for gene manipulation."
While referencing Mary Shelley's Frankenstein and Aldous Huxley's Brave New World, her sculpture suggests dangerous and far-reaching moral implications using mass-produced, luminous, blood-like forms suspended from the ceiling. The space offers individually wired toggle switches that represent each trait to be switched on or off by the viewer, alluding to the fantasy of perfection.
Athletes Provide Thanksgiving Meals in Community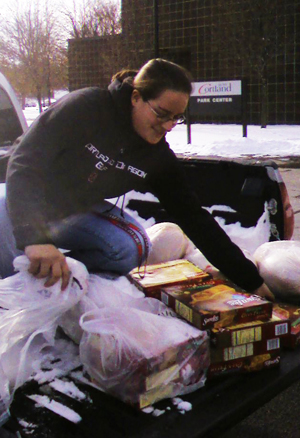 11/12/2010
SUNY Cortland student-athletes and staff boxed up and hand-delivered turkeys and all of the fixings for 15 Thanksgiving meals for needy families in Cortland County on Nov. 21.
Members of the 27 men's and women's intercollegiate varsity teams each donated a dollar for a total of approximately $800 to purchase the Thanksgiving dinners.
The athletes began boxing the meals at 10 a.m. Sunday in the College's Park Center lobby and delivered the gift baskets to each family's front door.
"Our Thanksgiving food drive is so important to student athletes because it gives us a chance to give back and connect to the community outside of our campus community," said senior varsity softball player Rachel Barry, a physical education major from Seaford, N.Y.
Barry is president of the SUNY Cortland Student Athletic Advisory Committee (SAAC), which sponsors the event at the request of the State University of New York Athletic Conference (SUNYAC). The conference has designated November as its Community Service Month and requests that each school member pick its own project.
"We enjoy doing this food drive because group effort goes a long way and seeing the smile on another person's face expressing appreciation is a fulfilling feeling," Barry said. "It is an overall great experience."
Kim Hill, director of the Cortland County chapter of the food pantry, Loaves and Fishes, assisted with identifying the local families who need Thanksgiving dinners.
For more information, contact Mike Discenza, assistant director of athletics, at (607) 753-4923.
Roundtable Addresses Future of News Media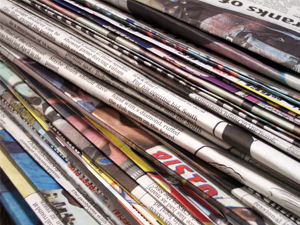 11/16/2010
The advantages, disadvantages and potential impacts of a rapidly changing media landscape will be explored during a Community Roundtable on Thursday, Dec. 2, at SUNY Cortland.
The panelists will include: Evan Geibel, assistant to the publisher at the daily newspaper, The Cortland Standard; David Hollenback, a SUNY Cortland associate professor of communication studies; and Bob Lloyd, a professor of practice at Syracuse University's S.I. Newhouse School of Public Communications.
They will discuss "The Future of the News Media" from 8-9 a.m. in SUNY Cortland's Park Center Hall of Fame Room. Refreshments will be served at 7:45 a.m. A question-and-answer period will follow.
Sponsored by the President's Office and the College's Center for Educational Exchange (CEE), the Community Roundtable is free and open to the public.
How news is defined and experienced continues to change rapidly. Newspapers, traditional television and radio have increasing competition from cable outlets, the Internet, blogs and even cell phone cameras. The panelists will analyze what these changes mean for local, national and international newsgathering. They will offer their predictions about whether newspapers will change or vanish.
Geibel graduated from Cortland High School and earned a degree in political science from Bucknell University in Lewisburg, Pa. He worked at The Cortland Standard as a contributing writer and staff reporter for two years covering the City of Cortland, the Town of Cortlandville and Cortland County government. Since then, Geibel has gained experience in every department at the newspaper and currently works alongside Publisher Kevin Howe.
Hollenback, who joined SUNY Cortland in 1987, has a doctorate from University of Michigan. His specialties are film, radio and television production; media writing; media theory, aesthetics and criticism; and media history. He also earned a Master of Arts in Radio-Television-Film and a Bachelor of Arts in English language and literature from Michigan.
Before he entered academia, Lloyd spent 20 years advancing from a reporter to executive editor at three daily newspapers, the Fort Worth Star-Telegram, the former Syracuse Herald-Journal and the Erie (Pa.) Times-News. He earned a bachelor's degree from the University of Texas and a master's degree from Syracuse University.
The Community Roundtable series provides programs on diverse intellectual, regional and cultural topics of interest to College faculty and staff and community members. Each roundtable is held on the first Thursday of the month. Parking in the Park Center lot is open to the public during the roundtables.
For more information, contact the CEE at (607) 753-4214 or visit www2.cortland.edu/centers/cee/community-roundtables/.
Closing Reception for 'FAX' Exhibit Set for Dec. 2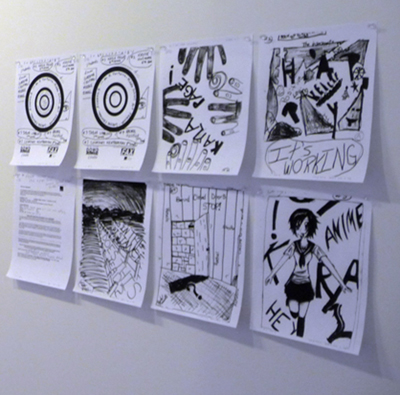 11/18/2010
A closing reception for "FAX," an international traveling exhibition featuring works submitted via fax machine will be held on Thursday, Dec. 2, in the Dowd Gallery at SUNY Cortland.
The reception, at 5 p.m., is free and open to the public. Refreshments will be served. The exhibit also may be viewed until its end on Friday, Dec. 10, during gallery hours Monday-Friday from 10 a.m.-4 p.m. The gallery will be closed Thursday, Nov. 25-Friday, Nov. 26, for Thanksgiving.
The exhibit, which features faxed works including sketches, drawings, paintings, photos, text or poetry, presents a group of artists who were invited to submit their work for Dowd Gallery's rendition of the "FAX" project. Featured are local artists as well as people with professional backgrounds from the U.S. and abroad.
"I'm excited about the questions this show raises: outmoded technology modeling a contemporary exhibit, the idea of authorship, the importance of originality, monetary worth of an object, and validity being bestowed by an established art space," said Interim Gallery Director Bryan Thomas.
The exhibit is an evolving project with an expanding body of artists that originated in New York City in 2009 through a close collaboration between The Drawing Center, Independent Curators International and guest curator João Ribas. Since its introduction, more than 100 artists and hundreds of fax pages have been sent and received creating a diverse visual portfolio unified by its size, color and delivery system.
"In past FAX exhibits, the audience was witness to different directions and approaches to the fax challenge," said Dowd Gallery Manager Jaroslava Prihodova. "We are interested in how students of various ages react to the task at hand and compare the physical material in the form of fax pages to the hundreds of faxes we received from previous shows as well as the group of people we invited to participate in our edition of the FAX project."
Coinciding with this exhibit, the Dowd Gallery staff introduced a program to the SUNY Cortland community with emphasis on art students. Students at Greene (N.Y.) Central Schools were invited to contribute to the exhibition. During this "student fax" program, the youths were given the opportunity to engage with this non-traditional presentation in a traditional gallery setting.
The unconventional exhibit is modified, reconfigured, deconstructed and adapted to local conditions, often simultaneously, in different venues worldwide, according to exhibit literature. In addition to artists, invitations were extended to architects, filmmakers, scientists, designers, writers and musicians. The intention was to think of the fax machine as a drawing tool and a device to transmit and communicate ideas resulting in a collection of concepts that raise questions of reproduction, distribution, obsolescence, mediation and originality.
Because the artwork is gathered in real time, the exhibition information states, this process can also be considered a current commentary on the dynamic nature of communication and perception of art. Through the infinitely reproducible, yet erratic outcomes of producing work via the fax machine, this exhibition not only evokes traditional principles that are still commonly associated with the medium of drawing, but also defines drawings as a generative process. The artist is forced to navigate through the many restrictions and technological deficiencies of the fax machine to find a way to convey a valid visual message.
Gift Match Enhances Faculty-Staff Campaign
For this year's annual Faculty and Staff Campaign for The Cortland Fund, the President's Council and two Cortland College Foundation Board members are putting their money where their mouths are.
Instead of encouraging SUNY Cortland faculty and staff to give while they make their own, private donation as in the past, this group has pledged to match new and increased employee gifts made by Dec. 31, 2010, with up to $203,000 over the next five years.
Across campus this fall, volunteers recently hand-delivered donor brochures and solicitation letters to their colleagues and took the opportunity, whenever possible, to explain several enticing enhancements compared to past faculty-staff annual fund drives.
Most notably, donors are urged to restrict their pledges to any of their interest areas, such as a scholarship, equipment purchase, organization, program or department.
"I know a lot of other institutions that are doing gift matches but I'm not aware of ones that are doing matches for the faculty and staff campaign," observed Jennifer Janes, who directs The Cortland Fund.
In the weeks since it was first offered, Janes has been encouraged by the results in terms of increased employee participation and faculty and staff inquiries in reaction to the available dollar-for-dollar match.
"We have a 44 percent increase in participation," she said. "We went from 80 donors to 115 so far. Cash gifts are up about 88 percent from last year. Last year at this time we were at $7,900. This year, we are at $15,000, and that does not include pledged gifts. In the early stages of the campaign, we are seeing great success."
"It clearly conveys the Administration's commitment to being a partner in raising money for the College, added Douglas DeRancy '75, executive assistant to the vice president of institutional advancement.
"Earlier in the summer we conducted focus groups to determine what would motivate people to give," Janes explained. "It was expressed overwhelmingly that some kind of incentive could accomplish increased faculty and staff giving."
"I think what makes this unique is that the match is really coming from 17 people," DeRancy added. "It's coming from 15 members of the College's Administrative Council and two Foundation Board of Directors members. It's their personal donations. And in essence, it demonstrates that a small number of people can make a big difference."
Representing the Foundation in this gift matching commitment are Brian Murphy '83, the current Foundation Board chair, and Victor Rumore '84, immediate past chair. They made their pledge with the entire President's Council in an effort to increase the percentage of faculty and staff participation in annual giving from 13.2 percent to at least 20 percent.
"We're trying to create the habit of giving among employees, but we're also trying to increase the participation," DeRancy said. "A larger internal participation will make it easier to present a stronger case for giving to our external audiences: alumni, parents, friends and foundations, etcetera."
The SUNY campuses, which have only engaged in fundraising for about 25 years, are still catching up with private universities in the region, some of which have been raising money for 200 years and can boast approximately 45 to 50 percent faculty and staff donor participation, DeRancy noted.
"So, we are focusing on having more people participate," DeRancy said. "Hopefully people will understand that participation and a gift of $100, $200 or $300 can make a difference."
Faculty Senate Codifies Credit Requirement Changes
The Faculty Senate unanimously approved changes to the College Handbook and College Catalog to reflect that some academic programs now only require 120 credit hours for graduation instead of 124.
The amendments to the governing documents were accepted during the Nov. 16 meeting in Brockway Hall Jacobus Lounge, after being proposed by the Educational Policy Committee (EPC) subsequent to being circulated among the campus community. EPC Chair Robert Spitzer, Political Science Department, had presented the proposal at the Nov. 2 meeting.
Transfer students still must take a minimum of 45 credit hours at Cortland to earn a bachelor's degree from the College, as the newly worded sections do not change the stated policy in both Section 410.10 on "Academic Credit from Other Colleges" in the 2010-12 College Handbook and the 2010-11 Undergraduate College Catalog's section on "Academic Policies/Transfer Credit Policies and Evaluation."
Both college publications previously outlined a requirement of up to 79 credit hours in arts and sciences programs, and up to 83 credit hours in certification programs. Replacing that mandate are the words: "The maximum number of credit hours accepted ranges from 75-83, depending on the number required for graduation in the chosen program."
The amendments will be presented to the President's Cabinet for its consideration.
2011 Orientation/Advisement and Registration Dates Set
Orientation programs and transfer transition seminars have been planned for 2011. Below are the program dates for January, June/July and August. All first year orientation programs are two days long with advisement and registration occurring on the second day of the program. All transfer transition seminars are one day.
January 2011
Transition Seminar: Thursday, Jan. 6
Seminar and Open Registration: Friday, Jan. 21
June/July 2011
First Year Session 1: Monday, June 27-Tuesday, June 28
Transfer Session 1: Wednesday, June 29
First Year Session 2: Thursday, June 30-Friday, July 1
Transfer Session 2: Tuesday, July 5
First Year Session 3: Wednesday, July 6-Thursday, July 7
Transfer Session 3: Friday, July 8
First Year Session 4: Monday, July 11-Tuesday, July 12
Transfer Session 4: Wednesday, July 13
First Year Session 5: Thursday, July 14-Friday, July 15
August 2011
Orientation and Open Registration: Friday, Aug. 26. This program is for students who cannot attend a June/July orientation.
Various offices and departments work together to make these events a success and to aid our new students in their transition to SUNY Cortland. The campus community is invited to participate in these programs.
For additional program information, refer to the orientation website at www2.cortland.edu/offices/advisement-and-transition/orientation/
Questions regarding the Orientation program should be directed to Abby Thomas in the Advisement and Transition Office.

Suggest a feature story
---
People on the Move
Jeffrey Dmochowski Oversees Networking and Telecommunications
11/18/2010
SUNY Cortland has appointed Jeffrey Dmochowski of Skaneateles, N.Y., to the newly created position of director of networking and telecommunications. He began his duties on Nov. 8.
Working within the College's Information Resources, he reports to Amy Berg, associate provost for information resources.
"Jeff is responsible for upgrading the bandwidth and reliability of the wired and wireless networks in order to support new technologies like live video streaming on the campus," Berg said.
The hiring of Dmochowski continues the reorganization of Information Resources that began in January and which created the new Networking and Telecommunications unit that he oversees, she explained.
"He also is working to improve the security of our network and to ensure that our infrastructure has the capability of supporting future technologies," Berg said.
Dmochowski will be in charge of network and telecommunications security, serving as deputy cyber security officer and conducting risk evaluation and developing mitigation strategies against cyber attacks.
Dmochowski's primary role is the design, maintenance and operational management of the College voice and data networks. He supervises a staff of three, including a network technician, a network analyst and a secretary. Among his duties, Dmochowski plans and manages the ongoing operation and monitors and troubleshoots the campus-wide electronic communications and Internet interconnectivity, as well as the campus telephone system.
He will undertake various tasks associated with the design, planning and project management of network and telecommunications architecture. While remaining current with the industry and security standards, he will develop proposals for continuous quality improvements to the SUNY Cortland telecommunications and network infrastructure.
Dmochowski was employed for the last 15 years with global electronics productivity specialist Universal Instruments of Binghamton, N.Y., most recently as information technology infrastructure manager since 2008. In that capacity, he managed a department of six professionals supporting the global infrastructure and business applications of 600 users, 80 servers, 800 computers and eight locations. His major accomplishment was to modernize an outdated Lotus Notes R5 environment to R8 on 25 servers and 600 computers around the world to greatly improve user satisfaction with e-mail and information capabilities.
He had joined Universal Instruments in 1995 as network manager. In that capacity, he expanded a small Ethernet into a global network infrastructure spanning eight metropolitan buildings and 16 global locations.
From 1985-95, Dmochowski was employed as a software engineer by IBM in Owego, N.Y. He was responsible for the analysis, integration, development and support of computer-aided design systems and tools in use by more than 300 designers and engineers.
In 1985, Dmochowski earned dual degrees in Bachelor of Science in Mathematics and Bachelor of Science in Computer Science from Pennsylvania State University. He obtained a Master of Science in Telecommunication and Network Management from Syracuse University in 2003. He has professional certification as a Cisco Certified Network Professional.
Kathleen Howarth Retires After 15 Years
11/15/2010
Kathleen Howarth, who served SUNY Cortland for 15 years, retired on Oct. 2. She was designated professor emerita of physical education.
A native of England, Howarth earned a Certificate of Education in Physical Education from the Bedford College of Physical Education, Cambridge University Institute of Education. She received a Bachelor of Education in Physical Education from University of Sussex. Howarth obtained a Master of Education in Philosophy of Education from the University of Liverpool and a doctorate in physical education curriculum and instruction from Temple University in Philadelphia, Pa.
Howarth was an associate professor of physical education at the I. M. Marsh Campus of Liverpool Polytechnic for 17 years, from 1973-90, before moving to the U.S.
From 1967-75, Howarth played for the All-England Women's Lacrosse Team. In 1973, she was a member of the Great Britain Lacrosse Touring Team to the U.S. She was honored as an assistant coach for England Lacrosse in the World Cup in Philadelphia, Pa., in 1986, and in Perth, Australia, in 1989. She chaired the All England Women's Lacrosse Association and served as secretary of the International Federation of Women's Lacrosse.
In 1990, Howarth was recognized by the London Times as runner-up in the administrator category as Sportswoman of the Year.
She joined SUNY Cortland's Physical Education Department in 1995 as an assistant professor of physical education and was subsequently promoted to associate professor and, in 2006, to professor.
Howarth taught courses on The Physical Education Curriculum: Principles and Practice, Movement Education, Readings in Physical Education, Elementary School Physical Education Programs, and Tactical Concepts.
She performed administrative tasks for the Physical Education Department, including department coordinator and co-writer of submissions for the state and national reaccreditation process, and served on many personnel committees.
Howarth took part in faculty governance, including as an original member of the College's Teacher Education Council, serving through this year. She participated as a member of the Faculty Development Committee, Faculty Mentoring Program, Search Committee for Coordinator of Field Experience, the Title IX Self Study Group and the Cultural and Intellectual Climate Committee. Howarth served as a committee member for the Dorothy Dietz Memorial Scholarship Grant and as a volunteer for the 2002 Senior Games. Every summer from 1995-2004, she was assistant director of the Merestead field hockey/lacrosse camp in Pennsylvania.
Howarth wrote or co-authored textbook chapters and journal articles in her field. Her scholarly work has appeared in Human Kinetics, a publisher in physical education and activity, the Journal of Teaching Physical Education, The British Journal of Physical Education and the British Association of Advisers and Lecturers in Physical Education's Bulletin of Physical Education.
She has contributed her research to the U.S. Lacrosse Physical Education Curriculum. She presented her scholarship at state, national and international conferences in the U.S. and Canada.
Howarth reviewed the textbook Elementary Classroom Teachers as Movement Educators (McGraw Hill, 2003) and performed much work as a consultant in areas including the teaching of lacrosse and national assessments for elementary physical education.
Howarth has moved to Philadelphia, Pa., where she lives with her partner, B.J. Phillips. She enjoys having more time to travel, attend the symphony and visit art museums, take art classes and plan an urban garden.
Louis Larson Retires from Career Services
11/15/2010
Louis Larson, who has served SUNY Cortland's Career Services for the past 23 years, will retire on Dec. 31. He has been designated associate director emeritus of career services.
In June, he was honored with the Chancellor's Award for Excellence in Professional Service, recognizing his extensive record of professional service to the institution and beyond.
Larson joined the staff in 1987 as assistant director of career services and later was promoted to associate director.
Characterized by his colleagues as an "ambassador for SUNY Cortland," Larson has conducted approximately 75 student workshops a year. In addition, Larson has scheduled at least 500 one-on-one sessions with students each year. He is known for his unique ability to deliver information in a meaningful and engaging way. A charismatic and skilled speaker, Larson is often invited to classrooms to speak.
For many years, Larson has organized the annual Teacher Recruitment Days, a two-day event at the College in late spring that attracts thousands of education students from a consortium of 16 regional colleges in upstate New York and hundreds of recruiters from school districts across the continental U.S. and Hawaii.
Prior to joining SUNY Cortland in 1987, Larson was an admissions counselor, academic advisor and assistant director of admissions at Mayville State University in North Dakota.
While serving at the U.S. Naval Academy, he earned his associate degree in liberal arts from Anne Arundel Community College in Arnold, Md. He received his Bachelor of Arts in Social Science/History from Mayville (N.D.) State University and his Master of Arts in Counseling with an emphasis in student affairs and career development from the University of North Dakota. In 2000, he became a national certified counselor through the National Board for Certified Counselors.
Larson resides with his partner, Peter O'Connell, in Trumansburg, N.Y. They have three children, Daniel, George and Margaret; and two grandchildren.
---
Faculty/Staff Activities
Irena Vincent
Irena Vincent, Communication Disorders and Sciences Department, presented a poster session on "A Multisensory Approach to Teaching and Learning Speech Anatomy" at the 2010 American Speech-Language-Hearing Association Convention held Nov. 18-20 in Philadelphia, Pa.
Tiantian Zheng
Tiantian Zheng, Sociology/Anthropology Department, was recently nominated and elected to serve on the executive board of the New York Association of Asian Studies. She has also been serving on the executive board of Chinese Society of Women's Studies since 2006.
Beth Shiner Klein
Beth Shiner Klein, Childhood/Early Childhood Education Department, was a co-presenter at the "Planning for Teacher Preparation in N.Y.S. ­­— Integrating Strategies into the Environmental Literacy Plan" pre-conference symposia at the North American Association for Environmental Education annual conference on Sept. 29 in Buffalo, N.Y. Also at the conference, she presented a session titled, "Integrating Sustainability Education into Preservice Elementary and Secondary Teacher Preparation."
In addition, Klein co-edited a book, The Inclusion of Environmental Education in Science Teacher Preparation, published by Springer and sponsored by the Association for Science Teacher Education. Co-editors are Alec Bodzin of Lehigh University and Starlin Weaver of Salisbury University.
Eileen Gravani, Jacqueline Meyer and Deborah Wilson
Eileen Gravani, Professional Studies, and Jacqueline Meyer and Deborah Wilson, both from the Communication Disorders and Sciences Department, presented a poster session at the 2010 American Speech-Language-Hearing Association Convention held Nov. 18-20 in Philadelphia, Pa. The poster was titled "Explicit Teaching of Narrative Structure to Preschool Children: A Pilot ."
Mary Emm
Mary Emm, Communication Disorders and Sciences Department, along with a colleague, presented a poster session at the 2010 American Speech-Language-Hearing Association Convention held Nov. 18-20 in Philadelphia, Pa. The poster was titled "Leadership in Teaching: Utilizing Student Perspectives on Administration and Supervision."
Jeremiah Donovan
Jeremiah Donovan, Art and Art History Department, was invited to exhibit his recent ceramic artwork at the Navio Artisans Gallery in New Bedford, Mass. The exhibition, "Circling into Now," opened Oct. 1.

Submit your faculty/staff activity