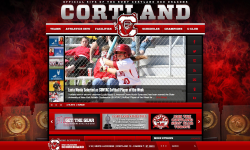 03/22/2013

SUNY Cortland has unveiled its new athletics website, giving the College's nationally ranked program a bolder, more dynamic online presence.
The revamped site is easier to navigate and features larger photos, more exciting graphics and all the up-to-date sports information a Red Dragon fan could want.
"Our new website illustrates our continued commitment to excellence and our status as one of the best Division III athletic programs in the United States," SUNY Cortland Athletic Director Mike Urtz '94 said. "Our new, online face speaks to our great pride for Cortland Red Dragon athletics and the accomplishments of our many team and individual champions."
The website, located at cortlandreddragons.com, is best viewed on a full-sized computer screen or tablet.
Smaller mobile devices will default to the Athletics Department's mobile configuration, and will therefore look no different. To view the new site on a phone or other small-screen device, scroll to the bottom of the home page and select "full site."
SUNY Cortland Sports Information Department staff will continually update and improve the site. Fans should bookmark it and visit it often.
---