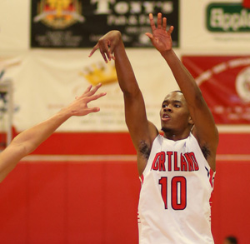 02/25/2013

Three SUNY Cortland athletic teams captured State University of New York Athletic Conference (SUNYAC) crowns this weekend, including two that had last won a SUNYAC title more than a decade ago.
The College's women's indoor track and field team, men's basketball team and men's swimming and diving team all took home first-place conference trophies.
Men's swimming and diving won its first SUNYAC title since 1998 — and in the process ended Geneseo's 14-year reign as league champion — while men's basketball earned its first conference crown since 2000. No strangers to athletic success, women's indoor track and field claimed its second straight title and 16th overall.
Men's indoor track and field and women's swimming and diving nearly joined that trio, both finishing second at their respective conference championships.
SUNY Cortland, which has won the SUNYAC Commissioner's Cup for overall sports excellence in 15 of the 16 years that it has been awarded, now holds five team conference titles in 2012-13.
SUNY Cortland men's swimming and diving
Here's a closer look at each of the performances that clinched SUNYAC supremacy:
• The men's swimming and diving team won its seventh SUNYAC title overall with 795 points to Geneseo's 726 points at the three-day conference meet that concluded Saturday at Erie Community College.
A 400-yard freestyle relay team of freshman Mark Schoenherr, senior Ben Strickland, senior Dan Maximowicz and senior Judd Simon broke SUNYAC, meet and school records with its winning time of 3:06.24.
Three swimmers also smashed individual school records: senior Justin Nelson broke the school mark in the 200-yard backstroke with his second-place and NCAA "B" cut time of 1:51.75; freshman Mathew Hasbrouck eclipsed a 32-year-old school record in the 200-yard butterfly with his second-place time of 1:54.44 in the finals; and freshman Andrew Cremer swam the first 1,000 yards of the 1,650-yard freestyle in 9:45.54 to set a new 1,000-yard freestyle school mark.
Head coach Brian Tobin was named SUNYAC Men's Swimming and Diving Coach of the Year following the meet, having previously won the award in 2010 and 2006.
Individual swimmers will move on to the NCAA Div. III Men's Swimming and Diving Championship from Wednesday, March 20, to Saturday, March 23, at Conroe Natatorium in Shenandoah, Texas.
SUNY Cortland men's basketball
• On the hardwood, nationally 25th-ranked and the top-seeded men's basketball squad claimed its first SUNYAC tournament title since 2000 with a 75-61 win over second-seeded Plattsburgh in SUNY Cortland's Corey Gymnasium.
The College knocked off Oswego, 65-54, in the conference semifinals Friday night.
Tournament MVP Jeremy Smith, pictured at top left, scored 24 points in the title game and was joined on the all-tournament team by senior classmates Harrison Hefele and Jesse Winter.
The Red Dragons, at 23-4, secured an automatic berth into the NCAA Div. III playoffs and will make their first national appearance since 2006. The first round is scheduled to begin Saturday, March 2.
SUNY Cortland women's indoor track and field
• The women's indoor track and field team's 172 points bested second-place Geneseo's 116.5 points at Brockport's Special Events and Recreation Center. SUNY Cortland won four individual league titles and one relay crown in the process.
Junior Sarah Bonnell set a meet record with her winning long jump of 5.77 meters in repeating as league champion in the event; senior Amber Stephens broke her own school record in the triple jump with a winning distance of 11.83 meters; junior Africa Harper won the 400-meter dash in 58.12 seconds; and junior Kelly Hugo won the pole vault title after clearing 3.35 meters in a jump-off.
The Red Dragons also won the 4x400-meter relay as sophomore Kiersten Duroe, senior Caitlin Triantafillou, sophomore Gabrielle Conant and senior Abby Vander Veen finished in 4:02.79.
The College will compete at the ECAC Div. III Indoor Championships on Friday, March 1, and Saturday, March 2, at the New Balance Track and Field Center at the Armory in New York City.
---