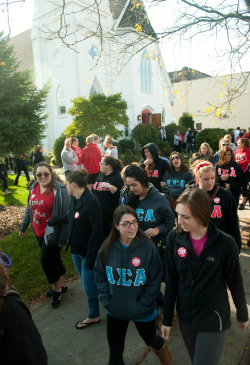 11/06/2012

Students, faculty and staff members from some of SUNY Cortland's most service-minded groups will meet Friday, Nov. 9, to discuss ways in which the College can best utilize its resources to help the victims of Hurricane Sandy.
Friday's planning session will determine an effective way for the College's many campus groups who have expressed an interest to provide relief, according to John Suarez, SUNY Cortland's coordinator of service-learning for its Institute for Civic Engagement.
"We have to funnel our efforts to provide the help that people need," Suarez said.
So far, more than a dozen SUNY Cortland offices and groups have offered their support.
Suarez said the group is working with Cortland County's chapter of the American Red Cross to determine its needs. At this time, Red Cross officials are seeking only funds, not clothing or food items, he said.
SUNY Cortland's campus leaders also are reaching out to relief groups working in the hardest hit areas to find out their additional needs.
The campus leaders who will attend Friday's planning session include Amanda Carpenter, the project coordinator for New York Public Interest Research Group; Vicki Johnson, the Protestant chaplain for the Interfaith Center; Sean Jolliff, the captain of Emergency Medical Services; Christopher Kuretich, the assistant vice president for student affairs; LeighMarie Weber, the president of Student Government Association; and Suarez.
Several efforts are in the works, including a SUNY Cortland A Cappella concert on Thursday, Nov. 15, that will serve as a fundraiser.
"We want to know our audience in New York City and Long Island and we want to be able to help them," Suarez said.
---