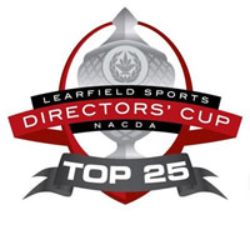 06/11/2013

The SUNY Cortland men's and women's intercollegiate athletic program finished in 11th place in the 2012-13 Learfield Sports Directors' Cup competition among the approximately 440 eligible NCAA Division III programs competing nationally for the prestigious honor. The National Association of Collegiate Directors of Athletics (NACDA), Learfield Sports and USA Today present the award annually to recognize overall excellence among collegiate athletic programs.
Cortland is one of only four schools nationwide, and the only New York institution, to place in the top 20 each of the 18 years the standings have been compiled on the Division III level. The other schools that hold that distinction are Williams College (Mass.), Amherst College (Mass.) and Middlebury College (Vt.). The College of New Jersey was also on that list through last year, but finished 26th in this year's standings.
The Red Dragons were the top finisher this season among New York Div. III schools with 724.50 points. Williams won its 16th Directors' Cup in the last 17 years with 1,273.75 points, followed by Emory (Ga.) (986.50), Middlebury (941.75), Wisconsin-Whitewater (895) and Washington (Mo.) (859.50) in the top five.
Cortland had 10 teams finish in the top 25 in 2012-13 NCAA postseason competitions, including seven top-10 finishes. The softball team finished second nationally, the men's and women's lacrosse teams each tied for third place, and the wrestling team placed ninth. The baseball, football and women's soccer teams each tied for ninth place, the men's basketball and women's volleyball teams each tied for 17th place, and the men's cross country team finished 23rd. The women's gymnastics team finished third nationally at the National Collegiate Gymnastics Association (NCGA) Division III Championships. That result, however, is not counted in the Directors' Cup standings.
The standings are compiled based on schools' national finishes in different sports. Teams earn points by qualifying for the NCAA postseason and additional points for advancing in the playoffs. The national champion in each sport receives 100 points.
There are four Directors' Cup Awards, one to honor overall champions in each of the NCAA's Divisions (I, II and III) and the NAIA. It is the first-ever cross-sectional all-sports national recognition award for both men and women. NACDA, which is now in its 48th year, is the professional and educational association for more than 6,100 college athletics directors, associates, assistants and conference commissioners at more than 1,600 institutions throughout the United States, Mexico and Canada.
2012-13 LEARFIELD SPORTS DIRECTORS' CUP
Final Division III Standings
Rank/School
1. Williams (Mass.)
2. Emory (Ga.)
3. Middlebury (Vt.)
4. Wisconsin-Whitewater
5. Washington (Mo.)
6. Amherst (Mass.)
7. Johns Hopkins (Md.)
8. Tufts (Mass.)
9. St. Thomas (Minn.)
10. Mass. Institute of Tech
11. CORTLAND (N.Y.)
12. Salisbury (Md.)
13. Claremont-Mudd-Scripps (Calif.)
14. Wisconsin-Eau Claire
15. Calvin (Mich.)
16. Wisconsin-La Crosse
17. Bowdoin (Maine)
18. Wartburg (Iowa)
19. Ithaca (N.Y.)
20. North Central (Ill.)
Complete standings are online at: www.nacda.com
---