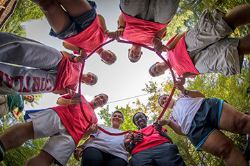 06/26/2018

Kaycie Haller thinks back to the summer before her freshman year at SUNY Cortland. She was both excited and nervous to arrive on campus, with two major questions weighing on her mind.
"I remember thinking, 'Am I going to be able to make friends? Will I have anyone to eat meals with once my mom and dad leave?'" said Haller, a senior adolescence education: history major from Wantagh, N.Y.
The answer to both questions was yes, and a lot had to do with Adirondack Trail Blazers, a unique outdoor experience for new SUNY Cortland students. The program brings a small group of first-year and transfer students on a six-day trip to the College's William H. Parks Family Center for Environmental and Outdoor Education in Raquette Lake, N.Y.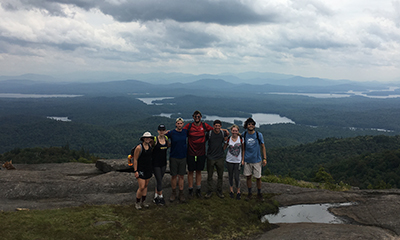 This year, the program takes place Saturday, Aug. 18, to Friday, Aug. 24. The overall goal is to build friendships and confidence in an outdoor setting before fall semester classes begin.
Haller, who will serve as a trip leader this year, explained that participants are not expected to be rugged explorers of the outdoors. In fact, most students claim limited camping experience. The general expectations are simple: be open to meeting new people, trying new activities and learning more about the only National Historic Landmark in the SUNY system.
"You might be intimidated when you hear backpacking in the Adirondacks," said Haller, who joined Trail Blazers in 2015. "But I know people who had never been hiking and ended up becoming trip leaders with Outdoor Pursuits."
Reanna Zappavigna '17, the graduate assistant for Outdoor Pursuits, is quick to provide answers to frequently asked questions about the program:
Participants move into their residence hall on Saturday, head to the Adirondacks on Sunday and return to campus

on

Friday before fall semester classes begin.
Activities are "challenge by choice," meaning they're optional but encouraged. Examples include hiking, canoeing, high-ropes courses and team building exercises.
Participants will sleep in cabins and tent camps, depending on the night. No prior camping experience is required.
All food, lodging, transportation and all specialized equipment is included in the program fee. Students are asked to bring sturdy hiking boots, a sleeping bag and rain gear.
The program costs $410. Financial assistance is available.
Participation numbers have increased each year since the program was launched in 2013, from eight students to 43 in 2017. Zappavigna attributes that to the growing sense of community created by Outdoor Pursuits and the willingness of today's students to step outside of their comfort zones.
"Being able to create your earliest college moments at Raquette Lake is special," said Zappavigna, a former physical education major from Rome, N.Y., who is currently pursuing a master's in teaching students with disabilities. "Meeting other new people in that setting gives you an extra boost when you're back on campus — someone to go to the dining hall with, someone to join a club with, someone to be friends with down the road."
In the Adirondacks, smaller groups are made up of two trip leaders and approximately six new students representing all different academic majors. They are grouped as first-year or transfer students and they spend the majority of the week exploring the Adirondacks as a unit. They hike, paddle, camp and pass time by testing each other with riddles and word games. Access to technology and hot showers are limited, but both Zappavigna and Haller said a full day of activities make those luxuries easy to forget.
"The entire experience is reassuring because you know that you're all in this together," Zappavigna said.
An introductory dinner takes place at the Lynne Parks '68 SUNY Cortland Alumni House on Saturday evening prior to the three-hour trip to Raquette Lake. And at the end of the trip, on Thursday night, Trail Blazers gather at a large bonfire to swap stories and experiences. Haller said it's one of the trip's major highlights.
"No one wants to go to bed," she said. "You realize you were part of this uniting experience and you're coming back to campus knowing all of these different people."
The program invites participants to a welcome-back barbecue on campus, held at the end of the first week of classes as a way to check in and reconnect. Haller admits that she was mostly reserved and shy in high school, but she recalls arriving on campus after Adirondack Trail Blazers with a new sense of confidence.
More specifically, she remembers bringing her first-year roommate to the barbecue and seeing a pick-up game of soccer being played nearby.
"High-school Kaycie never would have played with them," Haller said. "But fresh-out-of-Trail Blazers Kaycie asked to join their game, and the girl organizing it ended up becoming one of my best friends."
It's a moment that revealed the value of her experience in the Adirondacks.
"With Trail Blazers, you don't come in with a lot of worries," she said "You come in ready to enjoy college and make friends."
---