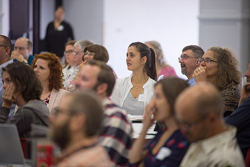 06/21/2018

Education leaders from throughout Central New York will gather at SUNY Cortland Friday, July 13 to learn about encouraging innovation and creativity in schools from internationally recognized author and speaker George Couros.
Couros, the author of The Innovator's Mindset: Empower Learning, Unleash Talent, and Lead a Culture of Creativity, will speak to school and district administrators from throughout Central New York at SUNY Cortland during the annual Francis J. Cheney Educational Leadership Institute.
The institute, held in Park Centers Alumni Arena, takes place just as Alumni Reunion 2018 weekend kicks off with the SUNY Cortland Sesquicentennial, marking the College's 150thyear as a leader in teacher education.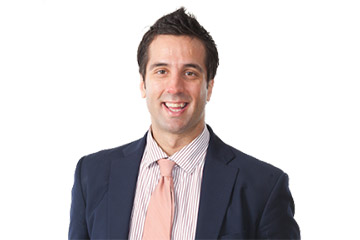 "Couros challenges school leaders to make student learning the center of all their activity and to approach students and schools with his 'innovator's mindset," said organizer Christopher Manaseri, assistant professor in the College's Foundations and Social Advocacy Department, which is housed within the School of Education.
Couros, a speaker and leader in the area of innovative leadership, teaching and learning, will share his ideas with this group as it discusses how to prepare tomorrow's leaders to transform the quality of their schools. They will be joined by some 16 SUNY Cortland student interns aiming to become the educational leaders of the future.
"The Cheney Institute serves as an opportunity for students in the educational leadership program to connect and interact with practitioners in the field around current topics," Manaseri said. The annual event is coordinated by faculty in the College's Educational Leadership Program in partnership with local Board of Cooperative Educational Services (BOCES) agencies.
The institute program, "A Day with George Couros, Author of The Innovator's Mindset," will take place from 8:30 a.m. until 3:30 p.m. in Park Center Alumni Arena.
The institute is geared for all current school administrators and teachers who aspire to become administrators. They are invited to register by the Tuesday, July 3 deadline through the Institute's website. Mansari anticipates 100 to 150 area school leaders will attend.
The summer institute is also intended for students enrolled in SUNY Cortland's Educational Leadership Department. The July 13 conference marks its 10th year as an annual event, named after Francis J. Cheney, who served as Cortland Normal School principal from 1891 until his death in 1912.
Lunch and a copy of Couros' book are included in the $15 registration fee, which may be waived by the Onondaga-Cortland-Madison BOCES.
The institute will aim to help attendees in the following areas:
Learn how to distribute and share leadership
Harness the creativity and skill set of teacher leaders
Create a collaborative environment with stakeholders
Build a regional network to support inclusive and excellent schools
Attendance at the institute is required of educational leadership interns, who have the chance to interact with established school leaders and participate in solving authentic leadership challenges during and after the Institute, as local schools accept the charge to make change in their practices to improve student outcomes.
As a K-12 teacher and technology facilitator, school and district administrator, Couros has worked with all levels of school. He is a sought-after speaker on the topic of innovative student learning and engagement and has worked with schools and organizations around the globe. He will also give the keynote address at the School Administrators Association of NYS (SAANYS) annual conference in October at Lake Placid, N.Y.
"Couros is a practicing school leader, blogger and consultant on school change and improvement who has addressed major school improvement and governance groups across the country in recent years," said Manaseri, himself a retired school district superintendent.
He created ConnectedPrincipals.com, an initiative that brings educators and leaders together from around the world to create powerful learning opportunities for students. His work is featured at his blog.
"My focus is always the development of leadership and people and what is best for learners," Couros said. "My belief is that meaningful change happens when you first connect to people's hearts."
The Cheney Institute's mission is to create a learning community for educational leaders that enhances and supports the success of all students through ongoing professional development, refinement of leadership skills and networking.
The institute was created and primarily funded by Cheney's granddaughter, Louise M. Conley of Princeton, N.J., the former chair of the Cortland College Foundation Board of Directors. Co-sponsors of the institute include SUNY Cortland, the Cortland College Foundation, Center for Instruction Technology and Innovation (CiTi), and three Board of Cooperative Education Services (BOCES) agencies, Tompkins-Seneca-Tioga (TST), Cayuga-Onondaga (CO) and Onondaga-Cortland-Madison (OCM).
In recent years, the Educational Leadership Department faculty have formed a close partnership with area district superintendents, the leaders of the local BOCES, who have served in an advisory capacity about the needs of the region and about potential speakers to help area school leaders address those identified needs, Manaseri said.
"As the SUNY campus within Central New York with a 45-year history of producing excellent school leaders, we are proud to continue the Cheney Institute's mission and vision," said Manaseri. "Similar regional superintendent's institutes were long a part of the history of normal schools and regional support for rural school districts as far back as the 19th century. The Cheney Institute continues that tradition of bringing the latest thinking about schools and leadership to practitioners in and to students of the field."
The Cheney Institute gives the College a chance to give back to the educational community of Central New York, by providing high quality professional development for school leaders in an open, inexpensive and collegial format, Manaseri said.
"It also affords the College the opportunity to be viewed as a leadership partner in the preparation of school administrators who are, and who will be, serving students and communities from Elmira to Binghamton, from Utica to Syracuse and all points in between."
Couros' visit is open to the greater Cortland and campus community. Faculty in the School of Education will be sponsored to attend through the Educational Leadership Program. Interested faculty and others should contact Manaseri for more information.
Organizers also are working with the College's Alumni Engagement office to plan the inaugural meeting that day of a new Educational Leadership Alumni network aimed to promote recent graduates' mentoring and job opportunities. Participants will elect a slate of officers to lead a 45-year celebration of the history of Cortland's Educational Leadership program in conjunction with the SUNY Cortland Sesquicentennial.
---