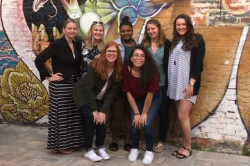 04/03/2018

For senior Kaley Clavell, working toward a SUNY Cortland teaching degree has meant spending much of her time off campus, working with children in school classrooms in Cortland, Ithaca, Marathon, Syracuse and the Bronx. And it began her first year out of high school.
Clavell chose this immersive path as a participant in the College's Professional Development School (PDS) initiative, a cutting-edge program in which teacher education students spend the bulk of their time in classroom settings.
She and three fellow PDS students — and six SUNY Cortland faculty members — recently shared those experiences as presenters at the National Association for Professional Development Schools (NAPDS) National Conference in Jacksonville, Fla., in mid-March.
Senior childhood education and early childhood education majors Jackelyn Aguirre, from Little Neck, N.Y., Kelsey Klein, from Vestal, N.Y., and Clavell, from Suffern, N.Y., delivered a presentation titled "Freshman to Seniors: Learning and Growing in Professional Development Schools."
In addition, Brianna Evans, a senior dual major in adolescence education in social studies and history from Syracuse, N.Y., presented "Experience and Knowledge: Centering the Experiences and Perspectives of Teachers of Color in the Mentorship and Induction of Teacher Candidates of Color" alongside members of SUNY Cortland's Foundations and Social Advocacy Department.
They were among a tiny handful of students among the scores of working professionals and experts at the three-day annual conference for the group, which represents more than 5,500 education professionals involved in professional development school programs around the world.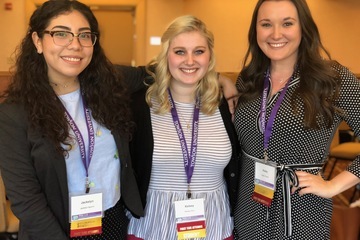 SUNY Cortland launched its PDS program in the fall of 2008, building bridges between college students, college faculty and educators in local public schools. Participating pre-service teachers complete their academic requirements largely off campus in the local schools and are required to complete 245 hours of field experience working directly with young students and their teachers. Many non-PDS pre-service teachers spend 100 hours doing observation before student teaching. The aim is to better prepare educators by breaking down barriers between theory and practice and providing meaningful links between school-based and college-based faculty.
The SUNY Cortland students were accepted to present at the NAPDS conference after submitting proposals. It was a unique opportunity for them to both share their expertise and gain leadership experience in a professional setting.
Clavell, part of the College's Cortland's Urban Recruitment of Educators (C.U.R.E) program, spent time in schools in Cortland, Ithaca, Marathon and Syracuse and is student teaching during the spring semester at Bronx Charter School for Better Learning.
"I've been in five schools in four years and that is huge," Clavell said. "Learning from so many experienced teachers and their teaching styles, it's about finding out how we fit in our classrooms and the classroom management strategies we learn from all of these teachers."
Valerie Widdall, lecturer in the Childhood/Early Childhood Education Department, works with SUNY Cortland students and educators in the schools. Many student-teaching practicums don't begin until a student's sophomore or junior year, but Aguirre, Clavell and Klein are among the students who opted for the additional experiences offered to freshmen within the PDS model and spent four years getting hands-on experiences.
"It's a change in how we approach teaching and it really blends the idea of teachers learning how to teach in the field, in the trenches," Widdall said. "That's where we as professors are going to take our students and help make it so that children in schools become the center of everyone's focus. In keeping school children's academic and social growth at the center of our practice, university professors, host teachers and pre-service teachers are able to work collaboratively for the betterment of the school community."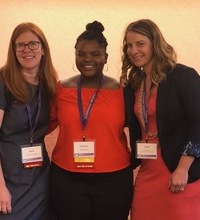 In their presentation, the students spoke about how the collaborative effort of working with both college faculty and school-based faculty. They also explored the advantages and disadvantages of spending four years at PDS sites.
"This is exactly what we want them to do," Widdall said. "We want them to analyze and be critical of their experiences. I don't think there are a lot of other colleges with students presenting on this at national conferences."
Brianna Evans, the dual major in adolescence education in social studies and history, made her presentation alongside Associate Professor Anne Burns Thomas and Assistant Professor Carrie Rood. Their research described a collaborative mentorship network established by C.U.R.E. that was designed to support the experiences and perspectives of teachers of color.
Other SUNY Cortland faculty presenters included:
Kimberly Rombach, associate professor in the Childhood/Early Childhood Education Department, spoke on "Co-Constructing Mutually Beneficial Mentoring: Promoting a Cognitive Apprenticeship PDS Model." The Council for the Accreditation of Educator Preparation (CAEP) has called for redesigning teacher preparatory programs by shifting the focus to teaching experiences. This would require a different type of mentorship from college and school-based faculty to develop teacher candidates.
Krystal Barber, assistant professor in the Childhood/Early Childhood Education Department, presented "Supporting Mathematical Fluency with Math Centers and Number Talks," which detailed the collaboration between SUNY Cortland and Groton Elementary School to develop mathematical fluency in young students. She was joined by Sarah Neff, a teacher at Groton (N.Y.) Elementary School.
Cynthia Benton, professor in the Childhood/Early Childhood Education Department, presented "Expanding Professional Pedagogy and Instructional Analysis Tools: Innovating PDS Practices Toward a Cognitive Apprenticeship Model." She described her research of mentor teachers and how they best worked with teacher candidates. Benton was joined by Stephanie Falls, principal of the Homer (N.Y.) Intermediate School.
Aguirre, Clavell and Klein have had to sacrifice part of the traditional college experience to get hands-on practice in classrooms. However, they head into the profession with a deep understanding of how to teach, thanks to faculty members and one-on-one interactions with students.
"We are fully prepared in every aspect of education, whether it's diversity or equity inclusion, all of those things," Clavell said. "We are prepared for keeping ourselves accountable as we go through school and we're prepared because we're aware and actively changing the culture in schools right now. We are aware of more than just what's around Cortland and I think that really separates us."
---