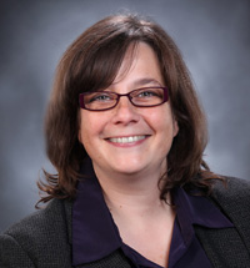 09/23/2013

SUNY Cortland has named Esa Silow Merson of Ithaca, N.Y., to direct its Academic Support and Achievement Program (ASAP), a comprehensive, centralized academic support program serving SUNY Cortland students.
She began her duties on July 1. Merson, a nine-year College employee, has worked in different capacities with ASAP, most recently as interim director since November 2012. She reports to Christopher Kuretich, assistant vice president for student affairs.
Merson's office works closely with staff and faculty across the campus to support, develop and implement programming that promotes the academic success of SUNY Cortland students. She provides leadership, vision, planning, coordination, supervision and evaluation of all services within ASAP and serves as a member of the Vice President for Student Affairs leadership team.
Merson supervises and assists a staff that provides academic support to both undergraduate and graduate students of all abilities and achievement levels through tutoring in writing, reading, math and study skills. The employees include an assistant director, professional tutors, graduate assistants, student assistants and the department secretary.
She also oversees the ASAP team as it trains and supervises student leaders for Supplemental Instruction, Peer Tutoring, Peer-Led Team Learning, and Online Tutoring. Her staff members are involved actively in the Paws for Stress Relief program during finals week, and they make dogs available to students in the office throughout the academic year.
The ASAP director has substantial tutoring responsibilities.
Merson joined ASAP in 2004 as an academic tutor. Before she became interim director, she had served as acting assistant director since July 2012.
Previously, she was communications manager for the Teachers' Retirement System of the City of New York from 2001 until she joined the College.
Prior to that, she fulfilled a number of teaching and educational support roles dating back to the late 1980s. At Kingsborough Community College, she was an instructor in the Continuing Education Office, an assistant to the provost and vice president for academic affairs, an evening supervisor and tutor with the English Skills Center and a tutor in the Department of Special Services.
She taught in LaGuardia Community College's Program for Deaf Adults.
A graduate of Brooklyn College with a bachelor's degree in speech, she has a Master of Science in Education in Special Education.
In 1983, the College opened the Basic Skills Center to meet the needs of entering students whose academic preparation limited their ability to meet the standards of the faculty of the College. The center quickly evolved from a basic skills center into an inclusive, centralized location where people could hone their existing skills or develop necessary new skills with professional tutoring, peer tutoring and supplemental instruction.
In Fall 1995, to better fulfill its mission to reach Cortland students before serious academic difficulties emerge, the center changed its name to ASAP in order to sound less remedial and placed new emphasis on assisting students in developing intellectual independence and academic autonomy.
ASAP works closely with the College's Educational Opportunity Program and with developing an ongoing professional relationship with Student Disability Services.
In 2007, the SUNY Vice Presidents for Student Affairs honored SUNY Cortland's ASAP with an inaugural Outstanding Student Affairs Program Award in Student Retention for its Supplemental Instruction (SI) program, designed to help students improve their grades in the College's historically most difficult courses. The extremely cost-effective program, which is free to SUNY Cortland students, involves student leaders who act as facilitators and is used by the College's best and brightest students as well as those who struggle academically.
---