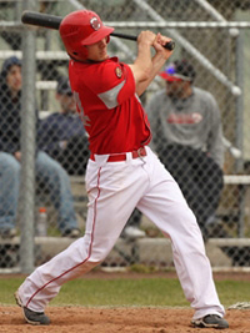 10/05/2012

The SUNY Cortland baseball team will play national champion Marietta College in a home doubleheader this weekend.
That's right, this weekend.
NCAA rules allow the College baseball team to play one day of "non-traditional" competition in the fall semester. On Sunday, Oct. 7, the Red Dragons will use that allowed date to host two-time NCAA Div. III champion Marietta College of Ohio for a fundraising, exhibition doubleheader supporting the United Way for Cortland County.

Last fall, Cortland traveled to Marietta for a doubleheader that raised money for the Strecker Cancer Center at Marietta Memorial Hospital. The "Etta Express" agreed to return the favor and travel to Cortland this autumn and will play the Red Dragons in a pair of nine-inning games at Wallace Field beginning at 11 a.m.

There will be no admission charge for the games, but donations will be collected, a 50-50 raffle will be held and commemorative t-shirts, designed by local company Graph Tex, will be sold. Money raised will be given to the United Way for Cortland County to support its 14 local member agencies.

Fans can also contribute by going online and downloading a donation card.

Those using the donation card are asked to write "2012 Cortland Fall Baseball Event" underneath the signature on the form before sending it in.

Christella Yonta, a United Way board member and its 74th Annual Campaign Co-Chair, and her 9-year-old son, Nicholas, will be on hand to throw out the first pitch prior to the opening game. In between games, promotional activities will be held for kids in attendance with prizes available. In addition, military veterans are encouraged to attend the games and will be recognized prior to the start of the second contest. Concessions will be available to purchase during the doubleheader from Auxiliary Services Corporation (ASC).

Fans unable to attend will be able to listen to the games. Bobby Comstock, Cortland's radio voice, will be broadcasting the first game on local radio station WXHC (Oldies 101.5 FM), which is available online. The second game will be broadcast on Cortland Internet Radio.

Last season, Marietta and Cortland both competed at the NCAA Div. III World Series in Wisconsin, although the teams didn't meet. Cortland finished fourth at the Series with a 2-2 record. Marietta bounced back from a second-round loss in the double-elimination tournament to win four straight games and claim its second straight national title and sixth overall (2012, 2011, 2006, 1986, 1983, 1981).

Since 2000, Marietta and Cortland are the two most successful Division III baseball programs in the country with 489 and 479 victories, respectively. Cortland has made 11 NCAA Division III World Series appearances since 1995, including national runner-up finishes in 2010 and 2005.

Cortland and Marietta have met on the diamond three times during spring play. Marietta defeated the Red Dragons at the 1995 World Series, while Cortland won at the 2007 World Series and in a 2005 regular season contest in Florida.

NOTE: In addition to the radio broadcasts, there will be live stats for both games.
---