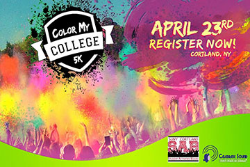 04/21/2017

The Color My College 5K is closing out its spring tour on Sunday, April 23, with a stop at SUNY Cortland.
Unlike a typical 5k, participants will be showered in a rainbow of colors as they walk or run the course through campus.
The festivities begin at 9 a.m. on Folmer Avenue in front of Park Center featuring music, contests, prizes and Zumba while the 5k kicks off at 10 a.m.
The event is open to the public — all ages and activity levels.
Hosted by the College's Student Activities Board, the Color My College 5k will bring a splash of color to the annual CELEBRATE SOUND Don't Walk in Silence® 5k Run/Walk to benefit Sertoma's Hearing Charities of America and the College's Center for Speech, Language and Hearing Disorders.
"Our goal at SUNY Cortland is just to bring a fun and unique event to campus and to assist in raising awareness and funds to their charitable cause," said Tonya Shuler, the South Charleston, S.C. attorney who is the co-founder, event director and blogger for the Color My College events. "It's going to be a great time and we're excited to close out our spring season at SUNY Cortland!"
Participants are invited to stick around after the race for the Color My College After-Party where they are guaranteed to get covered head-to-toe in color.
Current registration prices for the event are $20 per person, with SUNY students receiving a special discounted rate of $10. Registration for the event includes a free Celebrate Sound t-shirt, a free packet of color, a Color My College tattoo and eye black stickers.
More information and online registration are available at www.colormycollege.com or at www.events.sertoma.org, or contact event director Shuler.
---