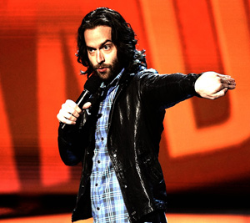 04/11/2013

Comedy Central comes to SUNY Cortland in the form of three stand-up sketch comedians on Sunday, April 14.
Funny guys Chris D'Elia, Adam Ray and Streeter Seidell bring their acts to the Corey Union Function Room for an 8 p.m. show as part of the Comedy Central On Campus Tour. The event, which is free and open to the public, is presented by the College's Student Activities Board (SAB).
"Workaholics," "Arrested Development" and "Pranked" are just a few of the group's television credits.
Ray
D'Elia, named one of Variety magazine's 10 comics to watch in 2011 and pictured at the above left, likely is best known for his physical humor and his starring role in the NBC sitcom "Whitney." He has appeared on television shows such as "Late Night with Jimmy Fallon" and "Workaholics," and will be featured in a one-hour stand-up special on Comedy Central in the fall.
Ray also has guest starred on "Workaholics," in addition to television favorites "Arrested Development," "According to Jim" and "Two Broke Girls." His online comedy sketches have collected more than 30 million views and he'll appear this summer in "The Heat," a police comedy film starring Sandra Bullock and Melissa McCarthy.
Seidell
Seidell's fame grew thanks to the popular CollegeHumor website, for which he is an executive editor. Additionally, he co-stars in "Pranked" on MTV and co-authored The CollegeHumor Guide to College, the site's first book. His writing has appeared in many well-known publications, including the newspapers The New York Times and The Washington Post and magazines Wired and Men's Fitness.
For more information, contact SUNY Cortland's SAB at 607-753-2034.
---