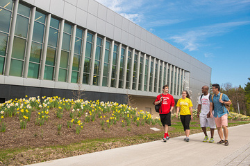 06/26/2018

"Wow."
Julian Wright, SUNY Cortland's director of recreational sports, hears that word over and over when he talks to people who have seen the College's state-of-the-art Student Life Center.
"You have to drive five hours to see a facility comparable to this. Alumni are just blown away," he said. "They remember this as Chugger Davis Field."
The $56 million Student Life Center, a 148,000-square-foot facility, opened in Feb. 2015. It offers a wide variety of health, recreation and fitness programs for students, faculty and staff and has quickly become the social and recreational center of the SUNY Cortland campus.
An average of 2,000 people, approximately one-third of the student body, use the Student Life Center every day to lift weights, run on the elevated track, play basketball and engage in activities such as yoga and meditation, group exercise classes, swimming and many other offerings. Wright estimates that the one millionth user will enter the Student Life Center sometime this summer or early in the fall semester. Approximately 500,000 additional people have toured the facility since it opened.
Publications and organizations across the country are beginning to take note of just how interesting, unique and impactful the Student Life Center has been on the SUNY Cortland community.
Athletic Business named the Student Life Center its Facility of the Week earlier this month and the magazine also featured the building in its 30th annual Architectural Showcase in the June 2017 issue.
Campus Rec named the Student Life Center its "Rec of the Month" in April 2017.
The facility was recognized for a gold award in excellence in masonry design and installation from the Central New York Chapter of the American Concrete Institute in 2015. The American School & University Interiors Showcase awarded the Student Life Center for education interior design excellence and a collegiate citation for physical education facilities and recreation centers in 2016. That same year, the National Intramural and Recreational Sports Association named the building its outstanding sports facility.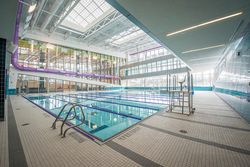 The Student Life Center was lauded for combining so many opportunities for users into one building. In addition to a vast array of physical recreation and fitness components, the Student Life Center also contains The Bistro, a state-of-the art residential dining facility that focuses on healthy, balanced eating, as well as Outdoor Pursuits, which provides a variety of outdoor recreation opportunities. Those opportunities include a Tripping Program that features hiking, camping, canoeing, kayaking and whitewater rafting trips; the Cortland Bike Project; the outdoor equipment rental program and the Adirondack Trailblazers Program.
As one of two dedicated recreation facilities in the SUNY system — Stony Brook University's Walter J. Hawrys Center is the other — the top priority for the Student Life Center is "Open Recreation," which means that the facility is generally not scheduled for specific groups or special events and is available for recreational use by all students at all times.
"This mode of operation is so important in providing consistent and viable recreational services for our students because they can always count on the facilities being available for them, which was not the case before the building opened," Wright said.
"In my opinion, our Student Life Center is the premiere recreational facility in the Northeast at this time," Wright said.
Wright notes that the Student Life Center's offerings have grown since the building opened and will continue to expand in the years to come. There were 55 different group exercise classes per week open to users during the spring semester, ranging from indoor cycling programs to Zumba and cardio kickboxing. Meditation and Yoga classes are offered, as are cross training classes and massage therapy sessions. Personal trainers may be hired for $15 per one-hour session or through multi-session packages. Users may have their fitness level assessed by a trainer with equipment such as the BodPod.
The Student Life Center's amenities include:
A three-court wood floor gymnasium with basketball, volleyball and badminton/pickleball courts.
A three-lane, one-fifth mile elevated track that features long straightaways, a 20-inch grade to mimic hills, a forgiving surface and views to the outside through the Student Life Center's massive windows.
A 9,000-square-foot circuit/free weight area that features a wide variety of weight lifting equipment, including free weights and selectorized weight circuits.
The six-lane swimming pool complex that also offers a resistance walk, a bubble seat, a recreation area for water volleyball or basketball and a 25-person hot tub.
The cardio area contains more than 80 pieces of equipment, including treadmills, elliptical cross-trainers, power mills, rowing machines and virtual reality bicycles.
The spinning room features 26 bikes with a custom lighting and sound system and a 124" diagonal television to create a dynamic atmosphere. Certified spin instructors taught 15 classes per week during the spring 2018 semester.
A functional training room merges Olympic lifting, gymnastics and metabolic conditioning to improve fitness and performance. Classes are taught by certified cross training instructors.
The group exercise and combative rooms offer space for doing kettlebell or dumbbell workouts, as well as classes such as Zumba, cardio kickboxing, body pump and more.
The multi-activity court has a poured, rubberized floor that is the one space that is scheduled for intramural sports such as indoor soccer and floor hockey.
The climbing components include a 42-foot climbing wall and a 13-foot bouldering wall, as well as a freedom climber (a rotating climbing wall). Open recreation climbing, clinics and competitions are held throughout the year.
The Mind/Body room features an LED lighting system in the ceiling that mimics constellations and can be adjusted to control the ambiance. Different types of Yoga and meditation classes are taught by experienced instructors.
Golf simulators give users the opportunity to "play" some of the world's best courses.
The table tennis room and the game room, which feature table tennis, billiards, foosball, darts, air hockey and video games, are popular social spaces.
A massage therapy room is available for appointments. Services range from a 15-minute chair massage to a 50-minute sport or relaxation massage.
Student Life Center users may also borrow or rent a variety of sporting goods or rent a locker through the equipment checkout
The Student Life Center is also home to the College's Outdoor Pursuits program, which leads regular trips for hiking, canoeing and camping. Outdoor Pursuits also offers workshops, manages an outdoor gear rental center and oversees both the Cortland Bike Project and the Adirondack Trailblazers Program. SUNY Cortland was named a Bicycle Friendly University by the League of American Bicyclists in 2017, thanks in part to the free bike checkout offered through the Bike Project.
The growing Adirondack Trail Blazers program, which gives new students the chance to bond with classmates during an adventure at the William H. Parks Family Center for Environmental and Outdoor Education at Raquette Lake, attracted a total of 43 students in Summer 2017. More are expected to participate in years to come.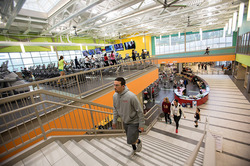 An athletic trainer will join the staff at the Student Life Center in time for the fall semester. The trainer will primarily support the 1,200 students who participate on SUNY Cortland's 36 sport club teams, as well as users of the facility, in consulting and referring them to other medical professionals.
Designed by Hastings+Chivetta and H2L2 Architects/Planners LLC, the Student Life Center is a major example of SUNY Cortland's commitment to sustainability. It was constructed with Leadership in Energy and Environmental Design (LEED) certification (pending LEED Gold certification) through the U.S. Green Building Council. The building makes use of rooftop rain gardens and a portion of the College's 3,600 solar panels. Large fans help move conditioned air throughout the entire space. Bioswales reduce the building's potential impact on flooding and two underground water retention systems and permeable pavement help manage water runoff.
With its massive variety of activities and gorgeous open concept design — including plenty of natural lighting — the Student Life Center has become the hub of the SUNY Cortland community.
"It's a wonderful thing to have the Student Life Center for our students and faculty and staff," Wright said. "The facility is having a very significant and positive impact upon their health, fitness and wellness. It's an attractive place and kids love to be here."
For more information, visit the Recreational Sports website or contact Wright at 607-753-5585.
---