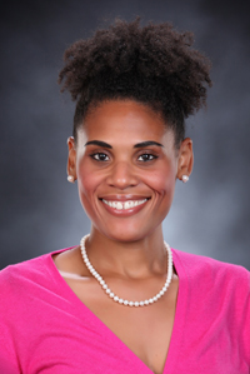 06/11/2013

Nicole Brooks '07, who has served since 2007 as site supervisor at the Ernie Davis Head Start in Elmira, N.Y., became the new director of the SUNY Cortland Child Care Center on June 3.
She is responsible for the overall day-to-day operation and administration of the College's 20-year-old day care operation, Cortland County's only nationally accredited child care agency.
Her task is to create an environment that is warm and loving and contributes to the emotional, physical, educational and social development of the children, many of whom are the offspring of current students, recent alumni, faculty and staff members and local community residents.
Brooks has replaced Johanna Hartnett '76, M.S.Ed. '03, who had overseen the campus child care facility since 2000 and retires on Friday, June 21. Hartnett remains with the center as a consultant to the new director.
An employee of the SUNY Research Foundation, Brooks reports to William Shaut, the College's vice president for finance and management.
She supervises a staff of approximately 20 full-time employees and 20 student employees at the center, which has eight classrooms including two infant, one waddler, two toddler and three preschool rooms. Since 2009, the center has been located on the ground floor of the College's School of Education Building on Prospect Terrace, in space purposefully designed as a daycare facility. The center serves approximately 100 infants and youngsters between the ages of six weeks and five years while providing a living laboratory for generations of the College's future educators and professionals.
Brooks also works to ensure that the center maintains continuous accreditation by the National Association for the Education of Young Children (NAEYC), which sets the criteria used to measure quality practices for the top child care centers in the United States. Brooks handles the center's licensing with the New York State Office of Child and Family Services.
In addition, the director oversees an eight-week summer school age camp for 20 children.
Brooks holds an associate's degree from Corning Community College and a Bachelor of Science in Childhood Education from SUNY Cortland. She earned a Master of Science in Corporate and Community Education from Elmira College, where she also received two advanced certificates, one in training of trainers and one in human resources development, as well as an early childhood certificate. She is credentialed both as a family development trainer and in family development from Cornell University.
At SUNY Cortland, Brooks studied on a Cortland's Urban Recruitment of Educators scholarship. She made the Dean's List, was honored by the College for her leadership and was inducted into Tau Sigma, the national honor society for transfer students.
At the Elmira Head Start program, she managed 62 children with nine staff members. Brooks has served as a professionally credentialed consultant in family development training since 2009.
---