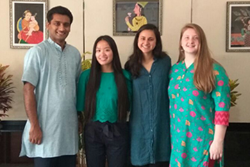 05/15/2018

When they set off for a semester-long study abroad experience in Mangalore, India, three aspiring teachers from SUNY Cortland expected to be introduced to a new culture and customs. Sure enough, they dressed in traditional clothing, enjoyed authentic food dishes and learned about national politics.
They also discovered their artistic talents, producing an official art exhibition in the center of their host campus that was captured in a feature story by a news website in Mangalore.
"Paramparik," the Hindi translation for "traditional," featured 12 paintings created for an art course at St. Aloysius College by three SUNY Cortland sophomores — Claire Bogart, an English as a second language major from Lima, N.Y.; Asha Goldberg, a childhood/early childhood education major from Tampa, Fla.; and Brooke Weinstein, an English as a second language major from Irondequoit, N.Y. The class was developed specifically so that the students could gain insight into various styles of Indian art.
In many ways, the art experience symbolized the entire four-month trip to the port city on India's southwest coast. Expectations were surpassed and lessons were learned in ways that only study abroad travel can achieve. SUNY Cortland's International Programs Office offers more than 50 programs similar to the one in India. Hundreds more are available through other SUNY institutions.
"I thought it was going to be this typical art class where you create artwork and earn a grade," Weinstein said. "It was something much more than that."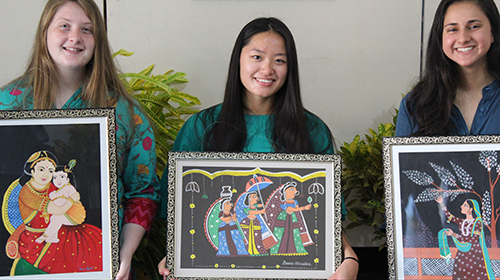 The trio traveled to India for different reasons — Bogart and Weinstein for hands-on practice in an international classroom and Goldberg because of her mother's Indian heritage.
The exhibition wasn't planned when the trip started. Bogart already was a talented artist, according to Goldberg, while the others were looking to fulfill a general education course requirement and learn more about their host country in the process. They worked prior to the trip with Professors Girish Bhat and Sharon Steadman, who help facilitate SUNY Cortland's relationship with St. Aloysius College.
"Everyone in India was amazing, especially the people at the college" Goldberg said. "Anything that we wanted to learn about, they would bring in a teacher for us."
In Mangalore, they learned from John Chandran, a celebrated artist and local high school art teacher. He taught them about various styles of Indian art. The SUNY Cortland trio then looked to create personal paintings based on those traditions. For Goldberg, whose family is from Rajasthan in northern India, the exercise was particularly meaningful.
"We have traditional Indian art on the walls at my grandmother's house," she said. "So it was special to learn how to make it and see how dynamic and diverse India is through its artwork."
Their creative efforts were commemorated at a ceremony in late March attended by top several administrators and faculty members at the college. According to The Mangalorean, the SUNY Cortland trio was praised for taking advantage of their exposure to Indian culture and heritage in such a short period of time.
"India has one of the world's largest collection of art forms — paintings and writings that are known as the intangible cultural heritage of humanity," said Rev. Praveen Martis, the principal at St. Aloysius College. "We need to compliment these three talented students who within a couple of months have learned a few Indian art forms and have now created history with Indian art of their own."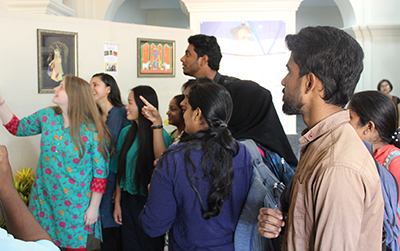 In total, seven SUNY Cortland students and two from other institutions comprised the College's spring study abroad program at St. Aloysius. All three future teachers said they enjoyed embracing cultural differences, which involved dressing in draped saris that women traditionally wear in Mangalore. Students also learned about additional topics such as history, dance and social change in India.
"Every class made me more aware of a different culture," Goldberg said. "I know they'll make me a better teacher in the long run."
Bogart said she hopes to incorporate art in her lessons as a teacher regardless of the subject.
"Besides being something that I enjoy, art is a great teaching tool that can introduce students to a new culture," said Bogart, who gained valuable classroom management skills in India by teaching 35 second-graders.
An additional highlight for Weinstein involved teaching a fifth-grade class of 55 students and understanding their unique needs. Together, they read The Phantom Tollbooth, a children's fantasy novel, but Weinstein's trip ended before finishing the book with them. One student told Weinstein that she asked for the book as a birthday gift because it made her enjoy reading and she wanted to learn the ending.
"That really touched me because it made an impact on her life, even if it's just one book," said Weinstein, who aspires to be an ESL teacher. "It sounds silly, but I learned so much from the students themselves. The entire trip helped me gain this different perspective on the world."
---