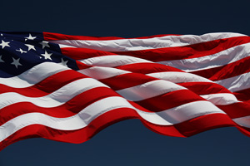 11/08/2012

As Veterans Day approaches, visual reminders abound in the form of students dressed in Army fatigues, marching across campus or scrambling up and down the forested hill beside the College's steam plant.
The Reserve Officer's Training Corps (ROTC) cadets will also be there in uniform during the College's annual Veterans Day Ceremony at 3 p.m. on Monday, Nov. 12, in the Park Center Hall of Fame Room.
The solemn ceremony, held to thank U.S. veterans who have served their country, will feature words of remembrance from U.S. Army Major Kevin Swab (ret.), SUNY Cortland's Army ROTC senior military science instructor. A reception will follow in the lobby adjacent to the Hall of Fame Room. All members of the campus and community are welcome to attend.
Swab is the first ROTC instructor to teach a class on the SUNY Cortland campus in about 20 years. The program returned to campus this fall after a nearly two-decade hiatus, raising the military students' profiles at the College.
The campus ROTC cadets will "present the colors" at the ceremony, and one of them, communication studies major Adam Gonzalez, will read a poem commemorating the sacrifice made by men and women in service to their country.
"We recognize Veteran's Day because these individuals have taken an oath to defend the Constitution of the United States," said Swab, who is currently instructing a group of 13 cadets on the SUNY Cortland campus.
"And they sign a contract, and that contract is one that could put them in harm's way," Swab continued. "There are very few contracts out there that could cost you your life as it is with the U.S. military. People honor U.S. service members because of the freedoms they protect."
Swab served nearly 24 years in the regular Army and in the Army National Guard. During his career, he deployed on missions to Southwest Asia and Haiti, and around the country and overseas for numerous training exercises. His awards and qualifications include the Meritorious Service Medal, Army Commendation Medal, Army Achievement Medal, Combat Infantryman Badge, Ranger Tab, Airborne and Air Assault Badges.
He is currently a senior military science instructor at SUNY Cortland with the Army Reserve Officer Training Corps' Excelsior Battalion, headquartered at Cornell University. This fall, he established a presence for the ROTC on the SUNY Cortand campus when he opened an office in Miller Building, Room 218.
Until this semester, SUNY Cortland had not had ROTC on campus since around 1993, when the program disbanded in the face of opposition from students and faculty over the United State's official policy of "Don't Ask Don't Tell" regarding treatment of homosexuals in the military. The policy was repealed in September 2011.
In the intervening years, SUNY Cortland students continued to train for military service with ROTC at Cornell University, shuttling weekly to Ithaca for classes and training.
Swab began training cadets at Cortland last year, when eight students participated. The 13 who are enrolled presently include one student who comes to campus from the TC3 campus for classes and one who travels from the SUNY Morrisville campus.
The program currently has two seniors, five juniors, three sophomores and one first-year student. Ten of the SUNY Cortland cadets are male, one is female.
Army ROTC cadets are up bright and early on a recent Monday morning for physical training inside Lusk Field House. From left, they are Jordan Rogers (cadet behind him could not be identified), Nick Marr, David DeForest and John Carlisle.
Swab has noticed that many SUNY Cortland students participate in athletics, which makes it difficult to participate in ROTC.
Only one cadet is a student-athlete, and the individual, John Recordon, must juggle the heavy physical demands of ROTC with those of his varsity soccer games and practice, Swab said.
"I see that as a challenge," Swab said. "We do work with the student-athletes. The allowance we make is that, in season, we let them miss our morning physical training and weekend training as long as they are maintaining their physical fitness."
Today's ROTC first-year and sophomore participants sit in a weekly class on campus followed by a uniformed practice session on or nearby the campus. Juniors still travel in a shuttle van to the Cornell University campus for other parts of their program. Mondays, Wednesdays and Fridays, all the intrepid students rise at 6 a.m. to take physical exercise inside Lusk Field House. Periodically, all cadets travel to a field-training site away from campus to practice military maneuvers. For example, they visited Tuller Hill State Forest in Virgil in September.
The cadets can participate in ROTC as an elective on a trial basis, without a commitment or a scholarship. Scholarship recipients get free tuition or room and board along with up to $1,200 for books, a monthly stipend of between $300 to $500 a month, plus about $900 a month for summer training. The ROTC Scholarship participants in return sign an agreement that they will, upon graduation, serve for eight years in the military, including four years of active duty. They'll begin their careers as officers serving at the rank of at least a second lieutenant.
Swab is interested in starting a club on campus for those who served or plan to serve in the military, as well as those who support America's armed forces or wish to learn more.
The College has 65 enrolled students who are affiliated with the military, including individuals on active duty and in the reserves, former veterans retraining for a civilian career and dependents of veterans. Twelve of them live on campus and 57 of the total are pursuing undergraduate degrees.
In 2007, ROTC students attempted to launch a Veterans Club but the effort was short-lived.
"When the class met we talked about that," Swab said. "We don't even have a name yet but it will be dedicated to the appreciation of military service, in order to educate any student who joins about what it means to be in the military. It also will be a place for veterans to come together and socialize."
Veterans will be at the forefront of many people's thoughts during Monday's ceremony. SUNY Cortland President Erik J. Bitterbaum will give the welcome and will acknowledge guests. Rev. Vicki Johnson, Interfaith Center chaplain, will offer the invocation. Gerri Smith, U.S. Air force, retired, will recite the "Pledge of Allegiance."
The event is sponsored by the President's Office. Parking will be available in Park Center and Professional Studies parking lots. For more information, contact Karen Seibert, special events assistant, at (607) 753-2377.
---