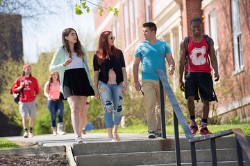 06/25/2018

SUNY Cortland received more student admission applications this spring than at any time during its 150-year history, and this fall will welcome one of its largest incoming classes ever.
A record 13,285 prospective students applied for Fall 2018 enrollment as SUNY Cortland freshmen, leading the College to stop accepting applications in April. This fall, 1,271 first-year students will attend the College. That would have been the largest freshman class in three decades if it hadn't been for last year, when 1,345 enrolled.
"Students want to come to SUNY Cortland," President Erik J. Bitterbaum said. "We're very fortunate to be able to offer a combination of high-value, affordable academic programs, top-notch faculty and facilities and an active and welcoming campus."
This year's enrollment success isn't a blip. SUNY Cortland's enrollment has grown steadily over the last decade, and has remained strong despite a number of statewide and national challenges that have hurt attendance at many other four-year liberal arts colleges.
There's no one reason for students' strong, continued interest in SUNY Cortland, according to Bitterbaum. He cites several:
The College offers high-quality, popular academic programs in a wide variety of disciplines. SUNY Cortland has the largest nationally accredited teacher education program on the East Coast, a nationally-ranked sport management major, growing business economics, biology and criminology majors and is a leader in physical, adapted and outdoor education and much more. Academic programs are growing and evolving to meet the needs of today's students. For example, the College will add a healthcare management major in the fall of 2018.
A SUNY Cortland education is a tremendous value. Money magazine placed Cortland in the top 5 percent of all four-year colleges in its "Best Colleges For Your Money" rankings in 2017, and we have been lauded for graduating most students with relatively low debt and solid after-college income prospects. On top of this, New York state's Excelsior Scholarship has allowed qualified students to attend tuition-free.
With plenty of activities, events and clubs and organizations, SUNY Cortland students love the quality of life on campus. And when it comes to recreation, SUNY Cortland's Student Life Center can't be beat. The 150,000-square-foot facility, which opened in 2015, has everything for students who like to stay active. It features a six-lane swimming pool, a 3-court gymnasium, an elevated running track and cardio machines and weights. Group exercise classes are available for those who want to work out in a group.
SUNY Cortland is a leader in intercollegiate athletics. The Red Dragons have won 25 team national titles and boast 105 individual national champions. Spectators are welcome to join in the fun, as the annual Cortaca Jug football game against Ithaca College routinely draws crowds in excess of 10,000 to the stands, and thousands more at alumni viewing gatherings throughout the country.
The College is committed to being a warm, friendly and comfortable place for students of all backgrounds. Over the past 15 years, the campus has become significantly more diverse, adding students from all races, nationalities, backgrounds and gender identification. In 2003, fewer than 10 percent of incoming first-year students were from under-represented ethnic groups. In 2018, that number is more than 25 percent. SUNY Cortland holds an annual Diversity Retreat in Raquette Lake, N.Y., as well as an annual Student Conference on Diversity, Equity, Inclusion and Social Justice. As part of a SUNY-wide initiative, SUNY Cortland added a chief diversity officer in May 2017.
Students have the opportunity to apply their classroom knowledge in hands-on settings such as internships, co-ops, student-teaching placements and field trips. SUNY Cortland offers more than 50 study abroad programs and students may also take advantage of the more than 1,000 programs offered through the SUNY system.
Out-of-state students are increasingly turning to SUNY Cortland over institutions in their home states. Between 2003 and 2017, SUNY Cortland's out-of-state enrollment increased from 132 students to 351. The College's affordable tuition and array of top-ranked programs draw students over state lines.
SUNY Cortland has a blossoming reputation on a national stage. Faculty members who are experts in their field are routinely sought out by the media to explain current events. The baseball team and women's lacrosse team won NCAA Division III national titles in 2015 and nine Red Dragons have won individual national championships in sports such as gymnastics, wrestling and track and field since 2013. And, although the New York Jets decided to stay at home for summer training camp in 2015, the five years they spent on campus showed the world SUNY Cortland's professional-caliber athletic facilities and its beautiful campus, which combines state-of-the-art facilities with historic, classical structures.
For more information on SUNY Cortland — or to apply, take a virtual tour or schedule a visit — visit Cortland.edu.
---