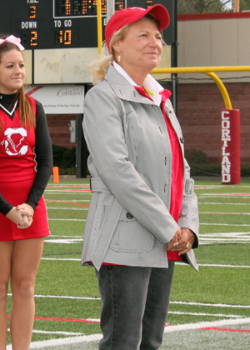 10/26/2012

The first female four-star general in the history of the U.S. military, an NFL assistant head coach and a former national coach of the year in collegiate men's lacrosse highlighted a stellar seven-member induction class that joined the SUNY Cortland C-Club Hall of Fame Oct. 20.
Six of the College's newest athletic hall of famers attended the day's ceremonies, including Ann Dunwoody '75, the military's first female four-star general and a former Red Dragon gymnast and tennis player.
Paul Alexander '82, an assistant coach with the NFL's Cincinnati Bengals since 1994 and an Academic All-America offensive tackle at Cortland, was unable to attend the hall of fame festivities due to his team's Sunday game against the Pittsburgh Steelers.
He did, however, deliver a video message to C-Club Hall of Fame banquet attendees.
In addition to the formal banquet, the inductees were introduced at halftime of the College's afternoon football game.
The 2012 induction class included:
John "Jack" LaBombard '63, a former conference wrestling champion at Cortland who coached the Queensbury (N.Y.) High School wrestling team and two other programs to more than 390 victories in 37 seasons;
Tony Seaman '65, who won 263 games and three National Coach of the Year honors as a 30-year collegiate men's lacrosse head coach at Towson, Johns Hopkins, Penn and C.W. Post;
Dunwoody, who also won the NCAA's top honor, the Theodore Roosevelt Award, in 2011;
Rick Armstrong '79, a three-time All-America wrestler and 1978 NCAA Division III 158-pound champion who has enjoyed a long and successful career as wrestling coach at Walton (N.Y.) High School;
Alexander, who also has served as the Bengals' assistant head coach since 2003;
Tracey Armstead '86, a five-time women's track and field NCAA champion and 13-time All-American who has coached and taught in the Ithaca (N.Y.) City School District since 1986;
Fran Elia, an honorary inductee and Cortland's sports information director since 1992 (watch him on YouTube).
Detailed biographies on each inductee can be found on the SUNY Cortland athletics website at www.cortlandreddragons.com.
The 2012 C-Club Hall of Fame inductees included, from the left, Tony Seamans '65, Ann Dunwoody '75, Rick Armstrong '79, John "Jack" Labombard '63, Tracey Armstead '86 and Fran Elia. Not present was Paul Alexander '82.
Established in 1969, the C-Club Hall of Fame recognizes Cortland alumni who competed as athletes at the College and who since have distinguished themselves in their professions and within their communities. Honorary members are recognized for their long and significant contributions to SUNY Cortland athletics.
New C-Club members have been added annually and this year's ceremony brings the Hall of Fame roster to 225 alumni and 26 honorary members.
---