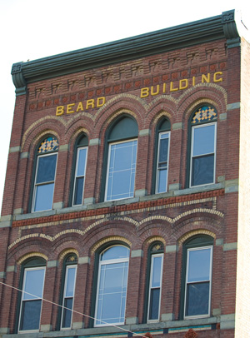 05/01/2013

SUNY Cortland's Dowd Gallery will showcase some of the College's best student artwork in "Student Select 2013," an annual exhibition that kicks off with an opening reception Thursday, May 2.
Free and open to the public, the reception takes place from 4:30 to 6:30 p.m. at the Dowd Gallery's temporary off-campus location at Main Street SUNY Cortland, 9 Main St.
"Student Select 2013," featuring the work of approximately 30 students, runs through Saturday, May 18. The College's gallery is based on the third floor of Main Street SUNY Cortland for approximately two years while the Dowd Fine Arts Center undergoes renovations. Admission is free and open to the public.
Gallery hours are 10 a.m. to 6 p.m. from Tuesday through Friday and 10 a.m. to 2 p.m. on Saturday. The gallery is closed on Sunday and Monday.
Nicole Torrey, a Bachelor of Fine Arts student
from Clay, N.Y., installs her fibers artwork for
"Student Select 2013."
For many years, the show has allowed SUNY Cortland students to display their work in a gallery setting while the public glimpses the range of visual art created on campus.
This year's show includes an array of media contributed by students from several academic disciplines. Bill Hastings, an assistant professor in Ithaca College's Art Department, juried the exhibition.
Hastings selected works from students representing different class years and coming from majors both within and outside of SUNY Cortland's Art and Art History Department.
The show was organized by students in the College's Art Exhibition Association, with help from Hastings; Erika Fowler-Decatur, Dowd Gallery director; Jaroslava Prihodova, Dowd Gallery manager; Vaughn Randall, assistant professor of art and art history; Jarei McKeiver; and First Niagara Bank, which helped provide supplies for the exhibition.
For more information, contact Fowler-Decatur.
---