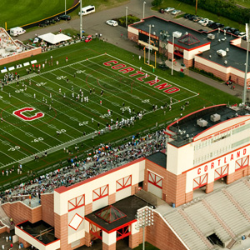 08/02/2013

The New York Jets will hold their annual Green and White Scrimmage — typically the biggest practice of training camp — inside SUNY Cortland's Stadium Complex Saturday, Aug. 3.
It's the second consecutive year the team will play its scrimmage on the College's all-weather, soft-fiber synthetic turf field, in a venue that offers visitors more comfortable seating and better views of the field.
Practice will begin at 6 p.m. and fans will be let inside starting at 4 p.m., when both Generation Jets Fest for kids and the Jets Shop merchandise tent will open. Both will run until 8:30 p.m. Several cheerleaders from the New York Jets Flight Crew also will be in attendance to welcome fans as they enter training camp.
Fans interested in attending the practice are urged to come early and expect some traffic delays given the anticipated attendance. Food and drinks will be available for purchase inside the stadium but will not allowed in from the outside.
Vehicles should enter and exit campus via New York State Route 281. Route 281 is easily reached from Interstate 81 by taking Exit 12 and heading south. For GPS directions to the training camp entrance at SUNY Cortland, use 3718 West Road, Cortland, N.Y., 13045.
Parking will be available on campus, with shuttles to the training camp entrance available if needed. All parking is $5 and admission to the scrimmage, like all Jets training camp practices at SUNY Cortland, is free. However, tickets for the Green and White Scrimmage printed from the Jets website will be required. Fans can register and print tickets by visiting newyorkjets.com/camp before making the trip.
Although the scrimmage moves from the Jets regular practice fields to the Stadium Complex, visitors will go through the regular camp entrance near Route 281. All camp visitors will be subject to new security procedures upon entry, including screening and bag searches.
Visitors also should be aware that SUNY Cortland is now a tobacco-free campus. No tobacco products of any kind may be used on the property.
Limited shuttle service will be available between the parking lots and the camp entrance with priority assistance for people with physical needs.
Fans should call the team's fan line at 973-549-4844 or visit the team's Training Camp page for the most up-to-date news regarding the Green and White Scrimmage. Updates are also available on Twitter and Facebook.
---