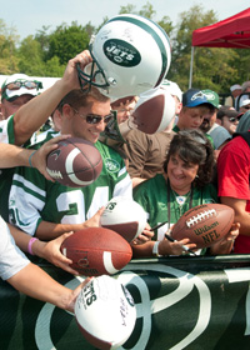 06/26/2013

Cortland-area community members can play a role in New York Jets training camp this summer through a variety of volunteer opportunities offered to the public by SUNY Cortland.
The College now is collecting online applications for the three-week camp, which takes place from late July to mid-August. The first of 15 practices open to the public is slated for Friday, July 26.
Volunteers can apply for positions related to guest services, where they'll be stationed around camp to assist patrons with questions; golf cart transportation, where they'll drive guests from the parking lots and practice fields; and security, where they'll monitor various checkpoints.
Camp gates will be open from 9 a.m. until 1 p.m. daily. For the Aug. 3 Green & White Practice, gates will be open from 4 to 8:30 p.m.
All volunteers must be at least 18 years old. In addition to bragging rights and lasting memories, all volunteers will receive a commemorative t-shirt.
Interested applicants should complete a volunteer application, or contact Mary Kate Boland, the College's assistant director of campus activities and Corey Union, at 607-753-2322 to learn more about the availability of opportunities.
Volunteer assignments will be announced in July.
---