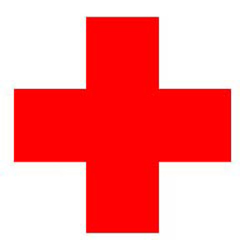 11/06/2012

The winner of the 2012 Cortaca Challenge Blood Drive wasn't one of the football rivals competing this Saturday. According to organizers, the winners were the American Red Cross shelters that saw their blood supplies take a hit after Hurricane Sandy.
SUNY Cortland collected 65 units of blood from its students, faculty and staff members during a five-hour drive in the Corey Union Exhibition Lounge Nov. 2. That's enough blood to save nearly 200 lives, based on estimates from the American Red Cross website.
The American Red Cross collected enough blood
to save nearly 200 lives, based on its estimates.
"So many Cortland students are from the Long Island and New York City areas and I think most of them were impacted in some way by this storm," said Lydia Rosario, a student organizer and a member of Alpha Phi Omega, the College service fraternity that took the lead on the event.
"I think more people were concerned with giving back after the hurricane than they were with winning the Cortaca Blood Drive Challenge, which really speaks to the character of this campus."
The 54th annual Cortaca Jug game takes place at noon Saturday, Nov. 10, at the College's Stadium Complex.
For several years, SUNY Cortland and Ithaca College have participated in the friendly competition to see which institution can collect a higher blood donation during the week leading up to the annual gridiron showdown.
Ithaca collected 284 units of blood to take home the 2012 title. This year, however, the blood drive took on new meaning because of Hurricane Sandy.
The storm forced the cancellation of more than 240 blood drives, which resulted in a shortfall of more than 8,000 donations. According to the American Red Cross website, more than 44,000 blood donations are needed each day.
Rosario, a junior psychology major from the Bronx, donated at the Nov. 2 drive. She said the choice to give was an easy one.
"The Red Cross workers are very supportive and appreciative," she said. "And this year, more than ever, they needed it."
---