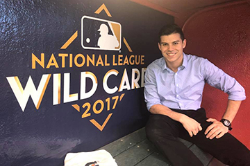 03/20/2018

You won't find his name in any box scores on Opening Day. But rest assured that SUNY Cortland graduate Javier Román M '14 has an important job with Major League Baseball (MLB).
The former international sport management major serves as Spanish social media coordinator for MLB's official Las Mayores accounts, which means he works on the three-person team that translates baseball news and highlights for Spanish-speaking audiences on Instagram, Facebook and Twitter. It's a position that has introduced Román to future hall of famers and given him lifelong memories created across the globe.
When the first pitch of the MLB season is thrown next week, up to one-third of rosters are expected to be occupied by Latinos. Last year's All-Star Game featured 23 players of Latino descent. Names such as Carlos Correa, Francisco Lindor and Gary Sánchez represent some of the sport's brightest young stars.
So, in a broader sense, Román provides a vital communications bridge — one that he has worked hard himself to build.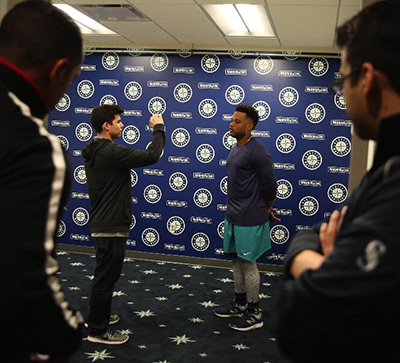 "Being part of the minority in the sports industry can be tough sometimes, but that's what makes you work harder," said Román, 27, who grew up in Arecibo, Puerto Rico, and now lives in Phoenix, Ariz. "English was not my first language and that was very difficult too.
"But eventually, I found that being bilingual could be one of my advantages."
Back in 2013, Román's arrival as a SUNY Cortland graduate student introduced him to new experiences — not just a change in climate, but exposure to new people and ideas. Through the College's International Programs Office, he met students who represented many different nationalities. He recounted memories of traveling across New York state and Canada for his classes, learning about the Winter Olympics in Lake Placid, N.Y., and the Pan-American Games in Toronto.
"I learned so much ... not just about sports, but about different cultures," said Román, who earned a bachelor's degree from the University of Puerto Rico, Arecibo and chose SUNY Cortland's Sport Management Department for its reputation.
Professor Jordan Kobritz remembers meeting Román in an international sport marketing course, where the pair bonded over a love for baseball. Román, however, struggled with the English language, especially his professor's master's-level writing expectations.
"Javy accepted every challenge," said Kobritz, the former owner of two minor league baseball teams. "He always wanted to get better. He was determined to show up, work hard and do well. I'll never forget that about him."
Slowly, Román's English language skills improved and, in 2014, he saw the value of being bilingual while completing his graduate internship with the Perth Heat of the Australian Baseball League. Marketing, community relations and merchandise sales were part of his everyday work. He also was exposed to the typical do-everything minor league baseball experience that molds many young sports professionals.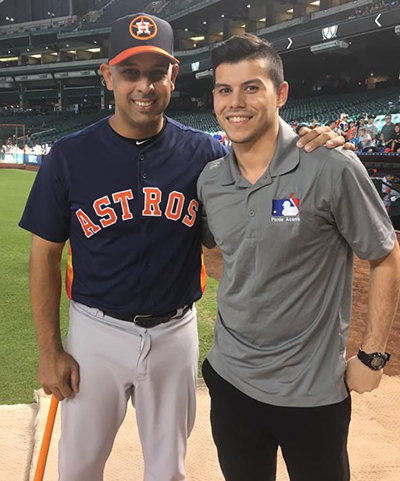 "I dressed up as the mascot, cleaned the stadium and anything else they needed at the time," Román said.
Perhaps his most important duty in Australia was communicating with other Spanish-speaking people — both fans and players from countries such as Venezuela and Cuba.
"I think it made them more comfortable being able to talk to someone who knew Spanish," Román said.
After sight-seeing across Australia, he moved back to Puerto Rico in 2015 and worked for a short time in the hospitality industry. In October 2015, he was named promotions coordinator for the Criollos de Caguas, a member of the four-team Puerto Rican Professional Baseball League that competes during the winter.
Then, he took a chance and pursued a job more than 3,000 miles away, with MLB's Arizona Diamondbacks as their Hispanic market intern.
"We tell our students: now is your time to see the world and spread your wings," Kobritz said. "Javy is proof of that."
In Arizona, Román's bilingual ability and sport management experience again proved valuable for translating web content into Spanish as well as working with corporate partners trying to reach Latino fans. His part-time work became a full-time opportunity with MLB's league-wide Las Mayores platforms in March 2016.
The experience so far has been nothing short of a dream.
Román works primarily in Phoenix during the regular season while keeping his finger on the pulse of the sport and translating highlights for a Spanish-speaking audience. He also assists 10 teams with their online promotions and marketing efforts, including the Boston Red Sox, Chicago Cubs and New York Yankees.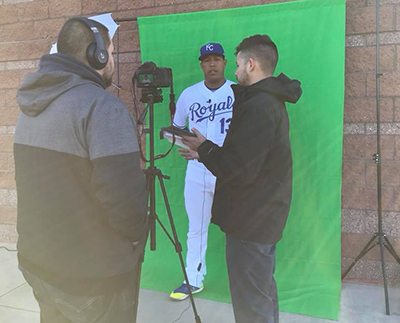 He has traveled to marquee events, from the 2017 World Baseball Classic to the National League Divisional Series between the Chicago Cubs and Washington Nationals in October. Most recently, during spring training, he trekked across the state of Arizona to document a tour of several Cactus League facilities.
Román is trusted to lead interviews during his travels with popular Latino players past and present. Those names have included Carlos Beltrán and Edgar Martínez, who both are childhood heroes from his native Puerto Rico. While detailing his favorite work-related baseball memories, Román recalled a Facebook Live interview he recorded with Kansas City Royals star Salvador Pérez, another one of his all-time favorite players.
"(Pérez) starts talking on camera and says 'Hey, this is Salvador Pérez and I'm here with my friend Javy Román,'" said Román. "I remember thinking, 'Are you serious? Salvador Pérez just said my name.'"
The experience left Román star struck. It also validated several years of hard work. Speaking English still does not come easy for him. But the skill he improved at SUNY Cortland continues to motivate Román and ultimately set him apart.
"Javy's success is a credit to how hard he has worked and what he was willing to do to get there," Kobritz said. "He's a shining example of what students can learn here and carry with them into the world."
---