News Detail
07/30/2014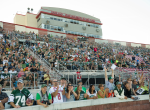 The New York Jets' Green and White Practice, the biggest event of training camp at SUNY Cortland, will look to recreate an NFL gameday atmosphere on Saturday, Aug. 2 — adding player introductions, a halftime performance and a post-practice fireworks show to an already popular annual event for Central New York.
The practice, which follows the format of a controlled scrimmage, again will take place inside the SUNY Cortland Stadium Complex and will begin at 7 p.m. Gates will open at 5 p.m., along with both Jets Fest and the Jets Shop merchandise tent. The fireworks show will start at approximately 9:15 p.m.
Like all training camp practices, admission is free but tickets printed from the team's website are required. Fans can register and print tickets by visiting newyorkjets.com/camp
Fans interested in attending the practice are urged to come early and expect some traffic delays. It is typically the most well attended Jets practice of the summer, and this year's event will offer even more excitement before the first snap takes place.
The entire Jets roster will be introduced individually and will take to the field through the team's new giant inflatable player intro tunnel, which will debut during the Green and White Practice. Team t-shirts will be launched into the crowd during the evening and the New York Jets Flight Crew cheerleaders and Aviators drum line will deliver a halftime performance, appearing courtesy of Galliant Entertainment.
Players are expected to sign autographs following the conclusion of the scrimmage, although no fan is guaranteed to get one. Similar to other training camp sessions, the first 120 children to register for Gen Jets Kids Club that evening will have access to a kids-only viewing area and player autograph area after practice.
Dynamic Paws, an a cappella group from Cortland High School, will perform the national anthem. The Cortland Marine Corps League will serve as the color guard.
Weather permitting, a fireworks show provided by Bay Fireworks will conclude the evening. Fans walking east on Lankler Drive after practice, from the Stadium Complex towards Park Center, should note that a portion of the road will close to all traffic for the duration of the fireworks show.
The Jets Shop tent and customizable merchandise trailer will remain open for the duration of practice, allowing fans to pick up the latest team gear as well as items to be autographed. Jets Fest, the interactive football theme park for children that offers skill challenges and inflatable rides daily, will remain open until 8 p.m.
Vehicles should enter and exit campus via New York State Route 281. Route 281 is easily reached from Interstate 81 by taking Exit 12 and heading south. For GPS directions to the training camp entrance at SUNY Cortland, use 3718 West Road, Cortland, N.Y., 13045.
Parking, which costs $5, will be available on campus with limited shuttle service available between parking lots and the training camp entrance if needed. Priority for shuttle service is to provide assistance to people with physical needs.
There is only one entrance and one exit to the Green and White Practice itself, and both are located at the regular training camp entrance near Route 281. All visitors will be subject to security procedures, including bag searches upon entry.
In addition to Jets merchandise, food and beverages will be available for purchase, and Cortland-area radio station WXHC, Oldies 101.5, will broadcast the practice live.
Fans should call the team's fan line at 973-549-4844 or visit the team's Training Camp page for the most up-to-date news regarding training camp. Updates also are available on Twitter and Facebook.
---