News Detail
05/21/2014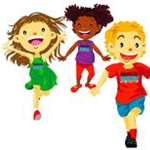 The SUNY Cortland Child Care Center will host a 5-kilometer fun run and walk Sunday, June 8, to benefit its student enrichment fund and honor the memory of a longtime supporter.
The William Shaut Memorial 5K Fun Run and Walk goes off at 9 a.m. outside of the SUNY Cortland Stadium Complex. Registration costs $20 for individuals and $35 for families. Registration forms, which are available online, can be mailed to the Child Care Center, located at Prospect Terrace, Education Building, Room 1000, Cortland, NY, 13045, or they can be dropped in the center's tuition box.
Race day registration will take place beginning at 7:30 a.m. at the entrance of the Stadium Complex.
The event is named in honor of William Shaut, SUNY Cortland's former vice president for finance and management who died May 1 after a long illness. Shaut served as the College's liaison with the Child Care Center, always extending support and enthusiasm for its initiatives throughout his 14-year SUNY Cortland career.
All event proceeds will benefit the Child Care Center's student enrichment fund, a recently created endowment to provide classroom enhancements for teachers. T-shirts will be sold in adult and youth sizes for $8 each until they run out.
Three shorter children's fun runs, up to a half-mile, will take place before the 5K starting at 8:30 a.m. All children who participate will receive a medal. The 5K course will follow an out-and-back, 3.1-mile route on the SUNY Cortland campus, beginning and ending in front of the Stadium Complex.
Raffle items and gift certificates also will be awarded at the event.
For more information on the race, contact Assistant Chief of University Police Mark DePaull at 607-753-4127, or Child Care Center Teacher Karen Diescher at 607-753-5955. Payment-related questions can be directed to Kimberlea VanderWoude, administrative assistant for the Child Care Center, at 607-753-5955.
---