News Detail
07/09/2014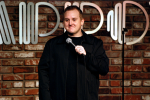 What does Paul Morrissey '96 have in common with Justin Bieber, Paris Hilton and Donald Trump?
All are among the handful of people who legendary talk show host David Letterman has felt compelled to apologize to on air.
In the case of Morrissey, a former SUNY Cortland communication studies major and successful stand-up comedian, Letterman didn't feel bad about making a joke that went too far. He apologized because a June 10 interview ran long, and Morrissey was unable to make his debut appearance on "Late Show with David Letterman," a program with 2.9 million viewers known for launching comic careers.
"Unfortunately Regis Philbin was a little too chatty, and they ran out of time for me," Morrissey said in a recent email message. "Dave Letterman said a few nice things about me and apologized. Yes, David Letterman apologized to me. Wrap your head around that."
Letterman is also giving the former SUNY Cortland basketball player a second chance to make America laugh. Morrissey will appear on the "Late Show with David Letterman" Thursday, July 10, at 11:30 p.m. on CBS.
Morrissey, a native of Owego, N.Y., has appeared four times on "The Late Late Show with Craig Ferguson" and has performed in numerous comedy clubs worldwide, including The Improv in Hollywood and Dangerfield's in New York City. He also hosts the "Alley Oop" podcast, where he interviews comedians and other celebrities.
To get a taste of what this Red Dragon's comedy is like, visit his web site at:
http://www.paulhasawebsite.com
Morrissey played at Cortland during the 1995-96 season after transferring from Binghamton University. He led the Red Dragons in both scoring (13.5 points per game) and assists (4.3 per game), and he was the team's best shooter from both three-point range (45 percent, 52-of-116) and the foul line (82 percent, 107-of-131).
After graduation, he worked as an assistant coach for a year and then became a television sports anchor with an ABC affiliate in northern California. Fired for using too much humor on the air, he moved to New York City to develop a career as a comedian. Morrissey earned a master's degree at New York University and taught 12th grade English during the day while performing at comedy clubs at night. He has performed at SUNY Cortland several times since becoming a professional comedian.
---