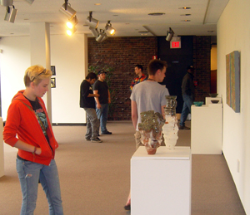 04/29/2011

The Art Exhibition Association (AEA) will present Student Select 2011, a display of the most impressive SUNY Cortland student artwork produced during the academic year, at the Dowd Gallery from Monday, May 9, to Saturday, May 21.
An opening reception for the exhibition is set for Monday, May 9, from 4-6 p.m. The Dowd Gallery, located on the SUNY Cortland campus, is open Monday through Friday from 10 a.m. to 4 p.m. It will also open on Saturday, May 21, from 10 a.m. to 4 p.m. to mark the final day of the exhibit. The event is free and open to the public.
"It is the show we have been waiting for all year," said Xena Holzapfel, the secretary of the AEA and a bachelor's of fine arts student. "The show is always a great opportunity to be a part of a juried collective exhibition."
Allison Graff, the program director at the Schweinfurth Memorial Art Center in Auburn, N.Y., will jury the exhibition. The Student Select 2011 event will highlight the best works from the academic year and feature original pieces from all mediums.
---