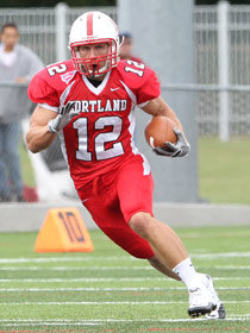 09/27/2011

SUNY Cortland sports fans this weekend have a chance to experience something that happens less frequently than a solar eclipse.
For only the second time in school history, the College's football team will take the field Saturday, Oct. 1, under the lights at the SUNY Cortland Stadium Complex.
The game is part of Homecoming Weekend, which features eight home contests in five different intercollegiate sports and a variety of events for SUNY Cortland alumni.
Head Football Coach Dan MacNeill's Red Dragons, ranked 24th nationally in Division III, will host Morrisville State at 7 p.m. That's the same team Cortland played in its only other home night game. In 2007, Cortland ran past the Mustangs, 71-7.
"This is a rare opportunity for our community and for our students," said Mike Urtz, the College's director of athletics. "There aren't many things more perfect than competitive college football in the early fall. To add the night element to this game simply puts it over the top."
All SUNY Cortland students, faculty and staff and children 12 years old and younger can attend Saturday's game for free. Tickets for the general public are $6 for adults and $5 for senior citizens, students attending colleges other than SUNY Cortland and teenagers between 13 and 18 years old.
The Cortland football team is coming off a 31-28 win at Rowan University that boosted its record to 2-1 for the season. Graduate student quarterback Dan Pitcher and sophomore wide receiver John Babin lead a Red Dragons passing attack that has accounted for seven touchdowns this season. Senior linebacker Bill Smith spearheads a defense that has delivered seven sacks and forced five fumbles so far this year. Morrisville State enters Saturday's game at 0-3 for the season.
"What's great about Saturday's football game is that it's sandwiched in the middle of a great sports weekend at SUNY Cortland," Urtz said.
The College's women's soccer team will kick off Homecoming Weekend when it hosts SUNY Plattsburgh at 2 p.m. on Friday, Sept. 30, at Jets Field. The Cortland field hockey team will face SUNY Oneonta later in the day at 4 p.m. at the Stadium Complex White Field.
Both women's teams will go back into action Saturday before the evening football game. The field hockey team will host SUNY New Paltz at 1 p.m. at the Stadium Complex White Field. The women's soccer team will take on SUNY Potsdam at 3:30 p.m. at the Jets Field.
The College's women's golf team will take to the links Saturday and Sunday when it hosts the Martin/Wallace Invitational at Cortland Country Club. Action is slated to begin at 10 a.m. Saturday and 11 a.m. Sunday.
Cortland's women's tennis team will cap the sports weekend when it hosts Union College at 1 p.m. on Sunday, Oct. 2, at the Varsity Tennis Courts.
Homecoming Alumni Events
Alumni are invited to participate in a brew tasting at the Great Cortland Pumpkinfest from 1 to 5 p.m. Saturday in Cortland's downtown Courthouse Park. The festival takes place Saturday and Sunday in downtown Cortland.
Immediately leading up to Saturday night's football game, alumni can mingle at a pregame party from 5 to 7 p.m. in the C-Club Pavilion near the Varsity Tennis Courts. The Cortland Chapter of the SUNY Cortland Alumni Association will host the event.
An open house at the Lynne Parks '68 SUNY Cortland Alumni House, located at 29 Tompkins St., caps the weekend. Graduates may take a tour of the historic mansion from 10 a.m. to 2 p.m. on Sunday, Oct. 2.
The children of alumni are eligible to receive an all-day pass to Bounce House Mania at the Great Cortland Pumpkinfest. To obtain an all-day pass or to find out more information on alumni-related events, contact the Alumni Affairs Office at (607) 753-2516.
---