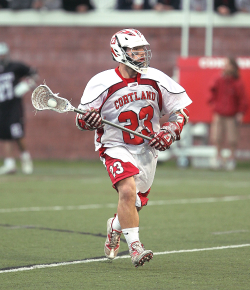 06/15/2011

Matt June
SUNY Cortland junior baseball player Matt June (Colonie), graduate student football player Dan Pitcher (Cortland) and junior men's lacrosse player Mike Tota (Webster/Webster Schroeder) have been named the State University of New York Athletic Conference (SUNYAC) Chancellor's Scholar-Athlete Award winners in their respective sports for the 2010-11 school year.

The award is given to one student-athlete in the conference from each sport who has the highest cumulative grade point average, over a minimum of three semesters, among all first-team or second-team all-conference selections. The Chancellor's Scholar-Athlete Award recognizes a combination of academic excellence and outstanding athletic achievement within the SUNY system at the Division l, Division lll and junior college levels. A student-athlete is only permitted to win the award once.

June, a fitness development major, entered the 2011 spring semester with a 3.29 cumulative grade point average. He was a first-team All-SUNYAC selection and a second-team All-New York Region honoree. June batted .339 with 17 stolen bases and made only six errors in 220 fielding chances.

Pitcher was a first-team All-New Jersey Athletic Conference quarterback last fall. That honor was used to determine his Chancellor's Scholar-Athlete award since the SUNYAC does not sponsor football. Pitcher currently has a 4.04 GPA as a sport management graduate student and registered a 4.08 GPA as an undergraduate psychology major. Last fall he completed 157-of-279 passes for 1,757 yards and 18 touchdowns in 12 games.

Tota began the 2011 spring semester with a 4.08 grade point average. A business economics major, he earned second-team All-SUNYAC honors and was an honorable mention All-American. Tota led Cortland with 40 goals scored and was third on the team with 51 total points in 19 games.


Dan Pitcher
Mike Tota
---